Roborock is a huge robotics company in China. It has a commitment to innovation and its adaptation of advanced technology has placed it on a high pedestal in the robot vacuum industry. We want to find out if the Roborock S5 Robot Vacuum embodies what the brand stands for.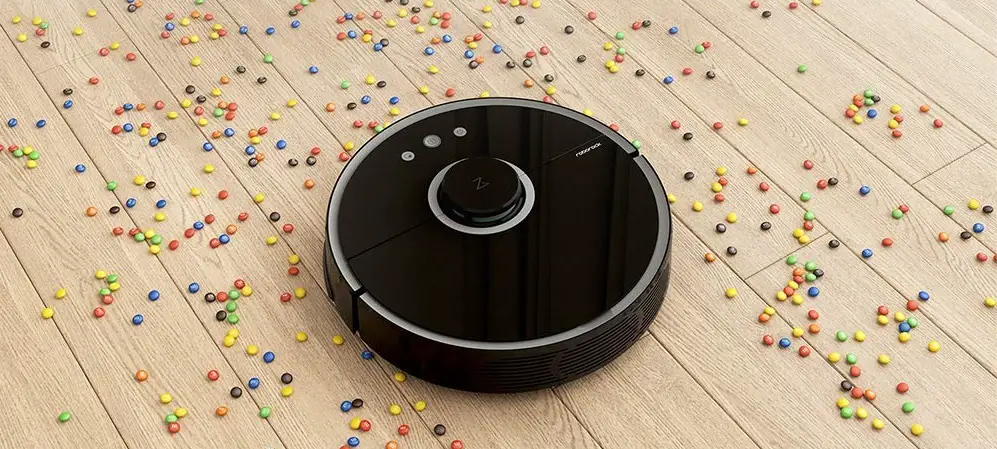 Roborock is technically a subsidiary of Xiaomi which is an emerging giant in consumer electronics. You might have come across some of its products as it makes more than just robot vacuum cleaners.
Its collection of products ranges from electronics to spare parts, personal transport, smart home devices, etc.
Who Needs The Roborock S5 Robot Vacuum?
Ordinarily, anyone who needs a robot vacuum can go for the Roborock S5 Robot Vacuum if you can afford it.  It does not matter what floor types you have in your home, this robot will clean it well.
If you ask us, those with mainly hard floors in their home will benefit the most from this vacuum. It does not mean it won't work great on carpets, though. What we are trying to say is that this robot can mop too!
It will sweep your floor and with a little adjustment, it will mop it too. People with mainly hard floors almost don't need to do much concerning cleaning their floors anymore.
You might also want this vacuum because it can clean multiple rooms. All you need to do is let it loose and it will clean the whole house. Another cool thing is its charge and resume feature.
In a short time, this robot will probably know your home as much as you do. This is because it uses a top of the line navigation technology. This advanced piece of tech gives the robot great autonomy that you won't need to babysit the robot at all.
If you are excited about what you have read, you are not alone. Stay with us as we explore in details what this robot vacuum is capable of and more.
By the time you get to the end, you will be able to decide if you want it or you will keep reading our other reviews.
Features Of The Roborock S5 Robot Vacuum
The technology that handles the navigation of a robot vacuum has a lot to do with its performance.
The collection of sensors on this vacuum work together to produce its smart navigation.
The LDS laser sensor scans the room to get a spatial awareness of the space around it.
This information is then handled by the SLAM algorithm which in turn creates a real-time map of the room it is about to clean.
Furthermore, the robot then decides the best route to follow in order to cover every space on the ground. With this, you can rest assured it will not leave patches of dirt.
Anti-Fall Sensors
That's not all, there are four sensors on the Roborock S5 Robot Vacuum that monitor the floor level. This helps the robot detect changes in the floor height.
If it notices a change that is too much for it to maneuver, it will turn back. With this, you will not need to worry about the vacuum falling off the stairs.
Anti-Collision
There are also sensors on this robot that help it identify obstacles. This way, it will not bump into walls or your furniture.
Once it notices an obstacle in its path, it will change its direction and continue doing its cleaning. If there is enough space for it t pass through, it goes underneath and cleans the floor.
Not anymore will you have scratches and dents on your walls and furniture caused by your robot.
Powerful Suction
A vacuum that will do a great job at cleaning different floor types needs to have strong suction and the Roborock S5 Robot Vacuum does have.
It uses a powerful motor and adopts the cyclone technology. These two factors are responsible for its 2000pa suction rating.
Furthermore, this robot vacuum has a pressurization technology that lets it detect when it is on a carpet or a hard floor.
What it does is that it increases its suction power when it detects a carpet. As you can guess, more suction is required to pick up dirt on a carpet than on hard floors. So, you will agree that this feature is a good addition.
Sweep and Mop
It has a brush roll underneath which helps to loosen embedded dirt on carpets. There is also a spinning brush on its side which is used to clean dust and dirt on hard floors.
Once it is done sweeping your hard floors, you can also make it mop the floor. Yes, you heard right.
The Roborock S5 Robot Vacuum can both vacuum and mop. Don't let the multitasking fool you, though. It does the two quite well.
A common problem among robot mops is that some of them leak water on the floor when they are at rest.
But that does not happen with this one and there are reasons for that.
Firstly, the water tank is not integrated with the robot. When you need it to mop, you will just need to attach the water tank underneath the robot. You will not even need to flip it for that, just slide it on.
Secondly, the microfiber cloth that comes with the vacuum which is used to mop floors is tightly fitted.
It uses a bionic mopping system such that when the robot is in motion and in the mop mode, water sips onto the cloth for proper cleaning. Once it stops, the water stops dripping too. That way, the robot won't leave a trail of water in its stead.
Smart App
The Roborock S5 Robot Vacuum uses Wi-Fi. It also has a dedicated app that you can download on your smartphone. This allows you to control and monitor the robot remotely.
The app can be used on Android and Apple phones. It is also compatible with Amazon Alexa. There are tons of things you can do with the app.
Firstly, you can schedule when the robot starts its cleaning. You could make it clean the house while you are out so you can come back home to a clean house.
Secondly, remember we told you earlier that the robot maps out your space before it starts to clean? The map it creates can be saved via the app.
Thirdly, it is not all the time you will want the robot to clean all the rooms in the house. In such cases, you can order the vacuum, through the app, to zone clean.
On the map that has been saved on your phone, you can indicate the areas of the house you want the vacuum to clean and it will do so.
If there are parts of your house that you don't want the robot to get to, you can indicate that on your smartphone too. Just follow the instruction and create a no-go zone for the vacuum.
Impressive Battery Life
Since the Roborock S5 Robot Vacuum is capable of cleaning multiple rooms, it only makes sense that it has a long battery life. This will enable it to clean as many rooms as it can before needing to recharge.
In some cases, it will clean up all the areas it should before needing a recharge. Of course, that will depend on how large your home is. The 5200mAh battery will keep the robot working for up to 150 minutes.
Washable Filter
Filters are an important part of a vacuum cleaner. They are responsible for trapping in the allergens and dust particles that the vacuum cleans up.
It is extremely important that these air-borne contaminants do not get back out or it might cause issues for the allergic and asthmatic users.
The Roborock S5 Robot Vacuum uses a good quality filter that is efficient at trapping allergens and dust. However, that is not what is so special about this filter.
What makes it cool is that it is washable. This means that when you wash the filter, it is ready to be used again.
This process can be repeated over and over till the filter eventually needs replacement.
This will save you a lot of money that you would have spent buying replacement filters every time it gets clogged.
User-friendliness Of The Roborock S5 Robot Vacuum
The fact that the Roborock S5 Robot Vacuum can vacuum and mop makes it user-friendly. Do you agree with that? Even if you don't there are some more things about this vacuum that might sway your decision.
To start with, we mentioned earlier that this robot can clean multiple rooms and its battery life is impressive.
It could be that your home is a large one so, no matter how long the battery lasts, it might not clean it all up without recharging.
If that is the case, the robot is smart enough to find its way back to its docking station to recharge.
When it is done charging, unlike some other robot vacuums, this one will continue from where it stopped.
Secondly, this robot has a design that helps it avoid getting stuck. It has a pair of omnidirectional wheels that it can use to maneuver out of a rut and even climb certain barriers.
It can climb over door ledges and other obstacles that are up to 2cm high. If the water tank is installed, then the height is limited to 1.5cm.
Thirdly, the robot vacuum also comes with a cleaning tool that can be used to remove clogged hairs on the brush roll.
With these and the other features above, you should by now be able to decide if the Roborock S5 Robot Vacuum is user-friendly enough for you.
Pros Of The Roborock S5 Robot Vacuum
i. The vacuum uses top of the line sensor technology for its navigation.
ii. It creates a map of its environment and determines the best route to take.
iii. It has Wi-Fi connectivity so you can control it via a smartphone.
iv. You can schedule, monitor, and give other commands from the dedicated app.
v. The vacuum is capable of cleaning multiple rooms.
vi. It can vacuum as well as mop.
vii. The vacuum is ideal for both hard floors and thin carpets.
viii. It can climb over barriers that are up to 2cm.
ix. It has impressive battery life.
x. The vacuum has strong suction.
xi. You can choose from its multiple modes of operation based on your needs.
Cons Of The Roborock S5 Robot Vacuum
i. There are issues with connecting the robot to Mi Home app.
Alternatives To The Roborock S5 Robot Vacuum
More Affordable Option – Ecovacs Deebot N79S Robot Vacuum
You get to be specific with how you want this vacuum to clean your floors with its 3 cleaning modes. This robot can clean on both floors and carpets with its dual power suction.
Its navigation system prevents collision and falling. It can also keep cleaning for up to 120 minutes before it needs to charge. When that time comes, it will find its way home, plug in, and recharge. All by itself!
If you want to know more about this vacuum, you can read our honest review on it.
High-End Option – Samsung Powerbot R9350 Robot Vacuum
On hearing the brand name alone, you might almost feel confident that this is going to be a good robot vacuum. Honestly, it is. However, you will have to cough up some cool cash to have it.
Samsung claims that this has the most powerful suction on a robot that will find anywhere. Who are we to doubt that unless you try it?
This one also uses the Cyclone Force technology like its predecessors. It also has advanced navigation sensors that make its movement more purposeful which in turn makes it clean your floors better.
On a final note, it has Wi-Fi connectivity which means you can control the robot remotely via its smart app. It is also compatible with Amazon Alexa.
User-Friendly Option – Eufy Boost IQ Robovac 11S
This is an affordable vacuum with high-end performance. The Boost IQ technology automatically increases suction power as it is needed.
The slim design robot vacuum can go on for 100 minutes before it needs to recharge. It also operates so quietly that your child can sleep through its hum.
You don't even need to take our word for it, this vacuum has been voted the best robot vacuum of 2018 by 3 different independent review companies. You can read our unbiased review if you want to know more about this vacuum.
Opposite Spectrum – Dirt Devil Power Swerve Pet Cordless Vacuum
The catchy attribute of this vacuum is how slim it is. As you might have guessed, that makes it lightweight which consequently makes it easy to maneuver.
Still on the maneuverability, the swivel steering takes its ease of use to a whole new level. All these make this cordless vacuum easy to use especially in tight spaces. Swerve and glide around furniture like you want for a fun vacuuming experience.
The fast charging battery provides steady power that won't fade for the vacuum to work optimally throughout its runtime.
Comparison Table
Featured
More Affordable
High-End Variant
User-Friendly
Opposite Spectrum
Products

Roborock S5 Robot Vacuum

 

Ecovacs Deebot N79S

 

Samsung Powerbot R9350

 

Eufy Boost IQ Robovac 11S

 

Dirt Devil Power Swerve

 

Dimension
10 x 8 x 3.8 inches
13 x 13 x 3.1 inches
14.9 x 14.3 x 5.3 inches
12.8 x 12.8 x 2.9 inches
7 x 10 x 44 inches
Weight
13.55 lbs
7.05 lbs
10.8 lbs
5.73 lbs
5.2 lbs
Mode of control / Attachments
Smart app
App and voice
App, remote, and voice
Remote control
None
Runtime
150 minutes
120 minutes
90 minutes
100 minutes
Approx 15 minutes
Special Feature
It can vacuum and mop
Low noise level
It uses the Cyclone Force technology
It operates quietly
Swivel steering
| Image | Title | Buy |
| --- | --- | --- |
| | Roborock S5 Robot Vacuum and Mop, Smart Navigating Robotic Vacuum Cleaner with 2000Pa Strong Suction, Wi-Fi & Alexa Connectivity for Pet Hair, Carpet & All Types of Floor | Buy Now |
| | Ecovacs DEEBOT N79S Robotic Vacuum Cleaner with Max Power Suction, Upto 110 Min Runtime, Hard Floors and Carpets, Works with Alexa, App Controls, Self-Charging, Quiet | Buy Now |
| | Samsung POWERbot R9350 POWERbot Turbo Robot Vacuum, Large Dust Bin Ideal for Carpets & Hard Floors with 8300Pa Strong Performance, Works with Amazon Alexa and the Google Assistant | Buy Now |
| | eufy Anker, BoostIQ RoboVac 11S (Slim), Super-Thin 1300Pa Strong Suction, Quiet, Self-Charging Robotic Vacuum Cleaner, Cleans Hard Floors to Medium-Pile Carpets, Black | Buy Now |
| | Dirt Devil Power Swerve Pet Stick Vacuum Cleaner, Cordless, For Carpet and Hard Floor, BD22052, Red | Buy Now |
General Feeling Among Users
It does not come as a surprise that a lot of people love the Roborock S5 Robot Vacuum. From what you have read so far, you might agree with them even having not used it yet.
Firstly, a lot of users say that the vacuum is easy to set up and use. One user even said that she received hers fully charged so she put it to work straight out of the box. Other users love how easy it is to empty the dust cup.
Secondly, they say that the vacuum cleans really well. Pet owners who used it said that it picks up pet hairs really well.
From what people are saying, this robot excels both on hard floors and carpets.
Thirdly, the majority of the users like how well the robot navigates. They say that it moves around intentionally like it knows where it is going.
They were also impressed that the robot can remember where it has cleaned and continue from there.
That's not all, they like that the filter is washable. That it operates quietly was also a plus for many. A lot of users compared the Roborock S5 Robot Vacuum to other vacuums and they preferred this one.
Some complaints…
The app was the most common complaint we noticed. A lot of users were having issues getting the robot to connect to the app. Most of them got it done in the end though.
Our Verdict
Isn't it obvious already? It was pretty easy for us to conclude on this vacuum. There are a lot of things the manufacturer got right with this vacuum. Despite the price, this robot still offers more value for money.
In that case, we love it. What is your own opinion about the Roborock S5 Robot Vacuum? If you like it too, you should get yours now!