Couches come in different styles and materials. Microfiber is fast becoming a popular choice. Part of the reason might be because it is quite easy to clean a microfiber couch.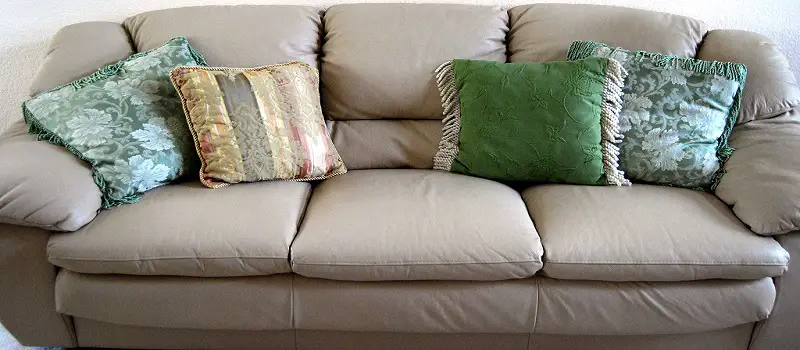 Welcome back to Vacuum Cleaners Advisor. If this is your first time, we're glad to have you here. Today, we are going to show you how to care for your microfiber couch.
This type of couch looks and feels much like suede. However, they are made from polyester and their fibers are about 100 times thinner than the human hair. This accounts for their soft feel and comfort.
One downside of a microfiber couch is that it is prone to having watermarks. As you can guess, that isn't favorable for its aesthetics.
To clean a microfiber couch takes a bit of consideration. Since you're here, you will be leaving with pro tips on how best you can keep your microfiber couch clean and looking new.
Vacuuming Method to Clean a Microfiber Couch
Using a vacuum cleaner is one of the easiest ways to go about cleaning a microfiber carpet. In fact, it is an ideal method if there are no stains to handle and you just want to routinely clean it.
Any type of vacuum cleaner is okay for this process. Of course, it will look weird to run your upright vacuum on a sofa. A lot of them have hoses you can use an attachment tool with.
All you have to do is fix an upholstery tool and use it to vacuum the couch. This will suck up dirt and debris as well as brush the fibers of the microfiber couch putting them in alignment.
A cordless stick vacuum like this Dyson is a perfect option. Just convert it to a handheld and attach its upholstery tool and you're ready to clean. Some vacuums have powerful suction. So, be careful not to use a setting that might be too much for your microfiber couch to handle.
Rubbing Alcohol to Clean Stains on a Microfiber Couch
If you have stains or watermarks on your microfiber couch, which happens a lot, you will need more than vacuuming to clean it.
The following are the steps you need to take to deal with stains when you clean a microfiber couch.
Vacuum away dirt and debris. You will follow the same process we explained above to be sure the surface of the couch is clean.
Check the couch's label for instructions. A microfiber couch is polyester and you have to be sure what materials you can clean it with. This will be indicated using certain alphabets as follows: "S" means you can use a solvent on the couch. "W" you can only use a water-based cleaner. "S-W" means you can use either water-based or solvent-based cleaners. "X" means you can only vacuum the couch.
Based on this method, we are assuming you're allowed to use Alcohol. First, test the rubbing alcohol on a hidden part of the couch to see the effect. If it is favorable, then you can go all out.
Apply the rubbing alcohol to the stain. You can use this Solimo. It comes in a spray bottle which makes your application precise. Apply on the stained areas and rub with a cloth till the stain is gone. Be sure to use a white cloth so other colors will not rub off on the couch.
Use a brush on the fibers of the couch. A microfiber couch can become stiff after getting wet. To neutralize this, gently rub a nylon-bristled brush over the stiff surface to restore its original feel and appearance.
Have a routine for cleaning a microfiber couch. You might want to brush or vacuum your microfiber couch once every week. This will help it maintain its texture and extend its aesthetic value.
MORE: If you'd like to have your home spic and span, check out our guide for cleaning every room in your house.
How to Protect and Preserve a Microfiber Couch
To get yours, click here
If you don't have a lot of time to frequently clean a microfiber couch, you can as well prevent it from getting stained and dirty.
The answer is a couch cover. Whatever style of couch you use, you can find a cover that will protect it from stains and dirt.
This is especially useful if you have kids or pets at home. A lot of them are stretchy and can easily adjust to the shape of your couch.
Some couch covers protect your sofa as they are water-resistant and are anti-slip. There are types you can wear over the couch and others that are just covers.
The wearable ones are so cool that you'd need a closer look to figure out its just a cover. That is an inexpensive and convenient way to refurbish your couch.
That's not all, these covers come in different colors and patterns to choose from. Now you can add as much color and vibrancy as you want to your home.
Just so you know, these covers are not limited to microfiber couches alone. You can use them for any type of couch.
Signature Design by Ashley – Alenya Microfiber Upholstery Sofa w/ 2 Throw Pillows, Charcoal
CONTEMPORARY SOFA: Youll love the smooth feel of microfiber upholstery over this neatly tailored silhouette. The sleek track arms are sure to enhance any contemporary living room

SOFT MICROFIBER: Its a high-end look made for everyday living with plush, high-resiliency cushions upholstered in cozy polyester/nylon microfiber

TRENDY CHARCOAL GRAY: Designed in a neutral grey tone that matches with just about any home decor style. The included pair of scripty decorative pillows are a posh touch

GREAT FOR MID-SIZE SPACES: Sofa measures 84 W x 37.5 D x 38.5 H with a 20 seat height; Exposed feet with faux wood finish

ARRIVES ASSEMBLED: Ready for instant enjoyment in your living room. Fits through doorways 32 or wider

DIRECT FROM THE MANUFACTURER: Ashley Furniture goes the extra mile to package, protect and deliver your purchase in a timely manner

BUY WITH CONFIDENCE: Designed and manufactured by Ashley Furniture Industries. The trusted source for stylish furniture, lighting, rugs, accessories and mattresses. For every taste and budget
Conclusion
It is our hope that this post will help you clean a microfiber couch when the need arises. Whether it is a routine cleaning or to remove a stain. If you find this pro tip useful, why not share it with your loved ones? They'll thank you for it. For more cleaning tips and vacuum cleaner reviews, kindly explore our site. It is our pleasure to help you out. Until the next post, thank you for your time.