Dyson hardly needs any introduction when it comes to vacuum cleaners. It has been tried and tested over the years and this is why we bring you the Dyson V11 Cordless vacuum.
This brand is one of those that transformed vacuum cleaners as we know it. It pushed the boundaries of innovation and merged advanced technology with vacuuming. This is why it is such a huge brand in the industry.
It manufactures other products such as hair dryers, air purifiers, bladeless fans, etc. All its products follow the principle of innovation and quality.
If you want to know more about its vacuum cleaners, you can read our Dyson vacuum cleaners guide.
Who Can Go for The Dyson V11 Cordless Vacuum?
If you straight up want one of the best cordless vacuums there is, this is your best option. It can boast of features you never expected from a cordless vacuum. Don't worry, we'll touch on them later.
Your high piled carpets need a deep clean often, the Dyson V11 Cordless Vacuum is your go-to for that. It has the kind of suction power that will intimidate even upright vacuums.
If you like the versatility that comes with cordless vacuums, this one will help you get the best of it. It comes with a rich collection of attachment tools that lets you clean in all sorts of ways.
That's not all, the weight is well distributed and the Dyson V11 is quite easy to use with its swivel head.
If you have allergies or are asthmatic, this is a good vacuum to offer you the protection you need. It has a HEPA filter that locks in the particles that could trigger your allergies.
We will give you more detailed goodies about this vacuum down the line. We know you're getting excited, and you should be.
By the time you get to the end of this review, you will be able to decide if this is the right vacuum for your needs or not. So, stay tuned.
Features of The Dyson V11 Cordless Vacuum
High Suction Power
If you have been following cordless vacuum cleaners for a while now, you will know that Dyson still tops the list in terms of power.
Dyson retains that dominant position with the Dyson V11 Cordless Vacuum. In fact, that position is sealed for now.
This cordless vacuum recorded 59 cfm of airflow if you measure at the wand and 49 cfm with the torque brush head on.
It has a whopping 111 inches of water lift! To put it simply, this is a cordless vacuum that will bully uprights with its power.
What this means to you, the users, is that your high pile carpets will get a deep clean every time you try.
Washable HEPA Filter
If you don't already know, HEPA filters are the highest standard you will find in a vacuum cleaner.
They can trap up to 99.97% of the allergens and particles in the air that pass through them down to 0.3 microns.
To further buttress this point the human hair is about 50 microns in diameter. So, you can guess how clean the air that comes out of this vacuum will be.
You can rest assured if your allergies get triggered, it won't be the fault of the V11. It doesn't end there. The filter is also washable and will last the life of the vacuum, which is quite long.
Impressive Battery Life
The Dyson V10 blew out every other cordless vacuum in terms of runtime. The Dyson V11 has now blown out its predecessor.
You can run the vacuum on three power levels depending on your needs. Of course, you can expect the runtime to vary accordingly.
On low power, you will get 74, 81, and 66 minutes of runtime using the crevice tool, fluffy brush roll, and the torque head respectively.
The medium power offers 39, 40, and 43 minutes respectively if you use the same attachments in the order above.
Finally, on the max mode, you will have to manage 9, 14, and 8 minutes of runtime with those same tools. However, you will definitely get the deep clean you want.
Transformer
If you have been reading our individual product reviews for any length of time, you will know what transformers mean around here.
The V11, like its predecessors, can go from a stick vacuum to a handheld. This transformation will get you closer to the dirt and you know what that means.
With the way you can mix match the parts of this vacuum, you will be able to vacuum up to the ceiling and everything in between.
This is where the versatility comes into play. You can switch attachment tools based on what and where you need to vacuum.
LED and LCD Display
The Dyson V11 comes with a fancy addition. If you go for the Absolute model of this vacuum, you will get to use the LCD screen that keeps you informed of what is going on with the vacuum.
It can show you the battery life left based on the power mode you're running. There's a button you can press to toggle among the modes.
The screen will also alert you when the dust cup is full, if the filter is clogged, and other things like that.
With the Animal model, you won't have the cool screen, just an LED.
High Torque Drive Brush Head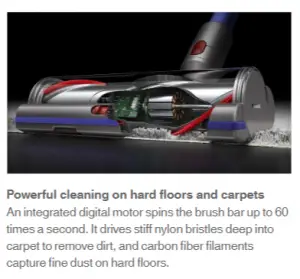 This is an advanced brush head that contains a chip that can sense when it goes from carpet to hard floor and vice versa.
Once it notices the change, it adjusts accordingly so you can get an optimal effect at all times.
This brush head also has an improved agitation which makes it a lot more efficient at cleaning carpets.
User-friendliness of The Dyson V11 Cordless Vacuum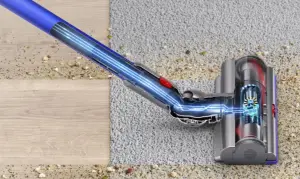 Even if you have never used a cordless vacuum before, you can jump on this one and use it like a pro. That's how easy it is to use, at least for us.
We will tell you some of the things we feel make this vacuum user-friendly and let you be the judge.
To change the attachment tools is just a matter of pulling and pushing. Honestly, it's that simple and they snap into place too.
The V11 is lightweight and easy to maneuver. It turns easily and can lean low enough for it to get underneath furniture.
It comes with a wall dock, so you can easily hang it when not in use to save some floor space. That's not all, you can also charge it on the dock as well. Getting fully charged only takes about 4.5 hours.
Pros of The Dyson V11 Cordless Vacuum
i. It has unprecedented cordless vacuum suction power.
ii. It has a large dust cup so you won't be emptying often.
iii. The brush head can sense changes in floor type and adjusts accordingly.
iv. The vacuum has three power settings.
v. It has an LCD screen for monitoring the condition of the vacuum.
vi. You can turn it into a handheld vacuum.
vii. It comes with an assortment of attachment tools.
Cons of The Dyson V11 Cordless Vacuum
i. The price is a bit on the high side.
ii. It takes quite a while to fully charge.
Alternatives To The Dyson V11 Cordless Vacuum
More affordable alternative – Dyson V8 Cordless Vacuum
There was a time the V8 was royalty in the world of cordless vacuums. That time has passed now but the V8 is still a worthy stick.
Its direct drive brush head creates an impressive agitation that makes its carpet cleaning performance exceptional. If you couple that with its suction power, what you get is a good cleaning performance on both hard floors and carpets.
Its runtime is no pushover at 40 minutes. It easily transforms into a handheld and its attachment tools are easy to fix and detach. You can read a review of the Dyson V8 for more information.
High-end Alternative – Dyson V10 Cordless Vacuum
At the time of writing this, there is not a cordless vacuum that is higher-end than the V11. For that, we're featuring the V10 here as a close contestant.
The Dyson V10 used to be on top of the cordless vacuum pecking order until the V11 knocked it off its perch. The V10 is a great vacuum by any standard you want to measure it by. Power, runtime, ease of use, filtration, performance, and even price, it is top-notch all the way.
User-friendly Alternative – Shark ION Flex Cordless Vacuum
Shark is the biggest competition Dyson has when it comes to vacuum cleaners. Its ION Flex gave the Dyson V10 a run for its money in many comparable areas.
It has two brush rolls in its bush head which make it great for both hard floors and carpets without needing to switch like the V10.
The ION Flex can also fold in the middle so you can reach under obstacles without having to bend too much.
One great advantage of this vacuum is that its battery is removable. This means that you can potentially double its runtime if you get an extra battery.
Opposite spectrum – Roborock S5 Robot Vacuum
This is one of the big shots when it comes to robot vacuums. Some users consider it the best robot vacuum. This is most likely because it matches awesome features with a great price.
The robot can both vacuum and mop. So, it's almost like you have two robots in one. It uses a laser navigation system to find its way around your home. It creates a map of your floor and uploads it on a dedicated app that you can install on your phone.
With this, you can create virtual lines that serve as boundaries that will prevent the robot from getting to certain parts of your home. Check out a comparison review between this robot and another top robot vacuum.
Comparison Table
Featured
More Affordable
High-End Variant
User-Friendly
Opposite Spectrum
Products

Dyson V11 Cordless Vacuum

 

V8 Cordless Vacuum

 

 

Dyson V10 Cordless Vacuum

 

Shark ION Flex Cordless Vacuum

 

Roborock S5 Robot Vacuum

 

Dimension
50.6 x 9.8 x 10.3 inches
9.9 x 8.9 x 49 inches
9.8 x 10.1 x 49.2
13.4 x 10.4 x 45.9 inches
13.8 x 13.7 x 3.8 inches
Weight
6.88 lbs
5.75 lbs
5.9 lbs
8.7 lbs
7 lbs
Attachments
Combo tool, mini motorized brush, crevice tool, stubborn dirt brush, transparent clip to carry up to two tools onboard
Mini motorized tool, dusting brush, combination tool, crevice tool, fluffy brush roll, torque drive brush roll
Mini motorized tool, dusting brush, combination tool, crevice tool, fluffy brush roll, torque drive brush roll
Dusting brush, crevice tool, wide upholstery tool, and anti-allergen tool. If you go for the ION Flex 2X, you will get an extra battery along with these.
Water tank
Runtime
80 minutes
40 minutes
60 minutes
23 minutes
150 minutes
Special Feature
Has an LCD screen
Double HEPA filter
Large dust cup
Can fold half way
It can also mop
General Feeling Among Users
As expected, a lot of users showered praises on the Dyson V11 Cordless Vacuum. The most popular praise was for power. That is something nobody will fail to notice.
A lot of users also liked the runtime. One user even said that he has not been able to use up the battery before he gets done cleaning. Well, you can argue the fact that his home is small.
The cleaning performance was also applauded which was expected considering the brush head and its suction power. Pet owners could not believe how well it picked up hair. As you can expect, the screen got some applause as well.
Some users complained about waiting a whole 4.5 hours for it to fully charge. But they weren't so disappointed with it as there is a lot of good things to this vacuum.
Our Verdict
The verdict for the Dyson V11 Cordless Vacuum is pretty straightforward. We love it! It is damn powerful, has a long-lasting battery, HEPA filter, and it is easy to use. What more can one ask of a cordless vacuum?
Some users grumbled a bit about the price but when they saw what this vacuum is capable of, they realized it was worth the investment. If what you have read convinces you to give the V11 a try, by all means, go make the purchase.