Dyson is one of the biggest brands in the floor cleaning industry. This is not just gainsaying, its status comes from years of consistently offering some of the best vacuums in different categories. One of those offerings is the Dyson V7 Cordless Vacuum.
The brand was one of the first to adopt the cyclonic method for its bagless technology. This approach has helped it stand out from the rest as it only manufactures bagless vacuums now.
Dyson vacuum cleaners are a high-end variant because of the level of innovation infused in them. From the uprights to the canisters, and down to the cordless models, Dyson vacuums are a home appliance you will come to love.
Its highlight technology is the Dyson Cinetic or the Radial Cyclone in the case of its cordless models. This technology works by spinning the dirty air you vacuum at high speeds.
This causes the dirt and dust in the air to settle at the bottom of the dust cup while only clean air remains at the top.
This brand does not just manufacture vacuum cleaners, some of its other products include air purifiers, heaters, and fans, hair care products, etc.
We have a guide on Dyson vacuum cleaners if you would like to know more about them and what they have to offer.
Who Should Get The Dyson V7 Cordless Vacuum?
Those who have a small apartment or a smaller house and need a vacuum cleaner can use the Dyson V7 Cordless Vacuum. It is powerful enough to handle your needs.
You might already own a vacuum cleaner that you use for whole house cleaning but need a backup vacuum for the smaller spot cleans. This vacuum cleaner is also a great option for you.
Do you own pets or suffer from allergies? Then the Dyson V7 Cordless Vacuum can help you get rid of pet hairs and dander. Now you can breathe as deeply without the fear of an allergic trigger.
Whether you have hard floors or carpets and rugs, or maybe even the combination of both, this cordless vacuum will clean up your floors well. Why not? It was engineered for that!
Features Of The Dyson V7 Cordless Vacuum
Before we go ahead, we want to make it clear that the features we are about to discuss covers the 4 variants of the Dyson V7 Cordless Vacuum. With that said, let us move on to the juicy part, shall we?
Powerful Suction
The power that comes from the Dyson cordless vacuums, which they have come to be known for, is fantastic. According to Dyson, a lot of engineering innovation and a blistering 8 years went into designing it.
It definitely paid off as this Dyson V7 delivers great power that lets it clean your floors thoroughly, whichever type it is.
It uses a digital motor that spins faster than a Formula 1 car engine which enables it to generate such a powerful suction.
Direct Drive Brush Head
This specialized brush head has a design that allows it run its stiff nylon bristles deep into your carpet. This lets it dislodge embedded dirt and then sucks it up with its powerful suction.
It does not only clean your floors of dirt and debris alone. This vacuum goes further to clean out dirt on a microscopic scale.
The Dyson V7 provides a clean so deep your floors will become safe for your kids to hang out on.
Sealed Filtration System
The filtration process of the Dyson V7 is quite thorough. When this machine sucks up all the dirt on your floors, including the ones you can't see, it traps them inside the dust cup.
Normally, when a vacuum sucks in air, the air is passed through a filter which traps tiny microscopic dust letting only clean air pass through.
The Dyson V7 Cordless Vacuum takes this a bit further with its 2 Tier Radial cyclone.
This technology works by generating a powerful G-force that spins the dust in a circular motion. This process isolates the dust particles from the air. As a result, the dust settles at the base of the dust cup while only clean air remains on top.
This is the same result a HEPA filter will achieve but in this case, there are no filters. This process too captures contaminants down to 0.3 microns. This equals the effectiveness of a true HEPA filter.
We mentioned that this feature takes filtering a step further, it does that by saving you some money and effort. If you are wondering how, we will explain.
The absence of filters means that you will not be buying filters ever again. If you add up how much it would cost to buy replacement filters every year, you will find out how much you will save.
Even if it had been using washable filters, you will still have to wash the filters every once in a while.
In this case, you do not have any maintenance efforts to make and you will still be getting the same benefits of using a HEPA filter. If you want to know more about HEPA filters in relation to vacuum cleaners, check out our guide on HEPA filter vacuum cleaners.
Versatile
With all the accessories that come with the Dyson V7 Cordless Vacuum, there are many different types of cleaning you can already do with it.
If you couple that with the fact that this vacuum is a transformer, its versatility just got a couple of notches higher. There would hardly be any type of vacuuming you cannot do with it.
You will clean from floors to ceiling and everything in between. Even clean stairs, baseboards, floor gaps, etc. You will even go as far as the interior of your car.
Decent Battery Runtime
When it comes to cordless vacuum cleaners, the runtime is one of the most important factors to consider. There are vacuums that offer only enough time to clean a little portion of your living room before you need to charge.
But this Dyson V7 will give you up to 30 minutes of vacuuming time. If you switch to the max mode, you will still get about 6 minutes of intense, deep cleaning vacuuming done.
No Mess Bin Emptying
The Dyson V7 Cordless Vacuum is bagless, of course, that has become Dyson's partial trademark. So, it uses a dust cup located just under the Radial cones to collect the dirt you vacuum. It has 0.53 liters of space to handle dirt.
Emptying the canister when full is straightforward. All you do is pull a lever and the dirt falls straight into the trash.
The opening is at the base of the dust cup, that way, you won't interact with the dirt at all.
It is important to note, however, that you should be careful when emptying a dust cup. Even though some of them open at the base, like this one, dust may still rise out of the trash can.
If that happens, the dust will set somewhere and you will still have some cleaning to do. Worst still, you might end up inhaling it and you know what that can cause.
Accessories
This is one of the main ways to differentiate the different variants of the Dyson V7 Cordless. The type of accessories that come with the vacuum mostly determines the name the variant is called.
For instance, the Dyson V7 Absolute comes with all the available attachments such as a soft roller cleaner head, mini brush tool, mini motorhead, etc. If you are looking to clean mainly hard floors, this is a good choice because of the soft cleaner tool.
The Dyson V7 Animal is missing the soft cleaner head but has the rest of the accessories. If you have pets, then the Animal variant is what you need.
If you are going for this vacuum cleaner, we suggest that you pay attention to the available accessories. That way you will choose the right variant that meets all your needs.
Is It User-friendly?
The Dyson V7 Cordless Vacuum is designed to do almost everything for you. All you need to do is add the appropriate attachment and point it where you need to clean.
That might sound too good to be true but honestly, this vacuum is that easy to use. Its powerful suction even reduces the time you spend vacuuming as you will not need too many passes on a spot.
Converting the Dyson V7 Cordless Vacuum into a handheld is also easy. You can do that at the push of a button, attach a tool, and you have a Dyson V7 handheld!
Pros Of The Dyson V7 Cordless Vacuum
It has a long lasting battery life.
The Radial cyclone technology prevents the vacuum from losing suction power.
It does not use a filter which consequently saves you money from buying replacements.
The dust cup is hygienic to empty as you will not come in contact with the dirt.
It has an advanced filtration process that keeps all the dirt in even without using a filter.
The vacuum uses stiff nylon bristles to comb through carpet fibers for a more thorough clean.
It takes just 3 and a half hours to fully charge so you won't have to wait forever.
As powerful as this vacuum is, it is surprising that the noise does not even try to match the power.
It is available in 4 different versions to choose from.
Cons Of The Dyson V7 Cordless Vacuum
As you might have known, a Dyson vacuum cleaner is expensive and the Dyson V7 Cordless Vacuum lives up to that.
One serious issue most people have is the power button. You don't get to switch it on or off. If you want it to stay on, you will have to hold the button there. We hope Dyson has a good reason for keeping this design but it is not comfortable.
Alternatives To The Dyson V7 Cordless Vacuum
More Affordable Option – Eureka NEC122A Power Plush
This cordless vacuum can do almost everything the Dyson V7 can do and it is way more affordable. It might not have as much power, but it will definitely clean on multiple floor types.
It has an anti-allergen filter that is washable so you can repeatedly use it. That saves you some money even though the initial cost is not high. It uses a 21.6 volts battery which delivers a good suction and decent runtime.
This one also empties in a hygienic manner and it even has 2 ways you can empty the dust cup. It comes with crevice and upholstery tools and will pick both large and small particles. This vacuum can also easily convert into a handheld for you're a whole new way of cleaning.
Higher-End Variant – Dyson V10 Cyclonic
You already had a taste of what Dyson can do with the product we are featuring. This one is actually 2 models higher so, you can guess how advanced it is.
With the advancement in technology and performance, you can rest assured you will pay the price. It is a Dyson after all.
This cordless vacuum offers up to a whopping 60 minutes of runtime. It also takes about 3.5 hours to charge back up.
It will also effectively pick up dirt large and small on carpets and hard floors. Its fully sealed filtration system will also trap 99.97% of dust and allergens just like a true HEPA filter.
User-Friendly Option – Shark Rocket Handheld
This vacuum is super portable and you can rest assured it is lightweight as well. This makes it easy to handle and clean all you want. Talking about that, this is a corded vacuum so you are not in a race against time. So, you can actually clean all you want, literally.
It is comes packaged with useful accessories such as a flexible hose, crevice tool, mini pet tools, etc. With all that you can clean as much as you want any way you want.
Opposite Spectrum – Ecovacs Deebot Robot Vacuum
How would you like to keep your floors clean without doing anything? All you need do is get yourself this robot vacuum.
These vacuum cleaners are autonomous and are equipped to navigate on their own while they clean along their path.
This particular one works with Amazon Alexa and uses Wi-Fi so you can either control with an app or use voice command. This robot vacuum is surely proving its worth as it is an Amazon Choice product. You can learn more about robot vacuum cleaners from our guide.
Comparison Table
Featured
More Affordable
High-End Variant
User-Friendly
Opposite Spectrum
Products

Dyson V7 Cordless Vacuum

 

Eureka  Power Plush

 

 

 

Dyson Cyclone V10

 

 

 

Shark Rocket Handheld

 

 

 

Ecovacs Deebot Robot Vacuum

 

 

 

Dimension
8.2 x 9.8 x 49 inches
43.7 x 7.1 x 9.6 inches
9.8 x 10.2 x 48.9 inches
9.7 x 4.9 x 13.6 inches
13 x 13 x 3.1 inches
Weight
5.3 lbs
5.5 lbs
5.05 lbs
3.7 lbs
7.05
Attachments
Crevice, mini motorized, soft dusting brush tools, etc
Upholstery and crevice tools
Mini motorized, combination, brushing, crevice tools
Extension hose, pet motorized tool, crevice tool, etc
None
Runtime
Up to 30 minutes
Up to 20 minutes
Approx. 60 minutes
Corded
120 minutes
Special Feature
Fully sealed filtration
Swivel steering
Extra long battery life
Does not lose suction
Autonomous operation
Image
Title
Buy
Dyson V7 Motorhead Cordless Stick Vacuum Cleaner, Fuchsia (227591-01)
Buy Now

Top

Top

Top

Eureka Powerplush Cordless 2-in-1 Lightweight Stick Handheld Vacuum Cleaner, Rechargeable Lithium-Ion Battery with Charging Base, NEC122A
Buy Now

Top

Top

Top

Dyson Cyclone V10 Motorhead Lightweight Cordless Stick Vacuum Cleaner
Buy Now

Top

Top

Top

Shark Rocket Ultra-Light with TruePet Mini Motorized Brush and 15-foot Power Cord Hand Vacuum (HV292), Maroon
Buy Now

Top

Top

Top

Ecovacs DEEBOT N79S Robotic Vacuum Cleaner with Max Power Suction, Upto 110 Min Runtime, Hard Floors and Carpets, Works with Alexa, App Controls, Self-Charging, Quiet
Buy Now
What users are saying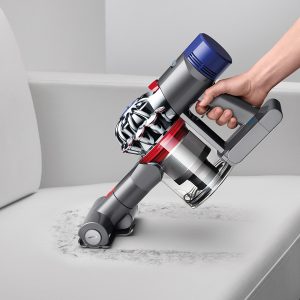 As expected, the users love their Dyson V7. A lot of them previously had the V6 and they marvel at the extent of improvement. A lot of users commented on the powerful suction the vacuum produces.
Some even said that you won't need up to the 30 minutes of runtime it offers with that much power. Others commented on the quality of the materials used indicating that it is top quality and will last quite a long time.
The attachments that come with it are also a point of praise for the Dyson V7 Cordless Vacuum. Depending on which version you buy, you have sufficient attachment tools to do different types of cleaning.
Our Verdict
We especially love how generous Dyson is with the accessories that come with the Dyson V7 Cordless Vacuum. We also like that it is powerful and the fully sealed filtration system makes it ideal for anyone suffering from asthma or allergies.
It has a nice battery runtime, the dust cup empties without a mess. The vacuum is all-round easy to use.
So, yes! We like the Dyson V7 Cordless Vacuum because it is worth its price tag. Obviously, we don't like the fact that you have to hold the power button to keep it on, but then, that being the only major flaw, we will let it slide. Go get yours today!