The Shark IONFlex Cordless Vacuum is an advancement in cordless vacuuming on different fronts. Stay with us and we will tell you all about that. But first, let us tell you a bit about the brand itself.

Shark is a brand under the parent company Shark Ninja which was founded in Montreal, Canada in 1998. Nowadays, the company has settled in Needham, Massachusetts in Boston.
Though the brand is fairly new if you compare it with some of the other big names in the industry it has become prestigious. In just 20 years, Shark vacuums have become one of the most sought-after vacuums today.
The secret to such a quick rise is in the brand's commitment to excellence. It will not put its name on any product that does not meet its high standards.
Shark vacuum cleaners are packed with advanced technology that makes your vacuuming experience a thing of pleasure. If you want to know all about the innovations in its vacuums go read our guide on Shark vacuum cleaners.
Who Should Get A Shark IONFlex Cordless Vacuum?
We are tempted to respond to this with "everybody" simply because everybody can benefit from this vacuum. It is a practical way to keep your home clean at all times.
If you have a mixture of floor types, this vacuum can handle dirt on any type of floor. So, Shark clean is what you get.
If you like the portability of cordless vacuums because of storage, this one will even bend to help you conserve space.
If you are looking for versatility and maneuverability in a cordless vacuum, there are only a few options that stack up to this one.
So, what else could you want in a vacuum? Anyone who needs a cordless vacuum with great performance, this is an ideal choice to go for.
Features Of The Shark IONFlex Cordless Vacuum
Duo Clean
This is one of the exclusive innovations you get to enjoy just because you are using a Shark vacuum.
The powerful brush head on the Shark IONFlex Cordless has two brush rolls.
The one in front is a big soft brush that sort of trample on a pile of dirt while the stiff brush at the back sweeps it in.
The result of this is an exceptional deep clean on carpets, rugs, or hard floors.
Some other vacuums will require quite a number of passes to completely clean a pile of debris. That is not the case with the Duo Clean brush head on the Shark IONFlex. It offers  "Triple Particle Cleaning" as Shark calls it.
This brush head design does not have a front wall. That way, it cannot snowplow a pile of debris which will spread it around. This makes it easy for the Shark IONFlex to clean up large debris, small particles, and even stuck-on dust.
While other vacuums will clean your hard floors of dirt and leave the dust behind, the Duo Clean will clean it all. The large and soft brush roll in front will wipe stuck-in dust of your floors leaving a polished surface behind.
Multi-Mode Usage
This advanced cordless vacuum can go from hard floors to carpets without you having to make many adjustments. The brush roll needed for both floor types are already active and on duty.
By default, the vacuum works in the upright mode so you can clean and move with ease from floor to floor.
It is also lightweight so you won't be having any problems with steering it or even carry if need be.
There are furniture with floor space under them that needs to be cleaned too. Instead of moving the furniture around, you can just switch to the reach mode.
This brings us to the Multi-Flex feature. Between the handle and the brush head, you can adjust the wand such that it bends.
This action allows you to reach under furniture to clean properly. This feature can also let you reach into areas you wouldn't if it could not bend.
Freestanding
Further, on the Multi-Flex technology, you can bend the Shark IONFlex all the way so it stands on its own. Quick question, how many other cordless vacuums can do that?
With this, you can park the vacuum anywhere you want. Just leave it where you stop if you want to take a quick break from vacuuming.
This also makes the Shark IONFlex easy to store as you will have only about half its true height to deal with.
Transformer
This vacuum will go from a stick vacuum to a handheld in a jiffy. This transformation lets you do many other types of cleaning.
Now you can go from floors to the ceiling. You can dust your drapes, furniture, and even vents. All you have to do is install the right accessory.
With this transformer, you are not limited to indoor vacuuming anymore. You can take your vacuuming outside into your car. In the handheld mode, you can clean up the interior of your car and even wipe off some dust.
Washable Filters
One advantage of a washable filter is because it lasts longer than the one-time use variants. This saves you a lot of money especially if you use your vacuum often.
All you have to do is to clean the filter under running water and let it air dry. Just fix it back into the vacuum and you are ready to go again, and again.
Double Battery Option
It can be pretty annoying if the battery on your cordless vacuum runs out when you are just halfway into your cleaning. You have to wait for hours for the battery to charge back up.
Shark, being so proactive, came up with a variant of the Shark IONFlex that has 2 batteries. That way, you can keep one battery in charge while you work with the other.
All you have to do is swap batteries and continue vacuuming. Even with just one battery, you will still get up to 30 minutes of vacuuming time. That is about enough time for some decent cleaning.
Accessories
Shark is quite generous to include some practical accessories along with the package. The crevice tool lets you clean into corners and baseboards. You can also get rid of cobwebs and dirt from floor gaps with this.
It also comes with a pet multi-tool which helps you get rid of pet hairs from floors and upholstery. The anti-allergen brush tool deep cleans any surface to get rid of dust and allergens to keep your sensitive occupants safe.
The User-friendliness Of The Shark IONFlex Cordless Vacuum
This cordless vacuum is lightweight making it easy for almost anyone to wield it around the floor. There is also nothing complicated about the controls as well.
To use the Flex function is as easy as pulling a lever and you can bend it like you want. You also just need to push a button to convert it into a handheld.
With the technology it features, vacuuming is fast as you won't need too many passes to get the deep clean you want. And that is for any floor type.
This is not a vacuum you need to get used to. Everything you need to do on it is quite convenient and straightforward.
Pros Of The Shark IONFlex Cordless Vacuum
i. It can clean on all floor types.
ii. The vacuum comes with some useful attachments.
iii. It can bend in the middle for a wider reach. This also helps with parking and storage.
iv. It has washable filters which save you money on buying replacements often.
v. You can easily convert it into a handheld vacuum.
vi. It has a double battery option.
vii. It has a soft brush roll that polishes hard floors as it cleans.
viii. The vacuum has a decent battery life.
ix. It is lightweight and easy to maneuver.
Cons Of The Shark IONFlex Cordless Vacuum
i. One issue with this cordless vacuum is the dust canister which is small. If you will be using it often, you also will have to empty often.
Alternative Options For The Shark IONFlex Cordless Vacuum
The Shark Rocket Stick Vacuum Is A More Affordable Option
This Shark also comes with the Duo Clean brush head we talked about earlier. This means your carpet and hard floors will be squeaky clean like they should be.
This vacuum also comes with a decent amount of attachments that let you clean in all sorts of ways. It is lightweight at just 4.6 lbs and has a swivel steering that can let you almost flatten the vacuum. With those, the maneuverability of this cordless vacuum is something to cheer about.
The Oreck POD Cordless Vacuum Fits In As A High-End Option
This cordless vacuum from Oreck has a unique design. Most cordless vacuums are bagless but this one has a bagged design. This eliminates the risk involved in emptying the dust cup of a bagless vacuum.
The POD technology is a self-sealing dust bag that keeps all the dirt and dust you vacuum inside the bag where it belongs. That way, asthmatic or allergic users are safe from getting triggered.
Another advantage of this bagged technology is that it can hold in more dirt than a lot of other rival cordless vacuums. If you want to know more about this technology and other Oreck Vacuums, read our guide on Oreck vacuum cleaners.
A User-Friendly Option Is The Shark Cordless Sweeper
This is a vacuum cleaner with a rather simplistic approach. It is called a sweeper because that is pretty much what it does.
It uses a motorized brush head to pick up dirt on all floor types. Whether on carpets, rugs, hardwood, laminated, tile, etc. you can rest assured of a clean floor with this sweeper.
It stores all the dirt it sweeps in the same brush head. To empty it, all you have to do is take the sweeper to the trash open the bin and let its content out. No mess, no fuss, just empty!
The Shark Rotator Vacuum Is One You Might Care To Check Out
If you have more cleaning to do, this might be a stronger option. It has a good, no-fade suction power and has more dust collection capacity.
This vacuum is also safe to use around sensitive people as it adopts an anti-allergen seal technology which keeps all dust and allergens in. It is also lightweight and operates quietly.
Quick Comparison
Featured
More Affordable
High-End
User-Friendly
Opposite Spectrum
Product
Shark IONFlex Cordless

 

Shark Rocket Cordless

 

Oreck POD Cordless Vacuum

 

 

 

Shark Cordless Sweeper

 

Shark Rotator Vacuum

 

Dimension
13.4 x 10.4 x 45.9 inches
10.2 x 9.8 x 46.4 inches
12 x 11 x 43 inches
5.5 x 17.8 x 13 inches
45.7 x 12.2 x 12.2 inches
Weight
8.7 lbs
9.9 lbs
5.6 lbs
2.18 lbs
15.5 lbs
Attachments
Crevice, brush, upholstery tool, anti-allergen dust brush
Multi-angle dusting brush, multi-pet tool, hard floor, and crevice tools
3 cleaning tools, tool rack, 5  POD bag replacements
None
Crevice tool
Runtime
Approx. 30 minutes
Corded
Up to 35 minutes
55 minutes
Corded
Special Feature
Can bend in the middle for better reach
Motorized brush head with double brush roll
Self-sealing dust bag
Sweepers both hard floors and carpets
Anti-allergen seal technology + HEPA
| Image | Title | Buy |
| --- | --- | --- |
| | Shark IONFlex 2X DuoClean Cordless Ultra-Light Stick Vacuum, IF251, Blue | Buy Now |
| | Shark Rocket DuoClean Ultra-Light Corded (Non-Cordless) Bagless Carpet and Hard Floor with Hand Vacuum, Charcoal | Buy Now |
| | Oreck POD Cordless Stick Vacuum Cleaner, Lightweight, Bagged, Rechargeable, Black, BK51702 | Buy Now |
| | Shark Ultra-Light Cordless 13-Inch Rechargeable Floor & Carpet Sweeper with BackSaver Handle, Motorized Brushroll, and Two-Speed Brush Roll (V2950) | Buy Now |
| | Shark Rotator Professional Lift-Away Upright Vacuum (NV501) (Renewed) | Buy Now |
What The Users Are Saying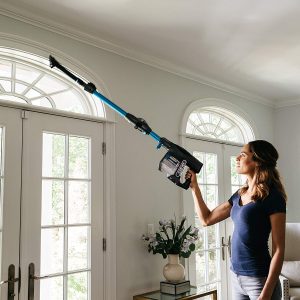 The Shark IONFlex is getting a lot of love from users everywhere. Most are raving about how well it picks up dirt. One particular user praised it for its suction power as it still picked up dirt after the carpet had been cleaned with a full sized vacuum!
The battery life was also a thing of praise especially with the fact that it comes with a replaceable battery. This gives users double the runtime which they obviously love.
Furthermore, some users also commended the vacuum's reach with the Flex mode. Praises did not miss out on the versatility as well because this vacuum is truly versatile. Some commented on how easy it is to convert it into the handheld mode.
Finally, the accessories where also something users love as they were happy with all the types of cleaning they could do with them.
Our Verdict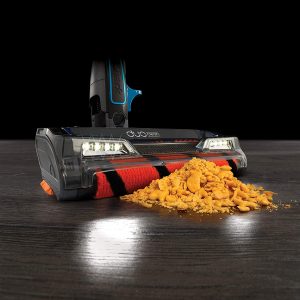 You get double runtime with the extra battery and the controls are intuitive. With these and many more, who wouldn't be impressed with this cordless vacuum?
In that vein, we categorically say that we love this vacuum! It doesn't stop there, we can recommend it too just like the multitude of users that commented on it. If you are as excited as we are about this vacuum, go get yours now!