When your sliding glass doors or windows become a struggle to open, perhaps it's time to clean the tracks. To clean sliding glass door tracks can be an easy task if you know what we know.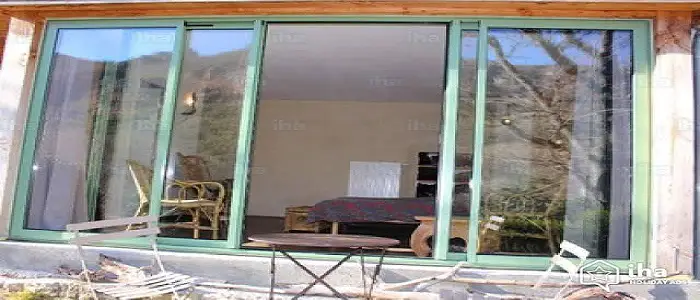 Welcome to Vacuum Cleaners Advisor, your guide to a valuable choice. Today, we bring you easy ways to make your sliding doors and windows open and close easily.
That's not all, these are expert tips you can do by yourself. The best part is that you probably have the things you will need at home. Even if you don't, they are readily available at convenient prices.
Dirt and grime are mostly the reason your sliding doors are difficult to use. So, we'll show you how to get rid of the dirt on the tracks. When the tracks are clean, you will learn how to lubricate them so your sliding glass doors open and close smoothly.
How to Clean Sliding Door Tracks – Simple Method
Everyone likes the easy way of doing things. However, this method might not be best for you if the dirt on your sliding glass tracks is much (the next method will do). This will suffice for small dirt buildup.
First, clean up the dirt. The easiest method to clean sliding glass door tracks is to use a vacuum cleaner. Any vacuum cleaner that uses attachment tools can do this job. Just connect the crevice tool to the nozzle of an upright vacuum. Convert a stick vacuum to a handheld and attach the crevice tool.
Apply a cleaning solution to the tracks. Add a few drops of a non-abrasive cleaner like this one or this denatured alcohol to a cup of water.
Scrub the tracks. You can use a wire brush or an old toothbrush to remove stuck-in dirt from the surface of the tracks.
Dry the tracks. Use a microfiber cloth or paper towels to wipe the water off the track and dry it up.
Clean the other sliding glass door track. Slide the door or window over the track you just cleaned to expose the other side. Repeat the cleaning process there too. Dario Ragnolo, cleaning expert and owner of Tidy Town Cleaning, suggests you remove the window or door to access the full track at once.
Have a routine. You should clean the sliding door tracks every week or two to avoid a buildup of dirt.
How to Clean Sliding Glass Door Tracks – Method for Buildup Dirt
If you're the type that does not have time for this kind of cleaning, there's likely a buildup of stuck-in dirt in the tracks. If the door or window is difficult to slide, this may be the problem.
Now, let's dive into the solution.
Create your cleaning solution. A vacuum will not do justice to these types of stubborn dirt. We have to get creative. Mix equal parts of white vinegar and water in a spray bottle.
Apply baking soda. This is where you visit your pantry. If you don't have at home, get this one. Pour the baking soda over the dirt. Be liberal and let it cover the dirt well.
Use your cleaning solution. Spray the vinegar and water mixture over the dirt and baking soda. Leave it to fizz for a full 10 minutes.
Scrub the track. The solution will have loosened the dirt so it should be easy. Use a wire brush, so you can further loosen stuck-in dirt. If all the dirt has not gone, spray some more of the solution and scrub again.
Wipe clean the tracks. Use a rag or paper towel to dry the wetness. You might need to do this repeatedly to completely dry it up.
Slide the door to expose the other side. You will repeat the cleaning process for the other side of the track. Better still, if you can, remove the door or window to clean the entire track at once as our expert suggested.
The following posts are some useful ways to clean other parts of your home:
How to Lubricate Sliding Glass Door Tracks
In most cases, it is not enough to just clean sliding glass door tracks. You need to lubricate the tracks so the doors and windows can move easily without effort.
Apply lubricant on the tracks. Of course, you would have cleaned the track following the process we showed you. You can get this silicone lubricant It comes with a smart straw for precise application.
Spread the lubricant. Use a paper towel or a cotton ball to spread the lube evenly over the tracks.
Apply the lubricant to the doors too. If you look closely at the sliding doors or windows, you will notice a hole somewhere at the base. Put the straw of the lubricant into the hole to apply it on the wheels of the sliding door.
Move the door back and forth to break it in. This process will help the lubricant spread over the tracks and the wheels evenly.
Have a routine. Asides the cleaning routine, it is important to lubricate your sliding glass door tracks every 2 months or so. This will make it work smoother with less friction.
BELLEZE Natural Wood Pine Unfinished (3ft x 7ft) DIY Pre Drilled Sliding Barn Door Sliding Door Single 42″ x 84″ inches, Arrow
【Enhance Room】 Perfect for a study, dining room area or an elegant transition between spaces, barn doors enhance and unify your space with light and beauty

【Easy Installation】 Doors are predrilled for easy installation to track hardware, handle and floor guides require additional drilling

【Heavy Duty Construction】 Thick construction resists warping and adds added dimension of durability to your home

【Sturdy and Elegant】 It is made of high quality pine, which will withstand strenuous conditions regardless of whether you use it indoors or outdoors. At the same time it is smooth, simple and elegant. The modern, slick design and smooth surface allow for a great feel in your hand

【Space Saving Solution】 Barn doors are also an excellent space saving solution versus a tradition swing door while adding character and a unique charm to any room
We hope you found this information useful. This is all you need to clean sliding glass door tracks and have them function smoothly at all times. Share this value with friends and family; they will love you for it. For more cleaning tips and reviews, kindly explore the site.
How to Clean Sliding Glass Door Tracks — FAQs
What is the best lubricant to use for sliding glass doors?
Silicone lubricants are one of the most popular ways lubricate sliding glass door tracks. There are many brands available to choose from so you can go with your favorite brand. Silicone lubricants are not so expensive and come in containers that make it easy to apply. Whether you want a spray can with a no-drip tube, or a lube stick, or aerosol, you can easily get them.
To get this silicone lubricant, click here
How can you clean oxidized aluminum shower doors?
Your aluminum shower sliding door might get stuck if the track is dirty. To clean it, follow the steps below:
If the dirt in the oxidized aluminum tracks is not heavy, you can scrub it with a non-abrasive cleaner.
When done, wet the track first and apply an oxidized aluminum cleaner on the tracks.
Scrub the surface to remove any remaining dirt.
Afterward, wipe the tracks clean to reveal a restored and shiny surface.
These cleaners come in different types which makes the application vary. So, be sure to pay attention tot he manufacturer's directions.
To get this aluminum cleaner, click here
How do you clean cloudy glass shower doors?
It's normal for your glass shower doors to become cloudy over time. This is caused by mineral build up from soaps, shower gels, shampoos, etc. However, it isn't difficult to clean and what you need might already be in your pantry.
Spray white vinegar evenly on the glass door and let it sit for 5 minutes.
Mix equal parts of baking soda and salt into a past and them rub on the glass with a damp sponge.
Afterward, rinse it off and you'll get a clean and clear bathroom glass door.
Can I use baking soda to clean aluminum?
Baking soda is, if not more, as useful for cleaning as it is for baking. It has many cleaning applications as it can cut through grease, absorb odors, etc. However, there are certain ways not to use it. The sodium bicarbonate in it can react with aluminum to change its color. So, it might not be a good idea to clean aluminum sliding door tracks or cookware with baking soda.
Will vinegar clean my aluminum sliding door tracks?
Vinegar is acidic, albeit a mild, but as a result is a good cleaning agent for aluminum. Aluminum will not clean well with an alkaline based cleaner so an acidic one is more effective. Citrus juice is also effective on aluminum since it is acidic.
To get this white vinegar, click here
Can I use cream of tartar to clean aluminum sliding door tracks?
Cream of tartar is potassium bitartrate and is acidic which makes it a good cleaning agent for aluminum. Mix it with some water to make a paste and apply it to aluminum surface you need to clean. After 5 minutes rub it off with a damp cloth and it would have cleaned the surface leaving a polished effect in its wake.
To get this cream of tartar, click here