Deenkee is a manufacturer of home appliances that make everyday chores easier and even something to look forward to. We are hoping that will reflect in its Deenkee Robot Vacuum.
The brand makes a lot of products in different categories such as kitchen appliances, coffee makers, security cameras, etc. With its commitment to innovation and performance, this just might be a brand you want to give a try.
Who Needs The Deenkee Robot Vacuum?
If you have a mixture of carpeted and hard floors or you have mainly hard floors, this is one robot vacuum you should take seriously.
Its value starts from the fact that it can vacuum and then mop. The Deenkee Robot Vacuum can easily take care of your floor cleaning needs.
It has multi-surface brushes and powerful suction that can easily clean pet hairs off hard floors or carpets.
If you have problems with the noise levels of vacuum cleaners, this one will please you as it operates silently.
Stay with us as we look into this vacuum in details. By the time we get to the end, you will be able to decide if this is the one for you or not.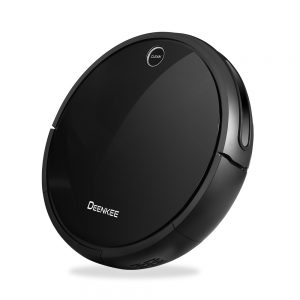 Click here to get yours today!
Features Of The Deenkee Robot Vacuum
Vacuum and Mop
Having a robot that can both vacuum and mop is like getting double value for your money.
The Deenkee Robot Vacuum has two side brushes that sweep dirt and debris.
It also has a brush roll underneath that combs through the fibers of a carpet to dislodge embedded dirt.
With this, you can rest assured you will get a decent clean whether it is on hard floors or carpets.
When you are done sweeping your hard floors, you can attach the microfiber cloth to the base and fill up the water tank. Once these are done, the robot is ready to mop your floors and leave it with a clean polished look.
One thing you will appreciate about this vacuum is that whether it is tiles, hardwood, laminate, etc. it will mop it effectively. Some robot mops smear your floor and leave streaks of water behind. This can be dangerous as the floor becomes slippery.
With the Deenkee Robot Vacuum, there is a mechanism in it that ensures that water is evenly distributed on the cloth. This will dampen the cloth so that it can wipe the floor clean with fewer passes.
The Deenkee Robot Vacuum has in-built software that helps it navigate its way around your home. The robot scans its surroundings to know where it is in relation to the room.
It also has sensors that can detect obstacles in its path. That way, the robot will not continuously bang against your walls and furniture causing damage to them and itself.
You can confidently use this robot up the stairs too without fear of it taking a plunge. It has a sensor for that too. This sensor detects changes in the floor depth so, once there is a difference, it just turns back to safety.
Cleaning Modes
You can use the Deenkee Robot Vacuum to vacuum your floor as you please depending on what you need.
There are cleaning modes you can choose from which determines the approach to which the robot completes its tasks.
Firstly, you can use the Auto Mode. In this mode, the robot will go about its cleaning in a fashion that suits its discretion.
Secondly, if you need to clean only one room, there is the Single Room Mode.
In this mode, the vacuum just goes about cleaning the room and when it is done, it goes back to its dock.
The third mode is the Edge Cleaning. If you have been using vacuum cleaners for a while, you will understand that a lot of them have issues cleaning close to the walls.
To solve that problem is the reason for this mode. In the edge cleaning mode, the robot clutches to the wall to clean the dirt in that area.
Lastly, the Schedule Mode, this is the mode where you can preset times when the vacuum will clean. For instance, you could set the robot to clean while you are asleep or when you go out.
With this mode, you will always wake up and come back home to a clean floor. This robot will vacuum and mop in your absence.
Low Profile
The Deenkee Robot Vacuum does not just avoid obstacles. It analyzes it to some extent. It can determine if there is space within or around the obstacle or not.
This is why the robot is able to go underneath furniture. Once it comes in contact with the leg of a table, for instance, it won't just turn back, it will clean around the leg and underneath it.
This robot is just 3.15 inches high. This is low enough to go under even low furniture. Now you won't have to worry about dirt hiding under the furniture.
Good Battery Life
Can you imagine a robot vacuum that is really good at cleaning the floor but its battery cannot last long enough to vacuum your living room?
That won't be impressive even though it cleans well. Fortunately, this robot is not like that. It has a high capacity battery that can last as long as 100 minutes. You would agree with us that this is sufficient time to cover a good extent of grounds.
Auto Recharge
No matter how long a battery would last, it will still run down. With this robot, that is not an issue. You will not even need to get involved in the recharging process. It will go about it automatically.
The Deenkee Robot will find its way back to its charging dock once its battery has run down to a certain point.
User-Friendliness Of The Deenkee Robot Vacuum
It is one thing for a robot vacuum to be useful, it is another for it to be easy to use. The Deenkee Robot Vacuum is both, at least by our opinion. We will tell you some more things about this robot so you can decide for yourself.
Firstly, if you have allergies or are asthmatic, you will like this one. This robot uses a highly efficient filter.
The filter traps in most of the allergens and dust that it vacuums. This way, they will not get back into your home for you to inhale.
Secondly, this robot operates quietly. The manufacturer rates it at fewer than 50 decibels which is even less than the noise from a normal conversation.
Furthermore, the dust cup has a decent capacity so, you will not have to empty it ever so often. It can be a real pain for a robot vacuum to need emptying every half a room it cleans.
That's not all, this robot vacuum comes with magnetic stripes that you can use to set boundaries. All you need to do is to place the stripe anywhere you don't want the robot to go beyond.
With all you have read so far, you should be able to have an opinion by now if this robot vacuum is user-friendly to you or not.
Pros Of The Deenkee Robot Vacuum
i. It has an intelligent navigation system and sensors.
ii. The robot can both vacuum and mop.
iii. It uses highly efficient filters.
iv. The battery lasts long.
v. It can automatically recharge.
vi. It has powerful suction.
vii. The vacuum comes with magnetic stripes to make boundaries.
viii. It is low profile and can get under furniture.
ix. It operates quietly.
x. The vacuum has 4 cleaning modes.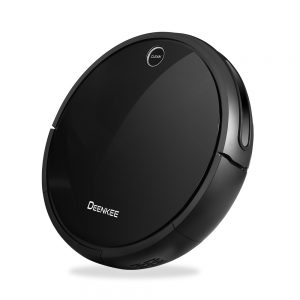 Click here to get yours today!
Cons Of The Deenkee Robot Vacuum
i. It does not have an app nor does it work with smart devices.
ii. The water tank is pretty small so you will have to refill often when mopping.
Alternatives To The Deenkee Robot Vacuum
More Affordable Option – ILIFE V3 Pro Robotic Vacuum
If you are on a stiff budget and still want a robot vacuum that can do its job, this one is a good option. It is inexpensive and has great features that make it do an excellent job.
Firstly, it cleans well because it has good suction. The suction is powerful enough to pick debris, dirt, dust, and even pet hairs. It is low profile, so getting underneath furniture to clean things out is not a problem for it.
It is best for hard floors but it can clean on thin carpets too. If you have heard of how well ILIFE robot vacuums perform, you can check out our review on the ILIFE A4s and ILIFE V5s.
High-End Option – Roborock S5 Robot Vacuum and Mop
This vacuum is one of the kinds that can deliver every bit of high-end performance. As expected, you will have to pay for it.
This robot vacuum has an intelligent navigation system. It moves in a systematic path just like you would if you were vacuuming yourself. That way, it will not miss any spot.
If you want smart, you will get it with this vacuum. It is compatible with Wi-Fi and you can download its app to control the vacuum remotely. You can check out its review for more practical performance.
You can schedule cleaning for the vacuum or save the map of your home so it gets better at moving around. It gets better, you won't need to buy magnetic strips to create boundaries. Just draw the boundary in the app and the robot gets the message.
User-Friendly Option – ILIFE A7 Robot Vacuum
This is another product from ILIFE and it shows some class even though it does not cost as much. Firstly, the suction power is strong and with its interchangeable brush roll, you can clean on both carpets and on hard floors.
Secondly, you will always get a thorough clean of your home with the controls available to you. It has 5 different cleaning modes.
With these modes triggered as needed, you will always have your floors as clean as you want. If you want to know more about this robot, read our review on it.
Opposite Spectrum – Shark IONFlex Cordless Vacuum
This vacuum uses the Shark MultiFlex technology that lets you bend the wand halfway. This lets you easily reach under furniture for a more robust cleaning.
It also easily converts to a handheld which lets you go from floor to ceiling. You can also clean drapes, dust furniture, upholstery, etc. with this ingenious design.
This vacuum has intuitive controls at the reach of your finger which makes it quite convenient to use. The DuoClean technology lets you clean debris and dust on multiple floor types. We have a review on it for more information.
Comparison Table
Featured
More Affordable
High-End Variant
User-Friendly
Opposite Spectrum
Products

Deenkee Robot Vacuum

 

ILIFE V3 Pro Robotic Vacuum

 

Roborock S5 Robot Vacuum and Mop

 

ILIFE A7 Robot Vacuum

 

Shark IONFlex Cordless Vacuum

 

Dimension
12.8 x 12.8 x 3.1 inches
11.8 x 11.8 x 3 inches
10 x 8 x 3.8 inches
13 x 13 x 3 inches
13.4 x 10.4 x 45.9 inches
Weight
11 lbs
4.5 lbs
13.55 lbs
5.5 lbs
8.7 lbs
Mode of control / Attachments
Remote control
Remote control
App and voice control
Remote control and App
Crevice, brush, upholstery tool, anti-allergen dust brush
Runtime
100 minutes
90 minutes
150 minutes
90 minutes
Approx. 30 minutes
Special Feature
It can vacuum, sweep, and mop
The vacuum automatically docks when the battery is running low
It can also mop on hard floors
You can schedule up to a week's cleaning
Can bend in the middle for better reach
General Feeling Among Users
A good number of users like the Deenkee Robot Vacuum and they had a lot of good things to say about it.
Firstly, they like how easy it is for it to be set up and it comes with everything you need to get going. Just put it together and let it charge.
Secondly, they like how well it cleans with its good suction, especially on hard floors. It does great on carpets too though.
The users like the back and forth path it follows and it does not have a problem transitioning between floors.
Furthermore, users also like how well the sensors work in avoiding falls and not bumping into furniture. They were also pleased that the vacuum operates silently.
Some complaints…
As we mentioned earlier, users agree that the water tank is too small. This makes the mopping function something you don't want to look forward to.
Our Verdict
We would have loved this vacuum if the mopping feature were impressive. And for its price tag, we expect it to be smarter and at least be able t work with an app.
Though the robot vacuums well as other users have testified but we are lukewarm about it. We believe that for its price tag, it does not offer enough value.
That is our verdict though. What is yours? You have all the information you need on this vacuum. Is it something you want to go for or move on from? If you are going for it, get yours now!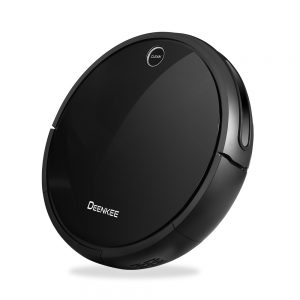 Click here to get yours today!