A huge welcome to Vacuum Cleaners Advisor and thank you for coming back. Today, we introduce you to two of iRobot's new line of robot vacuums. The Roomba e5 vs e6 comparison will fill you in on both robots to help you decide.
Robot vacuums have quickly earned their place in the vacuum cleaner industry. This is because of their unique capability, autonomous vacuuming.
They have been widely accepted because of how much time and effort they can essentially save you. To think your floors will still be as clean as you want, they are a great investment.
Due to their popularity, there's a legion of manufacturers out there which brings the problem of which to trust.
You won't have that problem in this case as iRobot can easily claim to have started the robot vacuum industry.
It has been around since the 90s and users are often in anticipation of its next offering. Doesn't that show it is getting its game right?
| | |
| --- | --- |
| | |
| | Go for the Roomba e6 |
Comparison Overview – Roomba e5 vs e6
If you just want a thorough clean and don't fancy all those high-end extras, either of the Roomba e5 or e6 will serve you well.
On another hand, if you'd like to check out iRobot's high-end robots, you can check out our comparison review of the Roomba i7 and S9.
The similarities between these robots are so many you won't miss much if you go with either of them.
If the color of your robot is important to you, then you might have to decide between the all-black of the e5 and the silver accent of the e6.
There are other differences, albeit few, separating these two. However, when it comes to what really matters, you don't have that much thinking to do.
All the same, you still need to be sure what you need a robot vacuum for in to know if either of these is a perfect match.
Comparison table – Roomba e5 vs e6
| | | |
| --- | --- | --- |
| | Roomba e5 | Roomba e6 |
| Battery Life | 90 minutes | 90 minutes |
| Filtration System | High-efficiency | High-efficiency |
| Dust Cup | Washable | Washable |
| Dimension | 13.4 x 13.4 x 3.6 inches | 13.4 x 13.4 x 3.6 inches |
| Weight | 7.23 lbs | 7.2 lbs |
| | | Go for the Roomba e6 |
What Situation Is Each Best For? – Roomba e5 vs e6
Roomba e5
Roomba e6
If you're on a tight budget this one will serve you great. Its price is not exactly modest but for all the bold features you will get, you can consider the price fair enough.
Is the runtime you can get out of a robot of importance to you? If that's the case, the e6 is a better option, it runs longer than its counterpart.
Preventing your robot from certain places is a good idea especially if you've experienced one get into trouble before.

 

This robot comes with two units of dual-mode virtual wall device. You can set it to create a line barrier or put it in the Halo mode to create a boundary around an object. This helps you keep your robotic cleaner from more areas.

Go for the Roomba e6
Common Features – Roomba e5 vs e6
As you can expect robots from the same brand in the same line, these two have striking similarities.
The similarities cover almost every area of both vacuums.
Appearance
It would have been impossible to tell this two apart just looking at them. Perhaps that is why the brand decided to alter the color orientation.
The Roomba e6 has a silver accent on its upper part which creates a distinct visual differentiation between the two. We'll leave you to decide which of the two looks best.
Both robots use the same navigation technology, the iRobot iAdapt. Even though the robots move around randomly, they still learn your home and adjust to it. Hence, they navigate better over time.
There are sensors in the robots too that help it detect obstacles. They can also differentiate between them too. For instance, either robots can tell if it is a wall or one it can get under or push through.
This is how it is able to clean under tables and chairs instead of turning away when it bumps into their legs.
Furthermore, there is a height detection sensor underneath the robots that allows them to avoid falls. Once either of them gets to a stair for instance, it simply stops and turns away.
3-Stage Cleaning System
This is a patented feature that has been responsible for how well Roombas have been cleaning whether hard floors or carpets.
It constitutes of the dual bristle-less brush roll underneath and the side brush that extends beyond the robot.
The side brush sweeps dirt into the path of the brush rolls and the suction picks it up.
As for the brush rolls, they comb through the fibers of your carpets to dislodge dirt, pull them up and the suction sucks them into the dust cup.
The brush rolls are rubberized and without bristles to save you the hassle of cutting off hairs afterward. These ones cannot get tangled with hairs or lint.
If you combine this with the robot's navigation that hugs the wall, you won't have any trouble with dirt close to the walls anymore.
Wi-Fi and Smart App
The Roomba e5 and e6 are compatible with Wi-Fi and that is what is used to connect the robots to your phone.
You need to download the dedicated app on your smartphone (iOS or Android). Then, through the app, you can monitor and give instructions to your robot remotely.
The connection, as well as the app usage, is painless. Although it is advised to use a strong Wi-Fi connection to make the pairing smooth.
You can schedule the robot to clean floors for every day of the week at certain times.
This gives you a lot of freedom to choose when they clean. When you go to sleep or when you leave the house. Whatever works for you works for the robot.
If using your smartphone to control the robot is not enough, you can go futuristic if you want.
If you have Amazon Alexa or Google Assistant, you could pair either robot to those and give voice commands to the robot.
Highly Efficient Filter
You certainly don't want to buy a vacuum and it becomes one of the things that trigger your allergies. Going for any of these robots will prevent that from happening.
They come with performance filters that trap 99% of dust and allergens inside the robot so they don't get back into the atmosphere in your home.
You can rest assured to breathe deeply around these robots even when they are at work.
Kindly note that though the dust cup is washable, the filter is not. So, you must remove it before washing the dust cup.
Dirt Detection
This is another feature that is common among Roomba from the onset. It is one of those features that set Roombas aside from the rest.
It lets the Roomba identify a concentration of dirt. The robot responds by taking extra time and putting in more effort in that area to make sure it is thoroughly clean.
Come to think of it, isn't that how you would deal with a concentration of dirt if you were doing it yourself? This shows how intelligent the robot is. It will do what it takes to keep your floors clean at all times.
Low-Profile Design
Both robots are quite close to the ground which gives them the advantage to get where other vacuum types cannot.
These two are not even up to 4 inches high, this allows them to get under even low-profile furniture to clean out the dirt that often finds residence there.
Their low center of gravity coupled with their sturdy wheels allow them to transition from one floor type to another easily. They can climb over ledges of certain heights.
| | |
| --- | --- |
| | |
| | Go for the Roomba e6 |
What's Unique to Each Product? – Roomba e5 vs e6
Features Unique To Roomba e5
It shouldn't come as much of a surprise that there are no features of the e5 that are unique to it.
This is because the e6 was created to offer options to those who might be interested in Roombas at this level.
Features Unique To Roomba e6
These robots are so similar, we wonder why iRobot made both and not just one. We guess it's just a sales thing as there are few differences in their presentation.
We already talked about the differences in appearance so that's out of it.
There also differences in the accessories you get with either of these robots. The e6 comes with 2 virtual barrier units and an extra high-efficiency filter while the e5 has one of both.
As at the time of writing this article, the e6 is not available on Amazon but you will find it at Costco
Unique Pros – Roomba e5 vs e6
Roomba e5
i. It comes at a fair price.
Roomba e6
i. It comes with 2 virtual barrier devices.
Unique Cons – Roomba e5 vs e6
i. These robots are essentially the same. Therefore, there is no real con unique to either.
Pros Common To Both Products – Roomba e5 vs e6
Roomba e5
Roomba e6
Power is one thing the e5 has over its predecessors. iRobot says it has 5x more suction than the Roombas in the 600 series. You can rest assured this means better cleaning performance.
Same as the e5
The e5 has an impressive runtime. Depending on how large your home is, 90 minutes should be enough time for it to take on all the dirt on your floors. That's us assuming it is not too dirty.
Same as the e5
The filtration of a vacuum is important especially if you're allergic or asthmatic. The one in the e5 is highly efficient and will trap 99% of dust and allergens.
Same as the e5
The dust cup in the e5 is washable. That way you get all the dirt out and have it clean for every vacuuming cycle.
Same as the e5
This robot will deep clean on both hard floors and carpets. In our cleaning tests on carpets and hard floors, it picked 99.7% of the dirt, debris, and dust poured on them.
Same as the e5
Even though you're not meant to interface with a robot vacuum a lot, it still needs to be easy to use.

 

This one is. From setting it up to usage, maintenance, and cleaning, you won't encounter any issue.

Same as the Roomba e6

Go for the Roomba e6
Cons Common To Both Products – Roomba e5 vs e6
Roomba e5
Roomba e6
Even though it is a new installment, it still didn't inculcate the serpentine movement pattern. It still cleans in a haphazard manner as its predecessors which is inefficient for power management.

 

 

If you consider that there are robots in the same price point that follow a logical navigation pattern, this can be a turnoff.

Same as the e5
The robot does not have an onboard camera so it does not map your home and cannot do all the cool stuff you would do with the map.
Same as the e5
It can find home to recharge, however, it cannot resume where it stopped.
Same as the e5

Go for the Roomba e6
General Feeling Among Users – Roomba e5 vs e6
| | |
| --- | --- |
| Roomba e5 | Roomba e6 |
| Some users complained that the e5 is rather noisy. That is a rather common complaint about the mid-level Roombas. | A lot of users love how well and deep it cleans on all floor types as well as how it tackles almost every type of dirt thrown its way. The pet owners especially praised the e6 for how well it dealt with pet hairs. |
| Users are totally in love with the cleaning ability of this robot. Even those who had something to complain about still commended the way it cleans. | Some users were happy with how easy this robot is to use. They said you didn't need to do anything but plug it and let it charge. Emptying the dust cup is also easy and they love that you can now wash it. |
| Some users complained that the robot has a small dust cup which makes them empty too often for comfort. However, the same user expressed love for the fact that it is washable. | There were users who said that the robot missed some spots here and there. This shouldn't come as a surprise because of the way it moves. |
| | Go for the Roomba e6 |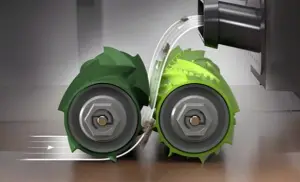 Bottom Line – Roomba e5 vs e6
Roomba e5
Roomba e6
If your interest is a quality clean of your floors without breaking the bank, you will hardly find a better vacuum to give you that.

 

 

We advise that you keep an eye out for the accessories that come with the version you buy.

If the bells and whistles of a robot vacuum do not interest you but you want a modern robot, then the e6 might be what you need.

 

 

Don't waste any more time, go ahead and get the robot.

Go for the Roomba e6
| | |
| --- | --- |
| | |
| | Go for the Roomba e6 |