Welcome to Vacuum Cleaners Advisor and today, we will be talking about Roombas. The Roomba 980 vs Roomba e5 comparison to be precise. This is a duel between a new offering and a tested and trusted one.
Before we dive into things, let's tell you a bit about the brand behind them, iRobot. This is one of the leading brands in the domestic robot industry. We won't be wrong to say iRobot brought robot vacuums to the mainstream.
Since it started, it has been consistent with quality robots tailored to users' various needs. It also manufactures robot mops and pool cleaners and we're sure those who use those are likewise impressed.
The e5 was released recently to bring the much-needed advancements to the mid-level robots of previous generations.
The 980, on the other hand, used to be iRobot's flagship offering with lots of bells and whistles at the time. However, it is still a top offering which is why you're checking it out.
Comparison Overview – Roomba 980 vs Roomba e5
These two are the best of both worlds. The 980 is the more affordable version of high-end Roombas while the e5 is now the king of the mid-level ones.
Your choice between these two depends on your needs. You don't want to spend high-end cash when your requirement of a robot is just basic.
The Roomba 980 moves in a serpentine pattern and has an onboard camera for proper navigation.
It will also resume where it didn't finish cleaning after it is done recharging even though it has an impressive runtime.
The Roomba e5, on the other hand, has powerful suction and scored 99% on our cleaning performance test.
Before you go ahead, make up your mind on what you need a robot vacuum for. It will help you get more benefit from this review and be happy with your choice.
Comparison Table – Roomba 980 vs Roomba e5
| | | |
| --- | --- | --- |
| | Roomba 980 | Roomba e5 |
| Battery Life | 120 minutes | 90 minutes |
| Filtration System | High-Efficiency filter | High-efficiency |
| Dust Cup | Not Washable | Washable |
| Dimension | 13.9 x 13.9 x 3.6 inches | 13.4 x 13.4 x 3.6 inches |
| Weight | 8.7 lbs | 7.23 lbs |
| | | |
What Situation Is Each Best For? – Roomba 980 vs Roomba e5
Roomba 980
Roomba e5
If your home is large, your robot certainly needs more time to get its job done. This one has that edge over its counterpart.

 

 

If offers a whopping 30 minutes more time than the e5. So, if the runtime is important to you, this is your guy.

Your robot keeps your home clean so it is only fair that you keep it clean too.

 

 

You will agree that some dirt still remains in the dust cup even after you empty it. The e5 gives you a chance to get them all out because its dust cup is washable.

 

However, you have to be sure to remove the filter because that one isn't washable.

There are cases where the robot won't get its job done with its battery power and it has to leave and recharge.

 

The Roomba 980 will go back to where it stopped and continue till it is done. The e5 is not at that level.

If all you want from a robot vacuum cleaner is cleaning performance, look no further.

 

It cleans like a high-end robot. It just doesn't have all the other features the more expensive ones boasts of.

If you want a robot that will clean your floors efficiently, this is your best bet. While the e5 moves randomly across your floor, the Roomba 980 follows a logical pattern.

 

 

This ensures that it covers the entire floor and also does it faster.
Common Features – Roomba 980 vs Roomba e5
All Roombas have a lot in common. iRobot seems to have generic features that are common across all Roombas and differentiates them with advanced features.
Suite of Sensors
Both robots have a collection of sensors that support their movements across floors so they don't just go about blindly.
For instance, both robot vacuums have cliff detection sensors. This sensor lets the robot know if there is a fall ahead and they respond by turning away. No one wants to pick pieces of their robot at the base of the stairs.
These sensors also help them detect obstacles so they bump into things less. If it is an obstacle with space underneath, they will clean around under it as best as they can.
Wi-Fi and Smart App
The Roomba 980 and e5 have Wi-Fi compatibility. They use it to connect to your phone.
You only need to download the dedicated app (iOS or Android). Once that and the pairing is done, you can control and monitor either robots from wherever you are.
However, you need to use a strong Wi-Fi connection to make the pairing smooth.
You can schedule the robot to clean floors for every day of the week at certain times. This gives you a lot of freedom to choose when they clean.
You can have them work when you go to sleep or leave the house. Whatever works for you is okay with them.
If you want an alternative means of interacting with the robot, you can go futuristic on either of them.
These Roombas are also compatible with Amazon Alexa and Google Assistant. You can pair your robot to either of them and give it voice commands.
Virtual Wall Barrier
If you don't want your robot getting to certain areas of your home, you can stop them.
For instance, your baby is sleeping in a room and the noise might wake it up. Or you don't want the robot getting stuck.
The virtual wall barriers will prevent the robot from going beyond where you set it. The unit can work in two modes.
One will create a straight line preventing the robot from going beyond it while the other casts a perimeter barrier.
Both Roombas come with the virtual wall barrier. However, the Roomba 980 comes with two while you will get just one with the Roomba e5. However, you can buy more if you need.
Highly Efficient Filter
The filtration system in a vacuum cleaner is important especially if you are asthmatic or allergic.
The filters on either of these robots are advanced. They are efficient enough to trap 99% of the dust and allergens that pass through them.
This is not as efficient as a HEPA filter but it will do a great job preventing unwanted reactions.
3-Stage Cleaning System
This is a patented feature that has been featuring in Roombas since the early days helping them clean as well as they do.
It constitutes of the dual bristle-less brush roll underneath and the side brush that extends beyond the robot as well as the suction.
The side brush sweeps dirt into the path of the brush rolls and the suction picks it up.
As for the brush rolls, they comb through the fibers of your carpets to dislodge dirt, pull them up, and the suction sucks them into the dust cup.
The brush rolls are rubberized and without bristles to save you the hassle of cutting off hairs afterward. These ones cannot get tangled with hairs or lint.
If you combine this with the robot's navigation that hugs the wall, you won't have any trouble with dirt close to the walls anymore.
Low-Profile Design
Both robots are quite close to the ground which gives them the advantage to get where other vacuum types cannot.
These two are just 3.6 inches high, this allows them to get under even low-profile furniture to clean out the dirt that often finds residence there.
Their low center of gravity coupled with their sturdy wheels allow them to transition from one floor type to another easily. They can climb over ledges of certain heights.
Dirt Detection
This is another feature Roombas have been known for from the onset. It is one of those features that set Roombas aside from the rest.
Either of these Roombas can identify a concentration of dirt. Your robot will respond by taking extra time and putting in more effort in that area to make sure it is thoroughly clean.
Come to think of it, isn't that how you would deal with a concentration of dirt if you were doing it yourself?
That shows how intelligent these robots are. This feature also gets triggered when you set the robots to spot clean.
What's Unique to Each Product? – Roomba 980 vs Roomba e5
Features Unique to Roomba 980
Power Boost Mode
Both robots can vacuum well on both carpets and hard floors. However, you will agree with us that it takes more to vacuum on carpets.
The Roomba 980 will automatically increase its suction once it detects carpet. This feature helps it clean deeper into carpets and rugs.
The Roomba 980 does not move in a random fashion like the e5. Rather, it follows a definite pattern of movement going from one end to another.
This is a more power-efficient approach which has a lot to do with how long its runtime is. It also ensures that the robot does not leave patches of dirt behind.
Impressive Runtime
Runtime is important for any vacuum that runs on battery. It can be a reason why someone will get it or not.
The runtime on the Roomba 980 is surely something you'd love. It can keep going for a whopping 120 minutes.
You will agree that with its logical pattern of movement, this robot will cover a lot of grounds in a shorter period.
Depending on how large your home is, this robot will clean your entire floor space without needing to recharge.
Recharge and Resume
Most robots can find home when they need to recharge and we thought that was impressive when robot vacuums hit us.
We have come a long way since then. Nowadays, robot vacuums can do much more than that. The Roomba 980 can find home alright but it can also pick up where it left off if it didn't finish.
This is an awesome feature especially for those who will schedule the robots to work while they are not around.
The Roomba 980 has an onboard camera and makes a map of your entire floor. This is something that the e5 cannot pull off.
With the map, the 980 has the ability to navigate through multiple rooms to clean them.
According to iRobot, the Roomba 980 can vacuum 2,000 sq ft of space. In reality, there is really no limit to how much floor space it can cover but that figure is a guarantee.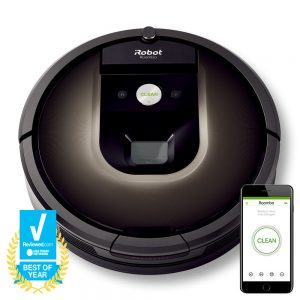 Features Unique To Roomba e5
Washable Dust Cup
Before this model, the dust cups in Roombas were not washable. The best we could do to thoroughly clean them was to get creative and wipe the insides to remove dirt hanging on.
Now, you can run water through it and wash the dirt all out. The process is quite simple too. Once you're done washing, just let it air dry and it is ready to use again.
Do note, however, that the filter is not washable. So, you have to detach it before you wash the dust cup.
Unique Pros – Roomba 980 vs Roomba e5
Roomba 980
i. It has a camera that lets it create a map of the floor.
ii. It moves in a logical pattern which is more efficient.
iii. The 980 has a longer runtime.
iv. It can vacuum the entire floor.
Roomba e5
i. It is not as expensive as the Roomba 980
ii. It has a washable dust cup.
Unique Cons – Roomba 980 vs Roomba e5
Roomba 980
i. It is quite expensive.
Roomba e5
i. It navigates randomly.
Roomba 980 vs Roomba e5 – Pros Common to Both Products
| | |
| --- | --- |
| Roomba 980 | Roomba e5 |
| Its suction is powerful and will pick up different types of dirt and debris. | Same as the Roomba 980 |
| Its dirt detection is great for deep cleaning and makes the spot clean mode even better. | Same as the Roomba 980 |
| The high-efficiency filter is great for protecting sensitive users. | Same as the Roomba 980 |
| The Roomba 980 can easily sneak underneath the furniture to clean out dirt. This leaves you with clean floors you can be confident about. | Same as the Roomba 980 |
| The Roomba 980 has a good runtime that will keep the robot going on and on. This is a good feature whichever way you want to look at it. | Same as the Roomba 980. However, it can only last 90 minutes. |
| | |
Roomba 980 vs Roomba e5 – Cons Common to Both Products
| | |
| --- | --- |
| Roomba 980 | Roomba e5 |
| The dust cup capacity of this robot is a bit too small. So, depending on how much dirt it will be cleaning, you will have to empty it often. | Same as the Roomba 980 |
| | |
Roomba 980 vs Roomba e5 – General Feeling Among Users
Roomba 980
Roomba e5
Some other users applauded the navigation system on the Roomba 980 because it now cleans the floor systematically unlike the earlier generation that moves around randomly.
A lot of users were happy with how easy this robot is to use. They said you didn't need to do anything but plug it and let it charge.
A lot of users are happy with the cleaning performance of this robot vacuum. Some said that the suction power is good enough and they applaud how well it picks debris and pet hairs.
A lot of users love the power and how well it deep cleans on all floor types as well as how it tackles almost every type of dirt in its path. The pet owners especially praised the e5 for how well it dealt with pet hairs.
One user who claimed to have used a Roomba before says that the Roomba 980 does a great job with its coverage.

 

She also said that the virtual wall device is pretty useful and works well.

Some users complained that the robot has a small dust cup which makes them empty too often for comfort. However, the same user expressed love for the fact that it is washable.
Roomba 980 vs Roomba e5 – Bottom Line
Roomba 980
Roomba e5
Obviously, this Roomba has more advanced features, and as expected, it costs a lot more.

 

If your needs fall within the extras the 980 offers, then you will get value for your money.

The e5 is a new installment but is still a mid-level robot. It is great at its job but just doesn't come with all the bells and whistles.

 

However, it is affordable and will meet most basic cleaning needs. If its features match your need, then you're in luck.