It's safe to say that iRobot kick-started the robot vacuum industry. Roborock, on the other hand, is a Chinese company that makes advanced robot vacuums that are affordable. The iRobot Roomba 690 vs Roborock E25 comparison will give you all the information you need about these robot vacuums.
The reason we chose these two to compare is that the Roomba 690 is an upgrade to the highest selling iRobot Roomba to date. The Roborock E25 offers features that can pass it as a high-end robot vacuum.
These robots are mid-range robot vacuums and are quite affordable. So, if you are on a budget and are not so keen on the bells and whistles, either of these two might work for you.
Now let us go into what these little helpers can do for you. With the knowledge of what you need a robot vacuum for, you shouldn't have any problem deciding which best suits you.
iRobot Roomba 690 vs Roborock E25 – Comparison Overview
We are convinced that both brands are good at what they do. So, we can only expect that their products truly represent them.
The Roomba 690 is in the lower range of robot vacuums from iRobot while the Roborock E25 is a mid-range offer from Roborock.
They both belong in the same price range so it only makes sense that the iRobot Roomba 690 vs Roborock E25 is a thing.
The Roomba 690 will detect dirt and focus on that area more than others to achieve an even clean. It is also generally easy to use and the runtime is impressive.
The Roborock E25 can not only vacuum but can mop as well. This is a great feature for a robot at its price. It also has 4 power settings and achieves a high suction power in the max mode.
Now let's get into some details, shall we?
Comparison Table – iRobot Roomba 690 vs Roborock E25
Roomba 690
Roborock E25
Available Models
N/A
Dark Grey and White colors

You can read our review on the Roborock E25 to learn even more about it.

Battery Life
90 minutes
Up to 100 minutes
Navigation
iAdapt navigation
Dual-Gyro and motion tracking sensors
Filtration System
Standard filter
High-efficiency washable filter
Dust Cup
0.2 liters
0.64 liters
Weight
7.8 lbs
7 lbs
Dimension
13 x 13 x 3.6 inches
13.8 x 13.9 x 3.6 inches
Get the Roomba 690 now!
Get the Roborock E25 now!
What Situation Is Each Best For? – iRobot Roomba 690 vs Roborock E25
Roomba 690
Roborock E25
The Roomba 690 has a patented technology that helps it detect a concentration of dirt on your floor.

 

This is an amazing feature as it will do great if you have highly trafficked parts of your home.

The filter in a robot vacuum is one of the most important things to look out for if you are allergic or asthmatic.

 

This is one area this robot vacuum stands out. It uses an E11 grade washable filter.

 

To make things clearer, it is a highly efficient filter that can trap 99.2% of dust and allergens down to 0.3 microns.

The Roomba has a cleaning head that automatically adjusts to the surface it is on.

 

It also has a dual brush roll that is adaptable to multiple surfaces. This is why the Roomba 690 vacuums pretty well on different floor types.

Another area where the Roborock E25 proves its worth is its 2-in-1 capability. It does not stop at just vacuuming your floors, it can also mop them!

 

This is awesome value as you will rarely come across a robot vacuum in this price range that can do both.

 

We were not kidding when we suggested that this robot offers more value for its money.

Get the Roomba 690 now!
Get the Roborock E25 now!
More Situational Comparison – iRobot Roomba 690 vs Roborock E25
Roomba 690
Roborock E25
The Roomba has wheels that can transverse ledges but is not tangle resistant.
The Roborock E25 has rugged wheels. It can climb over up to 0.8 inches of barrier height.

 

So, if you have ledges on your doorway, that won't stop the Roborock from doing its job.

The Roomba's dust cup is easy to empty but it is quite small.
The ease of emptying a robot vacuum has a lot to do with its overall value. That is yet another thing to like about the Roborock E25.

 

No matter how easy to use a robot vacuum is, it quickly stops being fun if you have to empty it all too often.

 

That won't happen with this one as its dust cup is large enough to hold a good amount of dirt before needing to empty.

The Roomba is about as loud as the Roborock when it is operating in max mode.
Vacuum cleaners are not the quietest of home appliances. However, if you want a robot vacuum that won't sound like a jet engine, the Roborock E25 it is (in its low mode though).

 

The reason it is able to operate so quietly is that its airflow is aerodynamically streamlined. This is also the reason it is able to generate so much suction yet remain quiet.

Get the Roomba 690 now!
Get the Roborock E25 now!
Common Features? – iRobot Roomba 690 vs Roborock E25
Vacuums of the same type are bound to have things in common and so do these two. This section highlights the things both vacuums can do that might make them worthy enough for you to want them.
Suite of Sensors
Both robots have a collection of sensors on different parts of their body. These sensors help them navigate smoothly around your home. They also prevent these robots from getting into trouble.
There are sensors that help them detect obstacles. Not just that, these robots can essentially detect what type of obstacle it is.
For instance, if they are confronted by a wall, they just clean around its edges or turn away. However, if it is a chair, for instance, they will clean around its legs and underneath it.
There are sensors too that help them detect changes in floor height. This is what helps to prevent them from falling off the stairs. Once they get to the edge, the sensor detects the fall and the robot turns back.
Robot vacuums use one form of a navigation system or another to find their way around your home.
The technology the robot vacuum brand adopts has a lot to do with how efficiently the robot goes about its business.
The Roomba 690 basically keeps moving in a straight line until it comes in contact with something and then moves off in another direction. However, if given time, it will still cover most of the floor space.
The Roborock E25, on the other hand, follows a definite logical pattern. The robot uses a dual gyroscope as well as motion tracking sensors. The combination of these helps it calculate its movements and keep track.
The result of this is a precise path of about 240 cm before doubling back to form a serpentine motion across your floor. This is a feature you will find only in high-end robot vacuums.
Some robots will have issues remembering their pattern of movement when you lift them off the floor, but not this one. It can remember where it has cleaned and where it hasn't so it does not repeat areas or miss spots.
With this, you can rest assured it will cover your entire floor space without leaving any patch of dirt. This style of movement also helps it consume power a lot efficiently.
Roborock says that this pattern of movement helps the robot vacuum 30% faster than other robots that move randomly.
Wi-Fi and Smart App
Most robot vacuums now have Wi-Fi capabilities. However, some of them feature more benefits than others. This is so because with different brands you can achieve different things.
The Wi-Fi capability of your robot takes your experience of it and how you can interact with it to a whole new height.
Wi-Fi lets the robots connect to your smartphone so that you can use it to control and monitor their performance.
These robots have a dedicated app that you need to download on your phone (available for both Android and iOS).
After the download, you will pair the robot vacuum with the app on your smartphone and that is where you get to use the Wi-Fi.
With this app, you can use your phone as a controller to issue commands to the robot remotely.
That way, you can have the robot clean your floors before you get back home. You can also monitor the status of the robot and how much of the floors it has cleaned.
That's not all, for both robots, you can also set a future date for your robot to do its job.
For instance, on both robot vacuums, you can schedule it to clean at certain times for every day of the week.
With this, you only need to remember to empty the dust cup. Whenever the dust cup gets filled, you will even get a notification through the app!
Both apps are easy to use on the phone and you can do many different tasks through them.
The Roborock E25 creates a map of your floor that appears on the smartphone which lets you see what part of the house the robot has cleaned and what part is left.
Smart Home Compatible
We are in the age of smart things and a lot of the appliances in the home have become sophisticated. It won't be a bad idea if your robot vacuum too joins the league.
If you already have a smart home hub, you can easily add either of these robot vacuums to the list. You can connect it to Amazon Alexa or Google Assistant. This will allow you to give the robot vacuum voice commands through the smart devices.
iRobot Roomba 690 vs Roborock E25 – What's Unique To Each Product?
Features Unique To Roomba 690
Auto-Adjust Cleaning Head
It takes more to vacuum dirt out of carpets so the robot needs to make some adjustments and put in more effort.
The cleaning head of the Roomba 690 is underneath where the brush rolls are. It can adjust its height based on the floor type that is being cleaned.
It adjusts to suit either hard floors or carpets. This might seem like just a little add-on feature but it isn't.
This adjustment makes the robot vacuum clean optimally on both hard floors and carpets. With this, you can rest assured you will get a decent clean at all times.
Dirt Detection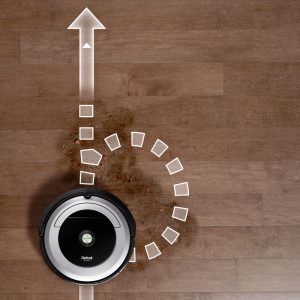 The Roomba 690 can detect where dirt is concentrated on your floors. This is a pretty useful feature because it makes the robot clean evenly.
Imagine there is a segment of your carpet that is heavily trafficked. Your Roomba is now on top of it to vacuum.
If it vacuums the entire carpet the same way, it definitely will not clean the whole carpet well.
This is because the highly trafficked part will be dirtier than the rest. This is where the dirt detection comes in handy.
Since this Roomba can identify dirt, it will focus more on the area that has a concentration of dirt. That way, you can rest assured it will evenly clean the carpet.
Click here to get this robot now!
Features Unique To Roborock E25
Recharge and Resume
It is standard that robot vacuums find their way back to their docking stations when their batteries reduce to a certain point.
However, not all robot vacuums can resume from where they stopped cleaning when they are done recharging.
The Roborock E25 certainly can! Imagine that you set a vacuuming schedule and you are not at home.
The robot goes about its task but does not finish before the battery runs out. It goes to recharge and then does not resume. You will definitely come back home to a half cleaned floor.
That won't happen with this robot because when its battery reduces to 20% and it is not done with its task, it goes to dock quite alright. Once it recharges to 80%, it goes back to where it stopped and completes its job.
Vacuum and Mop
Robot vacuums are meant to pick up dirt and debris from hard floors and carpets. If you need to mop your floors, there are also robot vacuums that can do that.
But when you find a robot vacuum that can do both, what could be more awesome?! You get two types of robot vacuums for the price of one!
The water tank is located at the rear of the robot. You can have the robot vacuum the floor first and then start to mop.
What is spectacular about this mopping mode is how water seeps onto the microfiber cloth it mops with.
Some robot mops will leave a puddle of water in their wake because it could not properly manage how the water seeps out.
With the Roborock E25, water only flows onto the cloth when the robot is moving. That way, you won't have to clean up drops of water after your robot.
The water tank is easy to refill as you won't even need to turn the robot over. You can easily pull it out from underneath the robot like you would a drawer.
In case you are wondering if the robot won't try to mop your carpet, that is a truly valid thought. Well, it won't! This robot can identify when it is on a carpet (more on that shortly). You can stop imagining the horror now.
Just think of how much time and effort you are going to save with this robot mopping your hard floors after sweeping them.
Powerful Suction
If you compare the Roborock E25 and the Roomba 960 on the basis of suction power, the Roomba will lose out. The E25 has a good amount of power in its shell.
One reason is due to its aerodynamically optimized airflow. Another reason is the suction pressure generated by the brushless fan the robot uses.
This helps the robot easily pick up the dust and dirt its brush roll and side brush dislodges. The end product is a clean floor at all times.
To top it all up, the Roborock E25 has 4 power settings with the max being up to 17 cfm. Even at the lowest power, its 9cfm is still higher than the Roomba's 7 cfm single power mode.
Carpet Boost
We mentioned earlier that this robot can identify when it is on a carpet. Yes, it truly can and this is the reason you won't need to switch power modes with this robot.
Once it detects carpet, it automatically increases to the highest suction power. By doing so, it can pick up the deeply embedded dirt that its brush roll has dislodged.
When it eventually gets off the carpet, it will revert the suction to the normal mode. This also helps the robot properly manage power.
Click here to get this robot now!
iRobot Roomba 690 vs Roborock E25 – Unique Pros
Roomba 690
i. It has a dirt detection feature.
ii. It comes with a device that creates a virtual boundary for the robot.
Roborock E25
i. It can vacuum and mop.
ii. The robot moves in a definite pattern.
iii. It can resume from where it stops after recharging.
iv. The dust cup is quite large so you won't have to empty often.
v. The water tank can be pulled out without turning the robot.
vi. It has a highly efficient filter.
iRobot Roomba 690 vs Roborock E25 – Unique Cons
Roomba 690
i. The Roomba moves in a random pattern.
Roborock E25
i. It would have been great if you could draw no-go lines via the app.
iRobot Roomba 690 vs Roborock E25 – Pros Common To Both Products
Roomba 690
Roborock E25
The Roomba 690 does a great job with cleaning on carpets. In some pickup tests, the Roomba was able to pick up different from large to small debris.

 

The Roomba also did well with deep cleaning carpets. Since it has a fairly low airflow, we weren't expecting anything spectacular.

 

On hard floors, the Roomba 690 ended up picking up all the dirt spread across the floor but it did not do so efficiently.

 

One reason is because of its random navigation. The other was because it kicked a lot of the dirt around and needed more passes to pick them all up.

The Roborock performs about the same as the Roomba. However, you know that it will work on carpets with a suction boost so it is bound to pick up dirt even better.

 

When it came to deep cleaning carpet, of course, you can guess the Roborock will stand out due to its multiple power modes.

 

The Roborock E25 performed pretty well on hard floors. This success can be attributed to its logical movement pattern.

 

It took a lot less time to clean up the same hard floor space than it took the Roomba.

The Roomba 690 has a double brush roll. However, because it has stiff bristles, it is prone to hair tangles.
The Roborock's brush roll too has bristles but it is designed such that hairs will not tangle with it. In fact, it uses the same brush roll as its high-end variant the Roborock S5.
Get the Roomba 690 now!
Get the Roborock E25 now!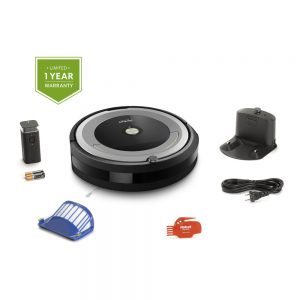 iRobot Roomba 690 vs Roborock E25 – More Common Pros
Roomba 690
Roborock E25
The Roomba 690 offers 90 minutes of runtime. This is pretty decent for a robot vacuum in its price range and especially if you compare that to some higher end Roomba.

 

Since this robot vacuum has only one power setting, you can rest assured your robot will have almost all that time to vacuum.

The Roborock E25 has 4 power settings. It is important to note that the lowest setting is what will give you the 100 minutes that is advertised.

 

However, in the max mode, you will still get about 51 minutes of runtime which is still not bad considering the power it will be working with.

The Roomba 690 has different cleaning modes you can choose from.

 

These modes are ideal for particular types of jobs. For instance, you might only have dirt in a particular part of the floor. Using spot cleaning is what is most appropriate for such a situation.

 

You can also use the edge cleaning. This is where the robot will hug the wall and clean only close to it without going to the middle of the room.

 

The Roomba will only do well with obvious debris in edge cleaning mode and might not be impressive with sand-sized kind of dirt.

The Roborock E25 also has multiple cleaning modes you can choose from.

 

The Roborock will cover a 1.2-meter diameter in its spot cleaning mode. When it comes to edge cleaning, our tests show that the Roborock E25 performs significantly better than the Roomba 690.

 

In the crevice pick up tests too, the Roomba did not stand a chance.

 

Get the Roomba 690 now!
Get the Roborock E25 now!
iRobot Roomba 690 vs Roborock E25 – Cons Common To Both Products
iRobot Roomba 690 vs Roborock E25 – General Feeling Among Users
Roomba 690
Roborock E25
One user narrated how tough it was for them to keep their dog's hair from littering the entire floor. It was a lot of work keeping up with the shedding dogs.

 

Then they got the Roomba 690, that seems to do the trick as they didn't have to do any work vacuuming pet hair anymore.

 

That's not all, they were really excited at how well the Roomba dealt with the pet hairs on both hard floors and carpets.

A lot of the people who have used the Roborock E25 like its suction power, power options, and its pick up ability.

 

Some of them say it performed really well picking up all types of dirt off both hard floors and carpets.

 

Of course, it did not come as a surprise that there are those who love the fact that the robot can also mop.

 

Though some of them say that the water tank is quite small which does not make it ideal for a whole house moping. Others said they have not even tried it out yet.

Some users like the app for this robot. They say it is easy to set up and use. They also like the functions they are able to perform with it.
Several users like that this robot follows a definite cleaning pattern. With this alone, they are sure it will most of the floor space without missing a spot.

 

This also ensures that the robot efficiently manages power which is one of the reasons the battery lasts long even in max mode.

Get the Roomba 690 now!
Get the Roborock E25 now!
iRobot Roomba 690 vs Roborock E25 – Bottom Line
Roomba 690
Roborock E25
This robot is from a trusted and reliable brand. More importantly, it does what it says it would and does it well.

 

It is also affordable and has all the basic features you might need from a robot vacuum at this price point.

 

If you are satisfied with what it has to offer, don't wait any longer, go for it.

The Roborock is slightly more expensive but it has way more to offer. It has features you can only expect from a high-end robot vacuum.

 

If what this robot has to offer matches your needs, the extra you will pay will be well worth it.

Get the Roomba 690 now!
Get the Roborock E25 now!