iRobot is a robot vacuum brand that needs no introduction. Eufy makes some of the most affordable and practical robot vacuums. So, this iRobot Roomba 690 vs Eufy 11S presents you with valuable robots for the money.
iRobot pioneered the robot vacuum industry and sold the first successful domestic robot vacuum.
Since that time, it has been improving and offering even better robot vacuums that clean your house like you would. iRobot even recently released a robot vacuum that can empty itself! You can read our in-depth review of the Roomba i7+ for more on that.
Eufy robots, on the other hand, are bent on practical value. Its robots aim to do their jobs well while remaining affordable.
The brand also has a number of varieties ranging from robots that can vacuum and mop and those that are carpet washers.
These two robot vacuums we are featuring are some of the basic ones from either brand. So, don't expect anything fancy or all the bells and whistles.
This will work for those who just need robot vacuums to keep their homes clean till they can find time to do it themselves.
If you are willing to invest more to get a robot vacuum with high-end performance, check out the Roomba 980 vs Neato D7 comparison.
iRobot Roomba 690 vs Eufy 11S – Comparison Overview
These two are inexpensive and straight up serve their purpose.
If all you want is to keep your floors clean enough to live with, either of these two will do that for you.
You will find this review a lot more useful if you are first clear on what you need a robot vacuum for. That way, the features of these robots will make it easier for you to tell them apart.
For instance, the Roomba uses Wi-Fi to connect to the app that allows you to control the robot even when you are not home.
If such a thing is not an important feature for your needs, you can tick that off.
It is our hope that by the time you get to the end of this article, you will be able to decide which is best for you.
Comparison Table – iRobot Roomba 690 vs Eufy 11S
| | | |
| --- | --- | --- |
| | Roomba 690 | Eufy 11S |
| Available Models | N/A | 11+ and 11S |
| Battery Life | 90 minutes | Up to 100 minutes |
| Navigation | iAdapt navigation | Infrared sensors |
| Filtration System | Standard filter | 3 layer high-performance filter |
| Dust Cup | 0.2 liters | 0.6 liters |
| Weight | 7.8 lbs | 5.85 lbs |
| Dimension | 13 x 13 x 3.6 inches | 12.8 x 12.8 x 2.8 inches |
| | Get the Roomba 690 now! | Go for the Eufy 11S now! |
What Situation Is Each Best For? – iRobot Roomba 690 vs Eufy 11S
Roomba 690
Eufy 11S
The Roomba 690 has a dirt detection sensor that lets the robot identify areas of your floor that has a concentration of dirt.

 

This is especially useful for homes that have highly trafficked parts of their floors than others.

If you are allergic or asthmatic, the filtration system of a vacuum is probably the most important feature you will look at.

 

You will get quality protection from the Eufy 11S.

 

This is because the robot vacuum uses a triple layer high-performance filter. This helps it trap particles in the air that pass through it down to the microscopic level.

With the Roomba 690, you have the freedom to control the robot remotely. You can install the dedicated app on your smartphone and have it clean before you get back home.

 

It can also work with smart home devices. This allows you to give voice commands.

If you have ledges at your doorways, this robot vacuum might be your better bet. This is so because it has two large wheels that allow it to climb over thresholds.

 

The robot can scale ledges as high as 0.63 inches. So, your door ledges will not stop this robot from going where the dirt is to clean it up. Just make sure to leave the door opened.

The Roomba 690 comes with an extra device that you can use to create virtual walls to curb the robot's movements.

 

With this, you won't have to worry about the robot going where you don't want it to.

Another awesome feature of this robot vacuum that will interest you is its dust cup capacity. It is quite large compared to its competitor.

 

This means that you won't have to empty it as often. Its 0.6 liters can hold enough dirt from cleaning an entire apartment. Err…we hope you know that is contextual.

Robot vacuums can be loud and most of them are but not this one. The Eufy 11S is so quiet you can sleep while it works.

 

It gives off a mere 55 decibels which is even lower than the sound of regular conversation.

Get the Roomba 690 now!
Go for the Eufy 11S now!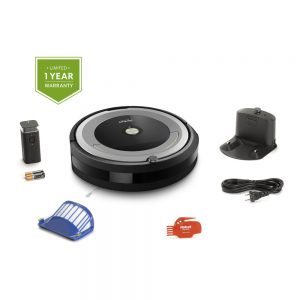 Common Features – iRobot Roomba 690 vs Eufy 11S
Even though these robots are made by different brands with different cultures, they still share some similarities.
Whichever way you want to look at it, both robots are made to do basically the same thing, clean your floors. However, they might have different means of execution.
Low Profile Design
There is a great likelihood that you don't clean under furniture whenever you are doing floors.
It will become apparent how well dirt can hide when you decide to move your furniture from its position.
Both these two vacuums are low profile enough to easily get under furniture even if the furniture itself is low profile.
Automatic Recharge
One of the reasons robot vacuums have become successful is because they can do their thing autonomously.
So, it only makes sense that they return on their own when they are done. These two robots do not need your help when they need to recharge.
They simply find their way to the docking station when their batteries deplete to a certain level.
Auto-Adjust Cleaning
Both the Roomba 690 and the Eufy 11S can adjust to changes in the floor type. Both robot vacuums can clean on hard floors and carpets.
It is obvious that it takes more to clean on carpets than on hard floors. Whenever either of these robots goes from a bare floor to carpet, they automatically adjust to clean the carpet better.
The Roomba 690 has an auto adjust cleaning head that raises the robot higher so it can clean the carpet more effectively.
The Eufy 11S automatically increases its suction power once it detects it is on a carpet. This is to ensure that it deep cleans the carpets.
3-Point Cleaning
These two vacuums have three cleaning processes but they execute it a bit differently.
The Roomba 690 has a side brush that sweeps dirt into the path of the robot's suction. The second stage is the brush roll underneath the robot that loosens dirt, especially on carpets. Finally, the suction that picks up the dirt.
As for the Eufy 11S, it has two side brushes and there is the brush roll underneath. The side brushes help the robot to sweep dirt into the robot's path so the brush roll and suction can does the rest.
Long Lasting Battery
Even though robot vacuums do their jobs unmonitored and can charge themselves, it is still important that their runtimes are good.
Imagine a robot vacuum that does not last long. It will probably have to spend hours recharging after cleaning one room. That is neither efficient nor useful.
This is why it is important that robot vacuums too have long-lasting runtime. These two do! The Roomba goes for 90 minutes while the Eufy 11S can give you up to 100 minutes.
Depending on how large your home is, that should be enough time to clean up the entire floor space in one charge.
iRobot Roomba 690 vs Eufy 11S – What's Unique To Each Product?
Features Unique To Roomba 690
Virtual Wall Barrier
When you don't want your robot vacuum to go to certain parts of your home, it is great to have a way to prevent it.
iRobot knows that there are good reasons why you don't want your robot to get to certain areas. It might get stuck or 'bite more than it can chew'.
The Roomba 690 comes with an extra device that serves as a virtual wall barrier to the robot. The device creates a sort of signal that the vacuum identifies as a wall sort of.
So, on getting to that area, the robot just turns back as it would if a real wall was there. There is a way you can set it to create a circular boundary or a straight one.
Smart Home Capability
Times have changed and everything is getting smart. Why shouldn't your robot?
If you already have a smart home, you can add the Roomba 690 to the list of devices on your smart home hub.
It is compatible with Google Assistant and Amazon Alexa. This allows you to talk to your robot vacuum.
Err…we don't mean you can share your problems with the robot vacuum. What we mean is that you can give it voice commands. Sorry if you are disappointed, technology will soon get there.
Dirt Detection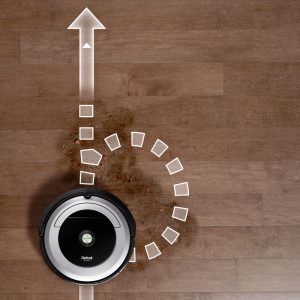 The Roomba 690 can detect where dirt is concentrated on your floors. This is a pretty useful feature because it makes the robot clean evenly especially on carpets.
Imagine there is a segment of your carpet that is heavily trafficked. Your Roomba is now on top of it to vacuum.
If it vacuums the entire carpet the same way, it definitely will not clean the whole carpet well.
This is because the highly trafficked part will be dirtier than the rest. This is where the dirt detection comes in handy.
Since this Roomba can identify dirt, it will focus more on the area that has a concentration of dirt. That way, you can rest assured it will evenly clean the carpet.
Wi-Fi and Smart App
Robot vacuums with Wi-Fi capabilities are now commonplace. What differentiates this feature in robot vacuums is what you can achieve with them.
The Wi-Fi capability of your robot helps you get a better experience with it. We will tell you how in just a bit.
Wi-Fi lets the robots connect to your smartphone so that you can use it to control and monitor it.
Using the app, you can use your phone as a controller to issue commands to the robot remotely.
That way, you can have the robot clean your floors before you get back home. You can also monitor the status of the robot and how much of the floors it has cleaned.
For instance, on this robot, you can schedule it to clean at certain times for every day of the week.
The Roomba app won't take up much space on your phone and it is quite easy to use. One cool thing about it is that it allows you to name your robot. How's that for a personal touch?
Click here to get the Roomba 690 now!
Features Unique To Eufy 11S
Anti-Scratch Glass Cover
The Eufy 11S has a glossy finish and this feature is what is responsible. The glass covering is not just for aesthetic purposes, it also serves as protection.
The anti-scratch property of the glass covering protects the robot from incurring marks when it bumps into obstacles. That way both the robot and your furniture are protected from damage.
Triple Filter System
The Roomba 690 too has a filtration system but it is not triple layered and certainly not high-efficient like this one.
The robot has two layers of filtration which trap dirt from passing through with the air.
It also follows this up with a high-efficiency filter to further tap in the microscopic particles and allergens preventing them from flowing back into your home.
Boost IQ
This is an intelligent feature the Eufy 11S has and it is quite useful. This is a mode the robot can work on which you will have to set on the remote control.
Its purpose is to help it detect when it gets on a carpet and increase its suction power to achieve a deep clean.
This mode is better than setting the robot on high power in order to help it conserve power. For instance, on the Boost IQ mode, the robot will work on hard floors in the normal suction mode.
It is only when it gets on carpets that it will increase suction and goes a long way helping the battery last longer.
Click here to get the Eufy 11S now!
iRobot Roomba 690 vs Eufy 11S – Unique Pros
Roomba 690
i. It has a dirt detection feature for identifying a concentration of dirt.
ii. The vacuum comes with a virtual wall device to curb the robot's movements.
iii. It uses a smart app and is compatible with smart devices.
Eufy 11S
i. It has a triple layer high-efficiency filtration system.
ii. It has a protective glass cover.
iii. The suction power is quite good.
iv. It works quietly.
iRobot Roomba 690 vs Eufy 11S – Unique Cons
Roomba 690
i. The filters are not so good.
Eufy 11S
i. You have to buy magnetic tapes separately if you need to control where the robot goes.
ii. It does not work with an app just the remote control.
iRobot Roomba 690 vs Eufy 11S – Pros Common To Both Products
Roomba 690
Eufy 11S
The Roomba 690 is easy to use. From setup to operation, there is nothing complicated about it.

 

Once you put the parts together and get it fully charged, it is ready to go. The dust cup is easily accessible and it does not take much to empty.

Same as the Roomba 690.

 

The dust cup is quite larger.

You can operate the Roomba 690 in different modes depending on your needs and what suits the task at hand.
You can also operate the Eufy 11S in different modes and schedule it to vacuum at future times.

 

However, all that will have to be done with the remote control that comes with it.

The Roomba 690 works well at dirt pick up on both hard floors and carpets. However, it does its vacuum in a rather messy fashion.

 

Here's what we mean. It blows dirt around with its side brush and exhaust which makes the place look even dirtier but it eventually still cleans it up.

It did great with different dirt types from small particles to cereal sized debris. But it had some problems with the finer dirt because of its rather low airflow.

 

The robot did well with edge cleaning thanks to its side brush but did not pick everything in the corners which is the bane of round robot vacuums.

The Eufy 11S performs pretty much the same way as the Roomba in the same criteria. However, the Eufy was a bit much efficient with its execution.

 

Both vacuums move in a random fashion but the Eufy's random navigation appears to be a bit more purposeful than the Roomba that just bumps into everything.

Get the Roomba 690 now!
Go for the Eufy 11S now!
iRobot Roomba 690 vs Eufy 11S – Cons Common To Both Products
iRobot Roomba 690 vs Eufy 11S – General Feeling Among Users
Roomba 690
Eufy 11S
A lot of users like the Roomba 690 for different reasons. A certain user who has pets had always had issues with cleaning pet hairs every now and then.

 

On getting this Roomba, she said that she does not need to clean the pet hairs by herself anymore. The Roomba does a great job cleaning up hairs after her dog.

Some users are quite impressed with the robot's suction power. They say that even in normal mode, it still picks up pretty well.

 

Some users also praised how quite the robot is. One of them said that she can even sleep through the noise of the robot.

Some others commended the app of the Roomba claiming that it is quite easy to use and there are a number of things you can do with the robot remotely.

 

Those who use the Roomba with Amazon Alexa said that it paired rather easily and works smoothly with it.

Few users who had reasons to reach out to the customer service said that they were rather responsive and helpful.

 

 

Get the Roomba 690 now!
Go for the Eufy 11S now!
iRobot Roomba 690 vs Eufy 11S – Bottom Line
Roomba 690
Eufy 11S
The is an entry-level Roomba and it does the basics of what you can expect from a robot vacuum.

 

If all you want is something to save you some vacuuming time so you don't bring out the big guns so often, this is your guy.

The Eufy is certainly not a high-end robot vacuum but it certainly offers more value for its money.

 

It does not have the fancy app nor does it work with smart devices but when it comes to keeping your floors clean, you can bet it will.

Get the Roomba 690 now!
Go for the Eufy 11S now!