As one of the pioneers of the vacuum cleaner industry as we know it today. It won't come as a surprise that Hoover sold one of the first marketable vacuum cleaners. With that much experience, we hope that its Hoover Air Lift Deluxe Upright is as good as we hope it would be.
This brand has been in existence for over 140 years. It didn't just exist, it has been at the forefront of the floor cleaning industry since inception. That should tell you something.
Hoover does not just manufacture vacuum cleaners. It has a wide range of products that can help you keep your floors clean. However, if you want to know more about its vacuum cleaners, you can read our guide on Hoover vacuum cleaners.
Who Should Get The Hoover Air Lift Deluxe Upright?
Anyone who wants versatility in their upright vacuum would want this. Not just because it has nice and useful attachment tools but also because it is a transformer.
The Air Lift feature means that you can easily convert the Hoover Air Lift Deluxe Upright into a handheld canister. We are sure we don't need to start telling you the possibilities that come with this awesome feature.
Whether you have dogs, cats, or even you shed some hair, this vacuum will help you clean it up.
Those with multiple floor types too might pay some attention to the Hoover Air Lift Deluxe. It is capable of deep cleaning on both hard floors and carpets. Whether you have low or medium pile carpets or even shag rugs, the Wind Tunnel 3 suction will step up to the plate.
There is the possibility of good news for sensitive users too. You might want to come with us as we explore in details what makes the Hoover Air Lift Deluxe tick.
It has a filtration system that blocks almost all the pollutants that you vacuum from getting back into the air in your home.
Pardon us if we might have piqued your interest a little too much. Now let us go into the juicy details of the Hoover Air Lift Deluxe Upright. When you are done, you will be able to decide if this is the vacuum you have been looking for or not.
Features Of The Hoover Air Lift Deluxe Upright
Wind Tunnel 3
The wind tunnel is a technology used by the likes of NASA, Formula 1, and other engineering companies to test the aerodynamics of their vehicles.
The technology creates a massive airflow against the body of the automobile mimicking the effects of air as the vehicle travels through it.
This same technology is present in the Hoover Air Lift Deluxe Upright. Of course, it does not generate nearly as much airflow since it is only a miniature version but it is as effective.
Its application in the vacuum is to create airflow that sucks in every speck of dirt in its path.
So, you can imagine how powerful the suction is. The Hoover Air Lift has 3 channels of the Wind Tunnel technology.
With this, the surface and embedded dirt and dust, as well as debris, will not stand a chance.
Allergen Block Filtration
Sensitive and allergic users will want to pay attention to this. Allergens and dust are the reasons that make vacuuming a scary task for such people. This is because usually when the dust and allergens are sucked in, some of them still make it back into the air through the exhaust.
With this feature, you will not experience such when using the Hoover Air Lift Deluxe Upright. The allergen block filter will trap in the allergens in the vacuum. You can be confident that the air coming out of the vent is clean and safe to breathe.
This filter is rated to trap 99% of the dust, pollen, pet dander, and allergens from getting back into your home. You and your household can now breathe deeply and safely.
Transformer
"Air Lift" is the official name of this feature but we like to call vacuums like these transformers.
We call them so because these vacuums can convert from one vacuum type to another.
Now back to the Hoover Air Lift Deluxe Upright. This vacuum can easily go from being an upright to become a handheld canister vacuum. Another cool thing about that is that it can be done with the push of a button.
We all know that you cannot vacuum stairs with an upright by itself alone. With this transformation, now you can. All you have to do is to attach a tool to the hose and start cleaning away.
That's not all, converting the Hoover Air Lift Deluxe into a canister also lets you do some other above the floor cleaning. More about that later.
Washable Filter
We already told you about the filter, this is another aspect of it. While the filter is great for trapping allergens, it can also save you money.
If you have used filters that are not washable before and consider this expense over time, you know it can quickly add up.
In the case of a washable filter, if it gets clogged with dirt, you can just easily wash it off under running water. Leave it to air dry and you are ready to use it again. You can do this sequence repeatedly before you eventually need to change the filter.
Now you can agree that the washable filter in the Hoover Air Lift Deluxe Upright saves you money.
Useful Accessories
Here we are, fired up and ready to go. Above the floor cleaning is the versatility that you can get from some upright vacuums.
Gone are the days that upright vacuums are limited to cleaning only floors. With advanced innovations, uprights can now vacuum from floors to ceiling and everything in between using different approaches.
The Air Lift technology this one uses is its approach to bringing you versatility and it does it with the help of attachment tools.
The flexible hose is what does the trick when you turn it into a canister. You just need to connect the attachment tool you need to the hose and start vacuuming.
The attachment tools that come with this vacuum are used to clean your furniture, drapes, ceiling, shelves, etc. If there is dirt in corners the vacuum cannot reach, the crevice tool can do the trick.
User-friendliness Of The Hoover Air Lift Deluxe Upright
From what you have read about the vacuum so far, we are sure that you can tell if the vacuum is user-friendly for you or not. In case you have not made up your mind yet, we will tell you some more.
Let's start with the steerable technology. A lot of people complain about the maneuverability of their vacuum.
The Hoover Air Lift Deluxe Upright with its swivel steering is quite easy to move around. It turns at a corner easily letting you move around obstacles and furniture.
It can easily transition from one floor type to another. You just need to push a button and you will go from one to another and back.
The dust cup is easy to detach and empty. When you need to use the attachment tools, you will find it easy to connect to the hose and detach. These tools can be kept aboard the vacuum so you can have easy access to them when you need.
The handle is ergonomically designed so you continue to find it comfortable to use even if for prolonged periods.
Now, you should be able to decide whether the Hoover Air Lift Deluxe Upright is user-friendly enough for you or not.
Pros Of The Hoover Air Lift Deluxe Upright
i. It has useful attachment tools.
ii. It uses an advanced technology for its suction.
iii. The vacuum can deep clean on both hard floors and carpets.
iv. You can switch from one floor type to another with the push of a button.
v. The vacuum can go from an upright to a handheld canister with ease.
vi. You can turn on or off the brush roll as needed.
vii. The filtration system can trap 99% of allergens.
viii. The filter is washable and can be used over and over.
ix. It is good for removing pet hair, even from microfiber.
x. The dust cup is easy to empty.
xi. The vacuum is easy to assemble.
Cons Of The Hoover Air Lift Deluxe Upright
i. The vacuum is a bit too heavy.
ii. The attachment tool holder is rather loose so they fall off easily.
Alternatives To The Hoover Air Lift Deluxe Upright
More Affordable Option – Hoover Air Steerable Upright Vacuum
If the weight of our featured vacuum is too much of a problem for you, here is a lighter alternative. It weighs in at just a little over 13 pounds. It has a slim design which makes it quite easy to store. So, you won't have to worry about space.
This vacuum also has a steerable technology which makes it easy for you to move around and turn by obstacles and furniture. It can also lean low so you can get under furniture to clean it out without having to move things around too much.
You won't be making much of a trade-off if you go for this vacuum, at least not with the suction. The Hoover Air Steerable also sports the Wind Tunnel 3!
It has a HEPA filter that traps in 99% of the air pollutants that might cause you the reactions you want to avoid.
The best part yet? The vacuum is quite affordable! If you want to know more about this vacuum, check out our review on it.
High-End Option – Hoover React Reach Plus Upright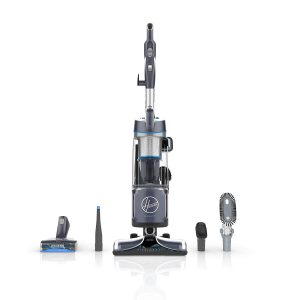 If the powerful suction of our featured vacuum excites you, this one will excite you even more. It uses the same exclusive Hoover's Wind Tunnel but a different variant. This one sports the Wind Tunnel Surge.
It has the Floor Sense technology that lets it detect floor types and adjust accordingly. All you have to do is move the vacuum.
This vacuum can also transform into a handheld canister. Doing that involves no complications, just the push of a button and the magic happens.
That's not all, in the canister mode, you can still vacuum with the spine (from the handle to the brush head).
This allows you to easily reach under furniture since it can lean almost flat on the floor. You will also enjoy a steerable technology for easy maneuverability.
If you want to know more about this vacuum, you can read our in-depth review of it.
User-Friendly Option – Black and Decker Air Swivel Upright
Lightweight is one of the main features of a vacuum that is user-friendly and you will find that in this one. It weighs in at a total of 8.8 pounds. Its name, AirSwivel, is quite suiting as it comes from its lightweight and the fact that it has a whopping 170 degrees swivel.
Its filtration system is also impressive. This makes breathing safe and easy for the sensitive occupants with respiratory issues.
The filter it uses is washable which means that you can use it repeatedly. When you feel the filter is clogged up with dirt, you can just wash it under running water.
Furthermore, it has a large capacity dust cup which will spare you regular pauses in your cleaning to empty it.
Opposite Spectrum – Hoover Rogue 970 Robot Vacuum
If you don't like to vacuum and still want to keep your home clean, we have an idea for you. Consider this robot vacuum.
A robot vacuum saves you a lot of time by taking you away from vacuuming. This Hoover robot takes it a notch higher with its Wi-Fi connectivity. Now you can monitor how the robot has cleaned your home in your absence.
You can also give it commands from your smartphone. You can also give it voice commands as it works great with Google assistant and Amazon Alexa.
Comparison Table
Featured
More Affordable
High-End Variant
User-Friendly
Opposite Spectrum
Products
Hoover Air Lift Deluxe Upright

 

Hoover Air Steerable Upright

 

Hoover React Reach Plus Upright

 

Black and Decker Air Swivel

 

Hoover Rogue 970 Robot

 

Dimension
13.2 x 11.2 x 44.5 inches
13.7 x 11.6 x 37.4 inches
12 x 13 x 44 inches
13.7 x 11.6 x 37.4 inches
13.6 x 13.6 x 3.8 inches
Weight
17.1 lbs
13.05 lbs
18 lbs
13.05 lbs
7.5 lbs
Attachments
Turbo brush, crevice tool, and dusting brush
2-in-1 crevice and brush tool
Powered stair tool, crevice tool, and 2 dusting brushes
2-in-1 crevice tool
None
Cord Length / Runtime
30 feet
30 feet
30 feet
30 feet
120 minutes
Special Feature
It has an allergen block filter
It uses the Wind Tunnel 3 technology for suction
The vacuum has the Floor Sense technology
It has a steerable technology
The vacuum can be operated with voice commands
General Feeling Among Users
There is a somewhat mixed feeling about this vacuum. However, almost every user agree on one thing about the Hoover Air Lift Deluxe Upright. It has a powerful suction. The Wind Tunnel 3 is a feature you can rely on them.
Users with pets like how well the vacuum deals with pet hair. It cleans it so well they don't have to make repeated passes to get all the hairs out.
Quite a number of the users say that they appreciate how easy the Hoover Air Lift Deluxe Upright is to use.
The assembly is quite straightforward, you only need to tighten one screw. The parts you need to put together can fit in only one direction so you cannot make a mistake.
They say that the attachment tools connect well and they serve their purposes well overall. The dust cup is also easy to detach, you just need to twist it off.
Users also like the steerable technology because it makes the vacuum easy to maneuver. Some users say that the Hoover Air Lift Deluxe Upright does pretty well on plush rugs. A particular user even said that he does not need to get a Dyson since this one is doing the job to his satisfaction.
They also like how easily you can transition from hard floors to carpets. They say that the filters too are easy to remove and clean.
Finally, as expected, users really like the idea that the vacuum can transform. This gives them the versatility they want to clean all over their houses.
Some Complaints…
We said that there are mixed feelings about this vacuum. There are quite a number of users who have one problem or another with it.
Firstly, some say that the vacuum is heavy. This might make it difficult to use for physically challenged and elderly people to use.
It is useful that you can keep the attachment tools on board but the holder for them is a bit too loose. Therefore, they fall off easily which can be an annoying distraction for the most part.
Some users also complained about what seems to be a design flaw. The connection between the hose and the vacuum has gaps. This impedes the suction power and might let out some dirt. However, only a few users complained about this but it is worth including in your considerations.
Our Verdict
There are lots of good things going for this vacuum and a few problematic things against it. You would agree that the good of this vacuum outweighs the "not so good".
Well, even at that, we will go lukewarm with the Hoover Air Lift Deluxe Upright. The reason is that the few cons this vacuum has carry some weight we don't want to deal with.
That, of course, is our own verdict. What is yours? If what you have read about this vacuum matches your need, you don't need to go our way. Get yours today!