If reliability and expertise are qualities you are looking for in a manufacturer, you will find it with Hoover. Its Hoover Air Steerable Upright Vacuum is a good example of how much commitment the brand puts in its products.
We can be confident to assume that Hoover is one of the oldest and trusted brands in the vacuuming industry. The reason is that the brand has been in existence for over a century. From what you might have found out, it is still a big brand today.
However, Hoover manufactures more than just vacuum cleaners. It makes other products such as carpet washers, steam mops, sweepers, etc. Some of its vacuum cleaners are even commercial vacuum cleaners.
These ones are capable of handling the heavy-duty jobs. They are specialized for offices, hotels, cleaning agencies, etc.
If what you have heard about the brand so far intrigues you enough to want to know more, check out our Hoover vacuum cleaners guide.
Who Should Get The Hoover Air Steerable Upright Vacuum?
If you like playing swerve and dock with furniture and obstacles with your vacuum cleaner, you might love this one. It has a steerable brush head and a low-profile design that lets you easily get around and under furniture for better accessibility.
Are you short on storage area but still want an upright vacuum? The Hoover Air Steerable Upright has a slim design and a small footprint that won't take up too much space.
If you have multiple floor types in your home, this vacuum might be what you need to clean them all up. Its suction design promises to lift dirt off different floor types.
If it is versatility you are looking for in an upright vacuum, you might find it in this one. It has an extension hose that allows you to carry out above the floor cleaning with ease.
Stay with us as we dive into the details of the workings and features of the Hoover Air Steerable Upright Vacuum.
Features Of The Hoover Air Steerable Upright Vacuum
Wind Tunnel 3 Technology
This is one of Hoover's advanced vacuum cleaner technology. As the name implies, it uses 3 channels of suction for lifting dirt. Most other vacuums use one, so, you can guess what that means for the Hoover Air Steerable Upright.
This technology is responsible for the vacuum's powerful suction. With this, you will not need to move your vacuum back and forth over and over to get the satisfactory clean you want. A few passes will get you a deep clean on different floor types.
Advanced Brush Roll
Talking about floor types, the brush roll installed in the brush head of this vacuum is specifically designed. Its design is meant to provide a thorough clean on both carpets and hard floors.
The bristles are positioned spirally to get the maximum contact with the fibers of your carpet.
The Hoover Air Steerable Upright has a cool feature that levels up its value. The brush roll can be turned off.
What this means is that you take out the risk of your hard floors getting scratched by the spinning brush roll.
HEPA Media Filter
You are bound to react when you inhale dust or allergens whether you are allergic or not. This is something that can easily happen when you are vacuuming.
The Hoover Air Steerable Upright uses a HEPA filter. This type of filter traps in 99.97% of dust and allergens that pass through it. That way, the air flowing back into your home is clean and free of contaminants.
Flexible Hose Extension
Upright vacuums are known to be limited to cleaning just floors. That is one of their biggest flaws as it makes them less versatile.
The manufacturer eliminates the versatility problem by adding a hose to the Hoover Air Steerable. This means that you can engage the hose and use it to vacuum above the floor.
Useful Attachment Tools
To clean above the floor, you will need some attachment tools that are designed to clean other surfaces. The 2-in-1 crevice can be used to vacuum tight corners and other hard to reach places.
The dusting brush, on the other hand, is great for removing dust and dirt from the surfaces of furniture, upholstery, vents, and you can even clean cobwebs off your ceiling.
User-friendliness Of The Hoover Air Steerable Upright Vacuum
All the features of the Hoover Air Steerable Upright collectively make the vacuum easy to use.
Let us start with the Wind Tunnel technology that gives the vacuum a powerful suction.
This vacuum also has swivel steering which makes it easy to move around while vacuuming. With a little turn of your wrist, the vacuum will follow suit.
We mentioned earlier how the slim design of this vacuum makes it easier to store. Its lightweight also makes it convenient to carry from room to room and up and down the stairs.
To turn on or off the brush roll requires just the touch of a button. A simple touch is what you also need to detach the removable wand. The attachment tools connect easily so you won't have any hassle on that front.
Pros Of The Hoover Air Steerable Upright Vacuum
i. The vacuum has a powerful suction.
ii. It uses a HEPA media filter to clean the air in your home.
iii. It has a swivel steering for maneuverability.
iv. The vacuum is lightweight and easy to maneuver.
v. It has a slim design that makes it easy to store.
vi. It uses a hose and a removable wand for above the floor vacuuming.
vii. The brush roll can be turned on and off.
viii. It has a no-scuff bumper so it won't leave marks on your walls and furniture.
Cons Of The Hoover Air Steerable Upright Vacuum
i. Hair tends to tangle on the brush roll and it does not self-clean. You have to get rid of the clog manually.
ii. Sometimes hair does not pour out completely from the dust cup. That means you have to get in there.
Alternatives To The Hoover Air Steerable Upright Vacuum
More Affordable Option – Bissell 9595A Clean View Upright Vacuum
If you are on a budget and you want a vacuum with a good suction, you can go for this one. It costs even lesser than the vacuum we are featuring.
It has height adjustment knob that you can use to control how close the brush head is to the floor. This feature makes the machine capable of vacuuming on different floor types.
The dust cup opens at the touch of a button so the dirt can fall out into the trash can. The dust cup also has a good capacity so you won't have to empty all the time.
High-End Option – Kenmore Crossover Max Upright Vacuum
If you have pets that shed hair in your home, you will need a good performance vacuum to clean up after them. This Kenmore is more than that. It has a high-end performance and is still fairly affordable.
It uses a 2-motor system with cyclonic action which gives it a powerful suction. This is why the vacuum is so effective at cleaning dirt and debris off hard floors and carpets.
Its HEPA filtration system also protects you from inhaling dust, allergens, and pet dander while vacuuming. This essentially helps yo purify the air in your home so the sensitive ones can breathe deeply and safely.
User-Friendly Option – Black and Decker Air Swivel Upright
Lightweight is one of the main features of a vacuum that is user-friendly and you will find that in this one. It weighs in at a total of 8.8 pounds. Its name, AirSwivel, is quite suiting as it comes from its lightweight and the fact that it has a whopping 170 degrees swivel.
Its filtration system is something you will also like. This makes breathing safe and easy for the sensitive occupants with respiratory issues.
The filter it uses is washable which means that you can use it repeatedly. This will help you save some money that you would have spent on buying replacement filters.
Furthermore, it has a large capacity dust cup. This will spare you regular pauses in your cleaning to empty it.
Opposite Spectrum – Hoover Turbo Scrub Carpet Cleaner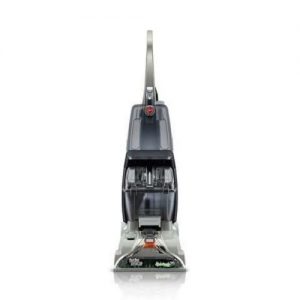 First things first, this is not a vacuum cleaner. In fact, you will also use it pretty much the same way as a vacuum. It is a carpet washer, as the name implies, and you know that involves the use of water which you can't use with a regular vacuum.
You won't need to wash your carpets as often as you vacuum it but you need to wash it regularly all the same.
It uses the SpinScrub Brush technology which involves 360 counter rotating, removable brushes. These brushes gently wash your carpets and scrub off stains on it.
It has an attachment tool that you can use on stairs, upholstery, and you can even use it to clean the seats in your car! The carpet cleaner weighs in less than 20 pounds so you can even carry it up and down the stairs.
Comparison Table
Featured
More Affordable
High-End Variant
User-Friendly
Opposite Spectrum
Products
Hoover Air Steerable Upright 

 

Bissell 9595A Clean View Upright 

 

Kenmore Crossover Max 

 

 

Black and Decker Air Swivel 

 

Hoover Turbo Scrub Carpet Cleaner

 

Dimension
13.7 x 11.6 x 37.4 inches
12.5 x 13.5 x 44 inches
14.2 x 13 x 43 inches
13.7 x 11.6 x 37.4 inches
17.2 x 11.5 x 43.2 inches
Weight
13.05 lbs
15 lbs
17 lbs
13.05 lbs
18.1 lbs
Attachments
2-in-1 crevice and brush tool
Turbo and dusting brushes, extension and crevice tool
Dusting brush, crevice tool, pet handi-mate
2-in-1 crevice tool
Upholstery tool
Cord Length
30 feet
27 feet
30 feet
30 feet
20 feet
Special Feature
It uses the Wind Tunnel 3 technology for suction
The vacuum uses the One Pass technology
The vacuum can detach into a handheld canister
It has a steerable technology
It uses the SpinScrub 360 technology
General Feeling Among Users
From the features we have analyzed above as well as what we told you about the ease of use, you can guess that users will like this vacuum. Most of them really do like it.
First of all, they like the powerful suction of the Wind Tunnel technology. Quite a number of them said that it vacuums well both on carpets and on hard floors. It also easily picks up both pet and human hair.
The users also rated the durability of this vacuum high. A particular user said he has been using the Hoover Air Steerable Upright Vacuum for 4 years and he replaced it with the exact same one. As you can guess, he is still enjoying his vacuum.
The ease of use was another aspect of this vacuum that got praises. A lot of the users actually talked about how easy it was to use this vacuum.
Some mentioned the swivel steering. A particular user said that her mum who has bad arthritis finds it convenient to maneuver.
Emptying the dust cup is another aspect some users mentioned. You can empty it either through the base or from the top, all with the touch of a button.
They all agree that the vacuum is lightweight and it makes it convenient for them to carry from one location to another.
Some Complaints…
However, there were some complaints too. Some users say that the vacuum is loud. A certain user who actually rated the vacuum high mentioned that the vacuum makes a squealing noise.
Another common complaint is the one we also mentioned. Even though the dust cup is easy to empty, the contents do not always totally come out.
That way, you have to reach in and get mostly the remaining hair out. This is something a lot of users will find disgusting but might have to live with because of the other features they love.
Our Verdict
By now, you probably have a good idea of how we reach our verdict for the vacuum cleaners we review. So, you can pretty much guess what our verdict for this one will be.
As you will agree, the Hoover Air Steerable Upright has a lot more good things going for it than the complaints. Not just that, those good things are mainly what people are looking for in a vacuum cleaner. We can safely conclude that this is the reason a lot of users like it.
After all is said, we like this vacuum. It has all the good things we look for in a vacuum. It might not have all the bells and whistles but at its price, it offers more value than it costs.
Does this vacuum sound good to you? If the information we provided to you makes this vacuum what you have been looking for, why don't you go get yours today!