HoLife is a new generation electronics manufacturer. The current level of technological advancement gives new brands a good chance at developing superior products such as the HoLife 2-in-1 Cordless Vacuum.
This brand manufactures a lot more than just vacuum cleaners. In fact, it seems not to be interested in limiting itself to a particular category. Jack of all trades master of none? Well, that ideology does not seem to apply much anymore. Just take the e-commerce giant Amazon for instance.
Wireless chargers, computer accessories, dehumidifiers, home appliances, etc. are some of the products you will find from HoLife. If you doubt this brand's ability to deliver, just check out its products on Amazon and pay attention to their ratings. We will leave the rest to you.
Who Should Get The HoLife 2-in-1 Cordless Vacuum?
If you need a cordless vacuum at all, this one is worth a consideration. It might not be up to the task to clean your whole house but the fact is most cordless vacuums are not built for that.
When it comes to suction power, the HoLife 2-in-1 Cordless boasts to clean in just one pass. So, if that sounds good to you, stay with us.
Do you have pets that shed hair? If that's a "yes", you would agree that cleaning up pet hairs can be a menace. This vacuum claims to have a reliable solution that does not only clean up the hair but makes it an easy task.
If you are like us that gets impressed with a good battery life, get ready to be excited. The HoLife 2-in-1 Vacuum claims to surpass the half hour mark.
Ease of use is something every user of a cordless vacuum cleaner truly appreciates. If that is true for you, be ready to show some appreciation to us and this vacuum by getting one. Of course, only if it turns out to be good enough for you.
Talking about being good enough, stay with us as we are about to explore in details what this vacuum has to offer. By the time you get to the end, you will be able to confidently decide if this cordless vacuum meets your mark or not.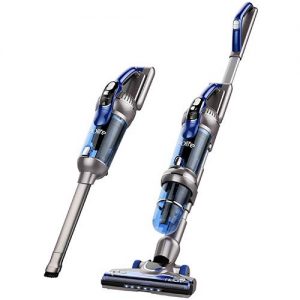 Features Of The HoLife 2-in-1 Cordless Vacuum
Motorized Brush Roll
The HoLife 2-in-1 Cordless Vacuum has a superior brush head. The brush roll within it has strategically placed hard bristles. The purpose behind this is so that the brush roll combs deep into the fibers of your carpets and rugs. This will dislodge embedded ground-in dirt, dust, and allergens leaving you with a deeply cleaned floor.
The brush roll also has a soft brush that can clean up larger debris and remove pet hair from different surfaces.
This brush roll is tangle-free which means that pet hairs do not clog it bad enough for you to clean it out manually. The brush head also had LED lights on it so you can see dirt clearly even in a poorly lit area.
Powerful Suction
The HoLife 2-in-1 Cordless Vacuum is powered by a 380-watt brushless motor. This is an advantage in two ways. Firstly, a brushless motor creates less noise. Secondly, it delivers much more power than a brushed motor. This is why this vacuum can boast of up 20 kPa of suction power.
If you combine this powerful suction with its premium brush roll, what you get is a cordless vacuum that can clean on all floor types.
So, if you have a home with different types of floors, you are in luck as this one vacuum is all you need for your home. From food crumbs to pet hair, dust and allergens, pet dander, etc. on carpets or hard floors, they will become victims of the HoLife 2-in-1 Cordless Vacuum.
HEPA Filter
Cleaning dust, allergens, etc. is one thing, ensuring that you do not end up inhaling them is another. This cordless vacuum ensures that none of the contaminants you are trying to get rid of ends up in your lungs. It has four levels of filtration system include a HEPA filter.
With this much filtration, you can rest assured that the only type of air coming out of this vacuum into your home is a clean one.
So, if you are asthmatic or allergic, you can vacuum with the HoLife 2-in-1 Cordless Vacuum without fear. You can now breathe as deeply and freely as you want in your own home.
Transformer
You won't be totally wrong if you half suspected this cordless vacuum of being a robot. It actually looks sophisticated enough to be able to turn into something else any moment.
But instead of turning into a supercar or a semi, it turns into a handheld vacuum. It is only the 'cordless vacuum' thing to do, right?
In this case, this transformer does not convert autonomously, although it is as simple as pushing a button. When you get this cordless vacuum into the handheld mode, you open up a whole new collection of versatile vacuuming.
Now, you can do stairs, drapes, furniture, and even the ceiling. You can go as far as your car if you want to. The limit is almost endless.
Impressive Battery
First of all, the battery that the HoLife 2-in-1 Cordless Vacuum uses is a Lithium-ion. What that means is that the vacuum gets a continuous flow of power from it even as it depletes.
That way, your vacuum continues to work optimally until the battery is finally out of juice and needs to recharge.
Secondly, the battery life of this cordless vacuum is actually impressive. The 2500 mAh 25.2 volts lithium-ion battery delivers up to 40 minutes of runtime in the handheld mode at standard speed. You will also get about 30 minutes of operational time in the stick mode at standard speed.
Useful Accessories
If you have been using a vacuum cleaner for a while, you will understand that the attachment tools available to you affect how versatile you can clean.
We already mentioned that the HoLife 2-in-1 Cordless Vacuum can deal with pet hairs. This is where we tell you how it does.
This cordless vacuum comes with a 2-in-1 mini brush head that is specially made for picking pet hairs and debris.
The brush that is used for pet hairs on this tool can be detached at the push of a button. This turns it into what HoLife calls a Sofa Sucker which is meant for cleaning upholstery and mattresses.
The other tool you get with this vacuum is the popular crevice tool. What is special about this one is that it has a brush. This helps you dislodge dirt in narrow gaps and hard to reach areas. With these accessories, you can clean almost every nook and cranny of your home without problems.
User-friendliness Of The HoLife 2-in-1 Cordless Vacuum
If a slim and lightweight cordless vacuum is considered user-friendly then the HoLife 2-in-1 Cordless Vacuum is.
To detach the handheld mode and change attachment tools are as easy as pushing a button and a little pulling.
This cordless vacuum has quite a number of parts which means that you have a lot of detaching and putting together to do when you need to clean it.
The maneuverability of this cordless vacuum is premium. It can swivel 90 degrees back and forth and a whole 180 degrees to the sides.
This gives you a wide field of movement. You can easily get under your furniture with its low-profile design.
Moving it around is actually a thing of pleasure because of its electric drive roller. Yes, you heard right. The wheels on this cordless vacuum are partially motorized so it will glide effortlessly on both hard floors and carpets.
Kindly note not to get tempted taking a ride on it. All these maneuverability make it easy to clean around the feet of furniture without needing to move them.
Pros Of The HoLife 2-in-1 Cordless Vacuum
i. This vacuum features the advanced cyclonic technology.
ii. It uses a lithium-ion battery for fade-free performance.
iii. It has a powerful suction.
iv. The battery life is quite impressive.
v. It comes with useful attachment tools.
vi. It can vacuum on all floor types.
vii. The vacuum has 4 layers of filtration including a HEPA filter.
viii. It can easily transform into a handheld vacuum.
ix. It has a motorized brush roll for deep cleaning carpets.
x. There are two levels of power settings to choose from.
xi. It has swivel steering for maneuverability.
xii. The wheels on the vacuum use electric drive for swift and effortless movement.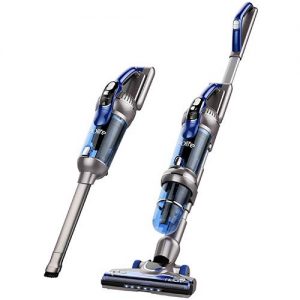 Cons Of The HoLife2-in-1 Cordless vacuum
i. The vacuum can be a little loud for comfort.
ii. The power button needs to be held down for a bit before it comes on. It is located where you can mistakenly turn it off and have to hold it down again to power it on.
Alternatives To The HoLife 2-in-1 Cordless Vacuum
More Affordable Option – Suaoki 2-in-1 Cordless Vacuum
This is a portable vacuum cleaner that gives you the versatility of a cordless stick and a handheld for the price of one.
It can easily convert into a handheld vacuum that lets you do above the floor cleaning. With the accessories that come with it, you can clean pet hairs and debris from upholstery. You can also vacuum stairs or even clean the interior of your car.
It has a good battery life of up to 35 minutes, this lets you get a lot of vacuuming done. If you need to deep clean carpets, you can easily switch between the two power settings. Just know that you will be sacrificing some operational time.
It has swivel steering that makes movement and maneuverability easy. The handle is also foldable which effectively reduces its footprint so it becomes easier to store.
High-End Option – Oreck Commercial TaskVac Cordless Vacuum
Oreck is a brand known for making vacuum cleaners with high-end performance. Its TaskVac is a commercial vacuum standard which provides good suction for highly trafficked areas.
It has a scuff guard to protect your walls, floors, and furniture from scratches and bump marks. It features Oreck's Endurolife belt which automatically shuts off the vacuum whenever there is a jam on the brush roll. This prevents further damage to the vacuum essentially increasing its lifespan.
Its lithium-ion battery is easily removable. This means that if you get an extra battery, you don't have to stop vacuuming to recharge. You can keep vacuuming with one battery while the other charges. The battery is designated to last you for about 25 minutes on a full charge.
User-Friendly Option – HoLife Handheld Vacuum
This little handheld vacuum is multifunctional and highly efficient. It has a suction power rating of 4kPa which is great for a handheld. This is one of the reasons it is so effective for pet hairs. It has an entry baffle which easily lets in dirt and debris but makes it impossible for them to get back out.
Furthermore, it has two layers of filtration. This makes for a more effective system to protect users that are asthmatic or allergic. On top of that, it uses a HEPA filter that traps 99.97% of dust and allergens.
That's not all, you will get a carrier bag for the vacuum and its accessories. This makes for easy storage and you can easily take it with you wherever you want.
Opposite Spectrum – ILIFE V3s Pro Robotic Vacuum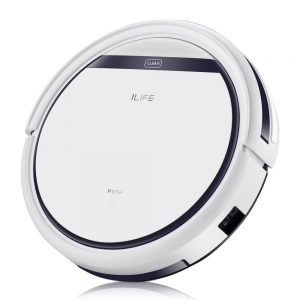 This is a robotic vacuum that is great for cleaning pet hairs so you don't have to do it yourself anymore. It has sensors that help it get around your home while mapping its way around. It can also detect falls and obstacles and avoid them.
You can program this robot vacuum so that it cleans at scheduled times. It also automatically docks itself to recharge when the battery is getting too low. With this vacuum, you almost don't have to do anything anymore.
Comparison Table
Featured
More Affordable
High-End Variant
User-Friendly
Opposite Spectrum
Products

HoLife 2-in-1 Cordless Vacuum

 

 

Suaoki 2-in-1 Cordless Vacuum

 

 

Oreck Commercial TaskVac Cordless Vacuum

 

HoLife Handheld Vacuum

 

ILIFE V3s Pro Robotic Vacuum

 

Dimension
30.7 x 8.8 x 12.2 inches
10.6 x 45.7 x 6.3 inches
23.3 x 10.9 x 8.3 inches
15.8 x 6.4 x 6.3 inches
11.8 x 11.8 x 3 inches
Weight
5.29 lbs
5.6 lbs
12.45 lbs
3.6 lbs
4.5 lbs
Attachments
2-in-1 pet brush and crevice tool
Crevice and upholstery tool
None
Crevice and upholstery tool
None
Runtime
Up to 40 minutes
35 minutes
25 minutes
25 minutes
Up to 80 minutes
Special Feature
It has 90 and 180 degrees swivel steering
It can convert into a handheld
The battery is removable
It comes with a carrier bag
Autonomous vacuuming
What Users Think Of The HoLife 2-in-1 Cordless Vacuum
It is amazing how much users love this vacuum! Honestly, what is there not to love? One of the most consistent praises this cordless vacuum is getting is its suction power.
HoLife actually did a good job with that. Many also commented on how easy it is to use. The swivel steering works well for getting under and around furniture.
The battery life also got some praises from users who prefer to use it both in the stick mode and in the handheld mode.
Quite a number of users love how well this vacuum cleans their cars. The crevice tool does a good job reaching into areas that could not be cleaned before.
HoLife customer service is another thing users really appreciate. They say the brand stands by its product and provides quality after sales support.
There were some few complaints, however. Some of the users who love the vacuum mentioned that the placement of the power button is a bit awkward.
But, that obviously was not a deal breaker for them. Some others complained about the battery life and the suction power. They probably either got a faulty batch or something. For what it's worth, some of them actually got replacements.
Our Verdict
It was exciting writing this review because we were truly amazed that such a vacuum with a high-end performance can come at this price. The vacuum is not exactly inexpensive but considering what you will get from it, the price is such a steal.
It has good suction, great battery life, effortlessly maneuverable (we love the electric drive wheels), etc. These are some of the good things about the vacuum. We also highlighted some not so good ones. In the end, if you ask us, we love the HoLife 2-in-1 Cordless Vacuum.
You don't need to take our word for it. You have read all we had to say about this vacuum including what other users say. So, what do you think? Do the good sides of the vacuum meet your needs? Are the bad sides deal breakers for you? When you are done making up your mind, go get yours today!