Bissell Inc. offers a wide range of vacuum cleaners and other floor cleaning tools and the Bissell Lift-Off Cordless Vacuum is one of them. If you have been using vacuum cleaners for a while, it is almost impossible that you have not come across the brand Bissell.
That's how popular it is when it comes to domestic floor cleaning. With over 140 years of experience, it is one of the oldest brands in the vacuum cleaner industry.
Melville and Anna Bissell owned a store in Michigan and they were having issues with sawdust on their carpet floors. This problem was what gave birth to what has become a giant in the vacuum cleaner industry today. Bissell is one of those companies with long years of prestigious heritage.
Melville decided to invent a sweeper to deal with the sawdust trouble they were having. Friends, families, and customers noticed the invention and started making inquiries.
That was when the couple decided to make it a business. Bissell Inc can even boast about producing the first female CEO in America.
You can guess how the rest of the story goes. We are here, over a century later talking about how huge Bissell is today. By the way, if you want to know more about its vacuum cleaners, read our Bissell vacuum cleaners guide.
Who Should Go For The Bissell Lift-Off Cordless Vacuum?
Do you want to be able to reach further and under furniture without having to bend too much? If that is a "yes", this vacuum might be what you need. It can move in ways that can make you clean without stressing your back.
We are not even talking about the swivel steering yet. If you want that type of maneuverability too, you will get it from this cordless vacuum. You will also be able to enjoy the versatility of a handheld vacuum.
You can rest assured that this vacuum will be easy to use especially with its simple design. This obviously will not require any complicated controls.
Grandma too might be able to use this vacuum without any complications. Before you ask, the answer is yes. It is lightweight enough for your nana.

Features Of The Bissell Lift-Off Cordless Vacuum
Multi Floor Cleaning
It is commonplace for a home to have multiple floor types. It does not make that much sense to have different ways of cleaning each floor type.
A case like that is where the Bissell Lift-Off Cordless comes in handy. It can be used for cleaning almost any floor type. The vacuum has a motorized brush roll that combs through carpets and low-pile rugs for a deep clean.
Whenever you need to vacuum on hard floors, you can turn off the brush roll so that you don't run the risk of scratching your delicate floors. This is a good idea since the suction power of the vacuum is often enough to clean dirt off hard floors.
Bi-directional Handle
In most cordless vacuums, the handle is always upright. In this cordless vacuum, you can keep the handle upright or fold it forward at an angle.
This gives you the advantage of easily getting underneath a furniture to clean it out instead of moving it or bending.
That is not all, this handle can also fold backward. This sort of collapses the height of the vacuum cleaner which makes it smaller. You guessed right, it also makes it easier to store.
Swivel Steering
The swivel steering of the Bissell Lift-Off Cordless Vacuum is responsible for its maneuverability. This vacuum surely is maneuverable because it is also lightweight.
It is easy to move around on different floor types and clean around the feet of furniture. It is also easy to carry from room to room and up and down stairs.
Transformer
When you are done cleaning floors with the Bissell Lift-Off Cordless Vacuum, you can detach the handheld. On doing that, you can begin doing some above the floor cleaning.
You can use the handheld mode to clean dust from furniture, vacuum stairs, and countertops, etc. If need be, you can go ahead and clean the interior of your car.
User-friendliness Of The Bissell Lift-Off Cordless Vacuum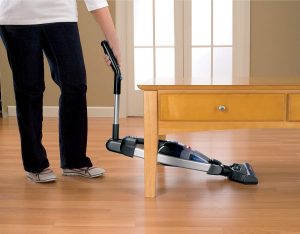 If we are to give a straight answer to how user-friendly this vacuum is, we will say it is easy.
The reason is pretty obvious. The design is simple! There are no sophisticated controls that need to be mastered here.
If you need to fold the handle in whichever direction, you just need to push the appropriate button and move the handle.
The button to turn on or off the brush roll is right there on the handle where your grip would be. It also takes the push of a button to release the handheld vacuum. There is a charging indicator on the vacuum so you can monitor its charge.
That is about all the control you need to make with the Bissell Lift-Off Cordless. You will agree that there is nothing complicated about what we just explained.
We have been looking around too and we cannot find a learning curve anywhere.
Pros Of The Bissell Lift-Off Cordless Vacuum
i. The vacuum is lightweight.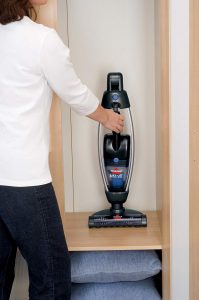 ii. It has a swivel head that makes it easily maneuverable.
iii. The controls are within reach and not complicated.
iv. It is ideal to clean multiple floor types.
v. The brush roll can be turned on or off.
vi. It can convert into a handheld vacuum.
vii. The handle can fold back and forth for better reach and easy storage.
viii. It has an overcharge protection

Cons Of The Bissell Lift-Off Cordless Vacuum
i. The suction is nothing spectacular.
ii. The vacuum is not really sturdy.
iii. The battery life is not so impressive.
Alternatives To The Bissell Lift-Off Cordless Vacuum
Affordable Option – Rollibot Rapido Stick Vacuum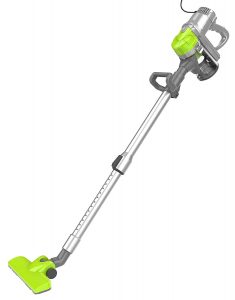 This is a really nice cordless vacuum to have at an affordable price. Considering its performance and what you get for this vacuum, it surely is a steal. The vacuum is lightweight and it is designed such that you can reach almost anywhere with it.
First of all, it has a telescopic wand which you can extend to easily reach further. Just under the handle is another mini handle which comes in "handy" especially when you are trying to clean somewhere overhead. It helps you maintain stability for better effectiveness.
It also has a dual filtration system which is also washable. This means that you can save some money on buying replacement filters since you can reuse it.
You can also convert this vacuum into a handheld and enjoy the versatility of 6 attachment tools. A pet tool, fabric tool, dusting brush, etc. are some of the attachments you will get.
High-End Option – Bissell Multi Reach Cordless Vacuum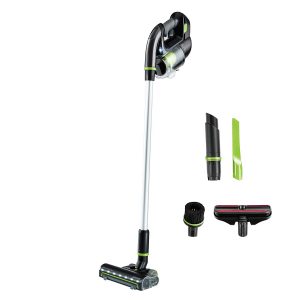 If you want high-end performance, this is a cordless vacuum to go for. It has a good suction for removing dirt on hard floors and carpets. Its design also makes it easy to use and the controls are not complicated.
The type of versatility you will get with this vacuum lets you clean high, low, and everything in between. It can easily turn into a handheld vacuum for even more ways to vacuum.
The lightweight and swivel steering makes this vacuum maneuverable. It has a low-profile design that lets you get under furniture for proper cleaning. The lights on the brush head also illuminate the vacuum's path so you can see clearly in a poorly lit room.
The lithium-ion battery is 22 volts and it provides fade-free power to the vacuum. You will get a good 20 minutes of runtime with this vacuum cleaner.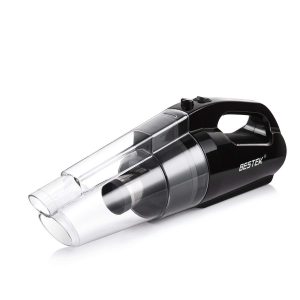 This is a little handheld vacuum that packs a punch. It uses the advanced cyclonic suction to deliver 3.8 kPa of suction power. This will help you clean food crumbs, dust, and allergens of different surfaces. The best part is that you can take that power with you anywhere.
It comes with a crevice tool that lets you reach into tight areas and clean out dirt that hides in there. It also has a square brush that is great for those casual cleaning. Finally is the extension wand that lets you reach even further to clean better.
This handheld is powered by a 4000 mAh lithium-ion battery that delivers 30 minutes of performance cleaning on a full charge. It is also lightweight, of course, and it is easy to use.
Opposite Spectrum – Severin Canister Vacuum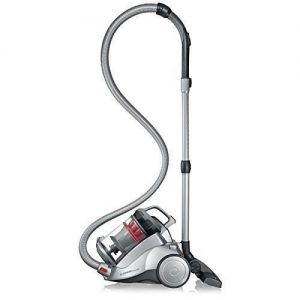 Canister vacuums are tough and powerful. If you need a vacuum to handle the tough business of cleaning your whole home, this particular one is a good option. It has a compact footprint and will not take up too much space to store.
It uses the cyclonic technology too which means a powerful suction that will not fade over time. The vacuum also uses a HEPA filter that traps the tiny allergens and other contaminants. It has a telescopic hose that lets you reach further to clean better.
If you want to learn more about canister vacuum cleaners, you can read our guide to see more options you can go for.
Comparison Table
Featured
More Affordable
High-End Variant
User-Friendly
Opposite Spectrum
Products
Bissell Lift-Off Cordless Vacuum

 

Rollibot Rapido Stick Vacuum

 

 

Bissell Multi Reach Cordless

 

Bestek Handheld Vacuum

 

Severin Canister Vacuum

 

Dimension
5 x 10 x 45 inches
11.5 x 4.5 x 8.3 inches
13 x 10 x 44 inches
16.6 x 6.2 x 4.5 inches
22.3 x 15.5 x 13.2 inches
Weight
5 lbs
4.5 lbs
5.8 lbs
3.33 lbs
10 lbs
Attachments
Integrated crevice tool
Pet, fabric, dusting, crevice tools
Upholstery and crevice tools, mini power brush, dusting brush
Crevice tool, square brush, and extension wand
None
Runtime
12 minutes
Up to 20 minutes
20 minutes
30 minutes
Corded
Special Feature
It has a 2-way folding handle
The vacuum has lots of attachments and comes with a carrier bag
It can easily detach into a handheld
It has 3.8 kPa of suction
The vacuum has 14 HEPA filter media
What Users Think About The Bissell Lift-Off Cordless Vacuum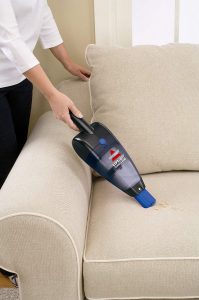 The general feeling about this vacuum is mixed. Almost the same number of people who liked it had one problem or another with it.
Some of the users who love the Bissell Lift-Of Cordless applauded the suction power. They claim that it was excellent on hard floors.
Only a few of them said anything about its effectiveness on carpets. They also like the fact that it was easy to use, we will also agree with that. The foldable handle is a good highlight which makes it easy to store, they say.
Some of the users say it works great for them with picking pet hairs. The fact that you can turn off the brush roll makes them confident about the safety of their hard floors.
On the other hand, some other sets of users say that the suction power is not impressive. Some of them complained about the swivel head shifting out of position.
Another thing the majority of them had to complain about was the durability. They loved it when they initially got it but after some months they started noticing problems.
Our Verdict
There really are some good sides to the Bissell Lift-Off Cordless Vacuum, most of them we have already talked about. We like that it is affordable and it gets some cleaning done. We especially like that it is easy to use and the foldable handle lets you reach into places better.
However, the lot of users who had complaints about this vacuum makes us skeptical. Those who had issues with it are as many as those who love it. For that reason, we will go for lukewarm on this vacuum.
As you already know, we don't have the final say, you do. It is very possible that all the nice things about this vacuum are exactly what you need it for.
The issues that we and other users highlighted might not be a deal breaker for you. In that case, you have yourself a good vacuum, go get yours today.