When it comes to the vacuum cleaner industry, Eureka is one of the brands at the forefront. One of the things this brand has going for it is its commitment to innovation and practicality. We are pretty much confident that we will find the Eureka Pet Upright Vacuum will embody such qualities.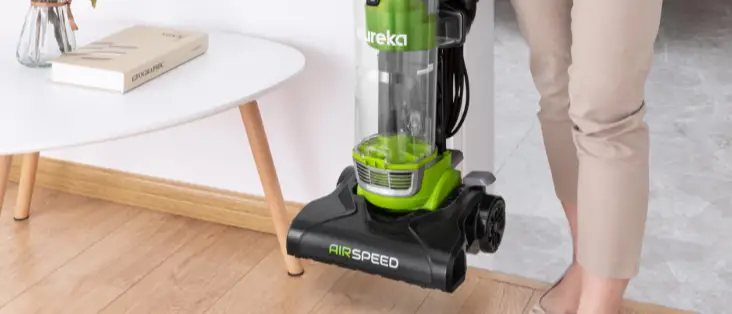 Eureka operates from its headquarters in Detroit, Michigan. It was established in 1909 which gives it well over a century of experience. This makes it a brand one can rely on and trust to continue to deliver quality and performance.
Its vacuum cleaners are effective and versatile. The brand manufactures different types of vacuum cleaners to suit different needs and preferences.
According to the brand's promise, you can rest assured you will continue to get vacuums that offer performance, value, and quality.
If this brand excites you and you want to know more about its vacuum cleaners, you can read our guide on Eureka vacuum cleaners.
Who Might Want The Eureka Pet Upright Vacuum?
If you are tired of rolling up feet of electric cord when you are done vacuuming, this one might attract you. You can retract the entire length of the cord at the push of a button. This should come in as a pleasant addition, shouldn't it?
Are you particular about the suction power of a vacuum cleaner? The Eureka Pet Upright Vacuum promises you a powerful suction for a deep clean of your carpets all the time. Another thing you will like about the suction is that it will not lose power as you vacuum.
If you are sensitive to dust and allergens, this vacuum will protect you by trapping in the allergens as you vacuum them. That way, they won't end up in your nose and cause you the problems you were trying to avoid in the first place.
If this vacuum has caught your attention, stay with us as we explore its features and other stuff it can do in details. By the time you are done reading this review, you will be able to confidently decide if it is good enough for you or you keep searching.
To get yours, click here
Features Of The Eureka Pet Upright Vacuum
No Loss Of Suction
Loss of suction is one common weakness of bagless vacuum cleaners. It happens because the airflow in the dust cup is responsible for the suction.
When you vacuum, dust and dirt fill the dust cup and reduces the airflow in it. This is what causes the suction to drop after a period of vacuuming.
The Eureka Pet Upright deploys the cyclonic technology to handle the airflow in the dust cup. What this technology does is
to spin the air in the dust cup at a very high speed. The resulting effect is to separate the dirt and dust you vacuum from the air in the dust cup.
The debris settles at the bottom while the dust on top of it. This will leave a good amount of airflow left in the dust cup to provide the powerful suction you need.
So, until the dust cup is full and you need to empty it, the suction will remain powerful throughout.
Multiple Floor Vacuuming
It is common for households to have different floor types in their house. But it might seem insane to have different vacuum cleaners for each floor type.
This is why it is always a good idea to look out for vacuums that can handle multiple floor types.
If this is the type of need you have to cater for, the Eureka Pet Upright Vacuum is an ideal choice. The brush head and brush roll are designed to help you vacuum on multiple floor types. The brush roll has stiff bristles that comb through the fibers of your carpet.
When you want to vacuum on hard floors, you just need to turn off the brush roll. This will prevent the bristles from causing scratch marks on your delicate floors.
The AirSpeed technology is also responsible for moving dirt on both hard floors and carpets. This gives you a deep clean regardless the floor type you are working on.
Allergen Filter
It is one thing to vacuum dirt and dust off your floor, it is another thing to keep them in. This is where vacuum cleaner filters come in. If you are a sensitive user, this is a part of a vacuum cleaner you want to pay special attention to.
The dust and allergens that you vacuum must be prevented from getting back out so that you will not end up inhaling them.
The standard filter for protecting allergic and asthmatic users is a HEPA filter. This filter can trap 99% of allergens in the vacuum.
Fortunately enough, the Eureka Pet Upright has a HEPA filter by default. With this, you can rest assured the air that comes out of this vacuum is clean and safe to breathe. No more worries of having your allergies triggered because you want to vacuum.
Onboard Attachment Tools Storage
Useful accessories are a necessity for vacuum cleaners, especially the uprights. The Eureka Pet Upright is not lacking on versatility because of its attachment tools.
It has an extension wand and hose that you can use with attachment tools to carry out above the floor vacuuming.
The turbo tool can be used for cleaning stairs and upholstery. It also has a dusting brush that you can use to remove dust from furniture. And finally, a crevice tool that helps you get into tight places and hard to reach areas of your home.
The best part yet is that these attachment tools can be stored on the vacuum. This makes it easier for you to reach them whenever you need them.
User-friendliness Of The Eureka Pet Upright Vacuum
If you are looking for a vacuum that you need some time getting used to operating, this is not the one.
You can start using the vacuum as soon as you receive it. Assembling it is so easy you won't even need a tool.
If you want to turn off the brush roll, you don't need to bend to reach for any button. You just need to step on a pedal at the rear side of the brush head to turn it on or off.
This vacuum also has a large dust cup that saves you regular trips to the trash can. This dust cup is also easy to empty as it opens at the base for the contents to easily fall out.
For those who have pets, cleaning out pet hairs will become easier with the use of the Eureka Pet Upright. The suction power will help you lift pet hairs on all floor types and even upholstery, thanks to the turbo tool that works stairs and sofas.
Pros Of The Eureka Pet Upright Vacuum
i. You can easily turn on or off the brush roll.
ii. This vacuum is capable of cleaning on different floor types.
iii. It has 5 height adjustments.
iv. It comes with useful attachment tools.
v. You can rewind the power cord at the touch of a button.
vi. The vacuum uses a HEPA filter.
vii. It uses a technology that makes the vacuum not lose suction.
viii. It has a large capacity dust cup and is easy to empty.
ix. It works great with pet hair.
Cons Of The Eureka Pet Upright Vacuum
i. The vacuum is made of mostly plastic which makes the durability a bit questionable.
ii. The hose is a bit too short. For what it is worth, this is a common problem with upright vacuums.
Alternatives To The Eureka Pet Upright Vacuum
More Affordable Option – Eureka Power Speed Turbo Upright Vacuum
Do you want a vacuum that is lightweight and is easy to use? This is a nice vacuum that fits that bill. It weighs in at a little over 10 pounds.
It has a stretch hose that you can use with attachment tools so you clean hard to reach areas. This combination will also allow you to clean above the floor. You won't need to go far whenever you need to switch attachments. They are all stored onboard the vacuum itself for easy reach.
This is a really good vacuum cleaner for its price. If you want to know more about it and how well it works, you can read our review on this Eureka Power Speed.
High-End Option – Shark Rotator True Pet Upright Vacuum
Shark has risen to a respected status in the vacuum cleaner industry so, almost all its vacuum has a high-end potential. Amazon also confirms it as it is one of its choices in upright vacuums.
That says a lot considering the number of upright vacuums available on Amazon. Now let's talk about what makes this vacuum good.
Firstly, you will find the filtration system is excellent. Most other vacuums use just one system which is often enough. But this one uses two different premium filtration systems. The Shark's Anti-Allergen Complete Seal technology traps in allergens so they do not make it back into your home.
Shark combines this filtration system with a HEPA filter which is the standard for respiratory devices. The combination of these two traps in 99.99% of contaminants. Now, you can rest assured that while you breathe deeply, you are breathing safely.
Another impressive feature of this vacuum is the DuoClean brush roll which is an excellent way to transition from carpets to hard floors. The soft microfiber brush roll helps you clean hard floors leaving a polished effect behind.
User-Friendly Option – Eureka Power Speed Upright Vacuum
To get yours, click here
If you are looking for a vacuum cleaner that is easy to use, you got one right here. The user-friendliness of this Eureka goes beyond vacuuming, it extends to your pocket too.
You don't need to be a scientist to use this vacuum as there are no complicated controls involved. You just need to snap parts together and the vacuum is up and ready to use. Assembling it does not even require any tool.
It is lightweight; weighing in at just ten pounds. This means you can carry it around the house if you want to.
Its long flexible hose makes this vacuum versatile allowing you to do above the floor cleaning. It also has a large capacity dust cup that saves you regular trips to the trash can. If you like this vacuum as we do, go ahead and read our review on it.
Opposite Spectrum – Shark ION Flex Cordless Vacuum
Cordless vacuum cleaners are now quite popular. This only makes it obvious how sick a lot of people are of cords. This vacuum is one of the high-end variants of cordless vacuums so you will surely get value for your money.
Firstly, it has double brush rolls which make it capable of taking on dirt on different floor types. One of them is a soft microfiber which leaves your hard floor looking like it just got polished.
The other has stiff nylon bristles to comb through your rugs and carpets. Either way, you will get a thorough clean of your floors.
That's not all, the brush head can clean large particles, small ones, and even a pile of dirt. Another amazing feature is the Multiflex which lets the stick vacuum bend half way.
What this does is to let you reach under furniture without having to bend all the way. It also comes with quite a number of useful attachment tools.
If you find this intriguing, you can read more on the vacuum in our honest review of it. Furthermore, if you want to know more about cordless vacuum cleaners, we have a guide on that too.
Comparison Table
Featured
More Affordable
High-End Variant
User-Friendly
Opposite Spectrum
Products
Eureka Pet Upright

 

Eureka Power Speed

 

Shark Rotator True Pet

 

Eureka Power Speed

 

Shark ION Flex Cordless

 

Dimension
13.5 x 12.5 x 43.5 inches
14 x 13.4 x 44.5 inches
13.2 x 11.9 x 45 inches
13.4 x 14 x 44.5 inches
13.4 x 10.2 x 45.9 inches
Weight
15.5 lbs
10 lbs
14.5 lbs
10 lbs
8.7 lbs
Attachments
Dusting brush, crevice tool, and turbo tool
Crevice tool, pet turbo tool, upholstery tool
Pet power brush, pet multi-tool, crevice tool, accessory bag
Crevice tool, dusting brush, and upholstery tool
Upholstery and crevice tools, dusting and anti-allergen brushes
Cord Lenth
27 feet
25 feet
30 feet
25 feet
Up to 30 minutes
Special Feature
It has a button to retract the power cord
It has 5 height adjustment settings
The button controls are at your fingertip
It has a 12.6 inches cleaning path
It can bend in the middle
| Image | Title | Buy |
| --- | --- | --- |
| Top | Eureka NEU100 Airspeed Ultra-Lightweight Compact Bagless Upright Vacuum Cleaner, Lime Green | Buy Now |
| Top | Eureka Power Speed Turbo Spotlight Bagless Upright Vacuum Cleaner, Pet Tool, Orange, NEU188A | Buy Now |
| Top | Shark APEX Upright Vacuum with DuoClean for Carpet and HardFloor Cleaning, Zero-M Anti-Hair Wrap, & Powered Lift-Away with Hand Vacuum (AZ1002), Espresso | Buy Now |
| | Eureka NEU180B Lightweight Powerful Upright, Pet Hair Vacuum Cleaner for Home, Graphite | Buy Now |
| | Shark DuoClean Cordless Ultra-Light Vacuum IONFlex, IF201, Green | Buy Now |
General Feeling Among Users
At first glance, quite a number of the users of the Eureka Pet Upright Vacuum are excited about the suction power on this vacuum.
They have been comparing it to other brands and this one still mostly come out tops. With that type of suction power, you can rest assured it does great with pet hairs as well.
Almost all the users found it easy to put this vacuum together and attested that you won't even need a tool.
Another thing they love about the vacuum, as you can guess, is that it can retract the cord.
Apparently, a lot of users are having issues with doing that manually. So, this feature came in as a relief to most.
Most users are also impressed at how easy it is to switch from hard floors to carpets. Remember how we said you can turn the brush roll on or off, they like how well that works.
Some of them also mentioned how easy it is to empty the dust cup. Most users found this vacuum to be lightweight and easy to maneuver.
Some Complaints…
As you might have noticed, there is a common complaint about upright vacuums with an extension hose. Users always say that the hose is too short.
Unfortunately, the Eureka Pet Upright Vacuum is not immune to that. Even some of those who loved the vacuum say that it tilts over if you pull the hose too far.
Another thing some users did not like is that the vacuum is not so low-profile. It cannot lean low enough to get under some furniture.
As we mentioned earlier, the Eureka Pet Upright Vacuum is mainly plastic and that might play a significant role in its durability.
Our Verdict
As for us, the cons are not necessarily a deal breaker but our needs are not your needs, right? With all you have read about the vacuum, you should be able to take a stand now.
If you match it with what you need an upright vacuum for, you should be able to tell if this vacuum is suitable for you or not.
As for us, we like the vacuum. At its price, we would even call it a good bargain. As you might already know, we like vacuums that offer more value for their money. So, if you like this vacuum as much as we do, what are you waiting for? Go get yours now!