Electrolux is a leading home appliance manufacturer that produces a wide range of top quality products. This is a brand that throws everything into the creation of all its products. This is why we are featuring the Electrolux Ergorapido Cordless Vacuum.
Electrolux has over a century of experience in making home appliances. You cannot doubt the expertise of a company that has been around that long.
Its initial commitment to technological innovation still reflects in its products whether it carries its name or one of its subsidiary brands.
Electrolux aims at making everyday activities in homes convenient and pleasurable. It certainly does that or it won't be selling off its products, new and old, in their millions yearly.
We also have a guide on Electrolux vacuum cleaners in case you want to know all about them and what they have to offer.
Who Should Buy The Electrolux Ergorapido Cordless Vacuum?
If you need a lightweight vacuum to clean the different floor types in your home, this vacuum will work great for you.
We are pretty sure that no one wants an appliance that needs you to be a scientist to be able to operate. In that case, this Electrolux Ergorapido is what you need.
Of course, steering a vacuum should be easier than maneuvering a semi. If you are looking for that much convenience in a cordless vacuum too, you are welcome.
Keep reading as we dive deeper into explaining the features and benefits that come with adding this particular vacuum to your arsenal.
Features Of The Electrolux Ergorapido Cordless Vacuum
Great Battery Runtime
With all the benefits that come with using cordless vacuum cleaners, it will be a shame to have a really good one that lasts only 5 minutes.
Fortunately, the Electrolux Ergorapido Cordless has a Lithium battery that lasts up to 48 minutes. This delivers superior fade-free cleaning that lasts long enough to actually do some cleaning.
This much battery life will let you complete your vacuuming once and for all rather than have you wait for hours to complete it.
Advanced Allergy Filter
A lot of vacuum cleaners claim to get rid of allergens in your home. Quite a number of them do, but the Electrolux Ergorapido Cordless vacuum uses an advanced method.
The standard for HEPA filters is to be able to trap 99.97% of particles in the air that passes through it. The filtration system in the Electrolux Ergorapido vacuums captures 99.99% of particles, according to measurements taken by IBR laboratories.
What this means is that asthma and allergy sufferers can breathe deep and easily if they vacuum with the Electrolux Ergorapido Cordless Vacuum.
As you vacuum your floors to get rid of dust and allergens, the filter captures the contaminants in the air. The result of this process is the emission of clean air into the atmosphere in your home.
You don't even need to take our words for it. It has the Allergy UK Seal of approval. If you were harboring any doubt before, you can put it to rest now.
Your lungs will thank you for using this cordless vacuum because it will purify the air in your home.
Self Cleaning Brush Roll
Furthermore on how well this vacuum performs, it motorized brush roll effectively picks up dust dirt, dust, allergens, and even hairs.
That's not all, the beautiful part of this is that it is also capable of self-cleaning. It is normal for hairs and fibers to tangle the brush which reduces its performance.
The self-cleaning capability of the Electrolux Ergorapido vacuum cleans the tangle so it can keep working at optimum.
As if that is not cool enough, you can make this happen just by stepping on the pedal located on the brush head!
180 degrees EasySteer
We mentioned how easy it is to maneuver this Ergorapido Cordless Vacuum earlier. This is where we get to explain things.
The pivot that connects the stick to the brush head can rotate 180 degrees. What this means is that you can also steer the vacuum that much.
This gives you a wide range of movement so you can twist and turn around corners and furniture. The weight of this vacuum makes things even easier.
Transformer
When you are done cleaning the floors, you can proceed to above the ground cleaning. All you have to do is detach the handheld from the rest of the body. Now you can start getting rid of dust and mites from upholstery and beds.
Depending on the accessories you have, you can also clean in many other different ways.
Since this is a cordless vacuum, you can go as far as outside into your car to combat dirt with convenience too.
Note: It is important that we make it clear that this review encompasses all the Electrolux Ergorapido Cordless Vacuums.
There is a variant that is specifically designed for allergy sufferers.
There is another one for pet hair and dander. These two are great for trapping allergens and pet dander down to 1 micron.
There is also the BedPro variant that uses an advanced motorized pet nozzle. It also uses UV lights to pick up dust, allergens, hairs, mites, bacteria, etc.
With these types, your beds will become safer for you to lie on knowing that there are no contaminants that can trigger your allergies.
To easily differentiate these versions, you only need to pay some attention to the specifications if you are shopping online.
On the other hand, if you are buying from a store, you can have the sales rep explain to you so you can identify the one that suits you the most.
How User-friendly Is The Electrolux Ergorapido Cordless Vacuum?
Even with all the features this vacuum has, it is so simple to use. There are no complicated controls to understand.
The name "Ergorapido" is actually an indication of how easy to use this vacuum can be. It is the combination of the words ergonomic and rapid.
This simply means that this vacuum is ergonomically designed and vacuuming with it is going to be a rapid affair.
Now you have yourself a cordless vacuum that does not only look good, works good, lasts long but is also easy to use.
You don't even need to believe us. As you continue reading you will find out what other users of this vacuum are saying about their experiences with it.
Just point the motorized brush head to whatever you need to clean and it will start its job. The bulk of what you need to do is to move it around and change the attachments. Using this vacuum is actually that easy.
Pros Of The Electrolux Ergorapido Cordless Vacuum
You can easily convert it to a handheld vacuum for a better reach.
It uses an advanced double filtration process.
The vacuum is easy to maneuver and is lightweight.
It has an impressive battery runtime.
The brush roll can self-clean and it takes just a step on a pedal.
It is available in a number of models for different purposes.
You can use the version with the BedPro feature to deep clean your beds.
It is available in different versions.
Cons Of The Electrolux Ergorapido Cordless Vacuum
Some users mentioned that the wheels make a squeaky noise that they find annoying. A quick greasing will solve the issue, though, but only temporarily. So, that makes it a design flaw.
Alternative Options To The Electrolux Erogorapido Cordless Vacuum
More Affordable Option – Roomie Tec Cordless Vacuum
This is a cordless vacuum with a turbo brush head that lets you clean both hard floors and carpets effectively.
It has a nice suction power and is also great for picking pet hairs. You will get 23 minutes of runtime from this vacuum. You will agree that is enough time to do a decent amount cleaning.
This vacuum is quite lightweight which makes it easy to wield around and can easily detach into a handheld. That way, you have more ways and places to clean.
High-End Option – Dyson V10 Cordless Vacuum
If cordless vacuum cleaners are ranked on a sort of food chain, this vacuum will be somewhere at the top. This ranking is in consideration of performance and, of course, price.
This vacuum uses the advanced cyclonic technology to handle dirt and dust such that the vacuum does not lose suction power.
It also has one of the highest runtimes in the industry, up to 60 minutes. Yes, you heard right. And if you switch to the high power, you will still get 20 minutes of deep cleaning.
User-Friendly Option – HoLife Handheld Vacuum
This is a beautifully designed handheld that also uses the cyclonic technology. It comes with three attachments that let you clean in different ways.
That's not all, this handheld can also handle liquid mess! Just attach the rubber jar tool and you can suck up liquid spills in no time.
It has protection again overcharging, over discharge, short circuit, etc. You will also get up to 30 minutes of runtime from this little vacuum.
The Bissell Featherweight Stick Is A Nice Corded Option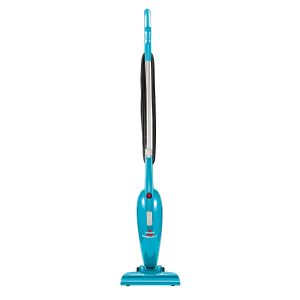 This one truly lives up to its name. It is really lightweight. You can go on and on vacuuming and not even feel weary. It is corded so you won't have to bother with how long it will last.
It also easily detaches into a handheld so you can vacuum stairs, drapes, furniture, etc. If you don't mind the cord, this is a great option.
Comparison Table
Featured
More Affordable
High-End Variant
User-Friendly
Opposite Spectrum
Products

Electrolux Ergorapido Cordless Vacuum

 

 

 

 

 

Dimension
10 x 5.5 x 4.3 inches
12 x 9.1 x 44.5 inches
9.8 x 10.1 x 49.2 inches
17.1 x 7.5 x 6.1 inches
8.3 x 9.5 x 44.2 inches
Weight
4.89 lbs
4.5 lbs
5.88 lbs
3.27 lbs
2.6 lbs
Attachments
Crevice tool and dusting brush
2-in-1 crevice tool
Combination, mini motorized, and crevice tools, and a soft brush
Crevice and rubber jar tools, dusting and clean brush
Available with a lightweight mop or lift-off steam mop
Runtime
Up to 48 minutes
23 minutes
Up to 60 minutes
Up to 30 minutes
Corded
Special Feature
180 degrees swivel
Enhanced cyclone technology
It uses a whole machine filtration
Washable filters
Can be used as a handheld
What Users Are Saying
Generally, users of the Electrolux Ergorapido Cordless are extremely happy with it. They seem to have one part of this vacuum or another to be pleased with.
Everyone rated the battery life high and claims that it has enough juice to let them finish their vacuuming in just one charge.
One user even claims that the vacuum was still running even after vacuuming for 40 minutes. Now, that's impressive!
The suction power also impressed a lot of users. They claimed that it cleans way better than the one it replaced.
The lightweight and maneuverability did not miss out on the praise. One particular comment that got us was a user on wheelchair who especially loves this vacuum for the weight and how easy it is to use.
Our Verdict
This vacuum has a lot of nice features and it carries the name of a respectable brand. This is enough to believe it is a good product.
An impressive runtime, fantastic ergonomic design (save the squeaky wheels), and an advanced filtration system. These are the features that caught our eyes the most and made us like this cordless vacuum.
As you have seen, other users too love their Electrolux Ergorapido Cordless Vacuum. So, if you have been considering trying it out, here is a chance to do just that. Go get yours now!