Dyson is one of the pioneer brands of cordless vacuums. If you ask around, a lot of cordless vacuum users will tell you it has some of the best.
Pardon our manners! Welcome to Vacuum Cleaners Advisor and we're pleased to present you with the Dyson V7 vs V8 vs V10 comparison.
You can call it the 'Dyson Triple Threat' if you want. Come to think of it, wouldn't that make a great headline?
The increment in the numbers assigned to each model is in accordance with the advancements in what they have to offer. In other words, the V10 is the most advanced among these three.
To make your choice easier, we suggest that you are clear on what you need a cordless vacuum for. That way, you won't be spending extra cash for features you might not use.
Dyson V7 vs V8 vs V10 – Comparison Overview
If power, ease of use, and versatility are what you are looking for in a cordless vacuum, you will find it in any of these three. All three vacuums can also get a power boost in an instant.
The V7 will clean great on hard floors and carpets and will allow you to use it for a good 30 minutes.
The V8 is great if you have allergies because it has dual HEPA filters. You will get 40 minutes out of the vacuum but you will wait a bit longer to recharge compared to others.
The V10 is a top class in cordless vacuums as it offers a whopping 60 minutes of runtime! It is also has a larger dust cup so you won't have to empty often.
Comparison Table – Dyson V7 vs V8 vs V10
 
Dyson V7
Dyson V8
Dyson V10
Available Models
Motorhead, Animal, Absolute, and HEPA

 

We have written a detailed review of the Dyson V7.

Absolute, Animal, and Motorhead

 

You can read our review of the Dyson V8 Animal to learn more about it.

Motorhead, Absolute, Animal
Battery Life
Up to 30 minutes
Up to 40 minutes
60 minutes
Charge Time
3 hours 30minutes
5 hours
3 hours 30 minutes
Power
75% more powerful than the V6
150% more powerful than the V6
20% more powerful than the V8
Filtration System
Cyclonic and Washable
Whole machine
Whole machine
Weight
5.45 lbs
5.75 lbs
5.9 lbs
Dimension
8.2 x 9.8 x 49 inches
9.8 x 8.8 x 49 inches
9.8 x 10.1 x 49.2
Dust Cup
0.4 liters
0.54 liters
0.77 liters
Get the Dyson V7 now!
Get the Dyson V8 now!
Get the Dyson V10 now!
What Situation Is Each Best For? – Dyson V7 vs V8 vs V10
Dyson V7
Dyson V8
Dyson V10
If you don't make a lot of dirt and your home is not so big, this might be your best choice.

 

For one, you won't need all that suction power the other two has to offer.

 

For another, a small home means less time to vacuum so, 30 minutes should be enough.

If you need more than 30 minutes to vacuum your space or you get more leg traffic around the house, you might need the extra power and runtime the V8 comes with.

 

However, be ready to pay extra.

If you have thicker carpets, a larger home (or you vacuum a whole lot), pets and kids, you might need all the time and power you can get. This is where the V10 shows what its got.

 

You will clean hard floors and carpets with dirt and hair in fewer passes.

Are you on a budget, you might want to consider this one as it costs the least.
If you're willing to cough out a bit more cash, the V8 is well-rounded to meet most needs.
If money is not a thing and you love the bells and whistles, this is your best bet.
The filtration system of a vacuum cleaner is quite important. This is not something you want to skip on if you have allergies.

 

This vacuum uses the cyclonic system to handle dust and has a washable filter. This is effective and will save you money on buying replacements.

This is the best option for allergic users. It has two HEPA filters (not in all models though).
Just like others, it's HEPA filter will last a lifetime.
The V10 has suction power that compares with some upright vacuums. So, if that is your priority for a cordless vacuum, you can opt for this one.
Get the Dyson V7 now!
Get the Dyson V8 now!
Get the Dyson V10 now!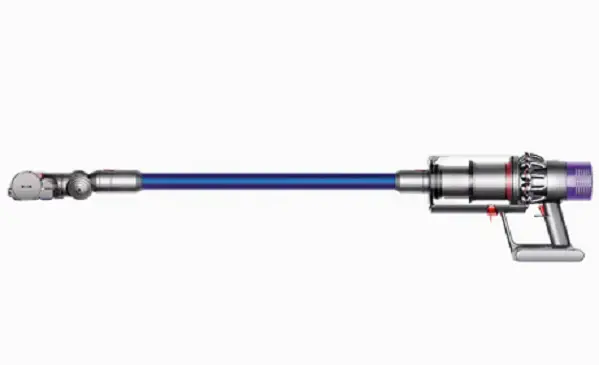 Click here to get the Dyson V10 now!
Common Features – Dyson V7 vs V8 vs V10
Dyson has a general theme it follows with the design of its cordless vacuums. This theme is apparent in all its V series model.
The design is so consistent that you will recognize the Dyson in the vacuum just by sight.
This consistency is not only reflected in the vacuum's appearance though. You will find similarities in the features they have to offer too.
Appearance
You can easily tell that the V7, V8, and V10 are all from the same brand because Dyson maintains certain elements about the vacuums' aesthetics.
However, you will be able to spot a notable difference in the handle area of the V10. Both the V7 and V8 look alike but the V10 has a structure that is slightly different.
The 2-Tier cyclone is also present on these vacuums. However, their positioning is a bit different.
Power
The power of these vacuums can be attributed to the brand's commitment to engineering expertise.
The V7 is 75% more powerful than the V6 while the V8 is also 75% more powerful than the V7. The V10, on another hand, is 20% more powerful than the V8.
Even though the V7 does not have as much power as its upgrades, it will still do a great job cleaning your floors and delivering on its other duties.
When it comes to cleaning performance, which is where the value lies, all three vacuums will give you a bang for your buck.
Battery
These vacuums all use Lithium-ion battery types. This is a good choice because of how it manages power.
A lithium-ion battery will discharge a steady flow of current throughout its runtime. Because of this, the appliance it powers will not lose performance till the battery runs out.
When it comes to runtime, you have seen how long they can last. You will cover a substantial amount of floor space before you will need to recharge.
Handheld
The V7, V8, and V10 can easily transform into a handheld vacuum. The transformation is pretty straightforward. All it takes is to pull out the wand on both ends and attach any tool you need to use.
You will vacuum more precisely as the handheld gets you closer to the dirt.
That's not all, this feature gives you the freedom to take vacuuming wherever you want.
You can also choose to use this vacuum for cleaning the interior of your car! You are no more tethered by a cord so you can enjoy your freedom to roam.
Washable Filter
Filters are responsible for preventing dust and allergens from getting back into our home's atmosphere.
All three vacuums use a HEPA filter. However, only certain models of the V7 have this advanced filter.
This filter is highly efficient and traps 99.97% of dust and allergens present in the air that passes through it down to 0.3 microns.
If you don't know how small that is, let's make it easier to understand with an example.
The diameter of an average human hair is about 50 microns. Now do the comparison.
You can rest assured whichever of these vacuums you go for, it will fight battles you cannot see on your behalf. This feature is especially important to those who have allergies.
All models of the V8 have a post-motor HEPA filter which does a second level purification of the air that passes through it.

Click here to get the Dyson V7 now!
Maneuverability
All three vacuums are lightweight which makes them easy to carry around and up and down the stairs.
They also all have a swivel cleaning head. This makes it easy for them to turn on a dime. Specifically, these vacuums can turn 90 degrees.
This allows you to maneuver around obstacles and furniture easily making your vacuuming experience a lot more convenient. Both vacuums can also tilt almost flat on the floor so you can get underneath furniture.
Max Mode
The Dyson V7, V8, and V10 vacuums can switch to Max Mode. This mode increases the suction power of the vacuums. As you can guess, the higher the suction the deeper the clean.
The increase in power is quite significant. It gives off almost more than 4 times the suction when in normal mode.
The Dyson V7 can reach as high as 100 Air Watts while the V8 can get to 115 Air Watts of suction when you switch to the Max mode.
The V10, on another hand, has a medium and max mode. In the max mode, it reaches an impressive 151 Air Watts.
All three vacuums become equal considering they all last about 6 minutes in the Max mode.
Trigger Button
Dyson cordless vacuum cleaners have a unique design for the way they are powered up.
Rather than using a switch or push button, their power button is a trigger that you need to hold down to keep them on. That is how Dyson cordless vacuums have been since the V6.
The reason for this is to help you save energy and get as much time as possible from the vacuum.
You only need to release your finger on the trigger button to have it go off. You will agree that this is faster and more convenient
Honestly, this design is a great idea and it serves its purpose well. However, you will begin to feel the strain on your finger when you use it over an extended period of time.
This is because you will most likely subconsciously exert more than necessary pressure on the button. This is so because it is the same hand that is carrying the vacuum.
What's Unique To Each Product? – Dyson V7 vs V8 vs V10
Features Unique To Dyson V7
Brush Head
The brush head on the V7 is slightly smaller than the one on the V8 and is about the same size as the one on the V6.
However, in some tests, the V7 brush head proved to be more efficient at picking up dirt than even the V8! However, the difference was only marginal.
Features Unique To Dyson V8
Motor
The motor in the V8 is not only an improvement to that in the V7, but it is also completely different.
The motor is Dyson's exclusive V8 engine (as they call it). It is what gives the V8 better agitation than the V7.
What this interprets to in terms of performance is an outstanding suction power. Few cordless vacuums have suction power as impressive as this one.
With this kind of power, you can vacuum on all floor type and pick up all sorts of dust and debris. Your high pile carpets and shag rugs are not left out.
Dual Filter
The Dyson V8 models have double HEPA filters. There is one located in the center of the radial cyclones and the other is at the rear of the motor.
This technically means that the filtration of the Dyson V8 is better than the V10's. The basis for that is the saying, two filters are better than one.
Click here to get the Dyson V8 now!
Features Unique To Dyson V10
Torque Drive Brush Head
This is a more advanced brush head compared to the one on its predecessors. The manufacturer said that this brush head has 25% more agitation that the Direct Drive brush head.
What this means is that it will deep clean on both hard floors and carpets better.
Furthermore, the Torque Drive brush head has openings underneath it. You can adjust how much you want it to open. This makes it pick up large debris on hard floors a lot more efficiently than the one on the V8.
In-line Design
One of the most notable differences between these three vacuums is the way the motor area is designed.
The V10 engine area is more streamlined to the wand as against the previous versions that are somewhat perpendicular to it.
This streamlined designed is not just there to make the V10 look different it is actually an innovation.
The re-design is meant to increase the airflow in the vacuum. You can tell that this approach paid off if you compare the V10 to others in its class.
Dyson V7 vs V8 vs V10 – Unique Pros
Dyson V7
i. The brush head is powerful than the one on the V6 and a bit more efficient than the one on the V8 on carpets.
Dyson V8
i. The V8 has double filters.
ii. It has more power than the V7
iii. The V8 is significantly less expensive than the V10.
Dyson V10
i. It has the strongest suction power among the three.
ii. The battery lasts longer than the other two.
iii. It has a more advanced brush head.
iv. The maintenance cost is almost nothing.
Dyson V7 vs V8 vs V10 – Unique Cons
Dyson V7
i. It has the least runtime and power among the three.
Dyson V8
i. It takes a whopping 5 hours for the battery to recharge.
Dyson V10
i. It is quite expensive.
Dyson V7 vs V8 vs V10 – Pros Common To The Three Products
Dyson V7
Dyson V8
Dyson V10
Useful accessories accompany this vacuum cleaner. However, you need to find out which model of the V7 you go for as they come with different attachment tools.

 

Do note that the attachment tools you get will depend on the model you go for.

Whichever model of the V8 you want, you will still get almost every available attachment tool.
The V10 is also accompanied with useful accessories.

 

However, it is important that you know which accessories come with each model so you can get the best value for your money.

The dust cup design on the V7 is the same as the one on the V8. It is a correction to the complaints the duct cup on the V6 got. Dyson listened to feedback there.
The dust cup is well designed and easy to empty. The process does not require you to come in contact with the dirt.
The dust cup on the V10 is as good as the others but it has a different design.

 

For one thing, it is significantly larger than the V7 and V8. It also has a sort of mechanism that lets you shoot out the dirt into the trash can.

It has a good filter that is washable. However, with certain models, you can get double and washable filters.
All models come with double filters and are both washable.
The V10 does not come with double filters but the filter in it is HEPA.
First of all, the vacuum is lightweight which makes it easy to maneuver. It can also swivel 90 degrees.

 

Switching from one accessory tool to another is as easy as pulling it out and snapping it back in.

Same as the V7
Same as the V7
Get the Dyson V7 now!
Get the Dyson V8 now!
Get the Dyson V10 now!
Dyson V7 vs V8 vs V10 – Cons Common To The Three Products
| | | |
| --- | --- | --- |
| Dyson V7 | Dyson V8 | Dyson V10 |
| It is typical of Dyson vacuum cleaners, they are highly priced. | Costs more than the V7 | Costs more than the V8 |
Dyson V7 vs V8 vs V10 – General Feeling Among Users
Dyson V7
Dyson V8
Dyson V10
The attachments that come with it are a point of praise for the Dyson V7 Cordless Vacuum.
The attachment tools on the V8 works basically like the other two.

 

They all have the pull and snap approach to using them and work well.

 

So, it is safe to assume that users enjoy this part of the vacuum, though few of them mentioned this.

Similar to the V8.
Not surprisingly, a lot of the users loved how powerful the suction is.

 

Consequently, they also love how well it picks up dirt and hairs on both hard floors and carpets.

Users applaud the V8 for how well it deals with pet hairs.

 

A particular user who has pets in her house mentioned how much hair the V8 still picked off her carpet after a robot vacuum had already gone over it. She is quite excited about the result she is getting.

Pet owners applauded the V10 for how easily it cleans pet hairs on both hard floors and carpets.

 

Asides hairs, it also said to work great at cleaning dirt and dust.

Users were generally okay with the battery life. Some mentioned that it lasts as long as the manufacturer claimed while others think otherwise.

 

In truth, some people do not know how to manage batteries to get the best out of them and have them last longer. Therefore, don't be quick to judge the battery.

Most users who had something to say about the battery were mainly positive about it.

 

They claim that it usually lasts them long enough to get their vacuuming done.

 

There were also a few complaints about how long you have to wait for the battery to recharge.

Anyone would agree that 60 minutes is a long time to get out of a cordless vacuum.

 

Some users were truly happy to have this vacuum even though some expressed shock that they paid so much for it.

Get the Dyson V7 now!
Get the Dyson V8 now!
Get the Dyson V10 now!
Dyson V7 vs V8 vs V10 – Our Verdict
Dyson V7
Dyson V8
Dyson V10
The Dyson V7 offers what you need to keep your floors clean.

 

Whether you have hard floors or carpets, it will serve your purpose fine enough. The best part yet, you won't have to dig a hole in your purse.

The Dyson V8 brings a new engine to the frame and this gives it a boost in power.

 

This will do great if you have allergies as it has double filters that will protect you from inhaling allergens.

If you need a long time to vacuum, strong suction, and a large dust cup, this is the vacuum you want.

 

However, be sure that you need the extra it has to offer because this vacuum has a high price tag.

Get the Dyson V7 now!
Get the Dyson V8 now!
Get the Dyson V10 now!