Welcome to another clash of giants. Today, it is 360 s7 vs Roborock s6. It promises to be a worthy duel as both robots are packed with high tech features.
Before we move ahead, let's tell you a bit about both brands. 360 is a top technology brand in Asia and has broken into the vacuum cleaner industry with a bang.
Just like Roborock, it makes high-end robot vacuum cleaners at affordable prices. To show you can trust 360, it ranks number one in the Korean Consumer Satisfaction Award. It also got the Bull Ear Award for the best AI application.
Roborock, on the other hand, is a subsidiary of the well-known Chinese tech mammoth, Xiaomi. That alone gives it some pedigree. If you combine that with the robot vacuums it has offered, you'd know it is a brand you can rely on.
Without further ado, let's dive into what these robot vacuums can do and find out which is best suited to your needs.
| | |
| --- | --- |
| | |
| Click here for the 360 s7 | |
Comparison Overview – 360 s7 vs Roborock s6
These two robots are the flagship offerings from their respective brands. Based on what they offer, they're some of the best robots available today.
If you consider their price, these two are on the highest rung of the value for money ladder.
Both robots can do almost the same things. They even look a lot alike featuring identical technologies. You might have a hard time telling them apart by looks and what they offer.
What we can assure you of, however, is that whichever of these two you end up with, you will be happy for it.
What we love the most about these robots is their price tag. They are unbeatable in price and features.
Comparison Table – 360 s7 vs Roborock s6
| | | |
| --- | --- | --- |
| | 360 s7 | Roborock s6 |
| Battery Life | 150 minutes | 180 minutes |
| Filtration System | High-efficiency | High-efficiency |
| Dust Cup | 0.55 liters | 0.48 liters |
| Dimension | 13.7 x 13.8 x 3.9 inches | 13.7 x 13.8 x 3.8 inches |
| Weight | 11.02 lbs | 7.94 lbs |
| | Click here for the 360 s7 | |
What Situation Is Each Best For? – 360 s7 vs Roborock s6
360 s7
Roborock s6
The dust cup on this robot is larger. Depending on how much dirt there is to pick up, you can find relief in not going to the trash can to empty often.
Based on manufacturer specs, the s6 can cover more grounds than the 360 s7. This means that you can confidently use it regardless of the size of your home.
Both robots are capable of saving multiple maps. However, this one can save up to 10.
Runtime is always an important issue. If you're the type that can't get enough runtime from your robot vacuum, this is what you need.

 

It has significantly longer runtime than the s7 it is competing against. In fact, its runtime is the longest in the industry.

The app for the s7 is minimal and easier to use. This does not take anything away from its functionality though.
The s6 gives you more freedom with the mopping. First, you can choose between the high and low mop setting. Secondly, it comes with a reusable microfiber cloth and 10 disposable wipes.

Click here for the 360 s7
Common Features – 360 s7 vs Roborock s6
These two are almost twins from different parents. That's how identical they are. It doesn't come as a surprise as they are both made by Chinese companies.
Appearance
These robots look the same on sight. The difference in the positioning of the onboard buttons is quite noticeable. The buttons are horizontal on the s6 while they are vertical on the s7.
The LDS Lidar device is positioned in the same area in both. Even the obvious sensors are positioned the same way and so is their side brushes. They're both mainly available in white, though the s6 is available in black.
The s7 and s6 use the same navigation system. The circular outshoots on both robots houses the LDS Lidar device. This takes cognizance of its environment and creates the map you see on the app.
The map these robots create is quite accurate because of the technology. With the map in memory and the high-end processor in them, both robots have a detailed awareness of their environment.
Both robots move in a logical pattern, thanks to the SLAM algorithm. This pattern ensures they cover the entire floor space leaving no patch of dirt behind.
In a navigation test done in a small room, the s6 completed its cleaning in just 15 minutes.
Not only is the s6 smart, but it also works fast and efficiently too. This is how the advanced processor it uses excels.
Robot vacuums do their thing with the help of sensors too. These are what help them detect obstacles and falls. These two are fully supported with multiple sensors to help them do their jobs better.
Multiple Floors Vacuuming
Both robots can clean your entire home even if you have multiple floors! They're able to save more than one floor map in their memory and clean whichever they are.
The 360 s7 can save a whopping 10 different maps while the s6 can save 3. All you have to do is to take the robot to each floor and have it scan the place.
However, for best results, you have to keep a charging dock on every floor you want it to clean. Of course, you will help them up and down the stairs as well.
Smart App
It is now commonplace for robot vacuums to have Wi-Fi connectivity so the accompanying app can function.
The higher-end the robot, the cooler the features on the app are. We can at least say that for these two robots.
You can schedule future times for your robot to clean. That way, you won't need to micromanage them. They already have their instructions and they will follow through.
That's not all, with both robots, you can go flexible with the scheduling as you can have them clean certain rooms independently at certain times.
This is possible because the robots can identify the different rooms on the map. So, you can have them clean the kitchen at a certain time, the living room at another, and then the playground.
Virtual Barriers
You might have one reason or another why you don't want your robot vacuum to get to certain parts of the home. Most often it is so they don't get stuck or vacuum what they shouldn't.
Whatever the reason is, you can curb your robot's movement without running after it. All you have to do is to set a virtual barrier to keep it at bay.
With the 360 s7 and the Roborock s6, you can do that on from your phone! The no-go line feature shows its worth here. It allows you to draw lines and boxes on the app to create barriers to curb the robots' movement.
What is special about this feature is how accurate it is. It really is amazing how the robots never go beyond the line.
Highly Efficient Filter
If you are allergic or asthmatic, you want to pay extra attention to the filtration system of a vacuum cleaner. This is for your own protection so that the air coming out of the vacuum does not contain dust or allergens.
You can feel safe with either of these robots as their filters are up to standard. They are efficient enough to trap allergens and dust preventing them from getting back into your home.
The filters in both vacuums are capable of trapping more than 99% of the dust and allergens that pass through it down to less than 1 micron.
To help you understand how small a particle these filters can trap, the average human hair is 50 microns in diameter.
Another nice feature of the filters is that they are washable. That will save some money in buying replacement filters often. All you have to do is run water over it and let it air dry.
Recharge and Resume
It is part of the autonomy of robot vacuums to find their way back to their docking station for recharging.
There will be times your robot vacuum is unable to complete its chores before its battery runs low. As expected, it will go back to the docking station and plug itself in.
That's not all, once it is done recharging, either of these robots will go back to where it stopped and continue!
This is an awesome feature especially for those who will schedule the robots to work while they are not around. With this feature, you won't always come back home to an unfinished job.
Mop Feature
For robots that navigate and vacuum as well as these two, it is amazing that it can mop too. It makes us wonder how they're still so affordable.
In fact, they are some of the most affordable high-end robots available now.
The mopping mode of the s6 uses the biomimetic system which was inspired by the method plants use in getting water and nutrients from the soil.
The result of this innovative feature is that the perfect amount of water is let out onto the microfiber cloth it mops with.
The water tank is easy to refill as you won't even need to turn the robot over. You can easily slide it out from underneath the robot. That's the way it is on the s7 too.
If you are concerned about the robot mopping your carpet, it's nothing to worry about. What you can do is simply to set up no-go zones on the app around your carpets and you are good.
Impressive Runtime
The Roborock s6 is the new undisputed champion of robot vacuums in this area. Never has any battery-powered vacuum come close to 180 minutes of runtime.
The s7, on the other hand, is a gallant competitor as it has 150 minutes of runtime. You will agree that is still impressive as most of its competitors don't even come close.
Collision Avoidance Sensor
Have you ever encountered a robot vacuum slam into an obstacle like a maniac? It was a scary experience in our own case.
With these two, you won't have to experience such. These robots have a ring of sensor that helps them tell when they're close to an obstacle and thus, slow down.
That's not all, sometimes some bumps might happen. In that case, the side with the sensor has a sort of spring-loaded bumper that cushions the little collisions that happen.
Anti-Tangle Brush Roll
The brush roll on both robots has a special design that effectively avoids hair tangles. The bristles are soft and arranged in a helix pattern. Without us telling you, we're sure you can guess they look identical.
In our hair pick up test, both robots did great with mid-length to long hairs cleaning them up on both hard floors and carpets.
Yet, none of them had hair tangles. This is a great feature if you've had to cut through hairs after vacuuming.
One extra about the brush roll on the 360 s7 is that it can automatically adjust to surfaces. This means that it can still vacuum effectively on an uneven floor.
Power
Both of these vacuums are powerful; they both have 2000 pascal of suction which is quite impressive. They will both deep clean on low to mid-pile carpets.
Furthermore, they both have multiple levels of power you can choose from depending on the floor type and how deep a clean you want.
That's not all both the s7 and s6 can automatically increase suction when they detect carpet. This relieves you of having to increase power yourself.
Spring Loaded Wheels
The s7 and s6 have rugged wheels which make them capable of traversing different floor types. The wheels' height can adjust depending on the prevailing conditions.
The springs serve as a sort of shock absorber similar to the ones in vehicles. This allows them to scale barriers of up to 2cm and also keep their balance.
So, the ledges at your doorway will not stop these two from getting their job done.
| | |
| --- | --- |
| | |
| Click here for the 360 s7 | |
Unique Features – 360 s7 vs Roborock s6
Features Unique To 360 s7
Tap and Go
This is another feature that gives you great flexibility with the way you clean. From the app, you can tap on any room on the map and the robot will respond by going to that room and vacuum. Once it is done, it just goes back to dock.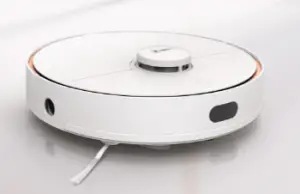 Features Unique To Roborock s6
Multiple Mop Setting
It is great that a robot can both vacuum and mop. The Roborock s6 takes its mopping ability to a new level. You can select how deep you want the mopping to be.
You can set the s6 to low or high mop. That way, you get to decide how much water you want the robot to clean your hard floors with. This is useful if you have different hard floor types.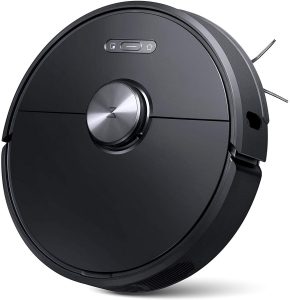 360 s7 vs Roborock s6 – Unique Pros
S7
i. The tap and go feature is really great for convenience.
ii. It can store up to 10 different maps.
Roborock s6
i. It has dual mop setting.
ii. The s6 has longer battery life.
360 s7 vs Roborock s6 – Unique Cons
S7
i. It has lesser runtime.
ii. Its water tank capacity is smaller than the s6.
Roborock s6
i. It costs more than the s7
360 s7 vs Roborock s6 – Pros Common To Both Products
| | |
| --- | --- |
| 360 s7 | Roborock s6 |
| The s7 is a quiet robot even in max power when compared to others in the same category. | Same as the s7. However, side by side, this s6 is slightly quieter. |
| The s7 can vacuum and mop which makes it a double value as against those that can just vacuum. | Same as the s7. In this case, the s6 lets you choose between the two mop setting depending on how wet you want the mopping to be. |
| The s7 is low profile at 3.8 inches high. It can get under furniture and obstacles to clean out the hidden dirt. | Same as the s7 but it is 0.1 inches shorter. |
| This robot comes with a number of useful accessories you can use to optimize its value. | Same as the s7. However, it comes with even more accessories. |
| Of all the cool features this robot vacuum has coupled with the fact that it is the flagship product of its brand, it is still available at a competitive price. | Same as the s7. |
| The s7 can save up to 10 different floor maps. This makes it extra useful to those that have layers of floors in their home. | Same as the s7 but it can only save 3 floor maps. |
| Click here for the 360 s7 | |
360 s7 vs Roborock s6 – Cons Common To Both Products
| | |
| --- | --- |
| 360 s7 | Roborock s6 |
| The s7 does not have an indicator to alert you when the dust cup is full. | Same as the s7 |
| Click here for the 360 s7 | |
360 s7 vs Roborock s6 – General Feeling Among Users
360 s7
Roborock s6
The s7 is yet to fully make its entry into Europe or America. For that reason, we're yet to have reviews we can really rely on.

This is the same reason we have not yet linked to a product page yet. However, once we get them, we will surely update them here.

A user praised how well the robot picks up pet hairs on both hard floors and carpets. She said that she does not see accumulated dog hairs on the floor anymore.
One user straight up said that his s6 is better than his Roomba i7+. He gave reasons though.

 

Firstly, he said the s6 could easily scale bumps on the floor that he had to carry the i7 over. Secondly, he said the s6 cleans faster than any other robot he's ever used.

 

There's more! He also said that the s6 is a lot quieter than the Roomba he has as well as a Neato he had used. Finally, he commended how easy it was to fix and remove the water tank.

The pricing of this robot is something a lot of users are ecstatic about. They say that a robot that can do all the s6 is capable of is a steal at its price point.

Click here for the 360 s7
360 s7 vs Roborock s6 – Bottom Line
360 s7
Roborock s6
The s7 is a really good robot. It is as high-end as they come. The best part of this robot is the price, it does not cost up to half of some other high-end in its category.

 

This is a steal of a robot. So, go get yours now!

As you have read, the s6 is as good as the s7. You shouldn't have much of a problem selecting between these two.

 

Go claim one for yourself while stocks last.

Click here for the 360 s7
| | |
| --- | --- |
| | |
| Click here for the 360 s7 | |