When it comes to consumer robot cleaners, iRobot is a brand you must mention. It pioneered the era of domestic help robots. It has proven itself over time and that is why we're bringing you the Roomba s9+ vs 980 comparison.
Since its inception, iRobot has been consistent with quality robots tailored to users' needs. That is also one of the reasons it has so many models to choose from.
iRobot also manufactures robot mops and pool cleaners and we're sure those who use them are also impressed.
The s9+ is its flagship offering and with the features it has, it is truly worthy of bearing the flag for the brand.
The 980 is also an impressive robot. In fact, there was a time it was the proud top product from iRobot. In the world of technology, nothing really holds the position of "best" for long.
Now let's get on with what these robots can do for you.
Comparison Overview – Roomba s9+ vs 980
The Roomba s9+ vs 980 comparison is meant to help you decide which robot is better for your needs. It is obvious enough which is better.
A lot of people have paid good money for a vacuum cleaner yet they don't use all of its features. That is what we're trying to help you avoid with these types of reviews.
In that vein, it is important that you know what you want from a vacuum cleaner.
The s9+ is a premium vacuum and comes with tons of features you can only expect from a high-end robot. However, you will have to part with a lot of money to have it.
The Roomba 980, on the other hand, has good high-end features too and it does not cost as much.
Keep reading to learn more about both robots and decide which one suits your needs best. You can also read on how the s9+ compares with Roomba's i7+ here.
Comparison Table – Roomba s9+ vs 980
| | | |
| --- | --- | --- |
|   | Roomba s9+ | Roomba 980 |
| Battery Life | 120 minutes | 120 minutes |
| Filtration System | Anti-Allergen filter | High-Efficiency filter |
| Dust Cup | 0.2 liters | 0.6 liters |
| Dimension | 12.2 x 12.2 x 3.5 inches | 13.9 x 13.9 x 3.6 inches |
| Weight | 8.15 lbs | 8.7 lbs |
|   | Click here to get the s9+ | Go here for the 980 |
What Situation Is Each Best For? – Roomba s9+ vs 980
Roomba s9+
Roomba 980
If you're tired of having to empty the dust cup of your robot, this is the solution you've been looking for.

 

The s9+ can empty its own dust cup. In fact, it will do that every time it goes to dock. We'll tell you more about it later.

If you're on a budget, you can still get some premium features from the 980 model. Depending on your needs, the bells and whistles of the s9+ might not suit you anyway.
One obvious upgrade the s9+ has over the 980 is power. It houses a new and improved motor which boosted its suction.
 
The s9+ is not round like its predecessors and this helps it cover more floor space and hence, clean faster.
 
Edges and corners have always been an issue with round robots. The D-shape helps the s9 reach deeper into corners and clean edges better.
 
Common Features – Roomba s9+ vs 980
As you can expect, products from the same brand and in the same line will definitely have some things in common.
You can feel good about this as it means you will get some of the s9 features while paying less for the 980.
Both the Roomba s9 and 980 use the same iAdapt and vSLAM technology that are exclusive to iRobot. These are what let them scan, map, and plan their movement.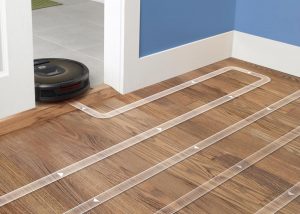 They also move in a serpentine pattern and complete their route with a perimeter run. This pattern of movement ensures that both robots will efficiently clean your floors without leaving patches.
However, the Roomba s9 shows it costs much more with its Imprint Smart Mapping.
This piece of tech helps the s9 learn and adapt to your floors. The more it roams, the better it knows your home and the better it navigates.
Another extra this technology brings is that it allows the s9 map and store up to 10 different floor plans! This is quite useful for those who have multiple floors in their homes.
iRobot claims that if you take this robot to another home to clean, when you bring it back to yours, it will still clean like it never left. Now that's some awesome tech, right?
Smart App
Almost every robot vacuum worth having nowadays use a dedicated app. Of course, these two are not left out.
Firstly, you need to get the app on your phone. Once done, you can monitor and control either Roombas from wherever you are.
Secondly, the app allows you to schedule the robot to clean at certain times. For instance, you can have it clean at night when you go to sleep or when you go out.
Furthermore, you can switch from one mode to another from your smartphone depending on the type of vacuuming you need at the time.
The s9+ goes further. With the Smart mapping we spoke of earlier, you can label each room on your floor and have the robot clean any independently.
The app is pretty straightforward to install and pair for both robots as long as you use a strong enough Wi-Fi connectivity.
With the app, you can experience the true autonomy of robot vacuums.
Smart Home Integration
In this day and age, having your home appliance do stuff by itself is getting popular. Devices can now be interconnected and centrally controlled.
If your home is on this level, either of these robots can easily blend in with your array of interconnected devices.
They are both compatible with Google Assistant and Amazon Alexa. With those, you can issue voice commands and have the robot obey verbal instructions.
Virtual Wall Barrier
There are times when you don't want your robot vacuum to go to a particular area in your home.
These Roombas have a device that creates virtual barriers that will prevent the robots from going beyond where you set it. To the vacuum, the virtual barrier is a wall and it will turn back on getting to it.
The device work in two modes. You can use one to create a straight line while the other can create a circular barrier around itself and an object. There's a switch beside the device to toggle between the two modes.
Both Roombas come with a pair of this device. However, if you need more, you can purchase them separately.
High-Efficiency Filter
This is an important feature to consider if you are allergic or asthmatic. These robots use filters that are good enough to protect you from inhaling airborne contaminants.
They are efficient enough to trap more than 99% of allergens and dust, preventing them from getting back into your home.
The s9+ goes an extra mile with its filtration system. Its filter is made from a material that is capable of trapping dust mite, pollen, and mold allergens.
As for the 980, its filter can trap 99.97% of particles in the air that pass through it down to 10 microns. That is highly efficient considering the diameter of a human hair is 50 microns.
So, whichever of these robots you go for, you can rest assured you're getting a good filter.
Recharge and Resume
All robot vacuums can find their way back to their docking station, at least in theory.
Different circumstances can cause a robot to lose its way, though.
However, these two will always locate home. As long as you follow the instruction manual on how to position the charging dock.
If either of these robot vacuums could not finish their rounds before their battery runs low, they go back to dock and recharge.
When they're done recharging, they will find their way back to where they stopped and continue.
This is an awesome feature especially for those who will schedule the robots to work while they are not around. That way, they won't come back home to a half-cleaned floor because the robot had to recharge.
Dual Rubberized Brush Roll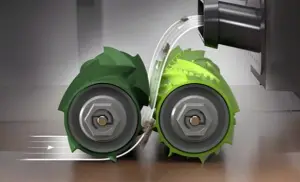 Both robots use a double brush roll located underneath it. If you've been using vacuums for a while, you will know that brush rolls can become a hassle when they are often used to clean hairs.
The s9 uses the same brush roll design as other Roombas since after the 690, however, the location is now different because of its shape. The brush rolls are also longer.
Cleaning off tangles of hair afterward is something most people don't like doing. So, you won't be doing much of it with these two.
The brush rolls on these Roombas do not have bristles. Instead of bristles, there are ridges on the brush rolls to comb through carpets instead.
The result simply is a good clean of pet hairs without tangles to deal with afterward.
Dirt Detection
This feature has been on Roombas since the 600 series. It is great for Roomba's cleaning capacity.
What this piece of technology does is to help the robot identify a concentration of dirt on the floor.
Once identified, the robot will make extra effort to get the place sufficiently clean by spending more time there.
This is a great feature to have if you have highly trafficked floor areas in your home. This feature also triggers when you use either robot in the spot clean mode.
Impressive Runtime
Battery life is often an important factor to look out for when choosing a vacuum that runs on battery. No one wants a vacuum that will clean only one room and needs to recharge for hours.
Both the Roomba s9+ and the 980 have 120 minutes to do their thing. This is great as they will at least complete most of their chores before needing to recharge.
Their runtime can be attributed to their coordinated cleaning pattern which is quite efficient with respect to performance and time.
Unique Features – Roomba s9+ vs 980
Features Unique To s9+
Roomba Clean Base
We have seen many innovations in robot vacuums over the years. A self-emptying dust cup is one that took us by surprise. This is something people have only been imagining and iRobot has brought it to life.
The Roomba s9+ can empty its dust cup automatically several times before you need to intervene. We should let you know that there is also the Roomba s9. The only way it is different from the s9+ is that it does not have this clean base.
Now, let's tell you how it works.
The process
The docking station is obviously larger than usual. This is because it is not only a docking station, it is also a dust cup emptying station.
Whenever the robot goes out to vacuum, it gathers dirt in its dust cup. Every time it comes back to dock, it dumps the contents in its dust cup.
There is a mechanism in the contraption that sucks dirt out of the Roomba into a bag inside the 'tower'. So, every time the robot goes out to vacuum, it is doing so with an empty dust cup.
iRobot claims that the collection bag in the 'tower' can hold up to 30 dust cups of dirt!
Now let's do the math, the Roomba s9+ has a dust cup capacity of 0.2 liters. If we multiply that by 30, that amounts to 6 liters.
Unless your home is constantly dirty, we don't see how you will fill that up any time soon. 30 is a big number in this case, we are talking about weeks here.
If you don't have pets or kids, maybe even months before you need to change the bag.
This feature is fantastic on different levels. One of which is the fact that you won't be babysitting this one at all.
Secondly, you can have more confidence to schedule the robot as you won't need to bother about emptying. Not anymore will your robot stop work halfway because of a filled dust cup.
D-Shape
This is an entirely new concept from iRobot, though it isn't new in the industry. The entire line of Neato's robot vacuums is all D-Shaped.
This shape gives the s9+ added advantage to clean edges and corners better than round robots. It also makes the brush roll longer as it is now located at the flat end for wider and more efficient coverage.
The size is quite compact which makes it easy for the robot to maneuver around furniture and obstacles.
Power
The s9­­+ now occupies the space of one of the most powerful robot vacuum cleaners with its 22 cfm of suction. The suction of the 980 is nowhere near this.
This is one of the reasons this robot broke records in our deep cleaning test. Firstly, it achieved a 94% efficiency in deep cleaning tests.
Secondly, it picked up most of the dirt in ½, ¼, and 1/8 crevices. This goes to show that the Roomba s9 is not just powerful, it combines efficiency with it.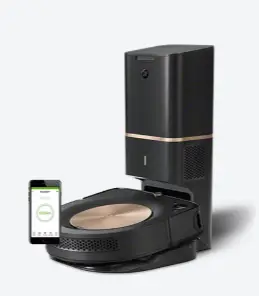 Features Unique To Roomba 980
Round Shape
Just like every other Roomba before it and a few after, this one is a circular robot. There isn't anything wrong with this shape but it has difficulties cleaning into corners.
It only makes sense since its all curves. Even with the side brushes, it still does not do a great job with corners.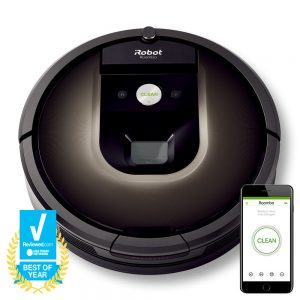 Roomba s9+ vs 980 – Unique Pros
S9+
i. You can label each room in your home and have the robot clean them independently.
ii. It has great cleaning performance.
iii. It is way better with its cleaning performance.
iv. It can store multiple floor plans.
v. The robot can empty its own dust cup.
vi. The s9 has much more power.
Roomba 980
i. It does not cost as much as the s9+.
Roomba s9+ vs 980 – Unique Cons
S9+
i. It is quite expensive.
Roomba 980
i. It sometimes mistakes dark floors for a cliff and avoids cleaning it.
Roomba s9+ vs 980 – Pros Common To Both Products
| | |
| --- | --- |
| s9+ | Roomba 980 |
| The s9+ has an impressive runtime which is great if you have a large home. | Same as the s9+ |
| The filter in this robot is highly efficient at protecting you from allergens and dust. | Same as the s9+. However, this one is slightly less efficient. |
| This robot has a great cleaning performance as it moves in a deliberate pattern for full coverage and faster cleaning time. | Same as the s9+ |
| It is amazing how this robot vacuum takes away the extra effort of cutting through hair tangles on the brush roll after vacuuming. The rubberized brush roll is a great feature on Roombas. | Same as s9+ |
| | |
Roomba s9+ vs 980 – Cons Common To Both Products
| | |
| --- | --- |
|  s9+ | Roomba 980 |
| The s9+ costs quite a bit. Its price point might be an issue regarding how well it will sell even though it is a good vacuum. | Same as the s9+ |
| | |
Roomba s9+ vs 980 – General Feeling Among Users
 s9+
Roomba 980
A user claims that the s9 is the third Roomba that will serve his household and was quite excited about what he got.

 

He likes the shape and how it now cleans corners better. He was impressed with how easy it is to clean the robot and how low maintenance it required.

Some other users applauded the navigation system on the 980 because it now cleans the floor systematically unlike the earlier generation that moves around randomly.
Almost everyone who owns the s9+ loves how well the automatic dust cup emptying works. They also appreciate the convenience that comes with it.
One user who claimed to have used a Roomba before says that the 980 does a great job with its coverage.

 

She also said that the virtual wall device is pretty useful and works well.

Another user was quite happy with how long the battery lasts coupled with how well it vacuums with its power.
Some users praised this vacuum's filtration system and how well it traps in allergens and dust. A certain user said that it has helped her with her allergies as she uses the robot vacuum on a daily basis.
Roomba s9+ vs 980 – Bottom Line
s9+
Roomba 980
If the fancy features the s9+ comes with is where your needs lie, even its price will not take anything from the value you will get from this robot.

 

S, what are you waiting for? Go get yours now!

Now you know what the 980 can do for you. Does it meet all your needs? If so, why pay more for features you might not utilize?

 

Go ahead and claim the 980 and watch your floors stay clean all the time.