Welcome to another showcase of iRobot's prowess with robot vacuums. Today we present you with the Roomba e5 vs 690 comparison. Our aim is to tell you about both vacuums so you can easily choose which suits your needs most.
iRobot is a pioneering brand in the robot vacuum cleaner industry. It brought robot vacuums into homes through its success with the original Roomba in 2002.
Since then, Roombas have been getting better and more brands are springing up to the challenge.
The Roomba e5 is a new installment from iRobot. In fact, you won't be wrong to say this robot is here to breathe fresh air of innovation on the tried and true Roomba 690.
Comparison Overview – Roomba e5 vs 690
Both vacuums will do as they promise if you use them well. However, which will suit you best will come down to your needs.
This is why we always tell you to be sure of that before you continue reading. That way, you will get the maximum benefits of this review.
The Roomba e5 has the HEPA filter which is the highest allergy protection you can get from a vacuum. It also has more suction power which affects how well it cleans.
The 690, on the other hand, has some nice features that still make it a good robot vacuum. Only that the e5 can do everything it does. One thing this robot has going for it is that it is available at a lesser price.
Keep reading to get more details about these Roombas. It is our hope that by the time you get to the end, you will be able to make a choice that will serve you the best.
Comparison Table – Roomba e5 vs 690
| | | |
| --- | --- | --- |
|   | Roomba e5 | Roomba 690 |
| Battery Life | 90 minutes | 90 minutes |
| Filtration System | AeroForce filtration | Regular |
| Dust Cup | Washable | Non-washable |
| Dimension | 13.4 x 13.4 x 3.6 inches | 13 x 13 x 3.6 inches |
| Weight | 7.23 lbs | 7.8 lbs |
|   | | |
What Situation Is Each Best For? – Roomba e5 vs 690
Roomba e5
Roomba 690
One of the biggest differences between these two is power. The e5 uses an engine that is better than the ones in the 600 series.

 

The improved power makes it deep clean better than its compatriot.

If you're on a budget but still want a good clean, the Roomba 690 is still worthy.
If you are fed up with cutting hairs off brush rolls after vacuuming, the e5 is a better option. Its brush rolls do not have bristles so hair will not tangle on them.
 
Dust cup capacity is a good feature to look out for because small dust cups mean you have to empty often.

 

The one in the e5 is larger so, between these two, this is a better option in that respect.

 
If you're asthmatic or allergic, you'd want to go for a vacuum with an efficient filter. Then the e5 is what you need. It has a filter that will offer you maximum protection.
 
Common Features – Roomba e5 vs 690
These two have a lot in common. The e5 is almost a newer version of the Roomba 690 so, that is expected.
Appearance
They have the same build. In fact, you might have a hard time telling them apart if not for the color orientation. The 690 has a gray accent on it.
The position of the buttons too vary a bit but are still in the same general position on both. The carrier handles and dust cup eject buttons are still located in the same place.
Both robots use the iAdapt navigation technology exclusive to iRobot.
Even though the robots move around randomly, the algorithm is such that they navigate better over time.
There are sensors in the robots too that help it detect obstacles. They can also differentiate between them too. For instance, either robots can tell if it is a wall or one it can get under or push through.
This is how it is able to clean under tables and chairs instead of turning away when it bumps into their legs.
Furthermore, there is a sensor that detects changes in floor height on the robots that help them to avoid falls. Once either of them gets to a stair for instance, it simply stops and turns away.
Wi-Fi and Smart App
Both vacuums have Wi-Fi compatibility. This allows the robots to connect to your smartphone so that you can use it to control and monitor it.
There is a dedicated app for these robots that you need to download. Afterward, you pair your robot vacuum with the app which is where the Wi-Fi comes in.
Now, you can use your phone as a controller and issue commands to the robot remotely.
That way, you can have the robot clean your floors before you get back home. Just imagine how much relief that can bring you.
Through the app, you can also preset a future date for either robot to clean. In fact, you can set them to clean at specific times every day of the week.
Smart Home Compatibility
If you have one these smart home devices, you can simply connect your robot to it and issue voice commands.
This gives you an additional option of control. Look ma, no hands!
Low-Profile Design
Both robots are quite close to the ground which gives them the advantage to get where other vacuum types cannot.
These two are about 3.6 inches high, this allows them to get under even low-profile furniture to clean out the dirt that often finds residence there.
Their low center of gravity coupled with their sturdy wheels allow them to transition from one floor type to another easily. They can climb over ledges of certain heights.
3-Stage Cleaning System
This is a patented feature that has been responsible for how well Roombas have been cleaning whether hard floors or carpets.
It constitutes of the brush roll underneath and the side brush that extends beyond the robot.
The side brush sweeps dirt into the path of the brush rolls and the suction picks it up.
As for the brush rolls, they comb through the fibers of your carpets to dislodge dirt, pull them up and the suction sucks them into the dust cup.
Dirt Detection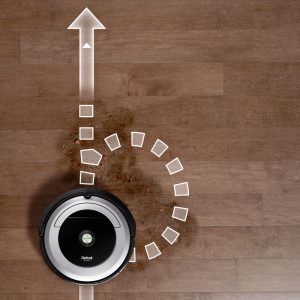 This is another feature common among Roomba from the onset. It is one of those features that set these robots aside from the rest.
It lets the Roomba identify a concentration of dirt. The robot responds by taking extra time and putting in more effort in that area to make sure it is thoroughly clean.
Come to think of it, isn't that how you would deal with a concentration of dirt if you were doing it yourself?
This shows how intelligent the robot is. It will do what it takes to keep your floors clean at all times.
Auto-Adjusting Cleaner Head
This is a feature carried over from Roomba's lineage. It adjusts the height of the cleaner head which in turn affects the efficacy of the brush rolls as they impact the floor.
This cleaning head is capable of responding to changes in floor types. As you know, cleaning hard floors is different from cleaning carpets.
So, as this robot transitions from hard floors to carpets, the cleaning head adjusts accordingly. Kindly note that this does not mean they will boost suction power.
Virtual Wall Barrier
There are times when you don't want your robot vacuum to go to a particular area in your home.
These Roombas have a device that creates virtual barriers that will prevent the robots from going beyond where you set it. To the vacuum, the virtual barrier is a wall and it will turn back on getting to it.
The device can create a straight line or a circular barrier around an object.
Both Roombas come with a unit of this device. You could buy more if you need, though.
What's Unique To Each Product? – Roomba e5 vs 690
Features Unique To Roomba e5
Highly Efficient Filter
Vacuums can trigger allergic and asthmatic attacks as they release air back into your home. However, vacuum cleaner brands do their utmost to use efficient filters to prevent dust and allergens from flowing back into your home.
The Roomba e5 comes with such high-performance filter that traps 99% of dust and allergens inside the robot so only clean air flows out.
You can rest assured to breathe deeply around these robots even when they are at work.
Kindly note that though the dust cup is washable, the filter is not. So, you must remove it before washing the dust cup.
Dual Rubberized Brush Roll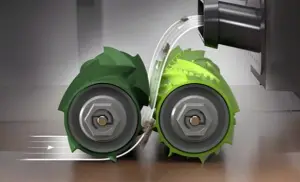 Cleaning off tangles of hair after vacuuming is something most people don't find delight in doing. With the Roomba e5, you won't be going through such hassles anymore.
The brush rolls underneath it do not have bristles. Instead, there are ridges on them to comb through carpets.
The result is a good clean of pet hairs without tangles to deal with afterward. Kindly note that hairs can roll up at the end of these brush rolls.
However, in one move, you can pull out the few strands and they won't even affect the robot's performance. Check the videos to see them at work.
Washable Dust Cup
Before this model, the dust cups in Roombas were not washable. The best you could do to thoroughly clean them was to get creative and wipe the insides to remove any dirt hanging on.
Now, you can run water through it and wash the dirt all out. The process is quite simple too. Once you're done washing, just let it air dry and it is ready to use again.
Features Unique To Roomba 690
The Roomba e5 is a newer version of the 690 so it shouldn't come as a surprise that there are not features unique to it. The e5 does all this can and then some.
­Unique Pros ­- Roomba e5 vs 690
Roomba e5
i. It has a washable dust cup.
ii. It uses an improved engine so the suction power is higher.
iii. The e5 has a better cleaning performance.
iv. The dust cup is larger.
Roomba 690
i. It is available at a lower price.
Unique Cons – Roomba e5 vs 690
Roomba e5
i. It is a bit pricey, though it has more to offer.
Roomba 690
i. It uses a regular filter which does not offer sufficient allergic protection.
ii. The brush roll can get tangled with hair as it has bristles.
iii. It confuses dark colors on the floor with a cliff and avoids cleaning it. At least you can rest assured that sensor works!
Pros Common To Both Products – Roomba e5 vs 690
| | |
| --- | --- |
| Roomba e5 | Roomba 690 |
| It can easily get under furniture because of its low center of gravity. | Same as the Roomba e5 |
| Its dirt detection is fantastic for cleaning floors evenly and spot cleans. | Same as the Roomba e5 |
| The smart app makes it convenient to issue commands to the robot without being around it. | Same as the Roomba e5 |
| The battery life is good enough for robots at this level. Moreover, it does not take too long for it to recharge and ready to go again. | Same as the Roomba e5 |
| It cleans effectively on both hard floors and carpets sucking up all sorts of dirt. | Same as the Roomba e5. However, it does not have as much suction power as the e5. |
| | |
Cons Common To Both Products – Roomba e5 vs 690
| | |
| --- | --- |
| Roomba e5 | Roomba 690 |
| It moves in a random manner which is not efficient for cleaning as well as power management. | Same as the Roomba e5 |
| The robot cannot resume if it does not complete a cleaning round. | Same as the Roomba e5 |
| | |
General Feeling Among Users – Roomba e5 vs 690
Roomba e5
Roomba 690
A lot of users love how well and deep it cleans on all floor types as well as how it tackles almost every type of dirt thrown its way. The pet owners especially praised the e6 for how well it dealt with pet hairs.
There are some users who are happy with the scheduling feature of this vacuum.

 

Another user said that she likes how well the robot transitions from floor to floor even if there are those ledges by the door.

 

The same user also said that the robot has not yet scratched her hardwood floor. So, this should reduce the worries of those concerned about this.

Some users were happy with how easy this robot is to use. They said you didn't need to do anything but plug it and let it charge. Emptying the dust cup is also easy and they love that you can now wash it.
One user narrated how tough it was for them to keep their dog's hair from littering the entire floor. It was a lot of work keeping up with the shedding dogs.

 

Then they got the Roomba 690, that seems to do the trick as they didn't have to do any work vacuuming pet hair anymore.

 

That's not all, they were really excited at how well the Roomba dealt with the pet hairs on both hard floors and carpets.

Some users complained that the e5 is rather noisy. That is a rather common complaint about the mid-level Roombas.

 

 

The Roomba is also very easy to use. From set up to the operation, there is nothing complicated about it.

 

Some other users even provided tips on how to get the best out of the robot vacuum. If you want the robot to work smoothly, be sure to clear your floors of clutter.

 

If you have a pet, it is best to house train it or keep it in another room when the robot needs to clean the floors.

 

Yes, this robot vacuum requires a procedure before you let it loose. It's not just this one, it is every other robot vacuum regardless of how expensive or advanced.
Bottom Line – Roomba e5 vs 690
Roomba e5
Roomba 690
The e5 offers more than the 690 does and it costs more. We hope you have been able to match your needs with what both robots have on offer.

 

If it turns out the e5 meets your needs better, then the price is worth it. So, go get yours now!

The Roomba 690 is a good robot in its own right. You now know its strengths and weaknesses. If it meets your needs, you don't need to spend more for what you don't need. Go get yours now!