Oregon Scientific is an American brand that is committed to creating innovative products. So, we decided to find out if the Oregon Scientific Robot Vacuum is a good representation of what the brand has to offer.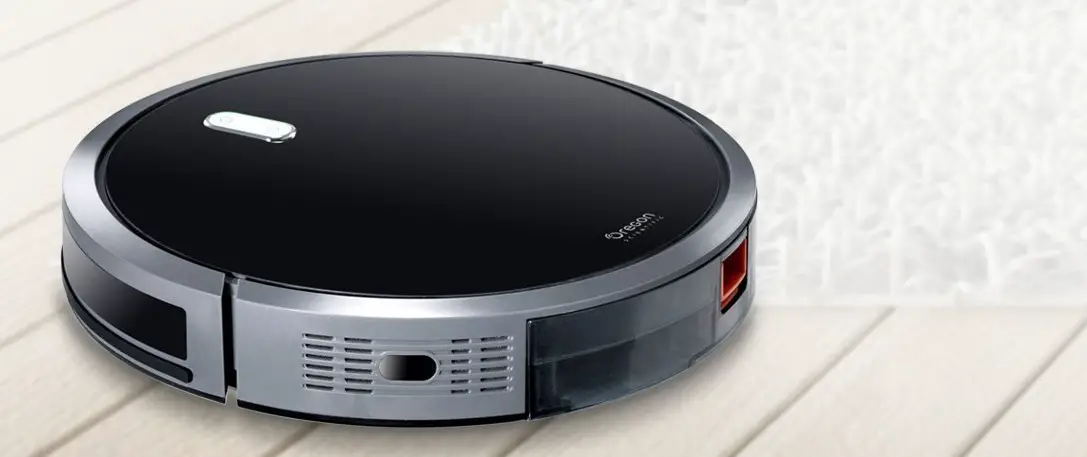 This robot vacuum is just one of its numerous products. This brand is popularly known for making weather instruments such as rain gauges and thermometers for both homes and weather stations. It also makes atomic clocks and barbecue thermometers as well.
Who Might Need The Oregon Scientific Robot Vacuum?
Do you have pets that shed hairs all over the place? If "yes", you might want to pay some attention to this robot. It has what it takes to clean up pet hairs on both hard floors and carpets.
Its strong suction helps it deep clean your floors. Even if you have highly trafficked areas, the Oregon Scientific Robot Vacuum will still do a good job.
It transitions floor types and move from room to room. Thanks to its infrared navigation technology and its wheels that let it move in different directions.
If you don't like babysitting a robot, you won't have to with this one. It has an impressive battery life, auto cleaning mode, and can find its way back to its dock when it needs to recharge.
Has this robot vacuum caught your attention yet? If so, you might want to know more. Stay with us as we are about to go into further details on what it has to offer.
By the time you reach the end of this review, you will have enough information to decide if this is the right one for you or the hunt continues.
Features Of The Oregon Scientific Robot Vacuum
Triple Cleaning System
This robot cleans your floors thoroughly because of its three-tier brushes. It has 2 side brushes that sweep up dirt and dust from the floors and edges.
There is also a mini brush roll underneath that combs through the fibers of carpets to dislodge embedded dirt.
With these, you can rest assured you will get the type of deep cleaning your floors have always wanted.
Powerful Suction
This is another feature that is responsible for how well the Oregon Scientific Robot Vacuum cleans.
After the brushes have done their thing by loosening dirt, the powerful suction clears them up.
This robot is rated to have 1400Pa of suction power. This is created by its brushless motor which is tough enough to keep the robot going to cover the floors in your home.
No robot vacuum will be able to find its way around if not for the navigation systems in them. The one in the Oregon Scientific Robot Vacuum is infrared and can sense obstacles in the distance. With this ability, it can properly plan its route of movement.
It also has wheels that can move 360 degrees. This helps it change directions easily and smoothly transition different floor types. These types of wheels also help the robot move well on carpeted and uneven floors.
HEPA Filtration
If you know about vacuum cleaners or even own one, you would know how important its filtration is. It is even more important if you are asthmatic or have allergies.
Just in case you don't know, this is the part of the vacuum that prevents the dust and allergens that you vacuum from escaping back into your home.
A HEPA filter is one of the most efficient filters you can get in any respiratory device and that's what is in this robot.
It is rated to trap up to 99.97% of particles that pass through it down to 0.3 microns. To help you understand how tiny that is, the human hair is about 50 microns in diameter.
With this, you can rest assured the air getting back into your home from this vacuum is clean enough to breathe without fear or worry.
Impressive Battery Life
The last thing you want is a robot vacuum that has only enough power to clean half of a room before it needs to go recharge. It gets worse if the robot does not have the charge and resume feature.
With the Oregon Scientific Robot Vacuum, that is not going to be a thing to worry about. It has a 2600mAh Lithium-ion battery.
The type of battery in it means that you will get a consistent flow of power from it throughout its usage. This battery will also last for a whopping 120 minutes before it needs to recharge.
User-friendliness Of The Oregon Scientific Robot Vacuum
The Oregon Scientific Robot Vacuum will reduce your workload and buy you some time just because it cleans your floor on its own. Would you consider that a friendly gesture?
There are other cool things about this robot that can qualify it as user-friendly. Firstly, you don't have to bother about charging it.
When the battery runs low to some point, it finds its way back to its dock and charges itself.
Secondly, it has a low profile design that allows it to easily get under furniture to clean. Now, you won't have to worry about what you will find when you move furniture.
Thirdly, the Oregon Scientific Robot operates quietly. It is not as noisy as most others and will not pose a disturbance while you are working on something else.
That's not all, you can also schedule this robot with the remote control. You can set it to clean at particular times that are convenient for you.
When that time comes, it simply starts to clean whether you are around or not.
So, with what you have read so far, would you say that the Oregon Scientific Robot Vacuum is user-friendly?
Pros Of The Oregon Scientific Robot Vacuum
i. The vacuum has a powerful suction.
ii. It has three brushes to achieve a deep clean at all times.
iii. It can vacuum on both carpets and hard floors.
iv. You can schedule a time for it to automatically clean.
v. The brush roll is tangle free.
vi. It uses a HEPA filter.
vii. It has an infrared distance sensing navigation system.
viii. The battery life is impressive.
ix. Its wheels make it easy for it to move around smoothly.
Cons Of The Oregon Scientific Robot Vacuum
i. It would have been great if it had Wi-Fi technology.
Alternatives To The Oregon Scientific Robot Vacuum
More Affordable Option – Eyugle Robot Vacuum Cleaner
If you want a vacuum that will protect you from allergic reactions, this is it. This robot vacuum has a HEPA filter that traps in the allergens the robot vacuums.
There are 4 cleaning modes to choose from with this vacuum. You can choose the mode suitable for your particular needs. The vacuum itself with the help of its sensor methodically navigates its way around your home.
The vacuum can run for up to 60 minutes before needing to recharge. When that time comes, it will find its docking station by itself. When it is done recharging, it will just go ahead and pick up from where it stopped.
High-End Option – Samsung Powerbot R7065 Robot Vacuum
We are pretty sure you already have an idea that this robot vacuum will truly be high-end. Based on the brand name too, you can also tell it is the same with the price.
This vacuum uses the cyclone force technology for its suction. This means that you can use it on both hard floors and carpets. Whichever it is, you can rest assured you will get optimal performance.
It also uses the Visionary Mapping Plus and Full View Sensor 2.0 for its navigation. Both of these combined helps the robot easily navigate its way around your home.
If you want to monitor the vacuums performance remotely, you certainly can. It has Wi-Fi connectivity that lets you give it commands via your smartphone with its app.
You can also connect the vacuum with an Amazon Alexa device so that you can talk to the vacuum. We don't mean it will suddenly become your therapist, you can only give it commands with your voice.
User-friendly Option – Pure Clean Robot Vacuum
This robot vacuum is an Amazon bestseller and that only means one thing, it is good. It has a powerful suction to pick up dirt and hair off hard floors and low pile carpets.
You can program this vacuum to clean at the scheduled time so that you can always wake up or come back to clean floors.
It has a 90 minutes runtime and is pet and allergy friendly. Its high-performance filter is even washable. This means you won't have to spend much changing filters so often.
Its low profile also lets it get under furniture to do its thing. The rotating brushes on the side help it reach into edges to clean out dirt.
Opposite Spectrum – Bissell Multi Reach Cordless Vacuum
If you want high-end performance, this is a cordless vacuum to go for. It has good suction for removing dirt on hard floors and carpets. Its design also makes it easy to use and the controls are not complicated.
The type of versatility you will get with this vacuum lets you clean high, low, and everything in between. It can easily turn into a handheld vacuum for even more ways to vacuum.
The lithium-ion battery is 22 volts and it provides fade-free power to the vacuum. You will get a good 20 minutes of runtime with this vacuum cleaner. You can check out our review on it.
Comparison Table
Featured
More Affordable
High-End Variant
User-Friendly
Opposite Spectrum
Products

Oregon Scientific Robot

 

Eyugle Robot Vacuum

 

Samsung Powerbot R7065

 

Pure Clean Robot Vacuum

 

Bissell Multi Reach Cordless

 

Dimension
12.8 x 3 x 12.8 inches
19.5 x 14.2 x 6.7 inches
13.7 x 13.4 x 3.8 inches
11.8 x 11.8 x 3.1 inches
13 x 10 x 44 inches
Weight
8.8 lbs
10.6 lbs
9.5 lbs
5.96 lbs
5.8 lbs
Mode of control / Attachments
Remote control
Remote control
Wi-Fi and remote control
Remote controller
Upholstery and crevice tools, mini power brush, dusting brush
Runtime
120 minutes
Up to 60 mins
90 minutes
90 minutes
20 minutes
Special Feature
The vacuum has 360 degrees protection
The vacuum uses a HEPA filter
It uses advanced navigation sensors
The filter is washable
It can easily detach into a handheld
| Image | Title | Buy |
| --- | --- | --- |
| | Robot Vacuum Cleaner, Oregon Scientific 1400Pa Strong Suction Robot Cleaner with Drop-Sensing System, Self-charging and HEPA Style Filter for Hard Floors & Thin Carpets | Buy Now |
| | EYUGLE Robot Vacuum Cleaner, Self-Charging, Powerful Suction, Slim Design, Remote Control, Anti-Drop, Good for Pet Hair, Thin Carpets and Hard Floors (KK320A1N) | Buy Now |
| | Samsung Electronics R7065 Robot Vacuum Wi-Fi Connectivity, Ideal for Carpets, Hard Floors, and Pet Hair with 5160Pa Strong Performance, Works with Amazon Alexa and the Google Assistant | Buy Now |
| | Robot Vacuum Cleaner and Dock - 1500pa Suction w/ Scheduling Activation and Charging Dock - Robotic Auto Home Cleaning for Carpet Hardwood Floor Pet Hair & Allergies Friendly - Pure Clean PUCRC95 | Buy Now |
| | BISSELL Multi Reach Plus Cordless Stick Vacuum 22v Lithium Ion Battery with Removable Auto Hand Vacuum and Upholstery Tool, 21513, Black | Buy Now |
Prices and images pulled from the Amazon Product Advertising API on:
General Feeling Among Users
Most of the users who have used the Oregon Scientific Robot Vacuum had something good to say about it.
First of all, they loved how well it picks up dirt. We told you the suction power is good. Pet owners attest to how well it cleans up pet hairs on both hard floors and carpets.
Secondly, quite a number of users are happy with how easy it was to set up the robot.
It was intuitive and most of them didn't even need to consult the user manual. Furthermore, it was easy to operate too.
Some of them also mentioned how good the quality of the materials the robot vacuum was made with.
A certain user was particular about how the HEPA filter suited her needs.
Some complaints…
Some users complained about how often the robot gets stuck and can't find its way out. It is always advisable to clean your floors of certain obstacles before deploying your robot vacuum. This is more or less a standard procedure, even for the high-end variants.
Our Verdict
The Oregon Scientific Robot Vacuum has a good navigation system that helps it move around and avoid obstacles. It also has an efficient HEPA filter to trap in dust and allergens. It basically serves its purpose.
However, we do not like this vacuum. If you ask us, we will not be buying it. This is simply because it does not offer as much value as its price tag. Kindly note that this is our own verdict and it is subjected entirely to our needs and preferences.
In that case, it is expected that your opinion will be different. So, with all you have read, what is your own verdict? Will you want to read our other robot vacuum reviews, or you have found what you were looking for?
If the latter is the case, then we are happy to have brought it to you. So, go get yours now!