Welcome to Vacuum Cleaners Advisor, your trusted guide to a valuable choice!
If reliability and expertise are qualities you are looking for in a manufacturer, you will find it with Hoover. Its Hoover Wind Tunnel MAX Upright is a good example of how much commitment the brand puts in its products.
We can be confident to assume that since Hoover is one of the oldest and trusted brands in the vacuuming industry. The brand has been in existence for over a century. From what you might have found out, it is still a big brand today.
If you what you have heard about the brand so far intrigues you enough to want to know more, check out our Hoover vacuum cleaners guide.
Who Might Need The Hoover Wind Tunnel MAX Upright?
Pet owners who have been having trouble getting rid of hairs off their floors might want to know more about this vacuum. It has a powerful suction that does great at lifting debris and embedded dirt. With this kind of power, pet hairs won't stand a chance.
People who are allergic or sensitive can take a look into the Hoover Wind Tunnel MAX as well. The filter in this vacuum is highly efficient at trapping airborne particles and allergens in the vacuum so they don't end up in your lungs.
This upright has height adjustment that makes it suitable for cleaning on both carpets and hard floors.
One thing about this vacuum that you will really like if you are keen on comfort is the automatic cord rewind. That's not all, there is more that this vacuum has to offer and we will tell you all about it.
Stick around as we dive into more details on what the vacuum can do. By the time you are done reading this review, you will be able to decide if it is what you need or you will read another of our review.
Features Of The Hoover Wind Tunnel MAX Upright
Wind Tunnel Technology
The Wind Tunnel is one technology Hoover keeps getting better at. Wind tunnels are used by engineering companies to test how aerodynamic their vehicle is.
This does not sound like a piece of tech that concerns vacuum cleaners, right? Hold on, we will explain.
The wind tunnel in this vacuum is quite small when compared to the engineering application one but they work basically similar.
This technology in the Hoover Wind Tunnel MAX Upright is used to suck in surface and embedded dirt off your floors. The reason it is effective is the same reason large corporations still use it for testing.
There is a tunnel in the brush head with a fan at the end that generates airflow powerful enough to suck in all the dirt in its path.
As the brush roll combs through your carpets, the Wind Tunnel sucks them all up. In the end, you will get a deeply clean rug and carpet. Why this particular vacuum is awesome is because it has 3 channels by which it suctions dirt.
Multi-Cyclonic Technology
Many adverts on bagless vacuum cleaners rave about this technology. This is almost the commonest technology you will hear about that cuts across vacuum cleaner brands.
The reason for that is simple, it is one of the most effective technologies for a bagless vacuum.
This technology spins the dirt in a circular motion at a high speed. The effect is that the dirt, dust, and debris settle at the base of the dust cup.
This leaves a good amount of airflow that supports the suction of the vacuum. The process continues until the dust cup is filled and ready to empty.
If you are still wondering how the multi-cyclonic technology on the Hoover Wind Tunnel MAX is useful to you, we will tell you. Your vacuum will not lose suction power!
The aim of the technology is to ensure that there is sufficient airflow in the vacuum for optimal suction at all times. With this, you will get great performance out of your vacuum from start to finish.
HEPA Media Filter
It is one thing to vacuum dust and allergens, it is a completely different ball game for the vacuum to keep them in.
Vacuum cleaners are designed to release air through vents to keep it cool. It is highly possible for that air to contain dust and allergen particles.
This is why there are filters in vacuums. They have a job to keep in the dust and particles in the vacuum.
What you vacuum are passed through a filter which separates pollutants particles from the air. The air that makes it past the filter can be considered as clean depending on the efficiency of the filter.
This is why vacuum cleaners with HEPA filters are considered a good option for users that are allergic. A HEPA filter by standards can trap up to 99.97% of particles in the air down to 0.3 microns.
To help you understand how small that is, the diameter of a human hair is about 50 microns.
This is the type of filter installed in the Hoover Wind Tunnel MAX Upright. You can rest assured that the air that makes it back into your home is clean and breathable. Now the allergic and asthmatic occupants will have no reason to fear to breathe deeply.
That's not all, the filter in this vacuum is washable which means you can use it repeatedly. Depending on how often you vacuum, you want to put the filter under running water to clean out any clogs.
Once it gets dry, you can put it back in and it is ready to go. This washable filter can help you save some money as you will not be buying replacements as often as you would normally have.
Height Adjustment
A vacuum cleaner begins to prove its worth if it can clean on different floor types. If you agree with that, then the Hoover Wind Tunnel MAX is worthy.
This vacuum will deep clean on any floor type. Whether it is plush or low pile carpets, laminate, ceramic, hardwood floor, etc. this vacuum says bring it on.
The Hoover Wind Tunnel MAX Upright has height adjustment. You can use this to choose how high or low the brush head is to the floor. This will invariably affect how the vacuum cleans the surface.
People often complain about vacuums with powerful suction, like this one. They say the suction makes it difficult to push the vacuum on a plush rug.
All you need to do with this one is to adjust it to the height that suits the type of floor you want to clean.
Useful Accessories
The Hoover Wind Tunnel MAX Upright has an extension hose that lets you carry out above the floor cleaning.  This hose is used in conjunction with these tools.
There is the 10-inch crevice tool that lets you reach into tight areas to vacuum dirt. The upholstery and dusting brush will help you get rid of dirt and hairs off stairs and furniture.
There is also the 20-inch extension wand that gives you the extra reach. With this, you can go as far as the ceiling.
These attachment tools just need to be connected to the flexible hose and you are ready to vacuum.
User-friendliness Of The Hoover Wind Tunnel MAX Upright
You will get to decide if the Hoover Wind Tunnel MAX Upright is user-friendly for you or not. By now, you would have gotten some ideas of how you feel about the vacuum.
We will mention more aspects of the vacuum that will make your experience with it better.
First of all, the vacuum has a power cord length of 28 feet. That can be long enough, depending on the size of your house. However big your home is, that length will not make you feel tethered.
It can be a pain to start wrapping around such a long cord when you are done vacuuming.
You won't have to go through that pain, the Hoover Wind Tunnel MAX Upright has a button to rewind the entire length of the cord.
You will also find that the dust cup is easy to empty and other parts of the vacuum are easy to access and clean out.
Pros Of The Hoover Wind Tunnel MAX Upright
i. The vacuum is great for cleaning pet hair.
ii. It can deep clean on different floor types.
iii. It offers no loss of suction performance.
iv. The Wind Tunnel technology gives it a good suction power.
v. It has multiple height adjustment settings.
vi. The vacuum uses a HEPA media filter.
vii. It can automatically rewind the power cord.
Cons Of The Hoover Wind Tunnel MAX Upright
i. The vacuum is a bit too heavy.
ii. It cannot lean enough to get under furniture.
Alternatives To The Hoover Wind Tunnel MAX Upright
More Affordable Option – Bissell Clean View Bagless Upright Vacuum
This vacuum is a newer version of the popular One Pass Clean View. It sports the same features and then some. The suction power is now more powerful which makes the vacuum even easier to use.
Another thing that will catch your eye with this vacuum is the filtration system. It has pre and post-motor filters which mean that no dust or allergens will make it through back into your home.
The filter is also washable which means you can use it over and over. This will save you some money since you won't need to buy replacement filters often.
Furthermore, the vacuum is available in different colors. It comes in green, orange, tangerine, and teal. You can also either buy the vacuum by itself or bundled with a hand vac.
High-End Option – Shark Rotator True Pet Upright Vacuum
Shark has risen to a respected status in the vacuum cleaner industry so, almost all its vacuum has a high-end potential. Amazon also confirms it as it is one of its choices in upright vacuums.
That says a lot if you consider the number of upright vacuums on Amazon. Now let's talk about what makes this vacuum good.
Firstly, you will find the filtration system is excellent. Most other vacuums use just one system which is often enough.
But this one uses two different premium filtration systems. The Shark's Anti-Allergen Complete Seal technology traps in allergens so they do not make it back into your home.
Shark combines this filtration system with a HEPA filter which is the standard for respiratory devices. The combination of these two traps in 99.99% of contaminants. Now, you can rest assured that while you breathe deeply, you are breathing safely.
Another impressive feature of this vacuum is the DuoClean brush roll which is an excellent way to transition from carpets to hard floors.
User-Friendly Option – Eureka Power Speed Upright Vacuum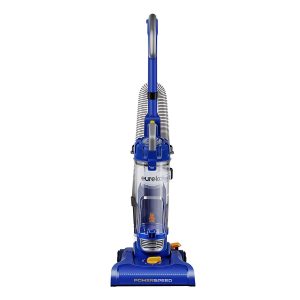 There are no complicated controls on this one and you can easily take it apart and put it together as the need arises. With snaps and gentle pulls, you can put together and take apart this vacuum in no time.
You will decide on which height you want to use depending on the type of floor you are cleaning. You just need to turn a knob on the brush head to make a selection.
The vacuum has a wide cleaning path which lets you vacuum faster. It is lightweight, weighing in at just ten pounds.
It also has a large capacity dust cup that saves you regular trips to the trash can.
Opposite Spectrum – Tenergy Otis Robot Vacuum
This is one robot vacuum that tries to compete with a 'full-grown' variant. It can clean on different floor types and has a large dust cup. There are 4 cleaning modes you can choose from as well as 8 cleaning configuration. This leaves you with a lot of ways to free yourself from vacuuming.
It has a remote control and you can schedule how this robot cleans your home. It also has a HEPA filter to trap in the dust and allergens in your home. This robot vacuum will go dock itself when the battery is running low so you don't even need to monitor it.
Comparison Table
Featured
More Affordable
High-End Variant
User-Friendly
Opposite Spectrum
Products
Hoover Wind Tunnel MAX Upright

 

Bissell Clean View Bagless Upright

 

Shark Rotator True Pet Upright

 

Eureka Power Speed

 

Tenergy Otis Robot Vacuum

 

Dimension
16 x 12 x 32 inches
13.2 x 13.5 x 44 inches
13.2 x 11.9 x 45 inches
13.4 x 14 x 44.5 inches
13.2 x 13.2 x 3.8 inches
Weight
18.4 lbs
15.5 lbs
14.5 lbs
10 lbs
6.61 lbs
Attachments
Crevice and upholstery tools, and extension wand
Extension wand, turbo brush, crevice tool, dusting brush
Pet power brush, pet multi-tool, crevice tool, accessory bag
Dusting brush, crevice, and upholstery tools
None
Cord Length / Runtime
28 feet
25 ft
30 feet
25 feet
90 minutes
Special Feature
It has an auto cord rewind
It uses the One Pass technology
The button controls are at your fingertip
It has 5 height settings
It uses a HEPA filter
General Feeling Among Users
There seems to be something about Hoover and suction power. Almost every user is in awe about the suction power this vacuum has.
Some even compare it to Dyson claiming that they get as much suction (some even said more) and paid a lot less.
One user said that he has to stand on one end of their rug while his wife vacuums it.
If you are wondering why it is because the suction is so powerful it pulls the rug. LOL. He also said that he only raised the height adjustment to medium!
With suction like that, you can rest assured the embedded dirt will not stand a chance. Pet owners too, as expected, love how well the Hoover Wind Tunnel MAX cleans up the hairs on their floors. Whether on hard floors or carpets, this vacuum eats dirt hungrily.
Another thing we noticed is that some users who have had a Hoover vacuum before talked about how it lasted them for years. Perhaps this one too will stand the test of time.
The Hoover Wind Tunnel MAX Upright is easy to assemble, according to a lot of users, and also easy to clean out. The attachment tools too are quite easy to use and they do a great job.
The automatic cord rewind is one feature of the Hoover Wind Tunnel MAX Upright that swept people off. Most users really like it as it was a pain having to deal with cords after all the vacuuming work.
Some Complaints…
We have noticed that no matter how good a vacuum turns out to be, some users have one thing or another to complain about. They are mostly justified, we cannot refute that.
But in a lot of cases, some users aren't using the vacuum the right way which often leads to complications.
Let us take one particular complaint about this vacuum for instance. Quite a number of users say that there is a problem of burning rubber when using the vacuum.
Some other users, who read this complaint before buying the Hoover Wind Tunnel MAX Upright ended up liking it and did not have that problem.
The difference between these two sets turns out to be that some knew how to use the vacuum while others did not. This is why it is important to read the user manual before using any device.
However, there are some real issues with this vacuum. The vacuum is heavy. But then, "heavy" can be relative.
If you want to get under furniture, you might want to consider using the attachment tools. The vacuum is a bit bulky and it does not lean far enough to reach underneath furniture.
Our Verdict
The verdict is in and we believe you can guess which way it goes. First of all, we want to say that the reviews about this vacuum are not a fair assessment of its performance.
As we mentioned earlier, you cannot get the best out of a vacuum you are not using the right way.
We don't have a job of endorsing products on this site, we only say what is and let you decide for yourselves.
As for our verdict, we love this vacuum. For all the good things it is capable of and that it won't drill a hole in your pocket is more value for its cost.
You have read all we have to say about the Hoover Wind Tunnel MAX Upright. What is your own verdict? If it turns out the vacuum is good enough to serve your needs, go for it now!