Hoover is one of the most reliable and popular brands in the vacuum cleaner industry. Kindly don't take our words for it, just search "vacuum cleaners". You are in luck if you want to know about Hoover, you can join us as we dissect the Hoover T-Series Upright Vacuum. Let us see if the experience Hoover has accumulated over the years reflects on it.
We can be confident to assume that Hoover is one of the oldest and trusted brands. The reason is that the brand has been in existence for over a century. From what we said earlier, it is still a big brand today.
However, Hoover manufactures more than just vacuum cleaners. It makes other products such as carpet washers, steam mops, sweepers, etc.
Some of its vacuum cleaners are even commercial vacuum cleaners. These ones are capable of handling the heavy-duty jobs. They are specialized for offices, hotels, cleaning agencies, etc.
If you what you have heard about the brand so far intrigues you enough to want to know more, check out our Hoover vacuum cleaners guide.
Who Should Go For The Hoover T-Series Upright Vacuum?
If you are looking for a vacuum that will not leave marks on your walls or furniture, this might be a good option for you. It has a scuff guard on the brush head to prevent scratches. Of course, this might not be enough reason to buy a vacuum cleaner or not.
How about adding a powerful suction, lightweight, and ease of use to the mix? Does it start to look like the Hoover T-Series Upright Vacuum can work for you?
If you have pets, are allergic or asthmatic, first of all, the suction power and brush roll design will help you get rid of pet hairs easily. Secondly, it uses a HEPA filter and you know how that helps to clean the air in your home.
If you are not sure yet if this vacuum is the real deal, the more reason you should stay with us till the end. We will be explaining in details what makes the Hoover T-Series tick. By the end of this review, you will be able to decide if the vacuum is right for your needs.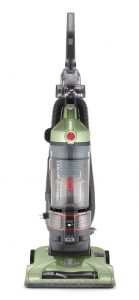 Features Of The Hoover T-Series Upright Vacuum
5 Height Adjustment Settings
It is attractive to have a vacuum cleaner that can clean well on different floor types. Many homes have a combination of floor types and it does not make that much sense to get a cleaner for each floor type.
Hard floors and carpets have different properties. This invariably means that to effectively clean them requires a different approach.
Ideally, a vacuum cleaner that can clean on both carpets and hard floors will be able to switch between the two.
The approach this particular vacuum adopts is to change the height of the brush roll. This affects how close to the floor the spinning brush roll is.
So, when vacuuming with the Hoover T-Series Upright it is important to select the right height setting for each floor type. This will help you get an optimal clean while you keep your floor safe.
HEPA Media Filter
Allergic and asthmatic people can easily get into trouble when vacuuming, especially if they have pets.
Such sensitive users will get some form of protection if they vacuum with the Hoover T-Series Upright.
Firstly, this vacuum has a powerful suction which will suck in dust, and allergens on the floors and in the air. Secondly, it has a HEPA media filter which is capable of trapping 99.97% of allergens and dust up to 0.3 microns.
To put it simply, this feature will fight enemies you cannot see on your behalf. It helps to keep the air in your home clean and safe to breathe. Not anymore will you have to fear your allergies getting triggered whenever you vacuum.
Stretch Hose
A typical upright vacuum is not so versatile. It is almost impossible to do any other type of vacuuming apart from floors with an upright.
All of a sudden, you can do above the floor vacuuming with the Hoover T-Series Upright.
It has a stretch hose that can go as far as 8 feet. This hose allows you to use the vacuum like it is a canister vacuum. All you have to do is attach a tool to the hose and you can dust furniture, vacuum hard to reach areas, stairs, etc.
This hose obviously makes the upright vacuum more versatile which is a huge advantage. Now, a lot of the cleaning you do manually can now be sped up and done easier using this Hoover T-Series vacuum.
Useful Accessories
Attachment tools play a large role in making the stretch hose useful. These tools are what you attach to the hose to let you do the type of cleaning you would not have with a regular upright vacuum.
The dusting brush, as the name implies, allows you to clean dust off furniture, drapes, vents, and whatever else you need to clean.
The crevice tool is particularly used to clean dirt out of hard to reach areas such as corners, grooves, baseboards, etc.
The third attachment that comes with this vacuum is the air-powered turbo tool. This one is used for cleaning stairs. It can also be used to clean dust and debris off upholstery.
User-friendliness Of The Hoover T-Series Upright Vacuum
The mere sight of this vacuum can be a bit scary. It is not small, at all. It looks heavy, but on the contrary, it is not, relatively speaking.
This vacuum weighs in at less than 17 pounds. We know, that is a bit heavy for some people. But for most young and middle-aged people, this is a vacuum weight they can live with.
There are no complicated controls on this one so, there is no reason to study the user manual. The only real setting you will have to deal with is the one for the height adjustment.
Even that is nothing complex. All it takes is to turn a knob to the setting you want and you are ready to vacuum. Talking about turning, that is all you have to do to detach the dust cup and dump its content in the trash.
Accessing the HEPA filter for cleaning is also straightforward. Locate it under the dust cup and pull out the compartment and there it is.
Do note that the user manual says not to wash the filter. To clean it involves dusting it off into the trash. Furthermore on the ease of use of the HEPA filter, it has an indicator that lets you know when you need to clean it or check it for clogging.
Using the stretch hose is as easy as fixing an attachment to it by pushing it in and pulling it out. There are wheels under the vacuum that makes its movement smooth on both hard floors and carpets.
There is a pedal on the Hoover T-Series Upright that you can use to retrieve the entire length of the power cord. This saves you the stress of having to wind it up after you are done.
Pros Of The Hoover T-Series Upright Vacuum
i. The vacuum is relatively lightweight.
ii. It has 5 height adjustment settings.
iii. The vacuum has good suction power.
iv. It uses a HEPA media filter to protect allergic and asthmatic users.
v. It has an 8-foot stretch hose for extended versatility.
vi. You can rewind the length of the power cord at the touch of a button.
vii. There is an indicator that alerts you when to check the filter.
viii. It comes with useful accessories.
ix. It uses the Wind Tunnel technology for suction.
x. The vacuum is easy to use.
xi. The attachment tools can be stored onboard.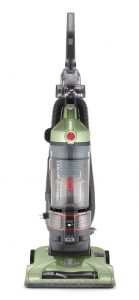 Cons Of The Hoover T-Series Upright Vacuum
i. The vacuum is not so effective on hard floors.
ii. The brush roll cannot be turned off.
iii. It clogs pretty often, so you have some maintenance work to do.
Alternatives To The Hoover T-Series Upright Vacuum
More affordable Option – Bissell Clean View Upright Vacuum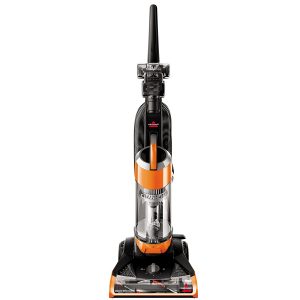 Who wants to keep going back and forth with their vacuum on one spot before it can get clean? Certainly not we and this is why we picked this vacuum. It has the One Pass technology; this lets deep clean carpets by running the vacuum over it only once.
Another thing that will catch your eye with this vacuum is the filtration system. It has multiple levels which means that no dust or allergens will make it through back into your home.
The filter is also washable which means you can use it over and over. This will save you some money since you won't need to buy replacement filters often.
You can buy with a handheld vacuum, with a pet tool bundle, with Febreeze filter, etc. The best part of all, it is quite affordable!
High-End Option – Dyson Ball Multi Floor Upright Vacuum
If you want high-end performance, you must be ready to pay a high-end price and this Dyson upright surely demands that. This is a premium vacuum with everything at top class. From performance to aesthetics then durability, this vacuum is a top class.
It has a powerful suction because of its ingeniously designed motor that spins at an extremely fast rate. Due to that and its self-adjusting cleaner head, it can vacuum effectively on all floor types and will not leave scratches on delicate floors.
The ball technology makes this vacuum easy to maneuver. It can turn on a dime which makes it effective for cleaning around furniture and obstacles without necessarily needing to move things around.
User-Friendly Option – Eureka Power Speed Upright Vacuum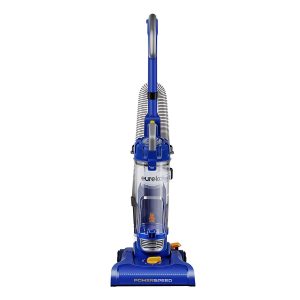 If you are looking for ease of use in a vacuum, you will get it in this one. There are no complicated controls and you can easily take it apart and put it together as the need arises.
This Eureka vacuum also has a wide cleaning path to make your vacuuming faster. It is lightweight, weighing in at just 10 lbs.
Its long and flexible hose makes this vacuum versatile allowing you to do above the floor cleaning. Its large dust cup also saves you regular trips to the trash can for emptying.
Opposite Spectrum – Tenergy Otis Robot Vacuum
This is one robot vacuum that tries to compete with a 'full-grown' variant. It can clean on different floor types and has a large dust cup. There are 4 cleaning modes you can choose from as well as 8 cleaning configuration. This leaves you with a lot of ways to free yourself from vacuuming.
It has a remote control and you can schedule how this robot cleans your home. It also has a HEPA filter to trap in the dust and allergens in your home. This robot vacuum will go dock itself when the battery is running low so you don't even need to monitor it.
Comparison Table
Featured
More Affordable
High-End Variant
User-Friendly
Opposite Spectrum
Products
Hoover T-Series Upright

 

Bissell Clean View Upright Vacuum

 

Dyson Ball Multi Floor Upright

 

Eureka Power Speed

 

Tenergy Otis Robot Vacuum

 

Dimension
16 x 12 x 32.5 inches
13.2 x 13.5 x 44 inches
15.6 x 13.4 x 41.9 inches
13.4 x 14 x 44.5 inches
13.2 x 13.2 x 3.8 inches
Weight
16.5 lbs
15.4 lbs
15.6 lbs
10 lbs
6.61 lbs
Attachments
Crevice tool, dusting brush, air powered turbo tool
Extension wand, turbo brush, crevice tool, dusting brush
Stair tool and combination tool
Dusting brush, crevice, and upholstery tools
None
Runtime / Cord Length
25 feet
25 ft
31 feet
25 feet
90 minutes
Special Feature
It uses the Wind Tunnel technology for powerful suction
It uses the One Pass technology
This vacuum uses whole machine filter
It has 5 height settings
It uses a HEPA filter
General Feeling Among Users
If you consider the rating of this vacuum and how many users actually rated it, you will quickly realize they like the Hoover T-Series Upright Vacuum.
What they like the most is the powerful suction, who wouldn't? That is an important aspect of a vacuum cleaner. They also like that it can easily suck in hair. Even those who had complaints indicated that they like the suction.
The HEPA filter is another feature they like since it traps in allergens that protect the sensitive users from reactions. In fact, there are two filters in this unit, one is washable and the other is not. It is important to be clear that the HEPA filter at the bottom is not washable, so don't try that at home.
There is another feature that users like which saves you some hassle and is a bit of fun. The 25-foot power cord can be retracted by pressing a pedal.
The complaints…
There are a few complaints as well. First is that the filter clogs a lot. That might be a good thing in some ways. It would not clog if the vacuum was not sucking dirt. Another way to look at is that the frequent clogging means a lot of maintenance on your part. You will have to check and clean the filter every time the indicator comes on.
Secondly, the brush roll cannot be turned off. If you have only carpets in your home, this might not bother you. But if you have hard floors, especially those delicate ones, you will have to be careful the way you use this vacuum. If not, the spinning brush roll might scratch the surface.
Luckily, you can adjust the height of the vacuum which will reduce the chance of you cursing under your breath whenever you notice a scratch on your beautiful floor.
Still on complaints, thirdly, this vacuum is not as exceptional on hard floors as it is on carpets. Even those users who have a love for the vacuum indicated this.
This is mainly the fault of the brush roll since it cannot be switched off. They said that it mostly just kick the dirt around instead of sucking them in. If the brush roll was at least removable, the story would have definitely been different.
Our Verdict
We have a verdict, of course. But before we let it out, we need to make some things clear. This is a good vacuum cleaner, period. It has its faults and shortcomings and so does those with the cut-throat price tag.
Whether you give this vacuum 5 stars or one star will come down to your requirements. We were not hammering on the need to be clear on what you need a vacuum cleaner for even before you start your research for nothing. If you are sure of what you want, you will not make a mistake with your choice.
That said, by now you can rest assured if you have mainly carpeted floors in your home, this vacuum might be a great option.
We love this vacuum! Firstly, because of its price, it is inexpensive and outperforms what you pay for it. Secondly, it does what it says and does it well. If you are clear on what you want and the Hoover T-Series Upright Vacuum still meets your needs, go get yours today!