You must have heard a few stories about humble beginnings. That is the type of story the origins of Dirt Devil as a brand will tell. Before we continue, allow us to introduce you to the Dirt Devil Power Max Upright Vacuum. This is one of the products Dirt Devil will be proud of.
Dirt Devil is a brand that started out of a garage in Cleveland. It has become one of the popular and respected floor cleaning brands in North America. Determination, innovation, purpose, and of course, time are what helped it get to this position.
It has quite a number of vacuum cleaners carrying its name in many American homes. Some of its products include upright, canister, cordless, and robot vacuum cleaners. It also makes steam mops and hard floor cleaners. Dirt Devil is a trusted brand when it comes to floor cleaning.
If you have known about Dirt Devil before now or the little we have said about the brand sounds good to you, you might want to know more. If you are interested, check out our guide on Dirt Devil vacuum cleaners to see what you might like.
Who Should Buy The Dirt Devil Power Max Upright Vacuum?
Do you have different floor types in your home? You will find this vacuum useful for cleaning them all. It has the capability to go from one floor type to another while vacuuming effectively.
If you are looking for a versatile upright vacuum, the Dirt Devil Power Max has what it takes. It has tools that allow you to do a lot of above the floor cleaning.
For those who have pets at home, hair can be quite a menace, we know. With this vacuum and its little motorized tool, you just might have found something to help you tackle pet hairs on different surfaces.
Sometimes, a bagless vacuum will lose suction power as the dust cup fills up. If you have been looking for an upright vacuum that is immune to that, you just might have found one in the Dirt Devil Power Max.
As we continue, you will learn a lot more about the workings of this vacuum in details. By the end of the review, you will be sure if this vacuum is what you have been looking for or you will read another of our reviews.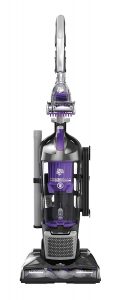 Features Of The Dirt Devil Power Max Upright vacuum
Advanced Brush Roll
The Power Max sports the brands top of the line brush roll. The Spin3Pro is an advanced brush roll with stiff nylon bristles strategically placed for maximum performance.
As the brush roll spins, the bristles comb through the fibers of the carpet and dislodge the embedded dirt in it. After that is done, the powerful suction of the vacuum sucks up the dirt and you are left with a deeply cleaned carpet.
Large Capacity Dust Cup
It can be frustrating if you have to take a trip to the trash can to empty the dust cup multiple times for just one room. You just won't look forward to vacuuming with that machine again.
But with the Dirt Devil Power Max Upright Vacuum, you might even clean the entire house before needing to empty.
Of course, that will depend on how large your house it. But you get the point, don't you? The dust cup is large and will accommodate a significant amount of dirt.
Furthermore, asides the hassles involved with using a small dust cup, if emptying it is difficult too, the vacuum becomes a menace to use.
That is not the case with this vacuum though. Not only is the dust cup large enough, emptying it just requires the flick of a button. The dust cup opens at the base so that its contents will fall out without your intervention.
Height Adjustment Setting
Asides its advanced brush roll, you can also adjust the height of the brush head. This makes it ideal and suitable for cleaning different floor types effectively.
The control for the height setting is right on top of the brush head. All you need to do is to turn the knob to select the height you want.
The floor type you want to vacuum will determine the height setting you will choose. With this feature, you can rest assured you will get a good clean on all floors at all times.
Useful Accessories
The versatility of a vacuum is a great thing to have, especially if it is an upright vacuum. You will certainly find that in this vacuum. There is an extension wand and a flexible hose on this vacuum that gives you extra reach.
This reach goes beyond the floor. You can now vacuum above the floor as far as the ceiling! All those tight spaces that have proven impossible to reach will now feel your presence.
The 2-in-1 crevice tool that comes with this vacuum easily attaches to the wand and let you reach into those tight corners. The brush on the crevice tool converts it into a dusting brush.
There is also the turbo tool which you can use on upholstery. This attachment tool is particularly good for pet hair. You can also use it on the stairs if you have them.
User-friendliness Of The Dirt Devil Power Max Upright Vacuum
Still on the attachment tools, you can store them onboard. That way, the tools you need are within your reach when you need them.
The vacuum can swivel back and forth giving you the chance to tilt the vacuum downwards and reach further under furniture.
The vacuum is also lightweight which makes it easy to maneuver and carry around if you need to.
We already told you that this vacuum can clean on different floor types. Furthermore, there are bristles on either side of the brush head.
These make it easier for you to clean out dirt that is too close to the wall. Some other vacuums do not consider this important so they leave you to deal with it manually.
The filters in this vacuum are washable which mean that you can use them over and over. That means you get to save some money on buying replacements. To clean the filter, all you have to do is place it under a running tap.
Pros Of The Dirt Devil Power Max Upright Vacuum
i. The vacuum has a large dust cup.
ii. It uses the Endura Performance System for consistent suction.
iii. The filter is washable which lets you use it over and over.
iv. It has 4 height adjustment settings to choose from.
v. Its advanced brush roll helps to deep clean carpets and rugs.
vi. The vacuum is lightweight and easy to maneuver.
vii. It has a feature that protects it from overheating by shutting off the vacuum automatically.
viii. The vacuum uses a carbon filter to neutralize pet odor.
ix. It has a wide cleaning path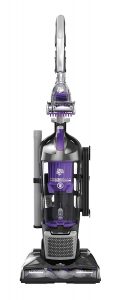 Cons Of The Dirt Devil Power Max Upright Vacuum
i. The vacuum seems to heat up a lot despite the protection.
ii. It clogs pretty easily.
Alternatives To The Dirt Devil Power Max Upright Vacuum
More Affordable Option – Eureka Power Speed Upright Vacuum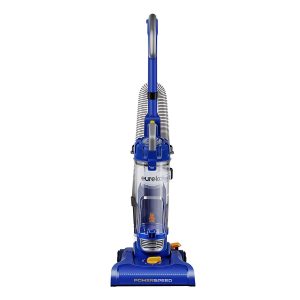 If what you want the most in a vacuum is ease of use, you will find it in this one. There is almost no learning curve or getting used to with this vacuum. The controls are not complicated at all, in fact, they are intuitive.
If you want a powerful suction, you will find it in this vacuum too. You can vacuum on carpets and hard floors as you wish. Its 5 height settings have you covered and will give you an optimal clean at all times.
It is lightweight, weighing in at just 10 lbs. The wide cleaning path of this Eureka will make your vacuuming faster. Its long flexible hose makes this vacuum versatile allowing you to do above the floor cleaning. Its large dust cup also saves you regular trips to the trash can for emptying.
High-End Option – Shark Rotator True Pet Upright Vacuum
If you have carpets on your floors and you want to give them a treat, this vacuum can help you with that. Its suction is powerful and its advanced brush roll will comb deep into the fibers of the carpet to clean out embedded dirt.
This Shark also has the dual filtration system that makes. The Anti-Allergen Complete Seal technology and HEPA filtration together seal in 99.99% of the allergens and other air-borne microbes.
If you need versatility, you will also find it in this vacuum. It has the Lift-Away design that lets you convert this upright vacuum into a handheld canister vacuum.
User-Friendly Option – Bissell Clean View Upright Vacuum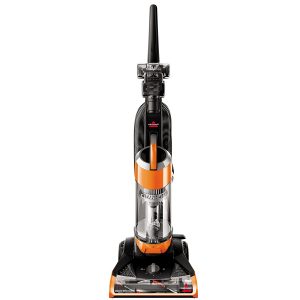 The saying "what you pay for is what you get" does not apply to this vacuum. If you were to pay for this vacuum cleaner based on the value it offers, you will be coughing up a lot more.
This Bissell has the One Pass technology which means that you just need to pass the brush head over once and it is clean. The secret is the multi-cyclonic technology it uses for suction.
It also has a height adjustment knob that you can use to control the closeness of the brush head to the floor.
The dust cup opens at the touch of a button so the dirt can fall out into the trash can. The dust cup also has a good capacity so you won't have to empty all the time. The vacuum uses a foam filter that you can wash when you feel it is getting clogged.
Opposite Spectrum – iRobot Roomba 877 Robot Vacuum
Robot vacuum cleaners are a delight because they take the 'you' out of vacuuming. With these new mini-machines, you can spend more time on other things that are important to you.
With the robot vacuum cleaning your floors every time, you won't need to bring out the big vacuums as often. This particular one has enough power to loosen and suction dirt off your floors, thanks to the AeroForce Cleaning System.
Its advanced filtration system picks and traps 99% of allergens and dander from your home.
Once the battery is too low, it finds its way back to its docking station to recharge. If this excites you and you want to know more, read our robot vacuum cleaner guide.
Comparison Table
Featured
More Affordable
High-End Variant
User-Friendly
Opposite Spectrum
Products

Dirt Devil Power Max Upright Vacuum

 

 

Eureka Power Speed Upright Vacuum

 

Shark Rotator True Pet Upright Vacuum

 

Bissell Clean View Upright Vacuum

 

 

iRobot Roomba 877 Robot Vacuum

 

Dimension
12.4 x 13 x 46.3 inches
13.4 x 14 x 44.5 inches
13.2 x 11.9 x 45 inches
12.5 x 13.5 x 44 inches
19.2 x 17 x 6.3 inches
Weight
11.59 lbs
10 lbs
15.4 lbs
15 lbs
12.1 lbs
Attachments
Pet turbo brush, crevice tool with dusting brush
Dusting brush, crevice, and upholstery tools
Hard floor hero, pet mini motorized brush, pet multi-tool, and crevice tool
Turbo and dusting brushes, extension and crevice tool
None
Cord Length / Runtime
25 feet
25 feet
30 feet
27 feet
90 minutes
Special Feature
The attachment tools can be stored onboard
It has 5 height settings
It uses both anti-allergen complete seal and HEPA filter
The vacuum uses the One Pass technology
It uses a virtual wall beacon to navigate its way around
General Feeling Among Users
Quite a number of users like this product for its powerful suction. Pet owners especially appreciate it for how well it picks up hair. They also like the turbo tool as they can use it on the stairs as well. They say it was also great for cleaning on upholstery.
The lightweight of this vacuum is another aspect they like. The weight makes it easy to maneuver and carry if you want.
Quite a number of these users have been using the vacuum for a while now. In that case, we can say that the durability is good.
Although, some other users say that this vacuum does not feel like it can withstand heavy usage.
The most common complaint is an overheating issue. It turns out that the vacuum has an overheating protection which shuts off the vacuum when it is heating up.
Dirt Devil reached out to most of the complainers and made it clear that the vacuum might heat up or lose suction if it gets clogged. Apparently, cleaning out the clog or filters do the trick.
Our Verdict
Now that you have detailed information about this vacuum, your minds are almost getting made up if you want it or not. Decisions like this can be tough especially when the vacuum has features you like and followed by some significant complaints.
You are not alone on that and this is why we are going to be lukewarm about the Dirt Devil Power Max Upright Vacuum.
It has some things going for it but we are not so convinced. The overheating complaints carry quite some weight. Even though the brand responded to most of the complaints, they were too consistent to be ignored.
But that is our decision, if this vacuum has the features it takes to meet your need, why not? Go ahead and make that purchase!