Brands that have been around for many years are said to be reliable and trustworthy. Bissell is one of such brands and the Bissell Bolt Pet Cordless Vacuum is one of its products we are giving our attention.
Bissell has been making floor cleaning products for the past 140 years. It has stayed true to its commitment to quality and innovation. This is why it has remained one of the biggest names in the vacuuming industry.
It has a rich history and a wide range of products in many categories of floor cleaning. Bissell manufactures different types of vacuum cleaners as well as carpet washers, and floor sweepers. It also makes steam mops for cleaning hard floors.
If you would like to learn more about Bissell vacuum cleaners and some of the technologies it uses, read our Bissell vacuum cleaner guide.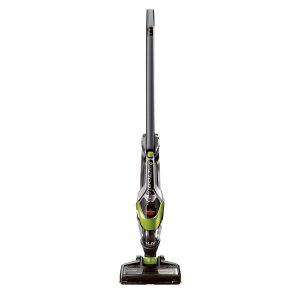 Whether you have a large home or a small one, this vacuum can still be useful to you. It will only be different the way you will use it. You can use it as your main vacuum, for a small home, or as a backup vacuum specifically for pet hairs and dander.
As the name implies, this is a pet vacuum which means it is capable of cleaning pet hairs. That's not all, it will clean pet hairs on different surfaces. So, pet owners, pay attention to the unbiased information we are about to provide.
2-in-1 Cleaning
This cordless vacuum is a transformer and it easily does its thing with the touch of a button. The fact that it can quickly turn into a handheld means you can vacuum many surfaces in many ways.
You can clean your floors in the full mode. When you are done, you can easily eject it from the stick to turn it into a handheld. In the handheld mode, you can do different off the floor cleaning. Easily vacuum crumbs off your kitchen counter and clean dust off your furniture.
Decent Battery Life
The Bissell Bolt Pet Cordless Vacuum uses a 14.4 volts battery which supplies enough power to the motor for it to provide a powerful suction.
This cordless vacuum cleaner is rated to offer a runtime of up to 25 minutes. If you are using this vacuum for just quick cleans, that is enough time to serve its purpose. If it turns out that you will need more time, you might have to wait till it recharges before you continue.
Multiple Surface Cleaning
The Bissell Bolt Pet Cordless Vacuum has an advanced brush roll specialized for pet hairs. With this, you can clean pet hairs wherever you find them.
Pet hairs can be difficult to clean with just any type of vacuum but this advanced brush roll is said to be quite effective at its duties. You will also find some bristles on both sides of the brush head. These ones are meant to help clean the dirt and dust by the walls that some vacuums have a hard time reaching.
Whether on carpets, rugs, hard floors, upholstery, mattress, or even countertops, just attach the right tool and clean away. The vacuum's capability of cleaning multiple surfaces seems like a good advantage.
Double Direction Folding
No matter how well a vacuum cleaner performs, if it is not easy to use, it begins to lose value, a lot of it. This vacuum does a good job on its maneuverability with its bi-directional flex.
It can bend both forward and backward. The forward bend lets you easily reach under furniture to vacuum without having to bend too much. It can also bend backward which makes it more compact to store.
This is a good feature as it easily allows the user to vacuum effectively without having to do too much. And for those who don't have sufficient space for storage, this is a vacuum that has helped itself to manage your space.
Large Dust Cup
It is not cool if you have to pause your vacuuming every now and then just because you need to empty the dust cup. The Bissell Bolt Pet Cordless vacuum saves you all that hassle with its 0.6 liters of dirt storage.
With this, you will probably do all the vacuuming you need with this cordless vacuum and not have to stop once. This will surely save you time and ensure productivity.
Accessories
Since this is a vacuum cleaner designed specifically to clean pet hairs, it is not a surprise that it comes with accessories that help you do that.
On getting this vacuum, you will get a pet nozzle tool. This helps you get rid of hairs, dust, and dander from upholstery and mattresses even if it is embedded. You will also get a crevice tool that helps you reach those tight areas for a thorough clean.
Finally, it also comes with a scoop and sweep tool. This one is for cleaning the larger debris such as cat litter, food particles, etc.
If you have been using a vacuum cleaner before, there is no learning curve with this product. It is as good as using it straight away.
Converting this vacuum into a handheld is as easy as pushing the black button with the eject sign on it and pulling it off. Just above that button is the power button which you can't miss.
To bend the vacuum at the flex point is also as easy as doing just that, bend it!
i. It comes with useful accessories specialized for pet hairs.
ii. The vacuum is effective for different floor types.
iii. It has a dust cup with good capacity.
iv. Its battery offers a decent runtime.
v. It can flex in the middle which gives it a better reach.
vi. It can fold for compact storage.
vii. You can easily convert it into a handheld.
viii. It is also available as a bundle with a lightweight stick mop for hard floors.
The charging stand is quite convenient to use.
For whatever it is worth, Bissell contributes $10 from every sale of its vacuums to the Bissell Pet Foundation. So, go get yours now!
Cons Of The Bissell Bolt Pet Vacuum Cleaner
i. The general durability of this product is quite questionable. The handle is made of plastic, not like plastics are bad. But the plastic, in this case, is a bit too flimsy for a vacuum cleaner.
Alternatives To The Bissell Bolt Pet Cordless Vacuum
The catchy attribute of this vacuum is how slim it is. As you might have guessed, that makes it lightweight which consequently makes it easy to maneuver.
Still on the maneuverability, the swivel steering takes its ease of use to a whole new level. All these make this cordless vacuum easy to use especially in tight spaces. Swerve and glide around furniture like you want for a fun vacuuming experience.
The fast charging battery provides steady power that won't fade for the vacuum to work optimally throughout its runtime.
This vacuum has a 350-watt motor that provides a powerful suction. It also has the option to switch to the MAX mode which offers an even deeper cleaning of your carpets and hard floors.
It comes with 2 batteries so you can enjoy continuous vacuuming for an extended period. The batteries can be removed for charging. That way, you can keep one on charge while you use the other for vacuuming.
This cordless vacuum also comes with a motorized brush tool and other useful attachments. You can also easily convert this vacuum to a handheld so you can do all sorts of above the floor cleaning.
Handheld vacuums are always easy to use. You just need to power them on and point at the dirt. This Bissell handheld is not an exception.
It is lightweight and compact making it easy to handle and carry for an extended period. This vacuum comes with a motorized tool for cleaning pet hairs, crevice, and upholstery tools. It also has two layers of filtration to combat clogging which helps it maintain a continuous suction power.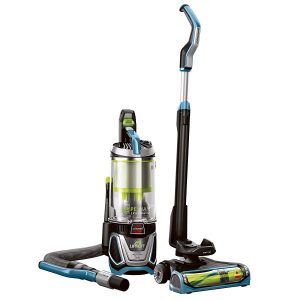 This is a full sized upright vacuum that is specialized for pet hairs. It has a brush roll that will remove pet hairs on different floor types from carpets to laminated floors. The specialized brush roll is also tangle-free so, accumulation of hair will not impede the performance of the brush roll.
One cool thing about this vacuum is that you can easily convert it into a canister-like vacuum and clean in all sorts of ways you can with a canister vacuum.
Comparison Table
What The Users Say
The general feeling about this vacuum of those who are using it is not exactly a great one. It is more like a sour taste to end a great meal.
A lot of users actually compliment the Bissell Bolt Pet Cordless Vacuum because of its powerful suction. Its versatility was also recognized especially because of the fact that it can easily turn into a handheld.
The flexibility also made users happy as the older users applauded it for sparing them the hassle of having to bend over too far. Its lightweight also pleased users young and old as well as the specialized accessories that comes with it.
But then, most of the same people that praised this vacuum complained that it was quite fragile. Obviously, the fragility becomes apparent after enjoying its great capabilities for a while. The duration of the enjoyment varies widely but often after 6 months.
To be fair to this cordless vacuum, it works great while it works. The most common durability issue was with the handle breaking off which is what we pointed out in the cons. Some also complained about the battery not holding a charge but honestly, that could have been a result of mishandling.
Our Verdict
After all is said and done, we know you would like t know what our take is on this product. We will tell you in a bit.
How well it cleans hairs and suction dirt, especially on hard floors, is something we like. We also like the runtime the Lithium-ion battery offers (be sure to handle batteries properly). It is also lightweight and quite versatile.
For all these and then some, we like the Bissell Bolt Pet Cordless Vacuum.
The handle is made of plastic, a flimsy one at that. The users too complained about how that was a problem for them, so, we are justified.
If we need a vacuum that we will use only once in a while for cleaning pet hairs and some light-weight spot clean, we might go for this one.
On the other hand, if what we want is a cordless vacuum that we can occasionally use for vacuuming our space. One we wouldn't mind replacing in less than a year, the Bissell Bolt Pet Cordless Vacuum is a no-no.
Now, you have our clear and unbiased opinion of this cordless vacuum, it is time to make your decision.
Is the powerful suction, lightweight, 25 minutes runtime, etc good enough for you? Are you willing to be extra careful with handling this product? If you answered "yes" to both, then you are in luck. Go get yours today!