SharkNinja or just Shark is a brand started in the mid 90s. Surprisingly, or maybe not, it is fast becoming a household name. The growth is surprising because there are vacuum brands that have been in existence for over a century. Not surprising because this is a brand that embraces innovation and technology. This is why its vacuum cleaners such as the Shark Navigator Upright Vacuum has remarkable features.
It manufactures different types of vacuums to cater to different requirements and it has been doing a fine job of that since inception. If you want to know more about its vacuum cleaners, you should read our Shark vacuum cleaner guide.
Shark manufactures more than just vacuum cleaners. It makes kitchen appliances that add ease to your kitchen duties. It makes blenders and food processors, cookers, coffee and tea makers, etc.
If you are allergic or asthmatic you should have clean air home. This vacuum has an advanced filtration system that will remove contaminants from the atmosphere in your home. If you would like this, then the Shark Navigator might be the vacuum for you.
Pet hair and dander can also cause allergic reactions, so if you have pets, not only might this vacuum protect you from allergies, it might also help you get rid of your pet's hairs.
A vacuum that is easy to move around is an attractive thing. If you have not had an encounter with a vacuum that is difficult to maneuver, you might not truly appreciate this. The Shark Navigator Upright Vacuum claims to have a swivel design that lets you turn on a dime.
You know that upright vacuums have a disadvantage when it comes to versatility, right? Well, this particular one surely solves that problem with ease. If you have been looking for vacuuming versatility in an upright, you just might have found it in this one.
If you are already getting excited about the potentials of this vacuum like we are, stay with us. We are about to go into some details on what this vacuum has to offer. All the juicy things that made you want this vacuum will be explained in the following section.
By the time you are done reading this review, you should be able to confidently decide if the Shark Navigator Upright Vacuum is good enough for you or not.
Brush Roll Shut Off
Whatever the floor type you have, the Shark Navigator Upright Vacuum will work great cleaning dust and debris. Even if you have only one floor type all over your home, this vacuum will still do its job quite well.
Brush rolls in a vacuum cleaner are the major parts that are used for cleaning carpets. This is because the bristles on them comb through the fibers of your carpets and dislodge the dirt embedded in them.
But if you have hard floors, you necessarily do not need the brush roll. In fact, in some cases, the brush roll has stiff bristles which might scratch your hard floors. This is why it is important that you should be able to control the brush roll when cleaning hard floors.
As you can guess, you can do just that with this upright vacuum. When cleaning hard floors, you can easily turn off the brush roll. That way, it will not spin as it should while the vacuum is on. There are other methods to do this.
For instance, the Eureka Power Speed allows you to increase the height of the brush head instead of shutting it off.  All the same, the brush head will not be making contact with your hard floor.
Transformer
We often talk about transformers on this website. In case this is your first time here, we don't mean giant robots, fast cars, and semis.
Transformers around here simply mean vacuum cleaners that can change from one type to another.
That said, let us come back to the Shark Navigator being a transformer. We mentioned earlier that this vacuum brings some versatility to its 'uprightness'. This is how it does it, by transforming from an upright vacuum into a canister vacuum.
The vacuum has a hose and the handle can be detached and used as a wand along with the hose.
The dust cup section detaches into a pod that you can carry around. This ultimately turns what used to be an upright vacuum into a sort of handheld canister.
We are sure that you can begin to imagine the different ways you can vacuum with this transformation. When you are done with floors, convert it to the canister mode and you can vacuum cobwebs in the ceiling, remove dust from furniture and fans, etc.
All sorts of above the floor vacuuming suddenly become possible once you take advantage of the Lift-Away capability of this vacuum.
Combined Filtration Systems
You probably got excited about this vacuum when we mentioned its filtration systems earlier. You would be right if you did because it is worth it. If you are allergic or have such a special person in your home, you have more reasons to be excited.
Vacuums, such as this one, use HEPA filters because it is an advanced filter that traps up to 99.97% of those air-borne contaminants.
That way, the dust and allergens that go into the vacuum do not make it back out, thus reducing them in our immediate air.
That's not all, this vacuum also uses another filtration system apart from the HEPA filter. It is called the Anti-Allergen Complete Seal.
This is a system exclusive to Shark vacuum cleaners. It is meant to trap allergens so that as you vacuum, the allergens and dust that come in are sealed away in the vacuum. The two systems do basically the same thing but remember the saying about two heads being better than one?
The combination of these two filtration systems is why the Shark Navigator Upright Vacuum will get rid of 99.99% of contaminants in the air.
This means that the vacuum will not only help you clean your home, it can also purify the air. Allergic and asthmatic users can now breathe deeply and easily. Is that not something worth being excited about?
Useful Attachment Tools
Asides the fact that this vacuum can convert into a canister, you also get attachment tools you can use it with.
This is where the true versatility of the vacuum comes into play. It comes with an 8-inch crevice tool that lets you get into baseboards and other tight areas to clean out dirt.
You will also get a dusting brush that lets you get dust off furniture. You can also attach this tool to the wand so you can go as far as dusting ceiling fans and vents. The crevice tool can also work with the wand to tackle cobwebs etc.
We mentioned that pet owners too will benefit from getting the Shark Navigator Upright. The pet brush that comes with this vacuum is motorized which gives it extra power to pick pet hairs.
You can use this tool on upholstery to safely pick pet hairs too. If you have stairs, this is also an ideal tool for vacuuming your stairs.
You will agree that the tools that come with this vacuum are all useful and truly bring out the versatility in the vacuum.
The vacuum comes disassembled and you won't have to worry about a thing because assembling it is quite intuitive.
You might not even need to consult the instruction manual to know how to put it together. The parts are designed such that they fit easily and snap into place. Doing this is so easy you don't even need any tool to assemble the vacuum.
The ease of use in vacuum cleaners has a lot to do with how well you can move the vacuum. In that vein, you cannot call a vacuum easy to use if it does not have some sort of a swivel steering. This makes it easy for you to tilt and turn the vacuum cleaner.
With this type of feature, you do not need to move furniture around anymore when you are vacuuming. The ease of maneuvering it will let you get under and around them effectively.
It is also lightweight enough to be easy to push. The attachments can be stored onboard so you have them within reach when you need them.
i. It has an advanced filtration system.
ii. It has a large capacity dust cup.
iii. The vacuum has good suction power.
iv. It can easily transform into a canister vacuum.
v. This vacuum comes with useful accessories.
vi. It uses an advanced swivel steering.
vii. The brush head has a 9.5-inch cleaning path.
viii. It has a large capacity dust cup of nearly 2.5 liters.
ix. You can turn off the brush roll whenever you don't need it.
x. The vacuum can work well on multiple surfaces.
i. It would have been great if it had headlights to illuminate poorly lit areas.
ii. The location of the button for opening the dust cup is too close to the lid, so you might come in contact with the content if not careful.
More affordable Option – Eureka Power Speed Upright Vacuum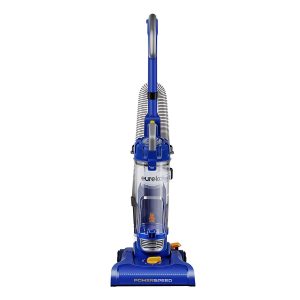 It is always a good idea to have a vacuum that you can switch settings depending on the type of cleaning you want to do. This helps you achieve a good clean at all times. This vacuum has 5 height settings to choose from. This affects how close the brush roll is to the floor. That is not all, switching between settings is as easy as turning a knob on the brush head.
This vacuum has a large dust cup capacity which will hold a lot of the dirt and debris you clean. This means that you will not have to empty the dust cup at all time.
The vacuum is also lightweight and has a swivel steering which together makes the vacuum easy to maneuver. The 12.6 inches of floor cover you get with this vacuum plus the powerful suction will make you vacuum a lot faster.
High-End Option – Bissell Pet Hair Eraser Upright Vacuum
This is one of those vacuums that perform more than their price tags. It has great suction that makes it suitable for cleaning on all floor types.
The brush roll is specially designed to lift hair on different surfaces, even on upholstery. So, if you are a pet owner trying to manage hair in your home, here is something for you.
It also has a Lift-Off technology which makes it a bonafide transformer. This means that it can convert into a handheld canister vacuum. This makes it a lot more versatile than a basic upright vacuum.
It also has an impressive filtration system, the Smart Seal Allergen System. This system helps to trap in dust and allergens so that it does not come back into your home.
This, in its own way, helps to purify the air in your immediate environment. With this, allergic users can now breathe deeply the fresh air without fear. Furthermore, the Febreeze filter also helps to eliminate pet odors.
User-Friendly Option – Dirt Devil Quick Lite Upright Vacuum
If you want a lightweight vacuum that lets you maneuver under and around furniture easily, this is the vacuum you need. This vacuum focuses on making your vacuuming experience an easy one. It also lives up to its name "devil" by eating up dirt wherever it finds them since it has a powerful suction.
If you have carpets, you can rest assured this vacuum will give you a deep clean. This is because its brush roll is motorized which helps it dig deep into carpet fibers.
Still on the brush roll, the brush head has a scruff guard which prevents the brush roll from scratching the surface of your hard floors. When you mistakenly bump into furniture, it will protect it from damage as well.
It has 11 inches of cleaning path which helps you to cover more grounds so you can vacuum quicker. If you combine this with its motorized brush roll and powerful suction, your productivity with this vacuum will skyrocket.
Opposite Spectrum – Eufy Boost IQ RoboVac
You just might be tired of vacuuming altogether or maybe you can't find time to do it. That does not mean your home should stay dirty. You can get a helper that will do the vacuuming for you.
The best part is that you won't be making any monthly payment. A robot vacuum will be glad to vacuum your floors while you do whatever.
This vacuum has sensors that let it map your home so it can easily find its way around with no issues. It is equipped to avoid obstacles and falls. It can also clean around the legs of furniture and obstacles.
Furthermore, it has a slim design that lets it go under even low furniture to clean. With this, the robot vacuum will not miss any spot. If you want to know more about this type of vacuum, you can read our guide on robot vacuum cleaners.
Comparison Table
Featured
More Affordable
High-End Variant
User-Friendly
Opposite Spectrum
Products
Shark Navigator Upright Vacuum

 

Eureka Power Speed Upright

 

Bissell Pet Hair Eraser Upright Vacuum

 

Dirt Devil Quick Lite Upright Vacuum

 

Eufy Boost IQ RoboVac

 

 

Dimension
15 x 11.4 x 45.5 inches
13.4 x 14 x 44.5 inches
12 x 13 x 44 inches
10 x 11.2 x 43.5 inches
12.8 x 12.8 x 2.9 inche
Weight
13.7 lbs
10 lbs
17.75 lbs
9 lbs
5,73 lbs
Attachments
Dusting brush, crevice tool, and pet power brush
Dusting brush, crevice, and upholstery tools
Crevice tool and motorized pet brush
Combination dusting brush and crevice tool
None
Cord Length
30 feet
25 feet
30 feet
20 feet
100 minutes runtime
Special Feature
It can convert into a canister vacuum
It has 5 height settings
Uses smart seal allergen filtration system
It has an 8 feet flexible hose
Autonomous vacuuming
General Feeling Among Users
A lot of users are in love with the Shark Navigator Upright Vacuum. One quick look at the rating distribution and you can tell.
One comment that caught our eyes was from a user who has owned a Dyson for many years. He actually loves this vacuum than his Dyson.
If you know how much a Dyson vacuum cleaner costs, you will know why this is a massively good thing.
Many of these users love the Lift-Away design of the vacuum as it allows them to clean in every way they want to.
They also like the suction power. A lot of the users say that it works great on their high-pile rugs and you can visibly see that it cleaned it out. It also does great on hard floors especially with the hard floor extension that comes with it.
Talking about hard floors, those users who are scared of scratches on their floors really like the fact that you can turn the brush roll on and off as you wish.
A lot of them also commended the long cord of the vacuum. It allows them to move around freely. They say that the vacuum also swivels well and lets them vacuum easily.
An issue so people might have is the weight. It is not like the vacuum is really heavy, it weighs in at a little less than 15 pounds.
But an older or physically challenged person might have some problems with the weight. Some users also complained that the vacuum is a bit difficult to push on a shag rug.
Our Verdict
It has been a lot of information and we sincerely hope that you find it useful on your quest for the perfect upright vacuum for your need. We have told you the great things and the issues we have with this vacuum.
We also told you about what other users like and complained about on this vacuum. It is our hope that you will now be able to decide if you want to go for it or not.
From our own personal experience, we love the Shark Navigator Upright Vacuum. In fact, we will recommend it depending on what you are looking for in a vacuum. If what you have read sounds like this is the vacuum you want, do not waste any more time, go get yours today!