Roborock is a robotics company a subsidiary of the tech giant Xiaomi. When it comes to robot vacuum cleaners, iRobot does not need any introduction. This is why we excitedly bring you the Roborock S5 vs Roomba 980 comparison.
Roborock specializes in the design and manufacture of domestic robot vacuums. The brand aims to merge innovation with advanced technology to equip their robot vacuums with practical features.
This Chinese company is fairly young, founded in 2014, but has already stamped its feet in the industry.
Its Roborock S5 (follow the link for an in-depth review) is touted to be one of the best robot vacuums available today. We surely are about to confirm that.
iRobot, on the other hand, can easily claim to have started the robot vacuum industry. It brought robot vacuums into the homes of millions of Americans.
Its Roomba 980 use to be its flagship robot vacuum till it recently released the Roomba i7 and i7+. Spoiler alert, the latter can empty its own dust cup!
Roborock S5 vs Roomba 980 – Comparison Overview
The Roborock S5 and Roomba 980 are two heavyweights in the robot vacuum category. Both robots boasts of advanced navigation systems, powerful suction, good filtration etc. The S5 cannot only clean efficiently, but it can also mop your floors. You can create unlimited virtual barrier from its app. Its runtime at max mode is one of the highest in the industry as well. The Roomba 980 is an impressive robot vacuum by many rights. Its dirt detection technology ensures it will keep your carpets clean.
It also has a dual rubberized brush roll so you won't have to bother about cutting hairs off the brush when it is done vacuuming.
These two robots have a lot to offer, no doubt. You will find it easier to choose if you are first sure of what you need a robot vacuum for. That way, you can easily tell which of them will be most valuable for your particular needs.
Comparison Table – Roborock S5 vs Roomba 980
| | | |
| --- | --- | --- |
| | Roborock S5 | Roomba 980 |
| Battery Life | 150 minutes | 120 minutes |
| Navigation | Laser scanning with SLAM algorithm | iAdapt + Visual navigation |
| Filtration System | E-11 grade washable filter | High-Efficiency filter |
| Weight | 7 lbs | 8.7 lbs |
| Dimension | 13.8 x 13.7 x 3.8 inches | 13.9 x 13.9 x 3.6 inches |
| | | |
| Image | Title | Buy |
| --- | --- | --- |
| | roborock S5 Robot Vacuum and Mop, 2000Pa Super Power Suction &Wi-Fi Connectivity and Smart Navigating Robotic Vacuum Cleaner with 5200mAh Battery Capacity for Pet Hair, Carpet & Hard Floor (White) | Buy Now |
| | iRobot Roomba 980 Wi-Fi Connected Vacuuming Robot | Buy Now |
What Situation is the Roborock S5 or Roomba 980 Best For?
Depending on the situation and your needs either of the Roborock S5 or Roomba 980 might be your best option. Below is information to help you make the best choice:
Roborock S5
Roomba 980
A lot of people will be immensely satisfied if their robot vacuum can clean on both hard floors and carpets with no issues.

 

What if we told you that the Roborock S5 is that type of robot vacuum and more?

 

Now you have a robot vacuum that can clean your floors in two ways, yet you are paying the price of one.

There are areas of the home that get more traffic than others. It is only reasonable to assume that those areas will be dirtier than the rest.

 

If you have such areas, the dirt detection feature of the Roomba 980 will serve you well.

 

This feature will make the Roomba 980 put in more effort on areas with more dirt than those with less. With this, your entire floor space will be left evenly cleaned.

There have been lots of complaints from robot vacuum users that their robots usually have a hard time finding their way back to the docking station.

 

That is not a problem you will have with the Roborock S5. The reason is that firstly, the docking station transmits an infrared signal covering a distance of 4 meters at 180 degrees.

Secondly, the robot itself searches the area for the signal when it needs to go back for a recharge.

The Roomba 980 uses two brush rolls without bristles. So, you can rest assured you won't have a problem with hair tangles.
More Situational Comparison – Roborock S5 vs Roomba 980
Roborock S5
Roomba 980
A lot of robot vacuums, even high-end ones, scatter debris around the floor with their fan and exhaust. Though they still get to clean it up but you will agree that is not efficient.

 

You will not encounter that issue with the S5. The fan has a design such that it does not spread dirt around, at least not as much as others, and its exhaust does not blow dust all over the place.
What Features Does the Roborock S5 and Roomba 980 Have in Common?
Even though the Roborock S5 and Roomba 980 come from brands and general ideas, there some things that are common in them. The important ones are:
Good filtration system
Battery life
Navigation and sensors
Multiple modes 
Design
All robot vacuums use a sort of navigation system to find their way around the floor space and clean as much as they can.
The Roborock S5 uses an LDS technology which adopts a laser to scan its surrounding and in turn use that information to create a map.
The Roomba 980 uses the new iAdapt navigation 2.0 which works with the help of an onboard camera that takes not of its surroundings as well and uses it to create a floor plan of your home.
This is what the Roomba will use to create a cleaning routine of your home. These plans can be accessed via the smart app (more on that later).
Let us consider a scenario where both robot's navigation is put to test. Both the Roborock S5 and the Roomba 980 were used in a room that contains lots of obstacles.
The S5 first scans the room to get a good idea of what it is up against. Next, it cleans around the perimeter and gets under as many obstacles as it can fit in.
Once it is done, it starts to make its end to end pass within the perimeter. It does all that without bumping into things a lot.
The Roomba, on the other hand, moves in the same end to end fashion too but covers the interior first before the perimeter.
Suite of Sensors
Both robot vacuums have a collection of sensors that support their movements across floors and help keep them out of trouble.
For instance, both robot vacuums have cliff detection sensors. This sensor lets the robot know if there is a fall ahead and the robot responds by turning away. With this, your prized robot will not fall off the stairs.
The Roborock has sensors on the side. What this does is to help the robot get as close to a wall as possible so its side brush can sweep as much of the dirt by the wall as it can.
App and Wi-Fi
The smart app and the Wi-Fi capability work hand in hand. The Wi-Fi is what is responsible for connecting the robot to the smart app. Don't worry, we will explain.
These robots have a dedicated app that you need to download on your phone (available for both Android and iOS).
Afterward, you will then need to pair your robot vacuum with the app which is where the Wi-Fi comes in.
Now that you have access to your robot vacuum through the app, you can do quite a number of things with it.
Firstly, you can use your smartphone as a remote control for the robot.
Secondly, you can set up future dates you want the robot to clean. This means that the robot can vacuum your floors while you are not at home.
However, you have to make sure that you empty the dust cup. If you don't do this, one day, you will come back home to a job half done.
On the S5 app, you can create a zone you want the robot to specifically clean. This is done by drawing a box on the floor map the robot created.
That's not all, you can also have the robot do up to 3 passes on that zone if you want. That way, you can rest assured your floor will be clean and definitely no spot will be left out.
Since the Roborock S5 can mop too (more on that too later), you can also have it mop the same area up to 3 times! If it does not completely wipe off a stain in the first pass, it definitely should on the third try.
Smart Home Compatibility
Chances are you have at least one appliance in your home that is considered smart in the context of technology.
Nowadays, a lot of homes have a collection of 'smart' devices that are connected and controlled from a single hub.
If you have one such setup, then you can add either of these robot vacuums to the collection and control them using voice commands.
They are both compatible with Google Assistant and Amazon Alexa. So, you can essentially talk to your robot through these smart devices.
"Alexa, tell Roomba to schedule cleaning". "Alexa, tell Roborock to make me coffee".
Spot Clean Mode
For most homes, especially the ones with kids and pets, spot cleaning is something you will have your robot vacuum do often.
In this case, the Roborock S5 carries out this function almost as good as you would if you did it yourself. If there is an obstacle, say a table, in the area it is supposed to spot clean, it will clean around the legs of the table first.
Afterward, it will cover the area in an end to end pattern until the dirt is all clean. With this robot, you can rest assured it won't leave any spot unclean.
The Roomba 980 does great with spot clean too, especially that it has a dirt detection feature. However, it falls short with its navigation pattern.
Roomba carries out its spot clean by going in a circular motion, which honestly is a good idea. Where the issue is with its performance in the spot clean mode is if there is an obstacle.
The Roomba 980 does not clean around the legs of a table (using the same scenario as the Roborock). So, if there is dirt under the table, you will have to handle that manually.
Virtual Barriers
There are times and for good reasons why you will not want your robot vacuum to get to certain parts of your home.
Both robot vacuums can let you keep the robots from where you don't want them. However, they get this done in different ways.
You can control the movement of your Roborock S5 by using no-go lines on the smart app. This will indicate to the robot not to go to the part of the house where you have indicated on the map. We will talk more on this later.
As for the Roomba 980, it comes with a device that creates a virtual wall barrier.
This works by placing the device in the area you don't want the robot to get to. Once the robot notices it, it sees that area as a wall and as such turns away.
The Roborock S5 and Roomba 980 have the ability to navigate through multiple rooms to clean them.
Since they have the floor plan all mapped out in their 'heads', this is a relatively easy feat to perform.
According to iRobot, the Roomba 980 can vacuum 2,000 sq ft of space. In reality, there is really no limit to how much floor space it can cover but that figure is a guarantee.
The Roborock S5 too will cover a lot of ground, especially with its long runtime. So, you can be confident that whichever of these two robot vacuums you go for, you can have it clean all the rooms in your home.
Power Modes
It is a no-brainer that vacuum cleaners require more power to clean on carpets than hard floors.
So it only makes sense that both robots have more than one power mode. Once again, both vacuums do the same thing with this feature but the execution is a bit different.
The Roborock S5 has 4 power levels. You can change between quiet mode to balanced, turbo, and then max. Whichever you choose will depending on how much suction power you need.
This robot vacuum can also automatically switch to max power when it detects carpet. However, you will have to turn that on from the app.
The Roomba 980, on the other hand, will automatically increase its suction once it detects carpet. This will help it comb through the fibers of carpets and lift off the loosened dirt.
Recharge and Resume
Imagine what it would be like if robot vacuums could not recharge itself when it is done vacuuming. For one thing, it will surely make scheduling a lot less effective.
For instance, if your robot is going about its chores and its battery falls below a certain point, it will stop and find its way back to its dock. This is where it literally plugs itself in to recharge.
There is another awesome part of either of these robot vacuums. Once it is done recharging, it simply goes back to where it stopped working and continues.
This is an awesome feature especially for those who will schedule the robots to work while they are not around. If you come back home to an incomplete job, it definitely won't be because of power.
Highly Efficient Filter
As you already know that the filtration system in any vacuum is critical. This is an important feature to consider if you are allergic or asthmatic.
The filter on either of these robots is highly efficient. They can trap dust and allergens which prevent them from getting back into your home.
The filter in the Roomba 980 is capable of trapping 99% of the dust and allergens that pass through it down to 10 microns.
The one on the Roborock S5 can also trap dust and allergens well but at only 95% efficiency. The E-11 class filter is coated with waterproof Teflon which makes it washable.
This is not as efficient as a HEPA filter but it will do a great job preventing allergic and asthmatic reactions.
Low Profile Design
Both robot vacuums have a slim design. This makes it easy for them to get underneath furniture to clean the hidden area.
With either of these robot vacuums, you can rest assured the floors underneath your furniture will be clean.
At heights less than 4 inches, they will easily get under even low profile furniture.
The Roborock S5 has an omnidirectional sensor that lets it first scan the area before it proceeds. That way, it will not get stuck while cleaning under furniture.
Roborock S5 vs Roomba 980 – What's Unique To Each Product?
Features Unique To Roborock S5
Impressive Battery Life
Roborock says its S5 can run for 150 minutes in its low power setting. We tested that and it turned out to be true.
What actually blew our socks off is its runtime in the high powered setting. Most other vacuums, even its rival in this article, Roomba 980, have significantly lower runtime in high power mode.
The Roborock S5 managed a whopping 110 minutes in high power mode! For the sake of comparison, both the S5 and the Roomba 980 have the same airflow in high power mode. But the Roomba did only 48 minutes.
As far as we know, this is the best runtime performance we have ever seen in a robot vacuum in high power.
Mop Hard Floors
That a robot vacuum can both vacuum and mop is a great feature. But when it can vacuum and mop the same time, that is a class-of-its-own feature.
What is spectacular about this mopping mode is how water seeps onto the microfiber cloth it mops with.
The mopping mode uses the biomimetic system which is similar to the method plants use in getting water and nutrients from the soil.
The result of this innovative feature is that the perfect amount of water is let out onto the microfiber cloth it mops with.
With this feature, you won't have to worry about the Roborock S5 leaving puddles of water in its wake.
The water tank is easy to refill as you won't even need to turn the robot over. You can easily slide it out from underneath the robot.
In case you are worried if the robot won't try to mop your carpet, that is quite understandable. All you have to do is to set up no-go zones on the app around your carpets and you are good.
This is going to save a lot of time. So, feel free to add something else to your schedule.
Unlimited Virtual Barriers
The virtual barriers on the Roborock S5 is created through the app. This makes it a lot convenient as you can create the barrier from anywhere with your phone.
Since you already have a map of your floors on the phone, you can create unlimited boxes and lines that will serve as areas the robot should not go to.
One pretty cool thing about this is how accurate it is. You can even monitor your robot's movement from your smartphone and you'd see how it keeps away from the barriers you have created.
Kindly note that these virtual barriers will also work if the robot is in the mopping mode. Now, how cool is that?
Collision Avoidance Sensor
Quite a number of vacuum cleaners, even the high-end ones, will have to bump into an obstacle to be sure it is there.
If you have expensive furniture perched on a stool or on the floor, you certainly won't want a robot vacuum doing a headbanging contest around them.
If you own the Roborock S5, you won't have to bother about that.
The robot vacuum has a ring of sensors in its front side so it can tell when it is close to an obstacle and then slow down.
That's not all, the front side is also a sort of spring-loaded bumper, a fender if you will.
This significantly reduces the number of times the robot bumps into anything. In the event that it does, the fender will reduce damage to both your furniture and the robot itself.
Spring Loaded Wheels
The navigation technology of a robot vacuum will come to naught, no matter how good it is, if the wheels of the robot are not up to par.
The wheels of both vacuums are good by every standard but these ones go an extra mile.
The wheels on the S5 certainly adds to its dexterity as the wheels' height can adjust to certain conditions.
The springs serve as a sort of shock absorber. This allows it to scale barriers of up to 2cm high. So, the ledges at your doorway will not stop it from making its way in and doing its job.
Any door ledge higher than that will likely become a potential trip for even humans.
roborock S5 Robot Vacuum and Mop, 2000Pa Super Power Suction &Wi-Fi Connectivity and Smart Navigating Robotic Vacuum Cleaner with 5200mAh Battery Capacity for Pet Hair, Carpet & Hard Floor (White)
Best Navigational Abilities robot vacuum by TechGearLab. Advanced mapping: Laser mapping systems scan your home as S5 cleans, giving it the information it needs to clean every room as quickly and efficiently as possible.

Clean effectively: Strong suction and multiple cleaning modes: Select the best mode for your cleaning environment, from Carpet, Quiet, Mopping, Balanced, Turbo & Max mode, with a maximum suction power of 2000Pa.

Powerful app control: Use the Mi Home app with S5 to schedule cleans, view cleaning progress and information, take control manually, check accessory status, choose clean modes, clean specific areas, and self-recharge. Compatible with Android, iOS, and Alexa.

Vacuum and mop: Install the water tank for simultaneous mopping and vacuuming. One run leaves the floor shiny and clean.

Ultra-high 5200mAh battery capacity: 150 minutes of constant working, ideal for big house and multi-room. Note: Suggest not use on dark or long-pile carpet. Authentic products from ROBOROCK TECHNOLOGY CO. LTD enjoy 1-year warranty, Any questions, 9 hours customer service from 20:00-5:00 Eastern Time at 1-831-217-6425.
Features Unique To Roomba 980
Dual Rubberized Brush Roll
The Roomba 980 uses a double brush roll located underneath it. Brush rolls can be problematic when they are often used to clean hairs. This is because hairs will tangle to the bristles of the brush rolls.
In this case, there are no bristles on the brush rolls. Instead of bristles, there are ridges on the brush rolls to comb through carpets.
The result simply is a good clean of pet hairs and debris without tangles to deal with afterward. If you have had to cut through hair on a brush roll, this feature will excite you.
Dirt Detection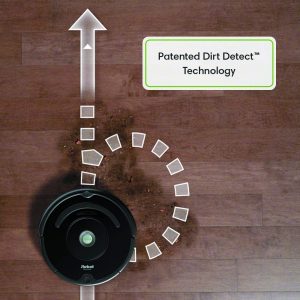 This robot cannot just clean off dirt on its own it is capable of identifying a concentration of dirt on the floor.
Once the dirt has been detected, it focuses on that area until it is clean. This will make the robot clean all your floors without leaving one part cleaner than the other.
The dirt detection will also kick in during a spot clean and will cause the Roomba to increase its suction power for a more effective vacuuming.
iRobot Roomba 980 Wi-Fi Connected Vacuuming Robot
Power Lifting Suction delivers 10X the air power for improved pick up performance; Automatically increases cleaning performance on carpets with Power Boost (Compared to Roomba 600 Series and AeroVac System)

Patented iAdapt 2.0 Navigation with VSlam technology allows the robot to map its surroundings to clean an entire level of your home, around objects, and under furniture

Ideal for homes with pets; Premium 3 stage Cleaning System cleans the dirt and pet hair you see and the allergens and dust you dont

Dual Multi Surface Rubber Brushes adjust and flex to stay in constant contact with carpets and hard floors

High efficiency filter traps 99 percent of cat and dog allergens

Runs for up to 120 minutes, then automatically recharges and resumes cleaning to complete the entire job.iOS: Compatible with Operating Systems 11 and higher; Android: Compatible with Operating Systems 5.0 and higher

Connect and schedule from anywhere. Use Alexa or Google Assistant voice commands to control cleaning. Use the iRobot HOME App to schedule & monitor cleaning sessions

Featuring Roomba Essentials: Wi Fi connected, Smart Navigation, Patented Dirt Detect Technology, Edge Sweeping Brush, Auto Adjust Cleaning Head, Works on Carpets and Hard Floors

Box Content: 1 Roomba 980 Wi Fi Connected Robot Vacuum, 1 Home Base Charging Station, 1 North American Line Cord, 1 Extra High Efficiency Filter, 1 Extra Side Brush, 2 Dual Mode Virtual Wall Barrier (4 AA Batteries included), Owner's Guide, Documentation Package

IRobot does not certify the quality or authenticity of products purchased from non authorized resellers on Amazon, and will not cover claims, provide service or offer replacements for products purchased from these sellers
Roborock S5 vs Roomba 980 – Unique Pros
Roborock S5
i. You can create unlimited virtual barriers from the app.
ii. It has an impressive runtime, even in the max mode.
iii. It can vacuum and mop.
iv. The navigation system works really well.
Roomba 980
i. The Roomba has rubberized brush rolls that prevent hair tangles.
ii. It automatically increases suction power when it detects carpets.
iii. It can detect a concentration of dirt on the floor.
Roborock S5 vs Roomba 980 – Unique Cons
Roborock S5
i. The dust cup is quite small.
Roomba 980
i. The Roomba bumps into obstacles quite often.
Roborock S5 vs Roomba 980 – Pros Common To Both Products
Roborock S5
Roomba 980
The S5 has an impressive navigation system. This lets it sort of learn the layout of the room before it proceeds.

 

As you can guess, that helps it clean a lot more efficiently. One cool thing about its navigation is that if it gets confused (different things could cause that), it tends to do another run across the area ensuring it does not miss a spot.

Same as the Roborock S5.

 

However, the navigation system of the Roborock is hands down better.

In the obstacle test that we put both robots through, the S5 vacuumed two large debris which made it all the way into the dust cup.
The Roomba too managed to pick up one of the same large debris but it got stuck halfway. This did not stop the robot from finishing its job though, but it might have affected the efficacy of the suction.
The Roborock S5 can be set to max power to deep clean carpets and it does so quite well.
The Roomba 980 also cleans well on carpet but in its case, it automatically switches to the max mode when it detects that it is on a carpet.

 

Furthermore, it does a slightly better job on carpets because of its dirt detection feature.
Roborock S5 vs Roomba 980 – More Pros Common To Both
Roborock S5
Roomba 980
The Roborock S5's brush roll, even though it has bristles, has a design that does not let hairs tangle on it.
Same as the S5.

 

However, the Roomba 980 has double brush rolls and both of them does not have bristles.

The app of the Roborock S5 is quite easy to use and navigate around. There are quite a number of things you can do from the app such as schedule routines, monitor and get reports on your robot, and you can also give instructions to your robot via the app.

 

With this app, you can set no-go lines and boxes that keep the robot away from certain parts of the house you don't want it.

 

You can also create zone cleaning by drawing a box indicating to the robot to just that portion of the floor. All these from your smartphone!

Same as the Roborock S5.

 

However, the virtual barrier for the Roomba is done by placing a device that comes with the robot. The Roomba 980 comes with 2 of it.
Roborock S5 vs Roomba 980 – Cons Common To Both Products
Roborock S5
Roomba 980
The Roborock S5 cannot clean black carpets or surfaces with that color. This is because its sensors think that it is a fall.

 

This shouldn't be a deal breaker because you will rarely find a robot vacuum that can.

Same as the Roborock S5.
The Roborock S5 was not outstanding in our edge cleaning test. It did great with edges in a straight line but not with corners.

 

This is something that is also peculiar among robot vacuums that are round in shape.

Same as the Roborock S5.
Here are some other reviews that can help you hoose the best robot vacuum for your needs:
Roborock S5 vs Roomba 980 – General Feeling Among Users
| | |
| --- | --- |
| Roborock S5 | Roomba 980 |
| A lot of users like the cost-value advantage the Roborock S5 has. They say it feels good to get that much value and still have to pay a lot less than the Roomba. | Quite a number of users say that the Roomba 980 is pretty loud especially when it switches to high power on carpets. It is going to clean your carpets really well though. |
| Users like the powerful suction this vacuum has and the amount of time it has to vacuum. They also like that it can both vacuum and mop. | Some other users applauded the navigation system on the Roomba 980 because it now cleans the floor systematically unlike the earlier generation that moves around randomly. |
| | A lot of users praise the cleaning ability of the Roomba 980. Its dual rubberized brush roll does great keeping carpets clean and does not get  tangled with hair. The side brush too helps to sweep edges and does that pretty well. |
| | |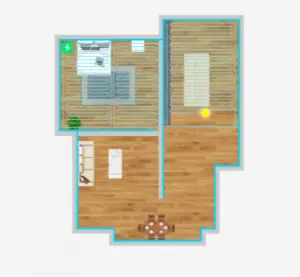 Roborock S5 vs Roomba 980 – Bottom Line
Roborock S5
Roomba 980
If you like your robot vacuum to be versatile, this might be what you need. Are there mainly hard floors in your home? The mopping feature will come in quite useful.

 

If that is the case, what are you waiting for?!

The Roomba 980 is a great deal of an improvement to its predecessors.

 

If what it has to offer matches what you need a robot vacuum for, then this is what you are looking for. Go ahead and make the purchase.
Roborock S5 vs Roomba 980 — FAQs
Has the Roomba 980 been discontinued?
The Roomba 980 is a great robot vacuum and is one of the pioneers of the serpentine robot navigation. It is loaded with great features that made robot vacuums sough-after in today's world. However, the Roomba 980 was discontinued by its manufacturer, iRobot, in September 2018. This doesn't make it impossible to buy if you're going to be satisfied with a refurbished version. You can also get its replacement parts from third party manufacturers.
Which robot replaced the Roomba 980?
In September 2018, iRobot, the manufacturer of Roomba robot vacuums discontinued the Roomba 980. However, they didn't leave us hanging as the replaced it with the Roomba i7+. This new vacuum ushered in the future of robot vacuums. The Roomba i7+ became the first fully autonomous robot vacuum in the sense that it could empty its own dust cup. The innovation took the industry by storm and other manufacturers has followed suit since then.
What's the difference between the Roomba 980 and Roomba i7+?
While the Roomba i7+ is an improvement on the Roomba 980, there are quite a number of differences in them even though they'resimilar in more ways than one. Here are some of them:
The Roomba 980 has a longer battery life at 120 minutes as against the 75 minutes of the i7+
The Roomba i7+ uses the iAdapt 3.0 navigation while the 980 uses the 2.0 version
The i7+ allows you to label each room and schedule cleaning for each
The i7+ is quieter than the 980
The Roomba i7+ can empty its own dust cup while the 980 can't
Is the Roborock S5 loud?
First of all, vacuum cleaners are loud, some are only louder than others. The Roborock S5 happens to be one of those that are "less" loud. In the lowest power setting, you can even call the S5 quiet. However, it gets louder as the power increases. This robot is one of the most efficient, which means it cleans fast. So, even if you have to endure its loudness at full power, it won't be for long.
How does my Roomba know when it's done?
Your Roomba has a camera it uses to aid its navigation. It maps your home and stores it in its memory. Let's say you schedule your Roomba i7+ to vacuum your living room on the map via your smartphone. Since the Roomba has the map in its "head", it is aware of the confines of the living room as well as the areas it has cleaned. With this, it can easily tell if it has covered the entire ground of the living room. When it's done, it finds its way back to its docking station to recharge.
Which Roborock model is the best?
When it comes to vacuums, "best" is quite relative. What one person considers best might not be for you. For that reason, we're going to select the best Roborock models based on what they are good at. In that vein, here are the best Roborock models:
Roborock S5 – Best Overall
Roborock S6 – Besr Battery Life
Roborock E35 – Best for hard floors
Roborock E25 – Best Budget
What is the difference between the Roborock S5 and S50?
The only difference between the Roborock S5 and the Roborock S50 is the name. Both robots have the same design, features, accessories, etc. There's really no difference between them and are often used interchangeably.