Your mind is made up, you need a new vacuum cleaner. Great, let the search begin. Just then, you realize the plethora of options you have. It's an upright you want, that should narrow things down.
Yes, it should, and it does. "But uprights are heavy, are there even lighter ones?" Obviously, you never heard of an Oreck vacuum cleaner.
Upright vacuum cleaners from this brand are so light that a kid can carry it. That's not an exaggeration; they weigh about the same as a gallon of milk. The heaviest one is not up to 10 lbs. Oreck upright vacuum cleaners are sleek too.
Their compact weight takes nothing away from their power. They work as well as any other upright vacuum cleaner. These ones are even more versatile than most as they are fitted with a technology that lets them bend and turn easily.
Oreck also has canister, handheld, and cordless models too. Depending on your preference, you will find an Oreck vacuum cleaner model that is right for your need.
From premium filtration bags to no-mess replacements, Oreck has taken innovation to a whole new level with its vacuum cleaning technology.
If you want to know more about what Oreck vacuum cleaner models have to offer, keep reading as we welcome you to the innovative world of Oreck.
The Oreck Experience
Oreck was established on the premise of convenience and it has since not deviated from that. It adopts innovation and designs that make vacuuming something you actually love to do, that is the 'Oreck way'.
Now you can vacuum your entire home without breaking down afterwards, if you used an Oreck vacuum cleaner that is.
The brand claims to produce some of the lightest vacuum cleaners in the industry. That was why the company was started anyway. To provide hotels with lightweight vacuum cleaners that delivers as much as, or even better than, the heavier ones they were used to.
We will explore the technology and designs that make Oreck vacuum cleaner models stand out from the rest.
The POD Technology
As cordless vacuum cleaners seem to be taking over the vacuuming scene, Oreck was not about to stand back and watch from the crowds. It came up with its own cordless vacuum and fitted it with this cool technology.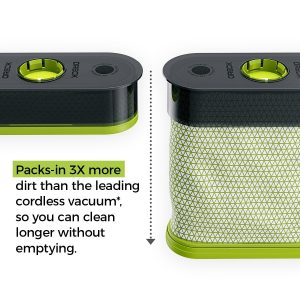 The POD is a self-sealing design that captures dusts and dirt in the neatest way yet.
Imagine that you're done vacuuming and its time to empty the dust bag.
You get to the trash can and open up the bagless dust canister, often from underneath. What are the chances that dust clouds won't be created?
No more dust clouds
As you might have known, being in the presence of a dust cloud means that you are going to inhale some. Did you just sneeze?
With this POD technology, you won't experience any of that. The POD looks more like an oversized caplet that fits snuggly onto an Oreck cordless vacuum cleaner. As you vacuum, the dust and dirt is collected in the POD which increases in size as it fills up.
Oreck claims that it can collect 3 times more dirt than other cordless vacuum. If that is true, you might be able to clean your whole house without emptying it.
The POD also has an LED indicator that flashes red to let you know when it is full and needs changing.
There are 5 replacement PODs that comes with your purchase. That is some good cleaning for a long time.
Disposal
The disposal is what makes this POD really stand out.
While bagless vacuums put you at the risk of inhaling dust while emptying, this one does not. All you need to do is pop out the POD and let it slide into the trash can.
The dirt and dust is already collected in the self-sealing bag so you won't come in contact with any of the dirt you were busy getting rid of.
SaniSeal System
Have you ever used one of those vacuum cleaners that leave you inhaling half the dust you were trying to vacuum? You know how much trouble that can get you if you're asthmatic or have allergies.
That is why you need to pay extra attention to the brands that go the extra mile.
Oreck vacuum cleaner models have the patented SaniSeal system which keeps in dirt, dust, and debris where they belong.
This filtration technology will trap up to 99.97% of the particles around you. Now you can breathe deep and breathe easy without fear or worry.
Elevate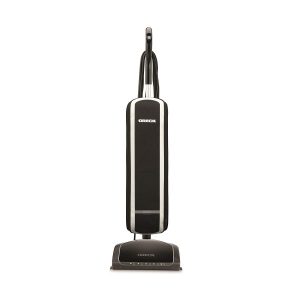 Upright vacuum cleaners are heavy and that is a fact we have come to settle with when it comes to vacuuming.
What if we tell you that is not meant to be, that you don't need to settle.
You can have an upright vacuum with all its suction power and advantages but is lightweight.
If you're thinking "that is not possible" then you haven't seen the Elevate collection from Oreck.
These are upright vacuums that weigh less than 10 pounds! No kidding. That is about half the weight of most other upright vacuum cleaners.
Lightweight uprights
Oreck was able to achieve this feat with the use of lightweight materials and ergonomic designs. Don't worry; that the materials are lightweight does not make them weak.
These Oreck vacuum cleaners are as durable as ever and will deliver the cleaning power you expect from a quality upright.
They are fitted with a brush roll that has side brushes which lets it pick dirt that you don't even see.
A single pass will grab dirt and debris that are head on and on the sides. This makes using these Oreck vacuum cleaners more efficient.
The Elevate collection are also easily maneuvered which used to be an issue with upright vacuums.
These Oreck vacuum cleaner models will reach under furniture and corners.
Now you won't need help carrying an upright up the stairs. With its weight, you can lift it all the way up a flight of stairs in one hand. Using an upright just got way cooler.
Oreck Magnesium
If you were excited about the lightweight of the Elevate vacuum cleaners, we don't know how you would react to this one. These Oreck vacuum cleaner models weigh only as much as a gallon of milk.
Ever remembered asking your kid to get one of those from the refrigerator? Yes, it truly is that lightweight. Magnesium is one of the lightest structural materials there is after all.
The weight is not the only highlight. These Oreck vacuum cleaner models have the SlimSwivel technology that allows them lay almost flat.
You got that right; it lets you reach under furniture for a good clean without moving things around.
Another cool feature of this Oreck vacuum cleaner is that it can be used on different types of floors.
Whether you have high pile carpets and rugs or delicate hard floors, the Magnesium will clean it nicely without any damage.
Premium filter
The Oreck Magnesium vacuum cleaner also features a premium HEPA filtration. It is true that most other vacuum cleaners have HEPA filtration but this one is different.
Oreck uses a premium 5-layer HEPA Media filtration bag. This will trap in dust, dirt, debris, and even smoke.
If you think that is great, disposing the bag is even greater. The filtration bag is such that once you pull it out, it automatically seals up keeping its content in. So, from the vacuum to the trash can not a micron of dirt will spill.
Oh! One more thing about the filtration bag; if you know how to unzip, you will know how to take out the bag.
Honestly it's that easy. Just open the zipper in from of the vacuum and, Viola! There's the filter bag. If you say bagged vacuums are old school, Oreck just said it's because you are not innovative.
Furthermore, these Oreck vacuum cleaner models have a 2-speed motor that you can control at your fingertip.
This allows you switch from cleaning a high-pile carpet to hard floors, quick and easy, nothing complicated.
Types Of Oreck Vacuum Cleaner
Just like most other vacuum cleaner brands, Oreck has a few types in its stable to cater to different preferences. Below are the types of Oreck vacuum cleaners you can find.
Upright
We have already acquainted you with the Oreck uprights in the name of Elevate and Magnesium.
The Elevate collection has 3 models; Elevate Control, Elevate Command, and Elevate Conquer.
Those names are well chosen considering how well Oreck vacuum cleaners dominate dirt.
The Magnesium collection is another variant of Oreck upright model, have 2 models; the Magnesium RS and the Magnesium SP.
If you put these two Oreck uprights side by side, the first thing you will notice is how sleek they are. They are more compact than most other uprights but as powerful as any of them.
Canister and Handheld
We all know why we love canister vacuums and handhelds, they are versatile. With these, you can clean almost anything with the right attachment.
Oreck has only one canister and handheld model. Why would they need more if these ones can do it all?
The beauty of these Oreck vacuum cleaner models is the variety of accessories they come with. The arsenal of attachments allows you to clean almost any surface in your home. You can go from carpets to hard floors, and then to drapes, upholstery, furniture, etc.
Canister vacuums are usually lighter than the upright variant, that's a popular fact. If Oreck uprights weigh about a gallon of milk…we'll live the rest to you.
Cordless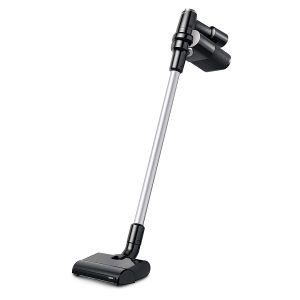 This is one of the coolest installments from Oreck.
Oreck's cordless vacuum cleaner is another level of innovation with the POD technology we mentioned earlier.
With this, you are truly free from dust clouds. As you get them out of your home, it goes straight to the trash with zero contact on your part.
This cordless vacuum cleaner uses a Lithium-ion battery that will work for 35 minutes. The best part is that it takes just 2.5 hours to charge.
It works great on hard floors and carpets and features the SlimSwivel for added maneuverability. If you didn't know what cool looks like, you're welcome.
The vacuum is accompanied with tools that lets you clean in different ways. Its dust brush tool lets you clean dust from furniture, drapes, etc, the brush roll helps you clean floors, and then a crevice tool.
You also get a tool rack to neatly hang the attachments. With a 3-year White-Glove warranty, you won't have any problems with this one.
How To Choose The Best Oreck Vacuum Cleaner
You really don't have much of a problem when it comes to choosing an Oreck vacuum cleaner. This is because a lot of people run from upright vacuums because of the weight. Oreck uprights are super lightweight, so there's no problem there.
Uprights or canisters
People also tend towards canister vacuums because of the versatility. Since Oreck uprights have SlimSwivel which makes them extra versatile, that won't make much of a difference.
If you would need to vacuum stairs, dust drapes, upholstery, furniture, etc. Oreck canisters might be what you need. These ones are extra versatile because of the hose and the fact that they come packaged with other attachments.
You don't like cords?
Those who have a problem with cords and being tethered will undoubtedly go for the cordless option.
Of course it's a great choice, you will have yourself to thank for it.
Price
Since Oreck vacuum cleaners are all nice with great features, perhaps the price factor will help you make a choice.
That does not mean you should jump on the least expensive Oreck vacuum cleaner model, you still have to consider your needs.
It is best that you know what you need a vacuum cleaner for and them choose the model that has the features to fulfill those needs. That will be the best Oreck vacuum cleaner for you.
That's it. You have all the necessary information to confidently buy an Oreck vacuum cleaner that will serve you for years to come. What are you waiting for?