Neato Robotics had a rather humble beginning. It was conceived at a Stanford University Annual Entrepreneur's Challenge. From then till now, it had continued to grow in innovation and technology. Let us find out if the Neato D7 Robot Vacuum reflects such growth.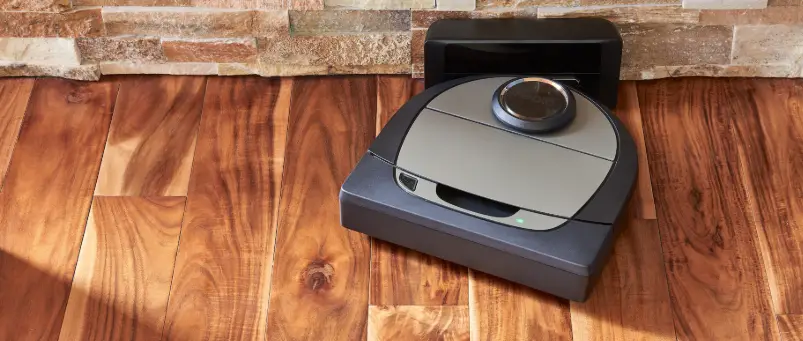 The brand is focused on creating robots that do house chores as intelligently as humans. Its line of robots is widely acclaimed and has been recognized with many awards.
This is a brand that is committed to making everyday household activities easy and rewarding through helpful and advanced robots.
Who Can Go for The Neato D7 Robot Vacuum?
Robot vacuums are awesome as they save you a lot of the time you would have spent vacuuming. They can vacuum on their own and often do an excellent job. This Neato D7 certainly does.
If you have allergies, this robot will gallantly play its part protecting you. It has a good filtration system so you won't be inhaling allergens.
This robot is quite impressive with what it can do and will also last a long time if you manage it properly.
By the time you get to the end of this review, you will be able to determine if this robot is a good option for your needs or not.
Features of The Neato D7 Robot Vacuum
These autonomous vacuums use all sorts of technology to find their way around. Some use a camera which is great as it makes navigation more precise. The D7, however, uses a laser.
It scans your home and creates a map of it. With this map, it navigates around walls and other obstacles. The biggest advantage of laser navigation is that it does not need light.
It can find its way around a dark room just as well as during the day. A robot vacuum that uses camera certainly can't do that.
The Neato D7 Robot also has sensors that aid its navigation. They prevent it from bumping into obstacles and falling off stairs.
Large Dust Cup
You know how annoying a small dust cup can be on a vacuum cleaner. You will have to empty it multiple times before the job is complete.
But you won't experience that on this D7. Its dust cup has a capacity of 0.6 liters which is quite large for a robot vacuum.
With this, you won't come back home after scheduling your robot and meet it stuck halfway due to a full dust cup.
Impressive Runtime
Runtime is extremely important when you are choosing a vacuum that runs on battery. It has everything to do with the user experience.
This robot doles out up to 120 minutes of runtime which you will agree is impressive. That is enough time to do all the cleaning it needs to do. Even if your home is large, it will still cover a lot of ground if it doesn't encounter any problems.
Smart App and Wi-Fi
The map generated after the robot scans your home can be viewed on your smartphone. You just need to download the app and install on your phone. Once done, you then pair it with the robot vacuum. That's where the Wi-Fi comes in.
After all that is set, the magic can begin! You can set a future time you want the robot to clean.
You can also monitor how the robot is going about its task and even give it further instructions from your phone.
Compatible with Smart Home
We are in an era where everything is smart. There is hardly a home nowadays that does not have appliances that claim to be smart. So, having a smart robot vacuum should be a welcomed addition.
The Neato D7 Robot Vacuum can easily connect to a smart device such as Amazon Alexa or Google Assistant. If you choose to go this route, you will be able to give voice commands to your robot.
Virtual Barriers
There are times you might want to restrict the movement of your robot vacuum. Whatever your reason is, you can do that pretty easily with the D7. You can even do it remotely over your smartphone!
Since you already have your floor plan on the phone, all you need to do is draw straight lines on the map.
These lines will serve as boundaries for the robot. This feature is quite useful if there are areas in your home where the robot might get stuck if it goes.
It is also great if you schedule vacuuming in your absence. That way, you won't come back to meet the robot stuck without cleaning up to half of the floor. Worst still, it wouldn't have created more mess.
Unique Shape
Most robot vacuums are round and if you think about it, they won't do well with corners. That is one way this robot vacuum stands out from the rest. It comes in a D-shape.
The brush roll is located at the flat end which makes it even longer than what you will find in some cordless vacuums.
This unique shape makes it easy for the robot to get into corners. It also has a side brush that helps it pick up dirt and debris close to walls.
Innovative Wheels
Robot vacuums have wheels underneath them which enable them to move as smoothly as they do. The wheels on this one are specially designed which makes the robot maneuver better.
The wheels are spring loaded which makes it absorb shots better. These wheels work more or less like the ones on cars with shock absorbers attached.
They allow the robot to climb over ledges and transition better from hard floors to carpets.
With these wheels, your robot won't get stuck trying to climb over cables. Even the ledges at the doors will not keep it from doing its job.
User-friendliness of The Neato D7 Robot Vacuum
What makes a vacuum cleaner user-friendly is quite relative and will change from user to user. That is why we're not about to tell you this robot is user-friendly. We want you to find out.
This robot vacuum gets to protect you from inhaling allergens. The D7 comes with an ultra-performance filter which does a great job trapping air-borne particles.
Even though its battery lasts long, it will still run out eventually. When that happens, it finds its way back to its dock and literally plugs itself in.
That is not something special since every robot can do that, at least in theory.
What makes the D7 special is its smart charging. It could happen that its 120 minutes of runtime was not enough to complete the job at hand. In that case, it will stop, return to base, and recharge.
At this point, the D7 calculates how much power it needs to complete its job and then charges up to that much power.
Afterward, it goes back to where it stopped and completes its job. It then goes back to get fully charged. Notice how all that process did not require your intervention!
We think that is cool, do you?
Pros of The Neato D7 Robot Vacuum
It has a unique shape that lets it fit into corners.
It uses laser navigation which allows it vacuum even in the dark.
The robot has advanced wheels that let it scale ledges and obstacles.
It has a side brush that can pick up dirt close to walls.
The dust cup is large.
It has impressive battery life.
It uses ultra-efficient filters.
The smart charging feature helps it get its job done faster
Cons of The Neato D7 Robot Vacuum
It costs a bit but you will surely get value for your money.
Alternatives To The Neato D7 Robot Vacuum
More affordable alternative – Neato D5 Robot Vacuum
This is an earlier version of our featured robot vacuum. This robot has seriously improved than when it was released. All thanks to the software update that it got through its dedicated app.
Its D-shape lets it fit into corners for better cleaning performance. It also has a side brush for dirt close to the wall as well as a high-performance filter.
High-end Alternative – iRobot Roomba i7+
This is a robot vacuum in its own class. It comes with a technology that has never been implemented before. This robot can empty its own dust cup!
Its cleaning performance is also fantastic and it can work on both hard floors and carpets. Another special feature is its dirt detection that concentrates on parts of the floor that is dirtier than others. This way, your floor will be evenly clean.
You can check how this robot compares with the one we are featuring.
User-friendly Alternative – Ecovacs Deebot N79S Robot Vacuum
This robot works great on hard floors and carpets and you can choose between the two suction power modes depending on your needs.
It has sensors that prevent collision and falling. This robot can also keep cleaning for up to 120 minutes before it needs to charge. It operates with such a low noise that your child can sleep while it works.
If you want to know more about this vacuum, you can read our honest review on it.
Opposite spectrum – Bissell Pet Hair Eraser Upright Vacuum
If you're looking for an upright vacuum that brings a lot more value than its cost, this is one of them. It is great for pet owners as the name implies.
It has the Lift-Off technology which lets it convert into a handheld canister vacuum. This allows you clean in different ways than you would as an upright. It brings out the versatility in the vacuum.
It uses the Smart Seal Allergen System for its filtration and also features a Febreeze filter which helps to eliminate pet odor. If you want to know more about this vacuum, you can check out our in-depth review of it.
Comparison Table
Featured
More Affordable
High-End Variant
User-Friendly
Opposite Spectrum
Products
Neato D7 Robot

 

Neato D5 Robot Vacuum

 

iRobot Roomba i7+

 

Ecovacs Deebot Robot

 

Bissell Pet Hair Eraser Upright

 

Dimension
12.5 x 13.2 x 3.9 inches
12.7 x 3.9 x 13.2 inches
22 x 18 x 18 inches
13 x 13 x 3.1 inches
12 x 13 x 44 inches
Weight
8 lbs
8 lbs
22.6 lbs
7.05 lbs
17.75 lbs
Wi-Fi and smart home? / Attachments
Yes
Uses Wi-Fi
Yes
Yes
Crevice tool and motorized pet brush
Runtime
120 minutes
90 minutes
75 minutes
120 minutes
30 feet
Special Feature
Smart charging
Virtual no-go lines
Self dust cup emptying
Low noise level
Uses smart seal allergen filtration system
| Image | Title | Buy |
| --- | --- | --- |
| | Neato Robotics D7 Connected Laser Guided Robot Vacuum Featuring Multiple Floor Plan Mapping and Zone Cleaning, Works with Amazon Alexa, Silver/Black | Buy Now |
| | Neato Botvac D5 Connected Laser Guided Robot Vacuum, Pet & Allergy, Works with Smartphones, Alexa, Smartwatches | Buy Now |
| | iRobot Roomba i7+ (7550) Robot Vacuum with Automatic Dirt Disposal-Empties Itself, Wi-Fi Connected, Smart Mapping, Works with Alexa, Ideal for Pet Hair, Carpets, Hard Floors, Black | Buy Now |
| | Ecovacs DEEBOT N79S Robotic Vacuum Cleaner with Max Power Suction, Upto 110 Min Runtime, Hard Floors and Carpets, Works with Alexa, App Controls, Self-Charging, Quiet | Buy Now |
| | Bissell Pet Hair Eraser Lift Off Bagless Upright Vacuum, 20874, Blue | Buy Now |
General Feeling Among Users
A lot of users praised the virtual no-go lines. One for its convenience and, two, for how accurate it is. Other users like how well it picks up pet hairs on both hard floors and carpets.
The navigation and mapping features are some other things that users gave praises to. Some users also claim that the smart app was easy to connect and it works smoothly with the robot.
A user who had gone two Roombas previously said that the Neato D7 is better. Some users said they love it and it is worth the price tag.
Overall, there were a lot more people who are pleased with the robot than those who had complaints.
Our Verdict
As far as we're concerned, this is a great robot vacuum and we love it. Though it isn't perfect, we will still recommend it to anyone who needs an awesome robot to clean up after them.
That's our verdict, what's yours? After all, you've read, do you think this robot will serve all the purpose you need one for. If that's the case and you're okay with the price, go get yours today!