The history of robot vacuums has iRobot written all over it. It is one of the pioneering companies of this category of vacuum cleaners. Let us see if the innovation the brand is known for reflects in the iRobot Roomba i7+.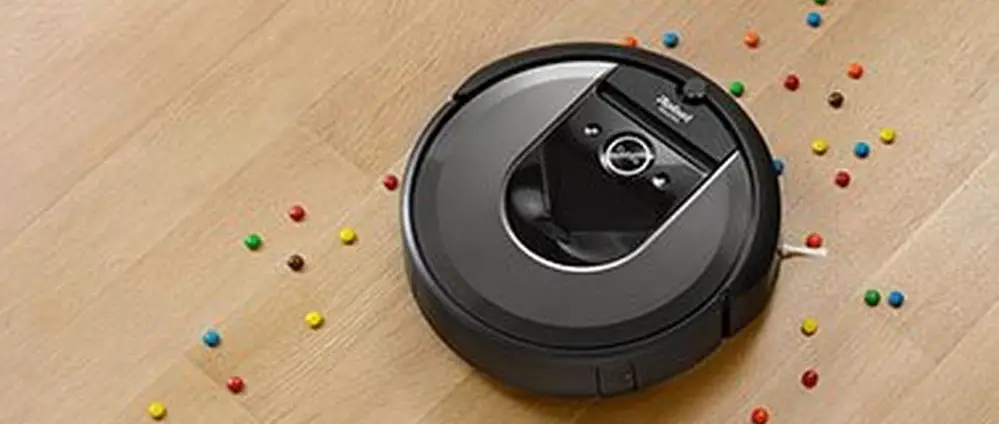 The brand was founded in 1990 and since then it has been creating increasingly better robot vacuums.
To show its expertise in the robot vacuum category, it also makes a series of robot mops. These ones are meant to help you keep your hard floor looking shiny at all times.
That's not all, this brand also manufactures pool cleaning robots. With that, you won't have to go manual to clean your pools again neither will have to pay someone to do it.
Who Can Go For The iRobot Roomba i7+?
We all know robot vacuums are autonomous, at least for the most part, and that saves a lot of valuable time. However, you still have to do some things for it. For instance, the cleaning and maintenance, and of course, emptying the dust cup.
With the iRobot Roomba i7+, you will at least not bother to empty the dust cup anymore. Not because it is so large, in fact, it isn't, but it can now empty itself! So, if you don't like helping a robot vacuum empty its dust cup, this is what you need.
Those who live in homes with multiple floors can go for this robot. The manufacturer says it can store the map of multiple floors. That way, you can use it for all the floors in your home. But you will have to help it up and down the stairs.
If you are more interested in a robot's cleaning performance, this one will serve you right. Firstly, you won't have to bother about cutting hairs off the brush roll. Secondly, it can detect a concentration of dirt on the floor and put in more effort.
If it already looks like this is the robot you have been waiting for, keep reading. We're about to go into some details of what the robot has to offer.
So, by the time you are done reading, you will be able to confidently tell if this is the robot you want or you will read our other reviews.
Features of the iRobot Roomba i7+
This robot uses a combination of an onboard camera and iRobot's new algorithm iAdapt 3.0. The camera scans its surroundings and then creates a map which it uses to navigate.
It also uses the Imprint Smart Mapping which allows the i7+ to learn and adapt to its surroundings.
With this, it gets better at navigating the same area every time it tries; more or less the way humans become more familiar following the same route.
According to iRobot, the Roomba i7+ can store up to 10 different floor plans in its memory. So, if you have multiple floors in your, it can store them all.
In fact, you can take the robot to another home and have it will save the floor plan there. Bring it back to your home, and it will still remember the maps it saved! If that isn't cool from a robot vacuum, I wonder what is.
This robot also has a suite of sensors that supports its navigation. They help it prevent bumping against obstacles and falling off the stairs.
Another good thing about its navigation is that it moves in a logical pattern. This ensures that the robot covers your entire floor space without missing patches.
Wi-Fi and App
It has become a standard nowadays that robot vacuums have an accompanying app. This serves as a sort of remote control that lets you issue different commands even when you're not at home.
You will first have to download the app on your Android or iOS phone, then use the Wi-Fi to pair the robot with the app. Once that is done, you will be able to see the floor plan(s) of your home.
From then on, you can schedule future times for the robot to clean. You can also monitor the robot's performance and check its condition.
Since the robot can empty its own dust cup, you might not need to interact with it that often anymore. Except for some cleaning.
Smart Home Compatibility
You probably already have loads of smart appliances in your home. Now you can add the iRobot Roomba i7+ to that list. From what you've read so far, you can tell it is smart.
It even gets better, if you already run a smart home, you can as well add this robot to your hub of smart things. It can connect with Amazon Alexa or Google Assistant. If you go down that route, then you can give voice commands to your robot. Awesome, right?
Dirt Detection
If your home is highly trafficked, chances are there are parts of your floor that accommodates the soles more than others. Vacuuming the entire floor the same way will still leave the trafficked part a bit dirty.
With this feature, your robot can detect parts of the floor that has more dirt and focus more effort on that part to keep it as clean as the rest.
This feature is also useful for spot cleaning. If you set the robot to the spot-cleaning mode, the dirt detection will automatically trigger. This will make it spend more time on that part of the floor so the cleaning can be thorough.
Automatic Dust Cup Emptying
This is the coolest feature of the Roomba i7+ or maybe even the robot vacuum cleaner industry a whole. No other robot, as of the time of this writing is capable of pulling this off. A robot emptying its own dust cup takes the autonomy of a robot vacuum to a whole new level.
Here's how it works: Robot vacuums have docks where they go back to recharge, right? The one that comes with the i7+ is more than just that, it has a tower that encloses a mechanism.
When the robot goes out to its vacuuming venture and the dust cup gets full, it comes back to the docking tower and settles in.
The mechanism in the tower kicks off and sucks out the content of the dust cup into a larger container within the tower.
Once the robot's dust cup is empty, if there's still more vacuuming to do, it goes back to resume it. The robot repeats this process every time the dust cup gets filled until it completes its task.
iRobot says that the collection bag in the tower can hold up to 30 dust cup emptying cycles before it needs to be changed. Considering the i7+ has a 0.2-liter capacity, if we do the math, that is 6 liters in total.
Within that period, you will only need to maybe clean the filter or something. That is probably weeks of vacuuming without you needing to change the collection bag. This robot can buy you a lot of time.
Virtual Barriers
There are many reasons, you will not want your robot to get to certain parts of your home. The main one is often to prevent it from getting stuck.
In that case, the iRobot Roomba i7+ comes with a device that sends signals to the robot making it see an area as a boundary and it won't cross that line. You can simply put the device in a place you don't want the robot to get to and it won't go past there.
However, if you need to set multiple boundaries in different locations, you will need to buy more of the devices. If you ask us, the no-go lines on Neato D series beat this hands down.
User-friendliness of the iRobot Roomba i7+
We're pretty sure that you will consider the automatic dirt disposal as a user-friendly feature, we do too. But that's not the only feature that makes things easy for you, the user.
The Roomba i7+ has multiple modes you can operate it in. This will depend on the type of cleaning you want it to do.
There is the edge cleaning that makes the robot focus close to the walls and uses its side brush. There is also the spot cleaning mode which we explained earlier.
This robot can clean on all floor types and does great with pet hairs. If you have ever had to cut hairs off the brush roll of a vacuum before, you will agree that it is not a funny experience.
You won't be doing that with this robot though, because it comes with dual brush rolls. They are rubberized and use ridges instead of bristles to comb through carpets. Since there are no bristles for hairs to latch on to, you won't have any cutting to do afterward.
There is also the self-adjusting cleaning head. This helps the robot detect when there is a transition of floor types and it adjusts accordingly.
This helps the robot maintain an optimal cleaning performance regardless of the floor type, without your help, of course.
Just so you know, with its Imprint Smart Mapping, the robot can differentiate your kitchen from the living room, dining area, etc. This gives you all the control you need to keep your home clean.
Pros of the iRobot Roomba i7+
The robot can empty its own dust cup.
It can adjust the brush head according to the floor type.
It can detect a concentration of dirt.
The robot has a good filtration system.
Its brush rolls prevent hair tangles.
It has a low-profile design to get underneath furniture.
You can schedule the robot to clean different rooms in your home individually.
Cons of the iRobot Roomba i7+
The price is a bit on the high side.
It still needs a physical device to create virtual boundaries.
Alternatives To The iRobot Roomba i7+
More Affordable Option – iRobot Roomba i7
This one is basically the same as the one we are featuring except for the self-emptying tower. So, you won't be paying for that if you don't need it.
All the other features the i7+ possess is also present in this one. Fortunately, if you eventually decide that the dust cup emptying automation is something you don't want to pass, you can get the docking tower as a standalone.
High-End Alternative – Roborock S5 Robot Vacuum
We can't outrightly call this robot a higher-end variant, but there are some really cool things it is capable of. We did a comparison between the S5 and our featured robot that you can go through. This vacuum is one of the kinds that can deliver every bit of high-end performance. As expected, you will have to pay for it.
If you want to know more, you can read its review.
You can schedule cleaning for the vacuum or save the map of your home so you can give it commands remotely. It gets better, you won't need to buy magnetic strips to create boundaries. Just draw the boundary in the app and the robot gets the message.
User-Friendly Alternative – Tesvor Robot Vacuum
To get yours, click here
This robot has advanced navigation and sensor technology which makes moving around your home easy. It can also scan and create a map of your floor for better navigation. With the app, you can give all sorts of commands to the robot.
It works great with picking up hairs on both hard floors and carpets. You can issue it voice commands if you connect to Alexa or Google Assistant. Certain furniture will not be a barrier to it since it is low profile enough to get underneath them.
If you want more details on this awesome robot vacuum, you can read our in-depth review of it.
Opposite Spectrum – Hoover Air Steerable Upright Vacuum
The Hoover Air Steerable sports the Wind Tunnel 3! So, you can rest assured you will also be getting some powerful suction out of this.
Of course, you can use this vacuum to clean on both hard floors and carpets. It is quite easy to maneuver with its swivel head and lightweight.
The best part of this vacuum is that it is quite affordable! If you want to know more about this vacuum, check out our review on it.
Comparison Table
Featured
More Affordable
High-End Variant
User-Friendly
Opposite Spectrum
Products
iRobot Roomba i7+

 

iRobot Roomba i7

 

Roborock S5 Robot Vacuum

 

Tesvor Robot Vacuum

 

Hoover Air Steerable Upright

 

Dimension
13.3 x 13.3 x 3.6 inches
13.3 x 13.3 x 3.6 inches
10 x 8 x 3.8 inches
13 x 13 x 2.9 inches
13.7 x 11.6 x 37.4 inches
Weight
7.45 lbs
7.45 lbs
13.55 lbs
10.6 lbs
13.05 lbs
Dust Cup Size /Attachments
0.2 liters
0.2 liters
0.24 liters
0.6 liters
2-in-1 crevice and brush tool
Runtime/ Cord Length
75 minutes
75 minutes
150 minutes
100 minutes
30 feet
Special Feature
Self-emptying dust cup
Has dirt detection
It can also mop on hard floors
Multiple cleaning modes
It uses the Wind Tunnel 3 technology for suction
| Image | Title | Buy |
| --- | --- | --- |
| | iRobot Roomba i7+ (7550) Robot Vacuum with Automatic Dirt Disposal-Empties Itself, Wi-Fi Connected, Smart Mapping, Works with Alexa, Ideal for Pet Hair, Carpets, Hard Floors, Black | Buy Now |
| | iRobot Roomba i7 (7150) Robot Vacuum- Wi-Fi Connected, Smart Mapping, Works with Alexa, Ideal for Pet Hair, Carpets, Hard Floors | Buy Now |
| | Roborock S5 Robot Vacuum and Mop, Smart Navigating Robotic Vacuum Cleaner with 2000Pa Strong Suction, Wi-Fi & Alexa Connectivity for Pet Hair, Carpet & All Types of Floor | Buy Now |
| | Tesvor Robot Vacuum Cleaner with Smart Mapping System, App Controls, Alexa Connectivity, Pet Hair Care, Self-Charging for Hard Floors and Thin Carpets | Buy Now |
| | Hoover Windtunnel Air Steerable Bagless Upright Vacuum Cleaner, Lightweight, Corded, UH72400, Grey | Buy Now |
General Feeling Among Users
As you can expect, there's a rave of love for the relief users get from having to help a robot empty all the time.
Users also love the iRobot Roomba i7+ for its cleaning ability. Pet owners especially love how it helps with the pet hairs as they don't have to deal with it themselves anymore.
There were few complaints about the pricing though. You didn't expect a self-emptying robot from iRobot not to come with a hefty price, did you?
Our Verdict
Yes, we love this robot for all it can do, especially that it has pushed the boundaries of innovation in robot vacuums. It still has some shortcomings though. For one, the runtime could have been longer. But all the same, it is a good robot vacuum.
You have read what we have to say, it's time for you to decide if iRobot Roomba i7+ is the robot for you. If it is, what are you waiting for? Go get yours now!