If you trace the history of robot vacuum, one of the names you will find at the cornerstone of this sub-industry is iRobot. That should give you a good idea why we are doing an iRobot Roomba 890 vs 980 comparison.
Since 1990 when the brand started, it has been growing in popularity simply because its robot vacuums kept getting better.
iRobot has made so many Roombas than you can count. So, choosing one can be a bit of a task.
One of the robots we're comparing is from the 800 series and the other from the 900 series.
The 800 and 900 series used to be the highest level of Roomba but now, they have successors.
As at the time of writing this article, iRobot had released the Roomba e5 robot, the Roomba i7, and the Roomba i7+. You should definitely check them out later for some cool robot vacuum tech.
The iRobot Roomba 890 vs 980 will tell you all you need to know about each robot vacuum. That way, you will find it easier to decide which of them is best for your needs.
If you would like to see how the Roomba 980 compares to a better vacuum than the 890, check out our iRobot Roomba 960 vs 980 comparison.
Comparison Overview – iRobot Roomba 890 vs 980
All robot vacuums are not equal. Some are more equal than others. This is a fair declaration concerning this Roomba 890 vs 980 comparison.
While both vacuums great at their jobs, the Roomba 980 can do more than the Roomba 890 can. That obviously reflects in their price tags.
The 890 will clean on different floor types and has no problem with pet hairs. It also has a high-efficiency filter to protect you from allergens. Furthermore, you will get a decent runtime from this robot.
The Roomba 980 can do all that the 890 can and, of course, a decent bit more. This robot can go from one room to another vacuuming all the way.
It will resume from where it stops if it needs to charge before it completes its task. The 980 has power boost so that it can deep clean on carpets.
It would be easier for you to choose between these two robots if you know what you need it for.
Comparison Table – iRobot Roomba 890 vs 980
| | | |
| --- | --- | --- |
|   | Roomba 890 | Roomba 980 |
| Battery Life | Up to 90 minutes | 120 minutes |
| Power | 5x the power of the 600 series | 10x the power of the 600 series |
| Weight | 8.4 lbs | 8.7 lbs |
| Dimension | 13 x 13 x 3.6 | 13.9 x 13.9 x 3.6 |
What Situation Is Each Best For? – iRobot Roomba 890 vs 980
Roomba 890
Roomba 980
The 890 will tackle dirt on hard floors and carpets and would even do a decent job on medium pile carpets.
The Roomba 980 comes with a new motor which is more advanced and certainly more powerful.

 

The 980 offers 10 times more suction than the previous motors. So, if you need a robot vacuum that truly sucks (in a good way), this is what you are looking for.

The Roomba 890 is ideal for a small to medium home. Its 90 minutes runtime is sufficient to take on the task of cleaning small homes as often as you need.
However, if your home is large with multiple rooms, this Roomba has what it takes to get them all cleaned.

 

It gives you a whopping 120 minutes of cleaning effort. With this, you might be able to complete your vacuuming chores even before it needs to recharge.

When it comes to price, a higher cost does not necessarily mean a better product. While both products are great, suitability is quite important for getting value for your money.

 

If what the Roomba 890 has to offer matches what you need a robot vacuum for, then there is no point to spend more.

If your home is large or you have more carpets that you would want to deep clean, then the Roomba 980 is worth the extra cash.
Get the Roomba 890 now!
Get the Roomba 980 now!
Common Features – iRobot Roomba 890 vs 980
Even though these two Roombas belong to different series, they are still the same vacuum type and from the same brand. It only makes sense that they will have similar features.
These features are what this section is about. We will tell you what both robots can do and if one can do a thing better than the other, we will let you know that too.
Appearance
Mere looking at these two vacuums, you can easily tell that they are not the same thing. They both have the same round shape and are quick close in size and even weight.
Their finishing is a bit different but they are essentially themed the same way. By looks alone, you can easily tell that these two are from the same brand.
Virtual Wall Barrier
Even though these robots are useful by buying us a lot of time, there are times you want to limit their movement.
The virtual wall barriers will prevent the robot from going beyond where you set it. To the vacuum, the virtual barrier is a wall and it will turn back on getting to it.
Both of these Roombas come with the virtual wall barrier. However, the Roomba 980 comes with two while you will get just one with the Roomba 890.
Different robot vacuum brands deploy various technology to make their robot perform as expected.
These robot vacuums use the iAdapt navigation system to find their way around your home.
The Roomba 890 has a suite of intelligent sensors to help it navigate. The Roomba 980, on the other hand, has sensors as well as an onboard camera.
The vSLAM adopted by the Roomba 980 helps it move around in a methodical pattern. This ensures that the robot covers the entire floor without missing spots.
The Roomba 980 scans your home and creates a map of your floor plan to help it move around. So, don't be shocked if this robot knows your home as much as you do.
The Roomba 890 moves in a rather random pattern but still covers your floors for the most part.
There are also sensors on these robot vacuums that help them detect obstacles. One great thing about this is that they don't just detect them, they will also clean around them the best way they can.
There is also a sensor under the robots that help it detect changes in floor heights. Once these robots get to a stair, for instance, the sensor detects the difference in height and it turns back.
Wi-Fi and Smart App
Both vacuums have Wi-Fi compatibility. If you are wondering how Wi-Fi can make a robot vacuum cleaner better, keep reading, you are about to find out.
Wi-Fi lets the robots connect to your smartphone so that you can use it to control and monitor it.
These robots have a dedicated app that you need to download on your phone (available for both Android and iOS). Afterward, you will then need to pair your robot vacuum with the app which is where the Wi-Fi comes in.
With this app, you can use your phone as a controller you can use to issue commands to the robot remotely.
That way, you can have the robot clean your floors before you get back home. You can also monitor the status of the robot and how much of the floors it has cleaned.
That's not all, for both robots, you can also set a future date for your robot to do its job. For instance, on the Roomba 980, you can schedule the robot to clean at certain times for every day of the week.
With this, you only need to remember to empty the dust cup every once in a while.
It is worthy of mention that there are more things you can do on the app if you have the 980. The map that the robot creates is shown on the app and you can monitor as the Roomba cleans the floors.
The app won't take up much space on your phone and it is quite easy to use. Another cool thing about it is that it allows you to name your robot.
Smart Home Capability
The world is now so advanced that home appliances are now getting smart. It only makes sense that your robot vacuum too joins the smart things in your home.
If you already have a smart home, you can add these robot vacuums to the list of devices on your smart home hub.
It is compatible with Google Assistant and Amazon Alexa. This allows you to talk to your robot vacuum.
"Alexa, tell Roomba to schedule cleaning"…."Alexa, tell Roomba to make me coffee".
Edge Cleaning
Both robot vacuums have a side brush that allows them to clean edges as they go. Some vacuums, even the full-sized ones, often have a problem cleaning edges.
These side brushes on both vacuums come in handy at clearing dirt close to walls. They simply sweep the dirt and hairs into the path of the robot's brush roll and suction.
Dual Brush Roll
The double brush roll on this robot vacuum plays a significant part in the 3-stage cleaning process these iRobot Roombas are offering.
The brush roll in front loosens dirt and the one at the back picks it up while the powerful suction does the rest.
This is the process both robots follow to provide the deep clean it promises. Whether it is debris or pet hair, the dual brush roll will help you clean them all on both hard floors and carpets.
The brush rolls on both robots are rubberized. What this means is that they will not get tangled with hairs and will still pick them up well.
Auto-Adjust Cleaning Head
It takes more than just sweeping and suction to keep a carpet clean. It makes sense to assume that a vacuum requires more efforts to clean carpets than hard floors.
The cleaning head of these Roombas is underneath where the brush rolls are. The cleaning head on both robots can adjust based on the floor type that is being cleaned.
It adjusts to suit either hard floors or carpets. This might seem like just a little add-on feature but it isn't. The clean head adjusting to the floor type only means that the robots will clean your floors pretty well.
Dirt Detection
Both Roomba 890 and 980 can detect where dirt is concentrated on your floors. This is a pretty useful feature because it makes the robots clean evenly.
Imagine there is a segment of your carpet that is heavily trafficked. It is obvious that part will have more dirt than the rest. If the robot cleans the carpet with the same effort, the part that sees more traffic will not be completely clean.
This is where the dirt detection comes in handy. Once either of these robots gets to that dirty part, it concentrates on that area knowing it has more dirt. That way, the entire carpet will be evenly clean.
Filtration System
Both vacuums use the AeroForce filtration system. This system includes the 3-stage cleaning system that involves the double brush roll underneath.
This filtration system is highly efficient as it traps 99% of dust and allergens down to 10 microns.
This is not as efficient as a HEPA filter, however, 10 microns is still small enough if you consider that the diameter of a human hair is about 50 microns.
So, if you are an allergic or asthmatic user, either of these vacuums will be a great option for you.
iRobot Roomba 890 vs 980 – What's Unique To Each Product?
Features Unique To Roomba 890
You must have noticed how much these two robots have in common in terms of features.
The main reason for this is because the Roomba 980 is an upgraded version to the Roomba 890. The 980 has everything the 890 has and then some.
This is why there is really no worthy unique feature of the Roomba 890 to mention.
Click here to get the Roomba 890 now!
Features Unique To Roomba 980
Power Boost
The Roomba 980 has double power levels, you can call it a power boost if you like. In fact, that's what it is!
In the case of the Roomba 980, once it gets on a carpet, it detects it and automatically increases suction power. The auto-adjust cleaner head we talked about earlier comes into play here too.
With the double brush roll underneath that loosen and pick dirt and debris, you are sure of a deeply cleaned carpet at all times.
Full Dust Cup Indicator
Robot vacuums are getting advanced but within the scope of these two, you will still need to empty their dust cups for them. Don't worry though, it is super easy to do that.
Whenever the dust cup gets filled up, there is an indicator on the robot that will call your attention so that you can help it empty.
Recharge and Resume
This feature is one of the best features of the autonomy that robot vacuums have to offer.
Having the Roomba 980 spares you the effort of having to worry about charging your vacuum. This is because it will do that by itself (the Roomba 890 can do this too though).
For instance, if your robot is going about its chores and its battery falls below a certain point, it will stop and find its way back to its dock. This is where it literally plugs itself in to recharge.
What makes the Roomba 980 special is that once it is done recharging, it simply goes back to where it stopped working and continues!
The Roomba 980 has the ability to navigate through multiple rooms to clean them.
This robot vacuum, with the camera and navigation system, will scan the floor and make a map of it. With this, it can navigate from one room to another.
The Roomba 980, according to iRobot, can vacuum 2,000 sq ft of space. In reality, there is really no limit to how much floor space it can cover but that figure is a guarantee.
So, you can rest assured this robot vacuum can clean all the rooms in your home.
Motor
The Roomba 980 has a Gen 3 motor from iRobot as against the Gen 2 motor on the Roomba 890.
This motor is more powerful. For this singular reason, with every other variable held constant, the Roomba 980 will clean a lot better.
According to specifications, the Roomba 980 has 5 times as much power as the Roomba 890.
So, if you need a Roomba that will be cleaning a lot of carpets, the Roomba 980 is the deal.
Longer Battery Life
Runtime is quite an important factor in selecting a robot vacuum. We know this is a feature present in both robots but the value you will get from this one is unique, so to speak.
With the Roomba 890, you will get up to 90 minutes out of it before it needs to recharge. However, the Roomba 980 will work for a whopping 120 minutes!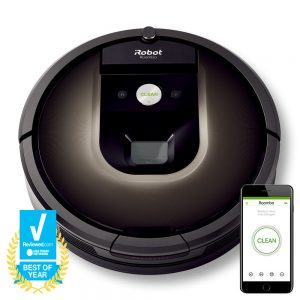 Click here for the Roomba 980 now!
iRobot Roomba 890 vs 980 – Unique Pros
Roomba 890
i. It does not cost as much as the Roomba 980.
Roomba 980
i. It has a stronger motor.
ii. The robot can clean multiple rooms on a floor.
iii. It has a longer battery life.
iv.It comes with 2 virtual walls.
iRobot Roomba 890 vs 980 – Unique Cons
Roomba 890
i. Its navigation is random which makes it less efficient at cleaning.
ii. It has a weaker motor.
Roomba 980
i. It cost quite a bit.
iRobot Roomba 890 vs 980 – Pros Common To Both Products
Roomba 890
Roomba 980
The Roomba 890 can vacuum on both hard floors and carpets. It does great at picking up debris and pet hairs off different floor types.
Same as the Roomba 890 but does it even better.
The 890 can work with its app pretty well giving you remote access to your robot.
With the 980 you can do a bit more via the app. You can get the map of your floors and reports on how the Roomba has cleaned.

 

You can also carry out advanced settings via the app. It can also alert you when the robot needs your help.

The iAdapt navigation system helps the robot find its way around the house to carry out its job.

 

This helps the robot detect obstacles and falls. Its movement is rather random but still covers a large part of your floor.

The same navigation system is on the 980 but this also has visual navigation because of its camera and that is why it is able to create a map.

 

With this, it moves methodically which ensures that the robot will cover all the floor spaces it can get access to.

Get the Roomba 890 now!
Go for the Roomba 980 now!
iRobot Roomba 890 vs 980 – Cons Common To Both Products
iRobot Roomba 890 vs 980 – General Feeling Among Users
Roomba 890
Roomba 980
One particular user is clearly having fun with her Roomba. She wrote a long review about her experience with the Roomba.

 

At first, she had issues with cords as she said that the robot "eats cords". Instead of getting mad at that, she learned to keep cords out of the way when the Roomba needs to work.

 

If you follow procedures and learn to adjust to accommodate the functionality of the robot vacuum, you will find it not only easy to use but helpful too.

A lot of users like the way it moves and the defined pattern it follows. It is a needed improvement from the Roombas of the past.

 

They said that it covers the floors well. They also like how seldom it gets itself stuck, although, you might need to clear the floor of wires before you let it loose.

A pet owner was really happy at how well this Roomba kept up with her pets shedding.

 

She said she hardly finds any ball of hair lying around anymore. She has a combination of hard floors and carpets.

 

So, for her to have said that, you can rest assured this Roomba works for her with hairs.

A lot of users are happy with the cleaning performance of this robot vacuum.

 

Some said that the suction power is good enough and they applaud how well it picks debris and pet hairs.

This Roomba gets more love from many of its users. A certain user still likes her Roomba despite its random pattern of movement. She says that it still covers her floor and keeps it clean.

 

Another user like how low profile it is and is happy that the Roomba gets under her coffee table and under her bed.

 

There was another user said that the robot is quieter than others she has used even though it picks up dirt and hair better.

Some users applaud the filtration system on the Roomba 980.

 

They also like how long the battery lasts claiming that their Roombas get its job done before needing a recharge.

 

Others find the Wi-Fi connectivity super convenient. One particular user even said it is way better than using a remote control.

Get the Roomba 890 now!
Go for the Roomba 980 now!
iRobot Roomba 890 vs 980 – Our Verdict
Roomba 890
Roomba 980
This Roomba will work great for you. However, you need to be clear on what you need a robot vacuum for before you commit to this.

 

If your needs match what this robot can do, then this is a great offering.

The Roomba 980 can do almost anything you want a robot vacuum to do.

 

However, it costs a bit. If what you need from a robot vacuum is the extra this one offers over the 890, then the extra cash might be worth it.

Get the Roomba 890 now!
Go for the Roomba 980 now!