Hoover is a leading vacuum brand that has been in existence for over a century. This alone makes it a type of brand whose integrity you can trust. We hope to find out how true that is as we look into its Hoover Wind Tunnel 3 Upright Vacuum.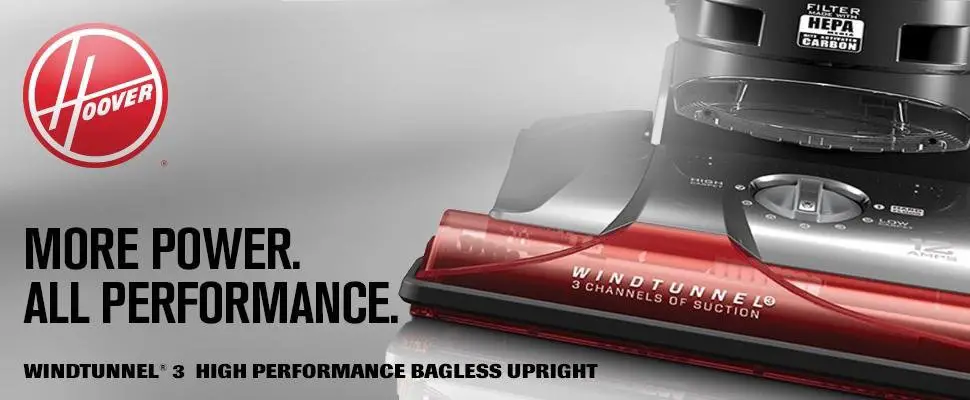 We can be confident to assume that Hoover is one of the oldest and trusted brands in the vacuuming industry. From what you might have found out, it is still a big brand today.
However, Hoover manufactures more than just vacuum cleaners. It makes other products such as carpet washers, steam mops, sweepers, etc. It also manufactures commercial vacuum cleaners. As the name implies, they are designed for the heavy-duty jobs.
If you want to know more, check out our Hoover vacuum cleaners guide.
Who Needs The Hoover Wind Tunnel 3 Upright Vacuum
This is a pet vacuum, so, anyone with pets in their home might want to have this. Having pets mean having to deal with hair. The Hoover Wind Tunnel 3 Upright Vacuum promises to help you lift hair off your floors.
It uses an advanced technology that gives it a strong suction that will not fade. With this, pet hairs will not be its only victim. Dirt and dust too, both surface and embedded will also bow to this vacuum's power.
If you have different floor types in your home, you might want this vacuum too. It claims to have what it takes to vacuum on all floor types. All you will have to do is to adjust some few settings as you transition from one floor type to another.
If you are interested in above the floor cleaning with your vacuum too, this Hoover comes with some nice attachment tools. You will vacuum from floors to ceilings and all things in between.
Enough of the mouth-watering possibilities let us dive into the details of what this vacuum promises to do. We'll find out if it delivers on what it says.
By the time you are done with this review, you will be able to decide if the Hoover Wind Tunnel 3 Upright Vacuum is the best choice for you or not.
To get yours, click here
Features Of The Hoover Wind Tunnel 3 Upright Vacuum
Wind Tunnel 3 Technology
This technology is widely used in the engineering industry. It is used to test the aerodynamics of automobiles and aircraft.
You must be wondering what that has to do with vacuum cleaners. Wind tunnels are used to create a strong airflow.
Though this vacuum cleaner uses a miniature version of it but it serves its purpose nonetheless.
The wind tunnel in the brush head of the Hoover Wind Tunnel 3 Upright Vacuum is what is responsible for its suction. The best part yet is that it has 3 channels that are used to suck in air. With this, dust, debris, and hair do not stand a chance.
Quick Pass Cleaning
Vacuuming is done by moving the brush head over a portion of the floor repeatedly to get the kind of clean you want. The Hoover Wind Tunnel 3 has a specially designed brush roll that makes picking up dirt easier.
With this, you will not have to make your brush head passes as many times as you would with an ordinary vacuum. If you combine this with the suction power, you can easily understand the possibility.
Multi-cyclonic Technology
Bagless vacuums are common nowadays and people are loving it. However, a lot of them suffer a setback which is a loss of suction.
Some bagless vacuums lose suction after a while when their dust cup is filling up.
The reason for this is the reduction of airflow in the dust cup. This is where the multi-cyclonic technology comes in. This piece of tech addresses the airflow as you vacuum.
What it does is to spin the dust and debris that you vacuum at high speeds. The result of this is that the dirt settles at the bottom of the dust cup. This leaves sufficient airflow at the top which continues to support the suction.
HEPA Filtration
It is one thing to vacuum dust and allergens, it is another to ensure that they stay in the vacuum.
Vacuum cleaners release air back into your home. It is highly possible for the air to contain dust and allergen particles.
This is why there are filters in vacuums. Their job is to trap the particles and keep them in the vacuum.
The things you vacuum are passed through a filter which separates tiny particles from the air. The air that makes it past the filter can be said to be clean.
HEPA filters are highly efficient at doing this. That is why vacuums and other respiratory devices deploy them. A HEPA filter by standards can trap up to 99.97% of particles in the air down to 0.3 microns.
With this type of filter in the Wind Tunnel 3 Upright, you can rest assured that the air that makes it back into your home is clean and breathable. Now the allergic and asthmatic occupants will have no reason to fear to breathe deeply.
That's not all, this filter is treated with activated carbon. Asides the filter's capability to trap microscopic particles, it will also absorb odor. This is particularly great for pet owners as this vacuum will not just clean pet hairs, it will also absorb their odor.
Height Adjustment
By many standards, a vacuum cleaner that can clean only one type of floor is not good enough. Our featured vacuum is far from that. This one can vacuum on any floor type you present to it.
From rugs and carpets to tiles, laminate floors, hardwood, marble, etc. you will get a deep clean all the time.
One way the Hoover Wind Tunnel 3 Upright Vacuum can clean on multiple floors is its height adjustment. You can use this to decide how high or low the brush head is to the floor. This will affect how the vacuum cleans the surface.
The adjustment is easy to do. All you need is to turn the knob on the brush head. It is well labeled so you won't have any issues knowing which setting is ideal for which floor type.
If you have delicate floors that are prone to scratches, nobody wants those, you can turn off the brush roll. Afterward, turn it back on when you need to vacuum on carpet.
Nice Accessories
The attachment tools that come with the Hoover Wind Tunnel 3 make it even nicer. You will get a pivoting tool that you can use to clean the top of shelves, ceiling fans, etc. without climbing on anything.
You will also get a long crevice tool that you can use to clean tight areas and baseboards. That's not all, there is also the pet turbo tool that you can use on stairs, upholstery, etc.
User-friendliness Of The Hoover Wind Tunnel 3 Upright Vacuum
Everyone wants a vacuum cleaner they find easy to use. Like many other things, "easy to use" is quite relative.
So, we will only state those features of the Hoover Wind Tunnel 3 Upright Vacuum that we think makes it user-friendly and let you decide if it really is for you.
The Quick Pass effect, no loss of suction, height adjustment, etc. that we talked about earlier are no doubt great features to have. They all make your vacuuming experience worthwhile.
This vacuum also has a flexible hose and an extension wand. This will give you up to 15 feet of reach above the floor.
If you combine this with the attachment tools that come with the vacuum, you can do all sorts of vacuuming above the floor.
The HEPA filter in this vacuum is washable. That's a good feature on many counts.
Once you notice the filter is getting clogged, all you have to do is place it under a running tap to clean it. Once done, leave it to air dry and fix it back into the vacuum.
The reusability of the filter saves you some money as you will not be buying a replacement filter anytime soon.
The Hoover Wind Tunnel 3 Vacuum also has headlights that illuminate its path so you can easily see dirt where they hide. This is great for vacuuming areas that are poorly lit.
Pros Of The Hoover Wind Tunnel 3 Upright Vacuum
i. It uses 3 channels of Wind Tunnel technology for suction.
ii. The vacuum has 7 height adjustment settings.
iii. You can use this vacuum on all floor types.
iv. It has an extension wand and flexible hose for above the floor reach.
v. You can turn on and off the brush roll accordingly.
vi. It has a long cord so you won't feel tethered.
vii. It uses a washable HEPA filter.
viii. The vacuum comes with useful attachment tools.
ix. It uses the multi-cyclonic technology for a no loss of suction performance.
Cons Of The Hoover Wind Tunnel 3 Upright Vacuum
i. This vacuum is a bit heavy. Physically challenged and older people might find it difficult to maneuver.
ii. It is a bit loud.
Alternatives To The Hoover Wind Tunnel 3 Upright Vacuum
More Affordable Option – Eureka Power Speed Turbo Upright Vacuum
If you are looking for a vacuum with a similarly powerful suction as our featured vacuum but lighter, you're welcome. This is a vacuum that fits that bill. It weighs in at a little over 10 pounds.
The LED lights in front of its brush head will help you seek out dirt wherever they may hide. You will save some money on buying replacement filters since the one in this vacuum is washable.
The Eureka Turbo is capable of cleaning on different floor types. It has 5 height adjustments you can choose from. This allows you to control how close or far the brush roll is to the floor. That way, you have total control over how you vacuum.
If you want to know more about this vacuum and all it can do, check out our honest review on it.
High-End Option – Bissell Pet Hair Eraser Upright Vacuum
This is one of those vacuums that perform more than their price tags. It has great suction that makes it suitable for cleaning on all floor types. Of course, it is a pet vacuum.
The brush roll is specially designed to lift hair on different surfaces, even on upholstery. So, if you are a pet owner trying to manage hair in your home, here is something for you.
It also has a Lift-Off technology which makes it a bonafide transformer. This means that it can convert into a handheld canister vacuum.
This makes it a lot more versatile than a regular upright vacuum. Now you can vacuum stairs and do other above the floor cleaning. What's more? You can achieve this just at the touch of a button.
It also has an impressive filtration system, the Smart Seal Allergen System. This system helps to trap in dust and allergens so that it does not come back into your home.
This, in its own way, helps to purify the air in your immediate environment. With this, allergic users can now breathe deeply the fresh air without fear. Furthermore, the Febreeze filter also helps to eliminate pet odors. You can read up on all the good stuff it can do here.
User-Friendly Option – Black and Decker Air Swivel Upright
Lightweight is one of the main features of a vacuum that is user-friendly and you will find that in this one. It weighs in at a total of 8.8 pounds. Its name, AirSwivel, is quite suiting as it comes from its lightweight and the fact that it has a whopping 170 degrees swivel.
Its filtration system is something you will also like. The dust and allergens that you vacuum off your floors are trapped efficiently. This makes breathing safe and easy for the sensitive occupants with respiratory issues.
Furthermore, it has a large capacity dust cup. This will spare you regular pauses in your cleaning to empty it. You probably will be able to vacuum all the space you want without having to empty the dust cup once.
Opposite Spectrum – ILIFE V3s Pro Robotic Vacuum
This robot is great for cleaning pet hairs so you don't have to do it yourself anymore. It has sensors that help it get around your home while mapping its way around.
It can also detect falls and obstacles and avoid them. So, don't worry, your prized robot won't be taking a trip down the stairs.
You can program this robot vacuum so that it cleans at scheduled times. You can also make it on auto clean, edge clean, and spot clean.
It automatically docks itself to recharge when the battery is getting too low. With this vacuum, you almost don't have to do anything anymore.
Comparison Table
Featured
More Affordable
High-End Variant
User-Friendly
Opposite Spectrum
Products

Hoover Wind Tunnel 3

 

Eureka Power Speed

 

Bissell Pet Hair Eraser

 

Black and Decker Air Swivel

 

ILIFE V3s Pro Robotic Vacuum

 

Dimension
16.5 x 12.5 x 34 inches
14 x 13.4 x 44.5 inches
12 x 13 x 44 inches
13.7 x 11.6 x 37.4 inches
11.8 x 11.8 x 3 inches
Weight
18.1 lbs
10 lbs
17.75 lbs
13.05 lbs
4.5 lbs
Attachments
Long crevice tool, dusting brush, pet turbo tool
Crevice tool, pet turbo tool, upholstery tool
Crevice tool and motorized pet brush
2-in-1 crevice tool
None
Cord Length / Runtime
40 feet
25 feet
30 feet
30 feet
Up to 80 minutes
Special Feature
It has 7 height adjustment settings
It has 5 height adjustment settings
Uses smart seal allergen filtration system
It has a steerable technology
Autonomous vacuuming
| Image | Title | Buy |
| --- | --- | --- |
| | Hoover WindTunnel 3 High Performance Pet Bagless Corded Upright Vacuum Cleaner, UH72630, Red | Buy Now |
| | Eureka Power Speed Turbo Spotlight Bagless Upright Vacuum Cleaner, Pet Tool, Orange, NEU188A | Buy Now |
| | Bissell Pet Hair Eraser Lift Off Bagless Upright Vacuum, 20874, Blue | Buy Now |
| | Black+Decker Light Weight Black & Decker BDASV102 AIRSWIVEL Ultra Upright Cleaner, Vacuum, Lightweight Versatile-red | Buy Now |
| | ILIFE V3s Pro Robot Vacuum Cleaner, Tangle-free Suction , Slim, Automatic Self-Charging Robotic Vacuum Cleaner, Daily Schedule Cleaning, Ideal For Pet Hair,Hard Floor and Low Pile Carpet | Buy Now |
General Feeling Among Users
Great suction! That is what most of the users have to say about this vacuum. And we agree with them. The Wind Tunnel 3 is not something dirt wants to mess with.
They all also agreed that the Hoover Wind Tunnel 3 Upright Vacuum is easy to assemble. The large capacity dust cup too is something they find convenient as it reduces their trip to the trash can.
They like the accessories for the versatility it gives the vacuum cleaner. Users also love that you can vacuum in different ways and on different surfaces.
The fact that the vacuum performs great on multiple surfaces is another thing that excites users.
Some users find the height adjustment useful as it helps you get optimal performance on different floor type.
The flexible hose and wand too made some people happy. They don't necessarily have to go manual to dust their furniture anymore. Very few people had complaints about the hose being too short. Above the floor cleaning never got easier.
Some Complaints…
Quite a number of users say that it is heavy. Though there are some who called it lightweight too. Remember we said something about relativity earlier, it applies here too.
There are some users who complained about the Hoover Wind Tunnel 3 Upright being difficult to push. Quite alright the brush head is quite close to the floor but there are 7 height adjustment settings.
We are not waving off any complaints though. But the fact that everyone who complained about the movement did not say anything about the height adjustment tells us something.
They probably are not using it correctly, or even at all. The height setting is there for this reason. If you don't use a "great" product properly, it turns out to be poor.
This vacuum is a bit noisy as well. But if you consider the noise a trade-off you can handle for the good things this vacuum can do, then you have a winner here.
Our Verdict
Our verdict is pretty easy for this one. We love this vacuum, for all the good things it can do and does well. We also love it for its price. It is quite affordable compared to what it does.
That is our choice. Considering all the things we have told you about this vacuum, what verdict did you arrive at? Can you live with its shortcomings or they are deal breakers for you?
If you turned out to love we as we do, what are you waiting for? Get yours now!