A sewage backup is the last thing any homeowner wants. Not only is it expensive and stressful, but it also poses serious health risks. These are enough reasons you'd want to know how to clean sewer back up in the basement.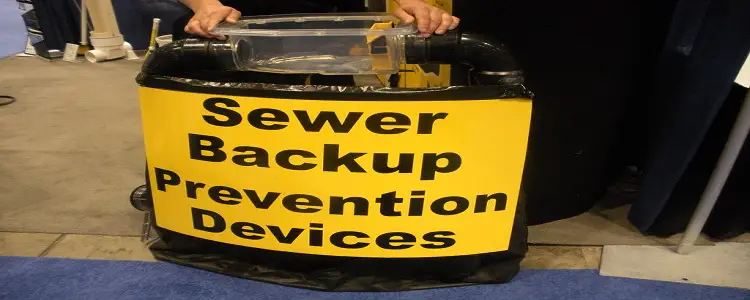 The first thing you might notice after a sewer backup is, yes, you guessed right, the smell. Broken pipes, septic system overflows, clogged city sewer systems are some of the things that can cause a backup.
When this unfortunate incident happens, it is best to take action as soon as possible. The extent of damage can be reduced by taking prompt steps.
Now let's get on to the steps that should be taken to clean sewer backup in the basement.
Steps to Clean Sewer Backup in the Basement
Call utility companies. Once you notice the flooding in your basement, let your electricity and gas providers know to cut off supply for safety reasons.
Protect yourself. Contaminated water from a sewer backup is nothing to joke with. So, you have to gear up. Wear protective rubber boots and gloves, face protection, and an overall that is water-resistant.
Drain the water from the sewage backup. Use a wet/dry vacuum for this job. If the water is much, you might want to use a pump. This wet and dry vacuum  can also pump water out of your basement.
Sort your belongings. This is the painful part. The sewer backup would have made contact with the things you have in there, damaging some. What you should do is sort them according to those you can clean and disinfect on one side, and those you will have to dispose. Toys, books, cosmetics, etc. will have to go regardless of the extent of contact. Canned products, furniture, clothing, etc. can still be cleaned. Put them in bags and take them out of the area. You need to clear the basement as much as possible. You need to expose as much surface as you can for thorough and deep cleaning.
Scrub and clean the area. There will likely be sludge on the floor and walls after removing the water. Clean it off by spraying water on the areas and remove the dirty water. Sweep debris and other solid dirt with a broom and remove those too. Now fill two buckets. Fill one with a disinfectant solution such as this Diversey according to its label. It is multipurpose and will kill 99.99 percent of bacteria and also eliminates odors. The other bucket should be filled with clean water. Wash the walls with rags and the floors with a scrubbing brush using the disinfectant solution. Once done, rinse the walls with the clean water. You can do another round by with the disinfectant solution for peace of mind. We suggest that you start with the area farthest from the door and work towards it.
Ventilate the area. After you have removed the water from disinfecting the floors and walls, open the windows. This will allow the area to dry up and air out. You can put on a fan or a dehumidifier to make the process more effective.
Clean yourself up. Now that you have cleaned sewer backup in the basement, it is time to give yourself a wash down too. Do not eat, drink, or even smoke before you have cleaned yourself up. Certainly, don't make body contact as well. Get a hot shower washing your body with an antibacterial soap. Use a nailbrush to scrub your fingers and toes making sure they're clean.
Contact the utility companies again. This time you want to ask them to come inspect your appliances and connections to make sure it is safe to restore supply.
Roebic K-97-Q-4 Laboratories, K-97 Main Line Cleaner, 32-Ounce, Tan
Roebic, 32oz main line sewer/septic cleaner, concentrated bacterial waste degrading product for any sewer line, clears fats, grease, sludge, & paper, for any household use, whether septic system or sewer.

Safe for all pipes and the environment.

Naturally breaks down waste accumulated and quickly restores proper flow.

Keeping your lines problem free.
Cleaning Sewer Back up can be Dangerous
To clean sewer backup in the basement by yourself is not for the faint-hearted. Even an experienced DIYer might get into trouble handling even a small sewer backup issue.
In that case, we do not suggest anyone tackle this kind of problem on their own if it is a big one.
Even though we're a fan of getting handy, your safety is important to us and we won't have our dear friends take unnecessary risks.
We cannot overemphasize the health hazard a sewer backup presents. This is contaminated water we're talking about. It will be filled with dangerous bacteria and disease-causing pathogens.
To clean up a sewer back up in the basement is expensive, we know. Take a moment to consider the pain, expenses, and inconvenience it will cost you and your loved ones.
You will agree it is not worth it, kindly don't take chances and let the professionals handle it.
There you go. Actionable steps you can take to clean sewer backup in the basement. If you find this information useful, kindly share it with those you think will need it. They'd love you for it. If you have any questions, you can reach us in the comments. Thank you for your time.