Mold on your carpet is an unpleasant sight. It can also cause a bad smell. Like that's not enough, molds also have health implications such as wheezing for an asthmatic person. Aren't these enough reasons to want to learn how to clean mold out of carpet?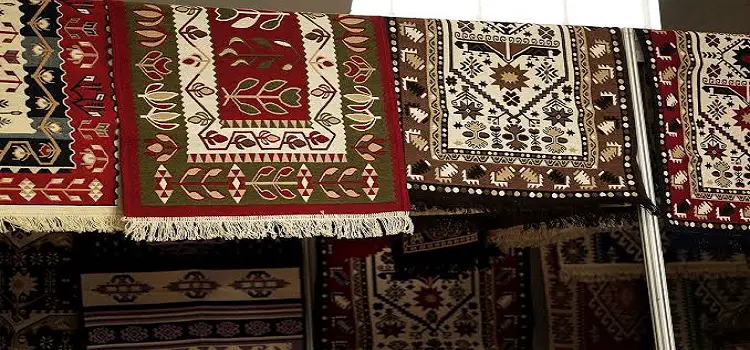 The best way to get rid of mold on your carpet is to catch it early when it is still on the surface. Once it spreads as far as the backing of the carpet, it becomes harder to clean.
In such cases, professional cleaning might be required. However, when you consider the extra costs, you will want to pay more attention to the condition of your carpets.
There are DIY ways you can clean mold out of carpets which are our focus here. Some of the methods we are going to share with you are also worth a try even if it has grown to the carpet backing.
Afterward, we'll leave you with tips to prevent a mold infestation in the first place. Without further ado, let's go battle some molds.
Methods to Get Rid of Carpet Mold
Chances are you already have some of the ingredients you will need in your pantry. There are also products specially made for this type of cleaning you can get from a store.
We will be telling you both the homemade approach and that of a commercial product.
Clean mold out of carpet using home supplies
Check the extent of the mold. The first thing you want to do is to know what you're dealing with. Find out how far the mold has spread and if it has gotten to the backing of the carpet. If it has, you will need more effort to clean it out. If it has spread over a wide portion of the backing, unfortunately, you might need to change the carpet completely.
Let in some air. Create room for ventilation by opening the windows and doors in the room with the infected carpet. This will reduce the smell and lessen the humidity that allowed the mold to survive in the first place. Furthermore, it will reduce the chances of getting irritation from the cleaning process. If the room does not have a window, be sure to leave the door open and put on a fan facing the door. That way, the air in the room will flow out.
Dry the carpet in the sun. If the affected carpet can be removed, do so and take it out in the sun. Direct sunlight will kill the mold and dry up the moisture that supports its growth. Leave it out for about a day or two. If the mold has reached the backing, it will need sunlight for a longer period. Once you're sure it's dry and the mold spores dead, then you can proceed with the actual cleaning.
Apply baking soda. You probably already have this at home so no extra cost. Put a liberal amount on the affected areas and let it sit overnight. The aim of this is to further absorb odor and moisture. We went through the previous process because the baking soda approach is only best for a light mold infection. So, in this case, baking soda is a finishing touch. Once the waiting is done, it's time to clean up the baking soda. The best way to do that is with a vacuum cleaner. We recommend an upright vacuum such as this bestseller or a powerful cordless vacuum such as a Dyson V11 or Shark ION. These will remove every speck of the baking soda down to the backing along with any surviving mold spore.
Round off with white vinegar. One thing this will do is to remove any stains from cleaning mold out of your carpet. That is apart from killing any remaining mold. If you don't already have one at home, this popular choice will impress you. Put vinegar in a spray bottle and apply it to the affected parts of the carpet. Scrub the area thoroughly with a hard brush. When done, leave it to air dry by opening the windows for ventilation. If you have a blower, you can use that to speed up the drying.
Use commercial cleaners to get mold out of carpets
This is the part we use commercial products available in stores to combat mold on carpets. These tend to be more effective as they're chemical concentrates but they can be toxic as well. So, be careful.
Carpet safety. The first thing you want to do is to be sure your choice is right for your carpet. You will do great if you check the label on your carpet before going to the store. Read the label on the product too so you can be sure. Some cleaners meant for kitchens and bathrooms such as this one might be too strong for your carpet and discolor it. If you go for one that is a mold barrier, it will work fine. However, it might leave an obvious boundary around the areas you use it on to prevent future mold development. That's not necessarily bad if your carpet is in a humid area. You can just use the cleaning product on the entire carpet and not worry about cleaning out mold of the carpet for a while.
Bleach and Water
Out of fear of damaging or discoloring their carpet, some people choose to use bleach instead. The safe quantity is to mix a cup of bleach with a gallon of water.
You want to use a color-safe bleach like this bestselling OxiClean for obvious reasons. Even at that, you should first test it on a small corner of your carpet to see the effect.
Carpet cleaning products to clean mold out of carpet
Carpet cleaning products are mostly safe since they were created with carpets in mind. Based on your needs, you might want to read the label to be sure the particular one you're going for can clean mold out of carpets.
The best way to use a carpet cleaner is to use it along with a carpet washer. These look like an upright vacuum cleaner but wash your carpets instead.
You will operate them the same way you do a vacuum cleaner except for the filling and emptying of the tanks.
Quite a number of carpet washers come as a bundle with concentrated carpet cleaners. If you combine that with the heat carpet washers use, they can clean mold out of carpets.
An added advantage of carpet cleaning products is that they have deodorizers in them. So, along with cleaning out the mold, they will also shampoo your carpet leaving it smelling great.
Use a steam cleaner
A steam vacuum for floors can also work well to clean mold out of carpets. The heat from the steam is enough to clean mold embedded into the carpet.
Before you use this method, you have to be sure that you're able to dry it immediately. A moist environment is the right condition for mold to thrive. So, you'd only be welcoming fresh mold if you don't dry it immediately.
After steaming, it is best to blow dry it. If that is not available, take it out under direct sunlight. Whatever you do, don't let the moisture stay in so mold won't think you only helped them clean their home.
Professional cleaning
You can always call professional cleaners if the mold has spread wide and deep. In cases like that the methods above might not do justice.
There's an extent to how far the mold will grow that even the professionals will suggest you give up on it. If the severity affects only a part of your carpet, they might cut it off to salvage the rest.
In such cases, they will often widen the boundary of where they'll cut by up to 12 inches to ensure complete removal of the mold.
If you check under the carpet, the mold might have spread onto the floor beneath it. In that case, you have to clean the mold on the floor and treat it before placing the carpet on it.
How to Prevent Mold on Carpet
Tackle sources of moisture. Floorboards and crawl spaces can be a source of dampness in your home which will give rise to molds. You can use professional treatment or polyethylene sheets in those areas. Be sure to check spots that can be conducive for mold buildup such as vents, underneath upholstery, and closets for regular clean-ups.
Ventilation is your ally. Proper airflow will evaporate moisture. Leave windows open and fans blowing for a considerable length of time every day. If it is possible, open windows early in the morning so that moisture that has built up during the night can evaporate.
Use a dehumidifier. You can get them in stores and online in different shapes and sizes. If you live in a humid region or it is not convenient to ventilate a space, using a dehumidifier (this one is highly-rated)is the next best thing. It will remove moisture in the air. Without moisture in the air, none of it will settle on your carpet to fester mold colonies.
We thought to offer extra value by providing you with dehumidifiers based on the size of the space you might need it for.
Small (up to 199 sq ft) – Auto shut off and energy saving
Medium (up to 800 sq ft) – Quiet operation and energy start rated
Large (>1500 sq ft) – Eliminates odors too and from a trusted brand
Conclusion
You have done great sticking with us till the end. Well done! We hope the information we provided will directly help you clean mold out of your carpets. You can always share this new-found knowledge with your loved ones, they'll thank you for it.