Unless you are a minimalist who does not use electrical appliances at all, chances are you have heard about Black and Decker. In fact, it is highly possible that you own at least one of its products. This shows how popular and reliable the brand has become. And this is one of the reasons we chose to review the Black and Decker Pro Cordless vacuum.
This is a brand that has been around for many years and has stayed true to its initial vision. Black and Decker manufactures all sorts of appliances you might need in the home.
Whether indoors or outdoors, there are selections of tools and gadgets that will make everyday activities worth looking forward to.
The brand is best known for its top quality power tools and other hardware stuff. But it also manufactures home cleaning equipment and kitchen appliances too.
Should You Get The Black and Decker Pro Cordless Vacuum?
Things can get pretty messy quickly and if you want to be able to quickly respond to it, this vacuum might be ideal for you. Its design is compact enough to easily reach and put to work.
If you are a sensitive user or you have sensitive occupants in your home, you are in luck. This vacuum has a filtration system that protects you from contaminants.
A lot of people would like a vacuum that can do its job in pretty much different ways. If you happen to be one of them, you would be glad you are reading this as this vacuum is so versatile it can clean in different ways.
Now let us dive right into the details of things and see what the Black and Decker Pro Vacuum can actually do.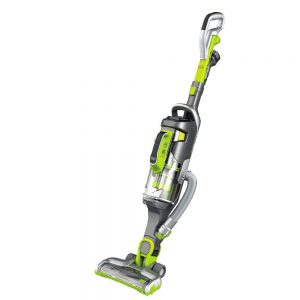 Features Of The Black and Decker Pro Cordless Vacuum
SMARTECH
Black and Decker surely stands out with this particular feature. The SMARTECH is a collection of innovative technologies that make your vacuuming experience better. It also makes you more productive using this vacuum.
This collection of intelligent technology includes the AUTOSENSE. This automatically adjusts the brush roll to conform to the floor type you are cleaning.
That way, you will not need to always tweak the settings manually. Now you can rest assured you will get optimal cleaning whatever the floor type you are dealing with.
The BATTERYSENSE is responsible for helping you keep an eye on the battery level. Knowing how much power you have left helps you plan your vacuuming routine. This piece of tech can help you work smarter and, of course, faster which results in productivity.
Still on the SMARTECH, there is also the FILTERSENSE which lets you know when it is time to clean the filter. Some cordless vacuums
will just shut off with no notice when the filter gets dirty and leave you wondering what the problem is.
The Black and Decker Pro Cordless Vacuum is intelligent enough to let you know exactly, so you can attend to it.
Premium Filtration
It can be a scary thing to vacuum if you have allergies or are asthmatic. Some cordless vacuum will release fine contaminants back into your home which you end up inhaling. This can cause all sorts of health issues, even for users who are not so sensitive.
That is not the case with this Black and Decker Pro. It promises to trap 99.99% of the dust, dander, and allergens in the air that passes through its filter. That way, it only emits "clean" air back into the atmosphere of your home.
To put in perspective, a HEPA filter is expected to capture 99.97% of contaminants but this one goes further than that. Now you and other allergic occupants can breathe deeply and freely without fear of any allergic attacks.
Great Battery Life
As you might have figured, if a cordless vacuum does not have a runtime of 30 minutes and above, we are hardly impressed.
In the case of this Black and Decker Pro Cordless Vacuum, we are highly impressed. This vacuum actually doubles that. It matches the Dyson V10 in this aspect.
With this type of battery life, you can clean as much of your home as you want and still have some juice left for another battle with dirt.
Transformer
Most cordless vacuums transform into a handheld vacuum. Perhaps Black and Decker felt that was too cliché, so, it changed the status quo.
The Black and Decker Pro Cordless converts into a canister vacuum but one you can hold in your hand.
What that means is that you now have a cordless vacuum and a cordless canister vacuum.
With this type of innovation, nothing should stand in your way of eradicating dirt and dust from your home. This also makes the vacuum quite versatile.
Now you can clean stairs, ceilings, furniture, upholstery, and pretty much anything you want.
Unique Dust Cup Design
It can quickly get irritating and tiresome if you have to pause vacuuming just to empty the dust cup all the time.
To spare you the hassle of doing rounds to empty the dust cup, Black and Decker made a unique design on the dust cup.
It is designed such that the dirt already collected in the canister can be pushed downward. This creates more room for it to accommodate more dirt.
Emptying the dust cup when full is another aspect of the design you will find interesting.
You won't need to come in contact with the dirt you are trying to get rid of. At the touch of a button, the dirt flows out straight into the trash can through the opening at the base.
Useful Attachment Tools
You can hardly talk about the versatility of a vacuum cleaner without the attachment tools. These are the things that make the vacuum clean in different ways. The Black and Decker Pro Cordless comes with accessories that let you clean just like you want.
The crevice tool lets you reach into tight spots to suck out dirt. The dirt in your baseboards and cracks do not have a hiding place anymore.
It also comes with a 6-inch nozzle. This helps to extend your reach. With this, you can clean cobwebs in your ceilings.
Now you can dust drapes high up and clean ceiling vents too. This leads us to the dusting brush which you can attach to the nozzle to clean stairs and other far-reaching spots.
User-friendliness Of The Black and Decker Pro Cordless
When it comes to maneuverability, this cordless vacuum that does it well. It has a swivel steering that lets it move effortlessly around furniture and obstacles. It also has little wheels under the brush head which lets it glide from one floor type to another with ease.
Changing this cordless upright into a canister only requires the push of a button and it lifts off. The 4-foot hose on the canister gives you further reach so you can cover a wider radius.
The Black and Decker Pro Cordless has a low-profile design that makes it easy for it to reach under furniture.
If you need to vacuum poorly lit areas, you won't have a problem. It sports LED lights that illuminate its cleaning path so you can see the dirt where they hide.
Furthermore, this vacuum has touchscreen controls which are not difficult to get a hang of. You can adjust the suction setting and turn on the AUTOSENSE we talked about earlier.
With all these, you will agree that the Black and Decker Pro is easy to use and does not take much to master.
Pros Of The Black and Decker Pro Cordless Vacuum
i. It has a simple touchscreen control panel.
ii. The swivel steering makes it easily maneuverable.
iii. It has up to 60 minutes of battery life.
iv. The dust cup is easy to empty.
v. The vacuum has a premium filtration system that traps allergens.
vi. It has innovative technological features.
vii. It can easily convert into a canister vacuum.
viii. The dust cup is designed such that it can create more space to hold more dirt.
ix. It comes with useful attachment tools.
x. The brush roll is easy to remove which makes it easy to clean out.
xi. The filter in this vacuum is washable.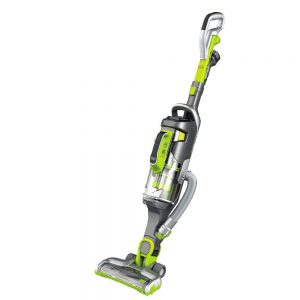 Cons Of The Black and Decker Pro Cordless Vacuum
i. The battery is not removable which means you have to be extra careful not to let anything happen to it.
ii. The brush roll cannot self-clean but it is easy to remove for manual cleaning.
iii. The dust cup is a bit too small.
Alternatives To The Black and Decker Pro Cordless Vacuum
More Affordable Option – Black and Decker Stick Vacuum with ORA Technology
If you like unique designs, you will like this vacuum. Aesthetics wise, this is a beautiful cordless vacuum by many standards. The beauty of this vacuum does not even end there. It uses the cyclonic technology which ensures that it does not lose suction power.
The brand calls it Optimized Runtime Airflow (ORA). It uses 12 cyclones to move air in a circular motion at high speeds. You can turn on and off the beater bar which is fortified to handle heavy duty work.
It also has a circular charge indicator so you can know how much battery life you have left. The filters are washable so you can reuse them. You can also easily convert it into a handheld so you can do all sorts of versatile cleaning procedures.
High-End Option – Dyson V8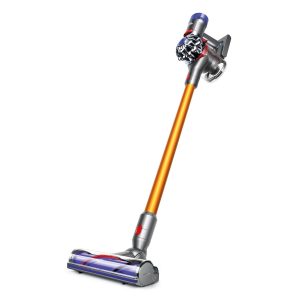 This Dyson is a monster of a cordless vacuum with strong suction power. It will clean effectively on both hard floors and carpets. You can also use this vacuum cleaner if you have pets that shed. All you have to do is to insert the motorized pet tool.
This technology ensures the vacuum does not lose suction power. Furthermore, its HEPA filter does great at trapping dust and allergens so they do not find their way back into your home.
You will get up to 40 minutes of runtime from this vacuum which is enough time to do a lot of vacuuming. Finally, the dust cup opens up at the base so its content can safely fall into the trash can below.
User-Friendly Option – Eureka Easy Clean Handheld
If you want the convenience and versatility of a handheld vacuum, this one is what you need. It is lightweight and quite easy to use. Another highlight of this vacuum is that you are not in a race against time as it is corded.
The control is right there by your thumb and it does not take anything to learn how to use. This handheld has a wide suction so you can cover more ground at once.
There is also a hose with a crevice tool on the side that you can use to get into hard to reach areas. Its 20-foot cord does not let you feel tethered at all as you can move around with that much length.
Opposite Spectrum – Shark Rotator Upright Vacuum
If you want an upright vacuum and a canister rolled up in one vacuum, this is it. Yes, this upright vacuum can be transformed into a canister so you can enjoy the best of both worlds.
Now, proponents of both vacuum types can find a common ground. The cool thing about it is that you can do the magic at the touch of a button.
It uses a combination of Shark's Anti-allergen Complete Seal and HEPA filter for its filtration system. This means that you can rest assured that your home will be free of allergens in the air.
It has a large dust cup so you won't need to interrupt your vacuuming every now and then to empty it. It also has a swivel steering which makes it easy to maneuver.
Comparison Table
Featured
More Affordable
High-End Variant
User-Friendly
Opposite Spectrum
Products
Black and Decker Pro

 

Black and Decker Stick

 

Dyson V8

 

Eureka Easy Clean

 

Shark Rotator

 

Dimension
11 x 8 x 30 inches
11.6 x 10.6 x 30.5 inches
9.9 x 8.9 x 49 inches
7 x 15 x 8 inches
45.7 x 12.1 x 12.2 inches
Weight
8 pounds
7.9 lbs
5.75 lbs
3.5 lbs
15.5 lbs
Attachments
Nozzle, crevice tool, and dusting brush
Retractable crevice tool and brush tool
Crevice combination tools, mini motorized tool, and dusting brush
Hose and crevice tool
None
Runtime
Up to 60 minutes
Approx. 20 minutes
Up to 40 minutes
Corded
Corded
Special Feature
Converts to a handheld canister
It can easily turn into a handheld
It has a 2-tier radial cyclone
This vacuum uses two motors
It can convert to a canister vacuum
General Feeling Among Users
From what you have read so far, you wouldn't be surprised that a lot of users like this vacuum. Quite a number of them praised the suction power and how well it picks up pet hairs. They also praised the fact that it works great on both hard floors and carpets.
As expected, the battery life was something a lot of users like. Some of them claim that they get more than 60 minutes of runtime if they keep the power to the minimum.
One user also claims that he gets about 30 minutes even with the brush roll on. Now, that is what we like to call an impressive battery life.
The ease of use is another aspect of the Black and Decker Pro Cordless that was commended by users.
It was easy to put together and also easy to disassemble in case you need to clean it. Most importantly, they like that it was easy to use overall.
As expected, some users still had some problems with it. Not surprisingly, some of the complaints are about the battery.
We have talked about why we think some users have issues with a cordless vacuum cleaner battery in another review. It simply comes down to knowing how to handle batteries.
As we mentioned earlier, some users are having trouble finding the right filter for this product. Perhaps, Black and Decker would have done something about it by the time you are reading this.
Our Verdict
There are quite a number of things we like about this cordless vacuum. The fact that it is easy to use is one of them and the battery life surely impressed us. We too, just like the users, like the suction power as well as its versatility.
Overall, we like the Black and Decker Pro Cordless Vacuum. If you feel that the cons that we highlighted and the issues that users have is not a deal breaker for you, then you should go for it. So, go get yours now!